Learn About Arizona Sex Offender Laws—DoNotPay Has a Shortcut to Valuable Updates
Around 90% of molested children have known their molester before the crime. You need to learn all the signs of a pedophile to be able to recognize lurking dangers.
Reading up on Arizona sex offender laws is also an important security step.
Thanks to Megan's Law, ever since 1996, we've had insight into the movements of convicted sex offenders via state sex offender registries.
DoNotPay can help you search Arizona Sex Offender Registry in a flash. , and you'll gain access to our Sex Offender Search feature. This tool can create custom offender alerts for your area and thus keep you and your family safe.
Arizona Sex Offender Levels and Public Notifications
The basic classification into Arizona sex offender levels is done depending on the likelihood of a repeated offense. Before offenders are released back into the community, they undergo an estimation of their potential recidivism rate.
Sex offenders are classified into the following groups:
Level 1—the lowest chance to repeat a crime
Level 2—moderate potential to repeat the offense
Level 3—the highest chance of reoffense
Before the release, offenders have to go through some additional evaluations. These are conducted to detect any predatory features. If an offender shows signs of being a violent sexual predator, they are confined to the Arizona State Hospital to receive treatment. They can request re-evaluation once a year to see if they can be put back into the community.
Required Area Updates About Sex Offender Levels Arizona
The state authorities are obligated to inform the public, i.e., the community, if a sex offender is moving in. Here is how the offender's level influences the notification practice:
Level
Who Is Notified
The Type of Notification
Level 1

The local police department maintains offender info
In certain cases, the PD may issue a warning if there is some potential risk

None (in the majority of cases)
Level 2 and 3

Neighbors
Schools in the vicinity
Potential employers
Community groups

A paper flyer with the offender's picture, address, and the details of their crime(s)
An official press release to local television, newspaper, and other media
Arizona Sex Offender Laws—The Required Data Verification
Sex offender registration laws in Arizona require that the local authorities report an offender to the Department of Public Safety within 72 hours of their release. The offenders are also under an obligation to file for the initial registration within ten days from the release.
After they have been registered, they need to keep the authorities updated about their whereabouts and personal details. Here are the timeframes that they need to respect:
Reporting every year to verify their data. Their ID and driver's license duration should encourage them to follow through with this obligation—they are valid for only a year
Declaring all the changes to their personal data within 72 hours (like address and name). This keeps the state's offender map accurate
Reporting their arrival to Arizona within ten days—for out-of-state offenders who are planning to travel to the state
Note that the duration of required registration on the Arizona Sex Offender Registry isn't predetermined. If offenders stay unregistered or fail to comply with any other registration requirement, they can have consequences ranging from probation to years in custody.
Limitations for All Arizona Sex Offender Levels
Arizona sex offender rules and regulations set certain prohibitions for the registered sex offenders. The most frequent imitations that the registrants must follow are related to their residence. They can't live within 1,000 feet of any childcare center or an educational facility for minors. The offenders are also prohibited from setting up a residence within 1,000 of their victim's home.
Are You Safe in Your Block? DoNotPay Sends You Weekly Sex Offender Stats and Keeps You Updated!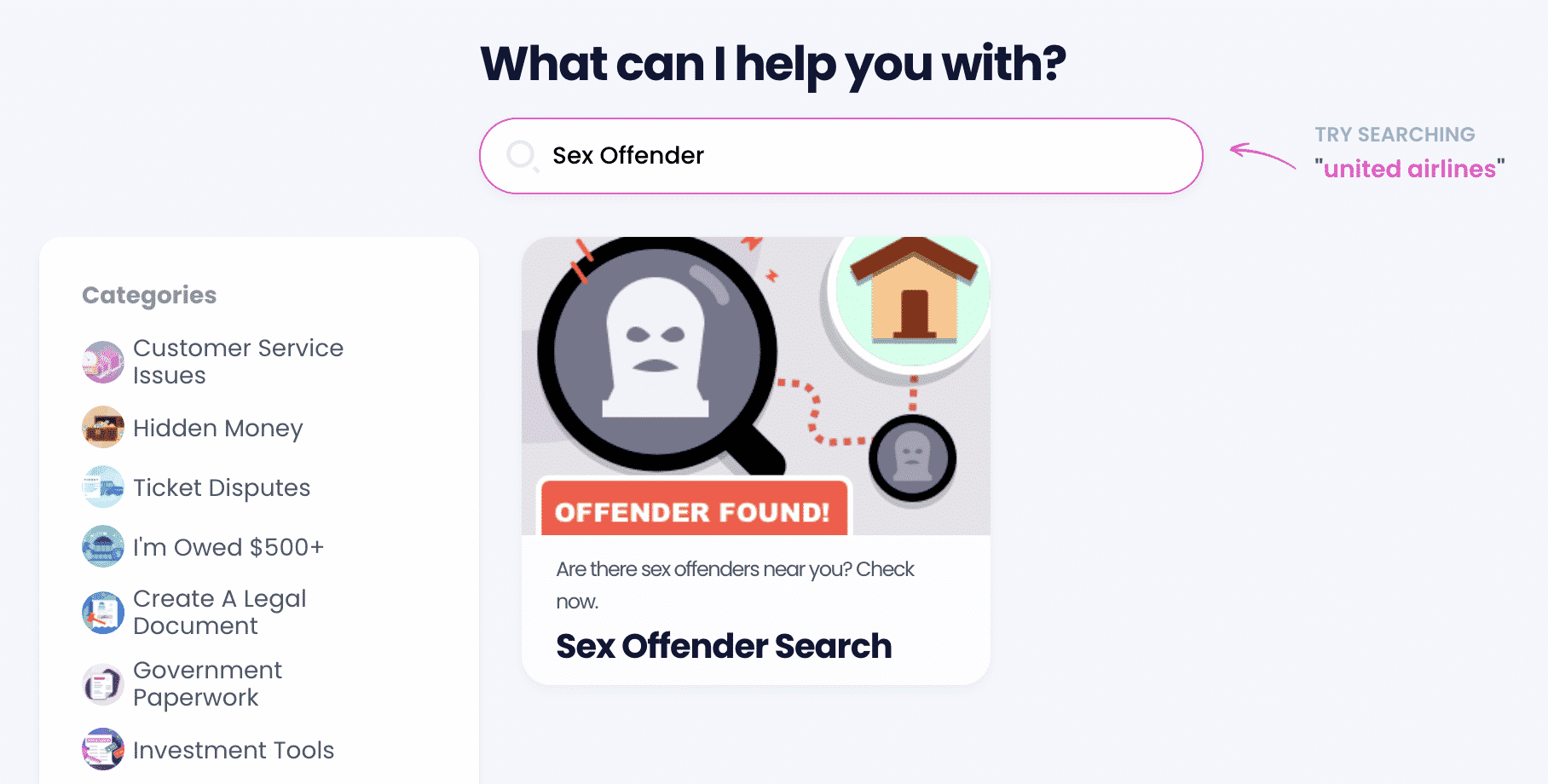 Knowing the law and how Arizona sex offenders are monitored is just one step towards keeping your family safe.
To be able to take serious precautions, you must get to know your immediate surroundings. Arizona Sex Offender Registry website is available to anyone, but many people don't have the time or patience to comb through it.
DoNotPay has created a more efficient way of staying up to date with the nearby sex offenders' details. Our Sex Offender Search tool enables you to do one-time searches or set up a weekly alarm for any new offenders in your vicinity.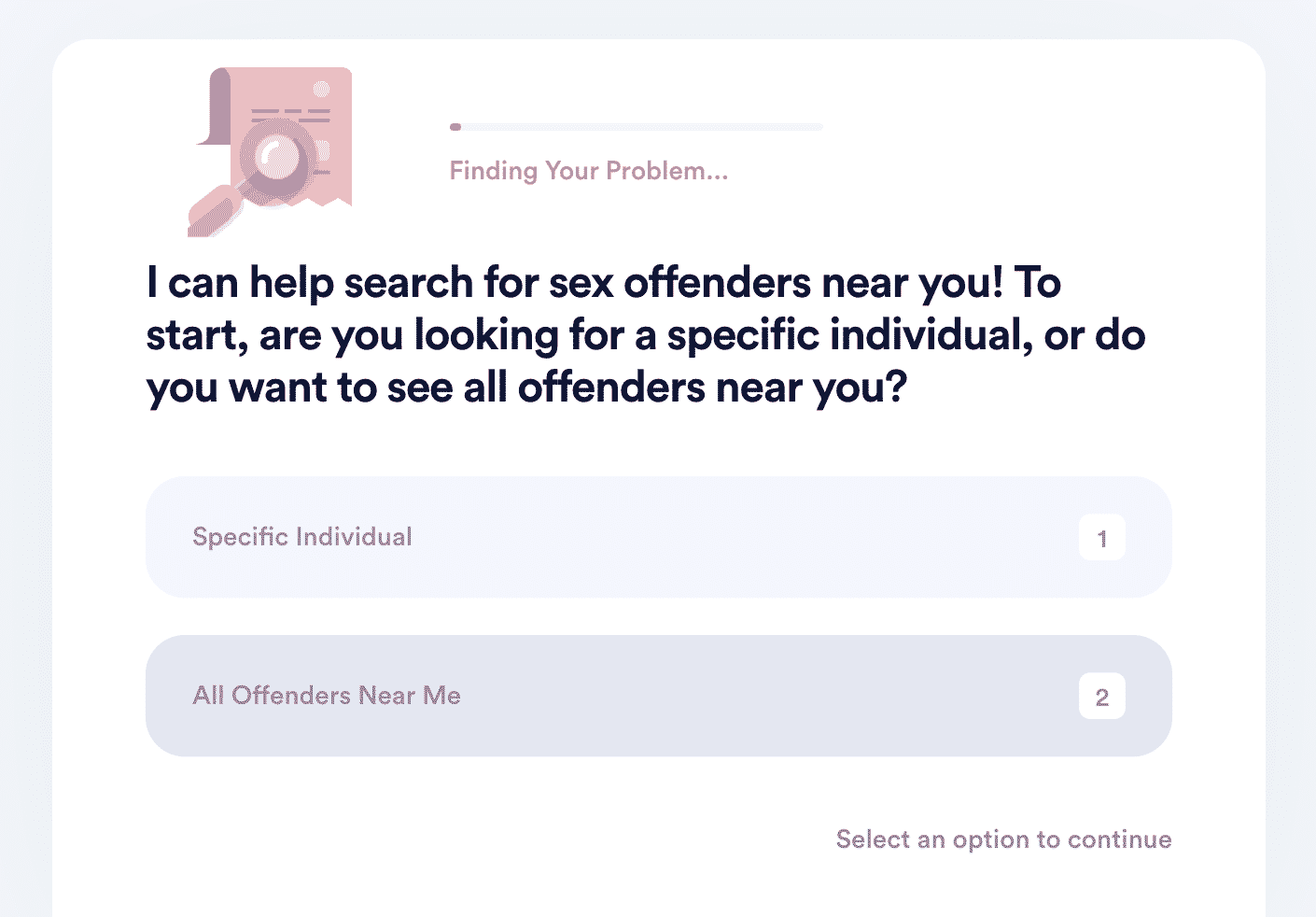 Our new feature is:
Quick and easy to use
Efficient as a search tool whether you want to look by offender's name or by your address
Flexible when it comes to the search radius (one, two, or three miles)
A regular source of valuable and personalized reports on your area's safety
Here is how you can set up your tailored alerts:
Go to and find Sex Offender Search
Choose between search methods by name or by an address
Pick the proximity that you want to scan
Set up your weekly alert
Our app will perform automatic searches based on your parameters and send them directly to you.
Why Waste Money on Lawyers When You Have DoNotPay?
Although certain tasks require you to get a lawyer's assistance, you don't have to spend hundreds of dollars for their service. With DoNotPay, you can avoid figuring out the legal jargon and have peace of mind dealing with bureaucratic tasks the easy way.
Need help preparing for a small claims court appearance or composing a neighbor's complaint letter? Looking for an easy but efficient way to draft a power of attorney or divorce settlement agreement? Use DoNotPay's features to draft legal documents, sue companies, request refunds, claim warranties, and file insurance claims while still saving a pretty penny!
Communication Is the Key
The best way to resolve issues is through clear communication, but companies don't always make it easy to do so. That's why DoNotPay came up with various features that help make communicating and solving problems a piece of cake. Sign up for our app and forget about waiting in lines for hours to speak to a customer service rep!
Here's what you can do with our app: