Hawkeye Scrutiny of Iowa Sex Offender Laws From DoNotPay
With nearly 6,400 sex offenders currently registered, Iowa is considered to have a relatively low concentration of sex criminals.
This does not mean you can let your guard down, though, and the Hawkeye State is vigilant in monitoring and controlling offenders through its registry system.
DoNotPay knows how important it is for you to protect yourself from sex offenders. Read on for our rundown of how Iowa sex offender laws work to your advantage!
Sex Offense Laws in Iowa Broken Down
Iowa subscribes to the federal recommendations on classifying sex crimes in tiers.
The Iowa sex offender registry tiers are as follows:
Tier I
Tier II
Tier I
Tier I offenses are usually non-violent and non-penetrative and include:
Indecent exposure
Pimping of a pubescent minor
Possession of illegal pornography
Any sexual acts committed by a minor on another minor
Sexual harassment of a minor
Tier II
As the next level in severity, tier II crimes can involve:
Lascivious acts with a minor or solicitation of a minor for sex
Invasion of privacy involving nudity
Indecent contact with a child
Sexual acts with juveniles over the age of 13
Incest
Necrophilia
Production or distribution of illegal pornography
Tier III
Tier or level III offenses are the most serious and involve violence or sexual acts with prepubescent children, such as:
Rape
Sexually motivated murder or attempted murder
First-degree violent sexual abuse
Assault with a sexual intent
Kidnapping with the intent to perform sex acts
Human trafficking or trade
Iowa Sex Offender Laws—Punishments
The minimum punishments stipulated under Iowa law are notoriously harsh, with custodial sentences as follows:
Class C or mild felonies—maximum ten years penal servitude
Class B or medium offenses—maximum 25 years in prison
Class C or serious crimes—lifelong prison term without parole
How Does the Iowa Sex Offender Registry Function?
Iowa has maintained a sex offender registry since 1995 and requires every convicted sex criminal to register for the following lengths of time:
| | |
| --- | --- |
| Severity of Crime | Length of Registration |
| Tier I | Ten years |
| Tier II | Between ten years and lifelong, depending on prior convictions |
| Tier III | Lifelong |
Some offenders who are only convicted of misdemeanors must also register, and the state registry records the following details about each convict:
Name
Photo
Physical description
Home address
Place of work or school
Vehicle details
Social media presence
Registration is not subject to any age restrictions, meaning that juvenile offenders must also place themselves on the state registry for the time required by their conviction. Unregistered sex offenders face severe punishment when caught.
The registry aims to allow Iowa authorities to map sex offenders' whereabouts for the purposes of public safety.
What Restrictions Does Registration in Iowa Entail?
Registered sex offenders in Iowa are subject to several restrictions on their freedom for as long as they remain on the registry.
The most important restrictions are:
| | |
| --- | --- |
| Restriction | Explanation |
| Residency | If the victim was a minor and the crime was considered serious, the offender must live at least 2,000 feet away from any school, childcare facility, or place where children congregate |
| Employment | Offenders who committed acts against minors or dependent adults are not allowed to work in any job that brings them into contact with potential victims |
| Travel | If a registered offender travels within Iowa, they must register with the local authorities within five days of arrival. Interstate travel requires similar notification within five days. Sex offenders from other states who visit Iowa must register with Iowa authorities if they intend to stay longer than five days |
| Movement | Offenders who have committed sex crimes with minors are not allowed to loiter near any facilities where children congregate |
Under Megan's Law, Iowa authorities are required to make sex offender registry information available to the public.
You will not receive automatic notification of the whereabouts of sex offenders, though. To find out about your neighborhood or a specific offender, you will have to search the registry.
How Can You Use the Iowa Sex Offender Registry?
If you are worried about your neighborhood harboring sex offenders, or you are looking for the whereabouts of a specific person, you can search the Iowa registry.
To perform your search, you can visit the Iowa state registry site and click on the Search button. Once you have passed the security check, you can proceed to search by:
Name
Location
Vehicle, email, or phone details
You will have to repeat this process for every search you perform.
While this can be helpful, you could easily miss a sex offender moving into your building or county if you don't perform regular searches.
This is where DoNotPay comes in—we can if you choose, meaning you will be informed of any changes when they happen!
How Can DoNotPay Keep You Safe in Iowa?

We know how much you value your safety! That's why DoNotPay has developed our Sex Offender Search feature. This product can search for sex offenders in your neighborhood or specific names across the country. We can even keep you in the loop with weekly updates on your search parameters if you choose!
Here's how to use our feature:
in your web browser
Click on our Sex Offender Search feature
Choose whether you want to search for

A particular person
Sex offenders in your vicinity
DoNotPay will do the rest—you will get your report in a flash, and your weekly update will be sent to you if you have opted for it!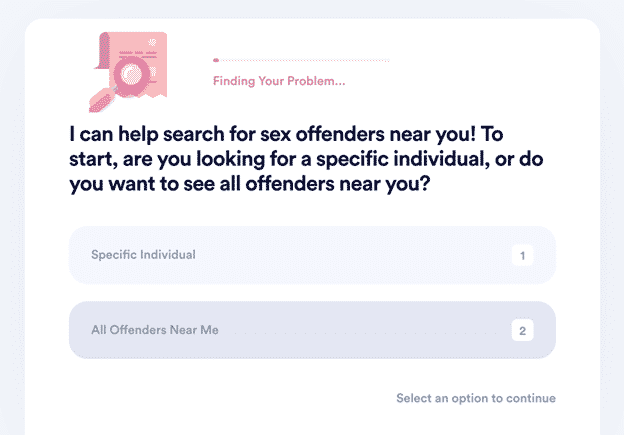 What About Sex Offenders in Other States?
If you are looking for information about other states, DoNotPay is your go-to resource. Here are some examples of other jurisdictions we cover:
DoNotPay Makes Administrative Hurdles a Piece of Cake
If you ever needed to deal with an administrative task, such as drafting a valid legal document or paying property taxes, you know that it's a struggle. The good news is—it doesn't have to be!
With a bit of assistance, you can draft a POA document and learn how to reduce your property taxes in a jiffy!
DoNotPay will also show you how to tackle any of the following tasks like a pro:
We Offer More Helpful Tools!
Helping you deal with bureaucratic hurdles isn't everything we got in store for you! DoNotPay boasts various other nifty tools that you can use to deal with everyday tasks. You can: