How Long Can You Get Financial Aid at a Community College, and How?
Even though community colleges have way cheaper tuition than most renowned universities across the country, students still need financial aid to afford them.
One of the most common questions about this type of support is—how long can you get financial aid at a community college, and how can you apply for it? Search no more—this guide is all you need to decipher the available programs and get the necessary help for financing your education!
How Long Can You Receive Financial Aid for a Community College?
Most institutions have a limited, 150% time frame for using the available financial support programs. This means that you can receive financial aid for six years if you are at a four-year college or three years in case you opt for a two-year college.
Since community colleges last for two years, you will be able to apply for financial help for three years in a row. After finishing your education at the institution, there's a possibility of enrolling at a regular college and requesting support for the remaining three years.
How To Apply for Financial Aid at a Community College
The financial aid application process for community colleges is quite similar to the procedure for regular ones. To check your qualifications, the college authorities require you to fill out a Free Application for Federal Student Aid (FAFSA). By reviewing it, they will gain insight into your household details, financial possibilities, and all other important factors.
Depending on the college, you may sometimes need to submit additional forms, especially if you are applying for state financial aid. The safest path to see if you need to submit other application forms is to check out the particular institution's website.
The table below shows all the steps you should take before, during, and after the application procedure:
Steps
Details
Check your eligibility for completing a FAFSA
Federal Student Aid (FSA) proposes specific standards you must meet to apply for financial aid via FAFSA. Besides being a U.S. citizen or belonging to other eligible non-citizen categories, you must also:

Maintain solid academic success
Register for Selective Service if you are male
Enroll in one of the college's programs for the minimum number of credit hours

Get informed about the deadlines for submitting your FAFSA
Whether you are applying for federal or institutional financial aid, you must ensure to complete and send the form within the proposed time frame. You can find this info on the official FSA website or the particular college web pages
Fill out the form
Provide the necessary details, answer all the questions, and make sure you have the correct information. Check each detail using some of your documents and paperwork—Social Security Card, driver's license, or bank statements
Submit your FAFSA
Once you complete the FAFSA form, you can:

Mail it to the organization's physical address
Submit it online via your FSA account
Send it via the myStudentAid smartphone app

Examine your Student Aid Report (SAR)
You will get this document a few days after sending your application. It can be physical (paper) or digital, and it sums up everything you wrote in your FAFSA along with your Estimated Family Contribution (EFC). By revising it, you confirm that there are no mistakes or inaccurate information that may decrease your chances of getting the necessary support
Consider the offers you get
The colleges you listed in your FAFSA will send you official letters with specific financial aid offers. Compare them and see which one would work best for you. If your preferred college didn't meet your expectations with its offer, you can file an appeal to get more money
Types of Financial Aid You Can Apply for at a Community College
Community colleges offer the same or similar programs as regular, four-year ones. You can opt for:
Loans
Grants
Scholarships
Federal, state, and institutional work-study programs
Did you hope to get the maximum amount of Pell Grant or any other type of aid but ended up with a lower offer? If yes, subscribe to DoNotPay, use our app to file a complaint, and fight for a higher amount!
Rock Your Financial Aid Appeal Letter With DoNotPay!
Are you worried because you don't have enough time or skills to write a complete appeal letter? If you think you will forget something important and put your second chance at risk, fear no more—check out DoNotPay and file an appeal in a matter of seconds!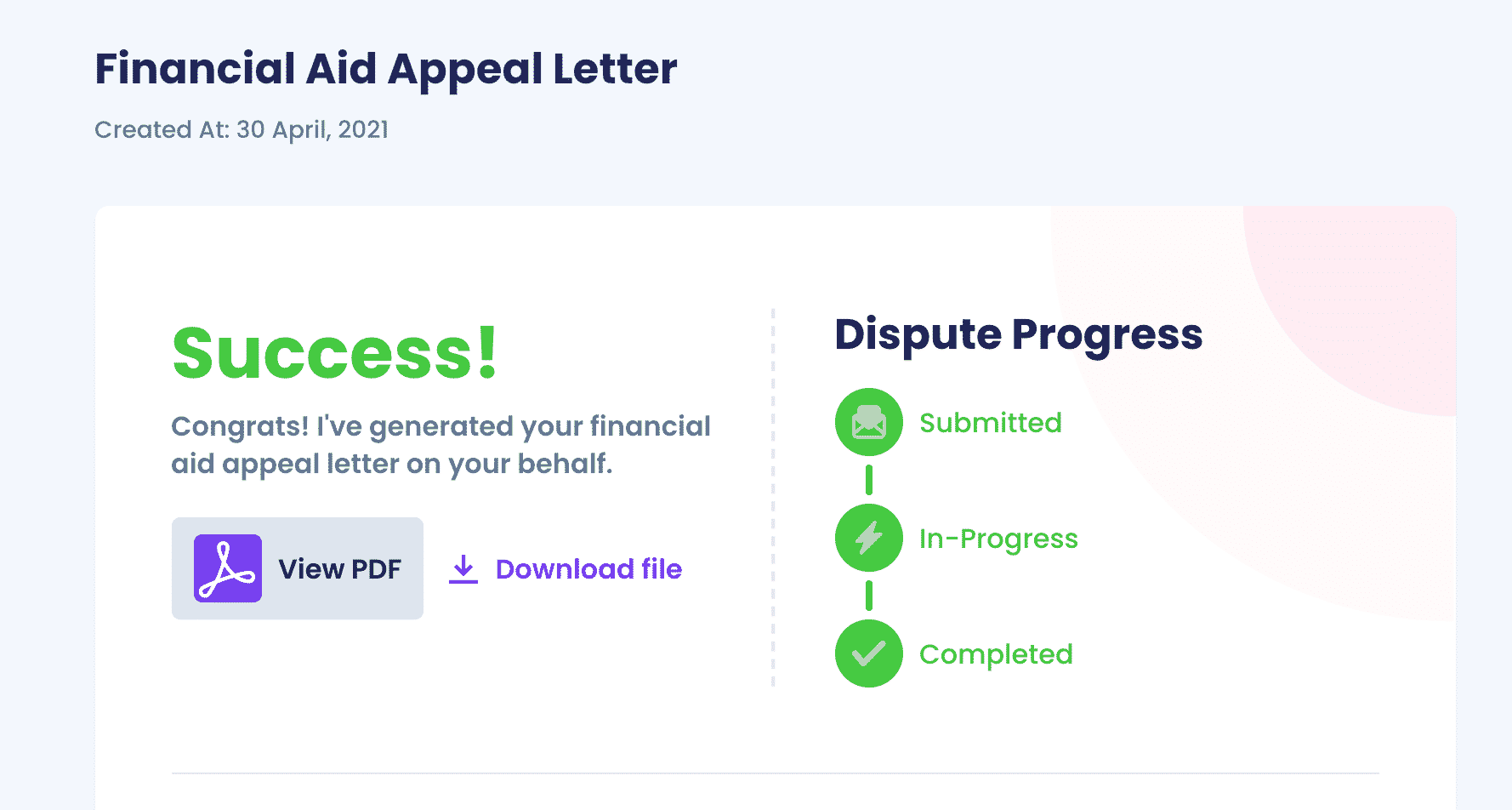 You don't have to reach out to the college directly or compose anything on your own—we will! Using the information you disclose in our quick questionnaire, we will create a personalized letter and even mail it to the institution in question on your behalf. All we need from you is a few clicks!
Check out the instructions for filing a quick and efficient appeal with DoNotPay:
Make an account with DoNotPay and log in
Go to Appeal for More Financial Aid
Input the name of the college/grad school you want to go to and the ones that made more attractive financial aid offers if there are any
Complete our chatbot's questionnaire
If the college or university you prefer doesn't offer a satisfying financial aid program, why not consider other, potentially more favorable options? We created excellent guides for obtaining financial support from the following institutions:

DoNotPay Crosses All Your Tasks Off Your List
Whether you need help with preparing for government tests, online faxing, or getting your documents notarized—DoNotPay will be able to help! Whatever problem you're facing, we'll turn it into a breeze!
Sign up now if you want an easy solution to stop email spam, cancel unneeded subscriptions, schedule DMV appointments, and draw up agreements from the comfort of your home.
We can also help you reduce property taxes, pay bills, appeal parking tickets, and find any unclaimed money.
Improve Your Quality of Life With DoNotPay
The beauty of our platform is that besides bureaucratic issues, it can also assist you with numerous other struggles! To name a few, we can help you:
The list could go on for days!