Everything You Need To Know About the PostalAnnex Passport Photo Cost
Your bucket list might involve traveling the world, but you can only do that if you have a valid passport. The first step to getting one is having your passport photo taken. There are lots of places that offer professional passport photo services, and PostalAnnex locations are some of them.
This article will teach you everything you need to know about the PostalAnnex passport photo cost. If you want the easy way out, take your photo at home and to adjust it according to all the official requirements.
Essential Requirements for a Passport Photo
The first step to taking a passport photo is understanding the State Department's requirements. The essential ones are mentioned in the table below:
Requirements
Brief Explanation
Date of the photo
To reflect your current physical appearance, the photo needs to be taken within the last six months
Size and paper quality
The measurement of the photo needs to be 2 x 2 inches (5 cm x 5 cm). It should be printed on good quality photo paper
Resolution
The image needs to be in a high resolution and should not be blurry or grainy. Acceptable resolution ranges from 600 x 600 to 1200 x 1200 pixels
Paper
The photos should be printed on a matte or glossy photo paper
Background
The background should be white. Even the gray or beige tones are not allowed
Pose and expressions
Your posture should be straight, with your face turned directly towards the camera and your eyes open. Passport requirements mandate that you cannot have a toothy smile, but that does not mean you have to look grumpy—you can keep a natural smile.

Please note that using selfies as passport photos is strictly prohibited

Filters
Since filters and digital enhancers can change your physical appearance, you are not allowed to use them in your photo. If there's a red-eye effect in your picture, retake the photo instead of trying to edit it
Clothes
Wear everyday clothes or business attire. Don't wear:

Hats
Uniforms
Headscarves
When using the services of a professional photographer, make sure that they are aware of all the government requirements.
PostalAnnex Passport Photo Information
If you want to get your passport photos taken at PostalAnnex, here is what you need to know:
Two passport photos cost $14.99
PostalAnnex business hours are as follows:

Mon to Fri: 7 a.m.–8 p.m.
Sat: 8 a.m.–6 p.m.
Sun: 10 a.m.–5 p.m

You don't need an appointment to get your picture taken. If you're skeptical about walk-ins, call their customer service at 1-800-767-8252 to confirm your slot
How To Get Your Passport Photo Taken at PostalAnnex
To get your passport photo taken at PostalAnnex, follow these instructions:
Dress up according to the State Department's requirements
Go to the nearest PostalAnnex
Ask an employee to guide you to the passport photo booth
Get your picture taken by a professional photographer
Pay for the photos
You will need to wait for an hour to get the physical copies.
Other Places Where You Can Get Your Passport Photos
If you want to check out other options, here is a list of places you can visit to get your passport photo taken:
Shipping centers—Other shipping centers, like FedEx and UPS stores, can also serve the same purpose. Call the nearest shipping center to confirm if they offer this service
Photography studios—Most photography studios have expert photographers who can take your picture. There are a few drawbacks when choosing this option:

Studios usually charge an exorbitant amount compared to other places
The photographer taking your photo might not be aware of the passport photo requirements
Photographers might retouch or edit the photo more than allowed by the U.S. State Department

U.S. passport offices—Passport offices are convenient locations to get your passport photos taken. Once you're done, you can fill out your application, submit it, and send it for processing at the same time
At home—You can also take a passport photo at home by setting your camera on a tripod. Alternatively, ask a friend or family member to take it for you
Is It Convenient To Get Your Passport Photo Taken at a Store or a Shipping Center?
Although it might seem convenient to get your passport photo taken professionally, there are some factors that you should consider:
Your photographer might not be acquainted with the official passport photo requirements
You may have to wait for hours to get your photos printed
Stores and pharmacies sometimes charge unreasonable amounts for passport photos
Why take the risk of getting your photo rejected when you can take the perfect photo at your home and adjust it online?
Take Passport Photos From the Comfort of Your Home With the Help of DoNotPay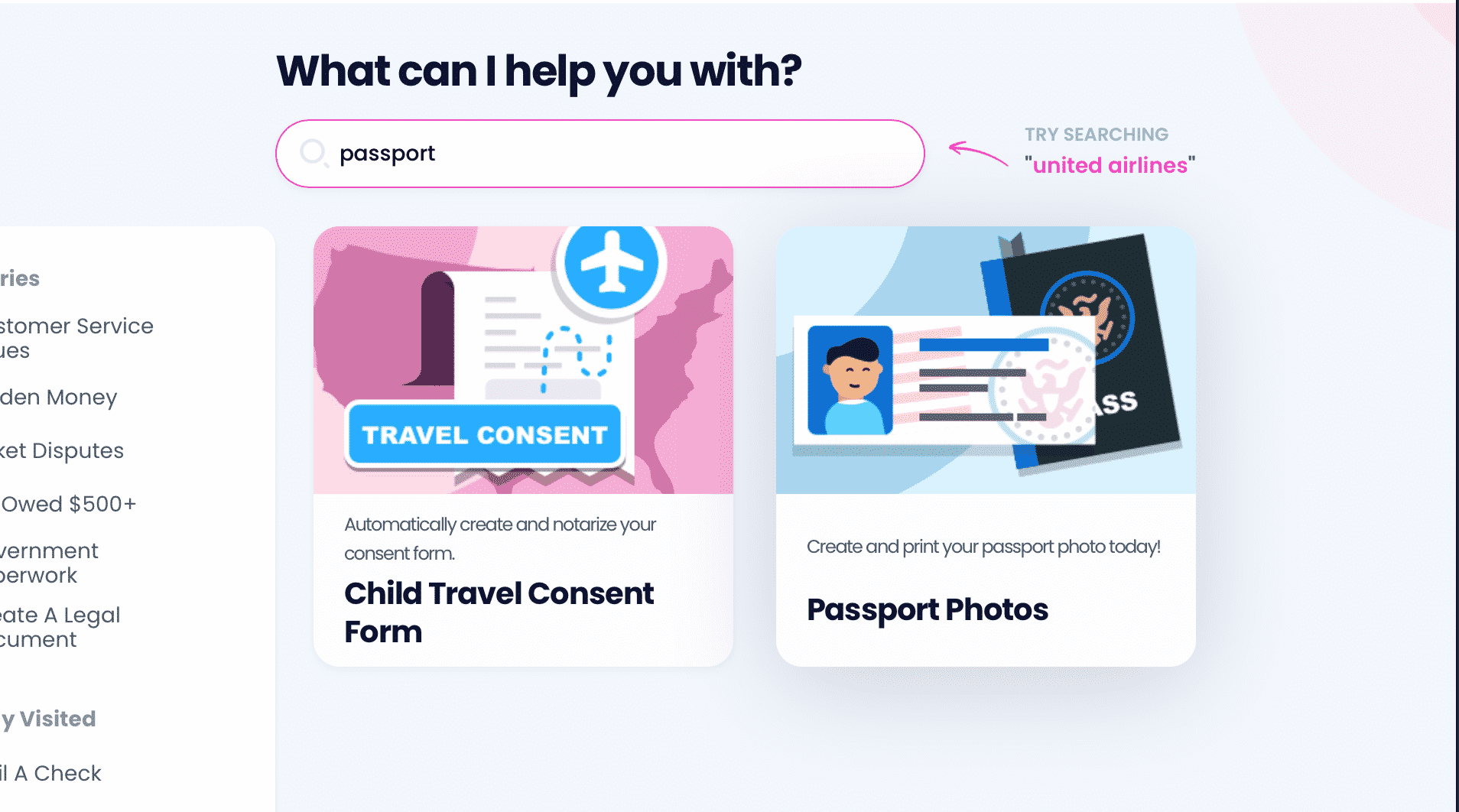 If you want a digital passport photo that passes the requirements without wasting your time and energy, you've come to the right place. DoNotPay's Passport Photos feature can generate a picture-perfect passport photo.
Here is what you need to do:
in your web browser
Select the Passport Photos feature
Take your picture—in case you already have one, upload it from your phone or computer
DoNotPay's AI-powered technology will adjust the photo and email it to you. If you want physical copies, we will mail them within three to ten business days, depending on the urgency.
Find your place of residence in the table below to see where you can have your passport photo taken:
DoNotPay Makes All Issues Go Away in Several Clicks
Using DoNotPay comes with plenty of advantages, the main one being that you can resolve just about anything in a matter of clicks. It doesn't get any easier than that!
Do you need to fax a document, draw up an agreement, submit a FOIA request, get a contract notarized, file a warranty or insurance claim, get a burner number, schedule a DMV appointment, or appeal a parking ticket as soon as possible? Sign up now and clear out your schedule because we'll handle it all!
Are you looking for your missing money? Do you need help with your utility bills or property taxes? We're here to help!
Get Rid of Paperwork With Your AI-Driven Assistant
Even though paperwork belongs in the past, we have to keep dealing with it almost daily. To avoid this annoyance, you can just use DoNotPay!
If you need to compose a demand letter to a rude neighbor, submit a claim for a late or missing package, request compensation from an airline, or sue any company in small claims court, we have your back!
All you need to do is sign up, tell us what you need, and resolve any issue in a matter of minutes!