U.S. Passport Photo Size Metric Explained
The U.S. Department of State's Bureau of Consular Affairs proposes strict rules related to the size of your passport photo. If you make a mistake and submit a picture of dimensions different than the proposed ones, your application may be put on hold or rejected.
This guide brings you a rundown on the U.S. passport photo size metric, explaining how big your image should be and what other details you should consider. You will also:
Take a peek at the other general passport requirements
Find out how and where to get your passport picture
What Should Be the Size of Your Passport Photo?
According to the prescribed requirements, your passport picture must be 2 x 2" (approximately 51 mm x 51 mm).
Besides the general size of the photo, there's also a head size standard—it must range between 1" and 1 ⅜" (25 mm x 35 mm) from the bottom of your chin to the top of your head. The required passport picture is usually printed on a 4 x 6" piece of paper.
What Other Criteria Must Your Passport Picture Meet?
When it comes to other passport photo rules, you should:
Use a picture not older than six months
Print it on a high-quality piece of paper with a matte or glossy finish
Set a white or off-white background when taking a photo
Make sure the picture is in high resolution if it's digital—600 x 600 pixels at least
Dress neutrally, without vivid patterns or prints, uniforms, costumes, or camouflage clothing items
Smile mildly or not smile at all and have a blank (neutral) facial expression
Remove all accessories that may hide portions of your face, such as:

Glasses—unless your doctor provides a signed statement that confirms you shouldn't take them off
Sunglasses and other eyewear
Hair accessories and headgear
Hats and head coverings—unless worn for religious reasons
Large piercings and pieces of jewelry
Where Can You Get Your Passport Photo?
There are two ways to get your passport picture at:
Home
Designated locations
Getting a Passport Photo at Home
The first option, which is free and less demanding, is taking your own passport photo at home with a smartphone or regular camera. Unlike in photo studios, where professionals usually know what to do to take a good passport photo, you must check the standards yourself and ensure you comply with them.
Since you can't take a selfie and make it your passport picture, use some help and have a friend or a relative take a photo instead. Once they do it, you can transfer the image to a computer and edit it by:
Cropping
Resizing
Setting the head size
Fixing the lighting
For this purpose, you can use one of the numerous online tools and photo apps or regular programs on your PC or laptop.
Getting a Passport Photo at Other Locations
If you aren't sure that you would be able to make a good passport picture yourself, there are various locations in the city where you can get it instead. Check out the following table for some ideas:
Type of Place
Locations
Nearby passport offices

Clerk offices
Public libraries
Municipal government offices
Passport application acceptance centers

Stores and pharmacies

Professional photo studios and stores

Shipping companies
DoNotPay Helps You Create a Suitable Passport Picture Swiftly
Would you like to save some coins and avoid professional photo services, but you don't want to take risks with creating a passport picture yourself? DoNotPay is here to help!
Let our app scan the photo you want to use as a passport picture and fix all the features that don't comply with proposed standards. We will adjust the background, contrast, and all other necessary settings and help you get a perfect image in less than five minutes.
Here's how it works:
in any browser and log in to your account
Choose the Passport Photos product
Upload the desired photo or take one with your cellphone camera
Input your email address to which you want us to send the photos
You can also choose a shipping option and provide mailing details if you want to get physical copies too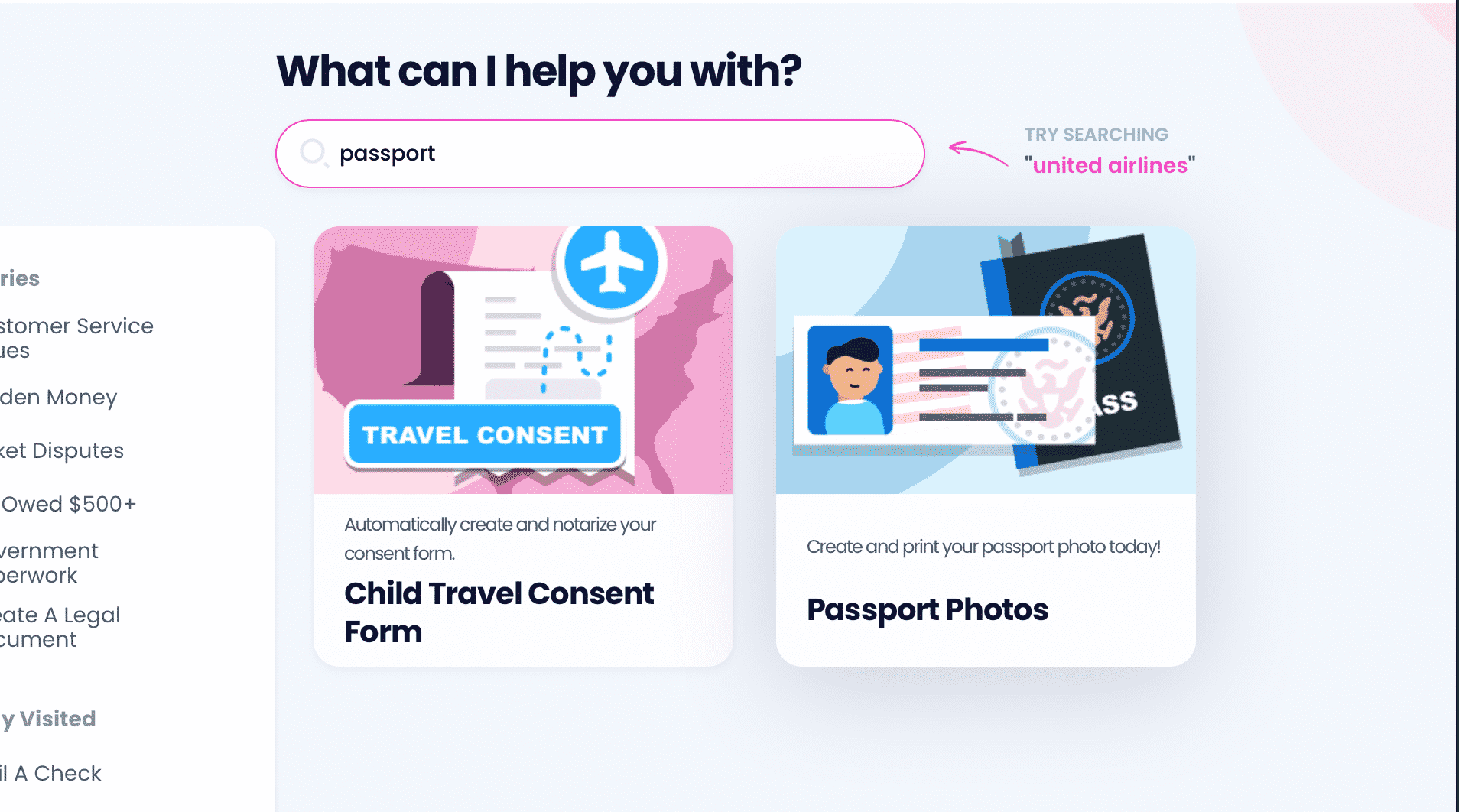 Our app can't recognize your face on the photo you uploaded? No worries—you will have an option to start a new scan by providing another image.
If you opt for the electronic version only, we'll forward it to the email address provided right away! Should you choose to get physical pictures to your mailing address, they will reach you within three to ten working days!
Check Out Our City-Specific Passport Photo Guides
Find your place of residence in the table below to see where you can have your passport photo taken:
Discover DoNotPay's Product Range
DoNotPay has a vast range of products that help you earn and save money and fight bureaucracy. Check out how to get insurance or warranty, file a FOIA request, send anything through online fax, draw up a tailor-made legal document, get documents notarized, get a college fee waiver, sign up for any clinical trial, and so much more!
Your personal AI-powered assistant can also lend its helping hand if you need to fight email or text spam, get robocall compensation, request refunds from airlines, draw up a child travel consent form, prepare for government tests, and combat workplace discrimination successfully.
Save and Earn Money
The best part of using DoNotPay is that you can both save and earn money. As soon as you sign up, make sure you check out how you can find missing money, get free raffle tickets, get compensation for victims of crime, report a late or missing delivery and get a refund for it, and request gift card cash back.
If you want to sign up for a free trial risk-free, cancel any subscription-based service, request a refund from a company, sue anyone in small claims court, or jump the phone queue when getting in touch with customer service reps, you can always count on us.