DoNotPay—The Best Passport Photo App You Will Ever Come Across!
Taking passport photos used to mean going to a studio to get your photo taken and waiting for hours to get them printed. Now you can easily do it online on your own!
DoNotPay is the passport photo app you need. Subscribe to our service and get your passport photo in the blink of an eye.
Can You Take a Passport Photo Yourself?
Taking a passport photo might seem easy, but it comes with a lot of requirements. If you don't fulfill a single requirement, you risk getting your passport application rejected. Here is a list of government-ordained parameters that you need to keep in mind:
Date of the photo—The photo should be taken within the last six months
Paper quality—The photo needs to be printed on good quality matte or glossy paper and should not be greasy or smudged
Measurements—The size of the photo should be 2 x 2 inches (5 x 5 cm)
Pixels and resolution—The photo should have high resolution, between 600 x 600 and 1200 x 1200 pixels
Background—The background should be white
Filters and digital enhancers—You cannot use filters or digital enhancers on your picture. In case you are not satisfied with the picture, you need to retake it
Selfies—You can't take a selfie. If you are unable to take the photo yourself, ask someone else to take it for you
Other Requirements for a Passport Photo
Here are some additional requirements that you need to pay attention to when taking your passport photo:
Requirements
Brief Explanation
Pose
You need to be sitting up straight, facing the camera directly, with your face and ears visible
Expression
Your facial expression should be neutral, but you can still show a natural smile. Try not to look sullen or grim in your picture
Clothes
You can wear everything from business attire to everyday clothes. There are some restrictions on clothing, though. You shouldn't wear:

Uniform
Face masks
Camouflage attire
Headphone or wireless devices
Hats or headscarves unless they're needed for medical or religious reasons. You need to provide a signed statement to verify this

Accessories
The following accessories are strictly forbidden:

Jewelry—only permanent facial jewelry is allowed. Any jewelry that obstructs your facial features is not allowed
Glasses—you can wear prescription glasses if you provide a signed doctor's statement confirming that you can't take them off
Sunglasses and tinted glasses
Headbands and hair scrunchies
Heavy makeup
How To Take a Good Passport Photo Using Your Phone
To take a good passport photo at home using your phone, here is a step-by-step guide that you can follow:
Ensure that you're wearing the proper passport photo attire and remove any unnecessary accessories
Choose a white wall or door as your background
Set up proper lighting and ensure that there are no shadows or uneven lighting—avoid using flash on your phone
Set up your phone on a tripod—if you don't know how to take the picture yourself, ask a friend or family member to take your photo
Take multiple photos and choose the one that fulfills all the requirements
Once you've selected the photo, transfer it to your computer, and edit it according to the requested parameters.
What Phone Do You Need To Take a Good Photo?
Although it goes without saying, you need a phone with a good camera. Whether you own an iPhone or an Android, your phone camera needs to have the following features:
The ability to take high-resolution photos—ten to twelve megapixels will be more than enough
Good zoom
Decent sensor size
Why You Should Take a Passport Photo at Home
Even though taking your passport photo at home might seem unprofessional, it has its advantages, as presented in the list below:
Time efficiency—You don't have to wait for hours to get your printed photo
Availability 24/7—You don't need to figure out shops' business hours when you can get your photo taken and printed at home
Cheaper alternative—Most shops and professional photographers charge more than they should for passport photos
Why pay unreasonable amounts of money for a couple of passport photos when we can help you at a fraction of the cost? Sign up for our app and get your passport photos within minutes!
DoNotPay Is the Best App for Passport Photos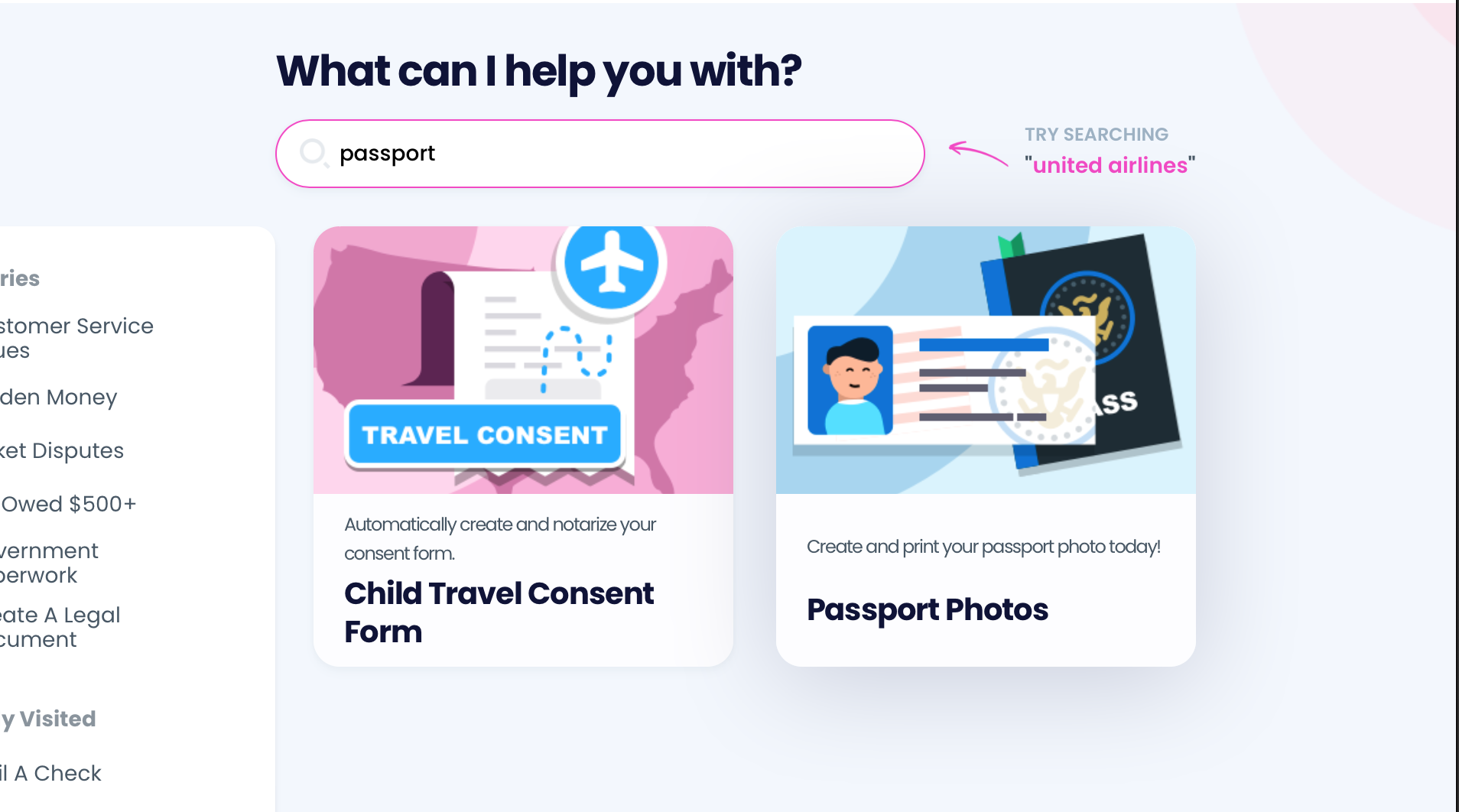 If you're worried that you will end up making an irreparable mistake while taking or editing your photo, use our app to get an ideal headshot instantly. By making the necessary adjustments, we ensure that your passport photo gets approved on the first try!
All you need to do is follow these instructions:
Access DoNotPay from the web browser
Search for the Passport Photos feature
Take a photo using your camera or upload an already existing one
Provide us with your email address and specify whether you want to receive printed copies as well
If you want us to email the photo, you will receive it in minutes. In case you want physical copies, we will send them to your address in a few days. We provide the following shipping options:
Rush shipping (three business days)
Expedited shipping (four business days)
Economy shipping (up to ten business days)
DoNotPay's knowledge base can provide other helpful info on passport photos, such as:
Find your place of residence in the table below to see where you can have your passport photo taken:
DoNotPay Makes All Issues Go Away in Several Clicks
Using DoNotPay comes with plenty of advantages, the main one being that you can resolve just about anything in a matter of clicks. It doesn't get any easier than that!
Do you need to fax a document, draw up an agreement, submit a FOIA request, get a contract notarized, file a warranty or insurance claim, get a burner number, schedule a DMV appointment, or appeal a parking ticket as soon as possible? Sign up now and clear out your schedule because we'll handle it all!
Are you looking for your missing money? Do you need help with your utility bills or property taxes? We're here to help!
Get Rid of Paperwork With Your AI-Driven Assistant
Even though paperwork belongs in the past, we have to keep dealing with it almost daily. To avoid this annoyance, you can just use DoNotPay!
If you need to compose a demand letter to a rude neighbor, submit a claim for a late or missing package, request compensation from an airline, or sue any company in small claims court, we have your back!
All you need to do is sign up, tell us what you need, and resolve any issue in a matter of minutes!