The Ins and Outs of Homeschooling Without a Curriculum
Once you've decided to start homeschooling your child, you need to figure out various details. Meeting legal requirements is essential for a smooth transition from (public) school to homeschool. You should also get familiar with the mandatory subjects and hours to know how to get started with homeschooling.
One of the pain points in the process is finding the appropriate learning program. What about homeschooling without a curriculum? Is it an option your student could benefit from? DoNotPay examines the issue so that you can make an informed decision.
What Does Homeschooling Without a Curriculum Mean?
Homeschooling without a curriculum means teaching your child without relying on a formal homeschool curriculum. This way, you don't have to spend your:
Time on choosing a syllabus—There's a variety of available curricula, so it'll take time to research and select one
Money on purchasing one—While a few might be free, you usually must pay for the most available curricula
Energy on following a strict curriculum—Many children respond better to a more flexible and creative learning experience you've adjusted to suit their specific needs and interests than to an accredited and fixed program
You could focus on the skills and areas your homeschooled student is expected to learn at a particular grade level while emphasizing their interests.
How To Teach at Home Without a Curriculum
Homeschool parents can teach their children without a fixed syllabus if they feel the student will benefit more from a flexible approach. If you are not sure how to structure the lessons, check out the table below for inspiration:
Homeschooling Without a Curriculum
Details
Unschooling
Homeschool teachers opt for unschooling when they want to base their classes on:

Everyday activities
Real-time life events

Your child can improve their skills and learn about various concepts in different environments.

It's important to base your educational path on your kid's needs and interests and gather lots of resources, e.g.:

Creating your unique syllabus
You or a person homeschooling your child can combine a few curricula to create one suitable for your kid. Lots of DIY homeschool programs are based on:
Using a hybrid curriculum
Since creating and implementing an educational plan by yourself can be challenging, you could combine:

Your curriculum
Available materials and services (some are even free)
Eclectic Homeschooling Might Be Suitable for Your Family
When you realize what your homeschool style is, you can opt for an eclectic method. It entails mixing different homeschool models to create one that:
Is suitable for your child
Feels natural for your family
If you'd like to use activities and ideas from famous homeschool programs, you should check out the following table:
Get Familiar With Resources While Homeschooling Without a Curriculum
One of the most important aspects of homeschooling without a curriculum is to know what resources and circumstances are beneficial. If the weather is nice, you should take your child outside to:
Explore nature and the environment
Make collections you can use to learn integrated subjects, e.g., math or science
You should seek valuable learning experiences, as they are at your disposal everywhere. Here are some places you should visit:
Public libraries
Historic sites
Nature walks
Playgrounds
Museums
Galleries
How To Start Homeschooling
Regardless of the homeschooling method you choose, you need to know what's required for the process so that you can:
Understand when to take your kid out of school—For instance, whether you can do it in the middle of the year
Know who to notify of your intent to homeschool—In most states, you need to send a letter of intent to your school district
Withdraw your child from school according to the law— to prepare a watertight notice of intent to homeschool your child
DoNotPay Is an Easy Way To Create a Notice of Intent to Homeschool
Teaching at home is fun and creative, but the additional administrative tasks are not. To cut through the red tape, use our efficient tool to generate your letter of intent to homeschool in a matter of minutes!
and take these steps:
Open the Notice of Intent to Homeschool feature
Provide information about yourself and your child
Choose if you'd like us to:

Help you get the letter notarized
Send the notice of intent on your behalf
Deliver a digital document you can print and submit yourself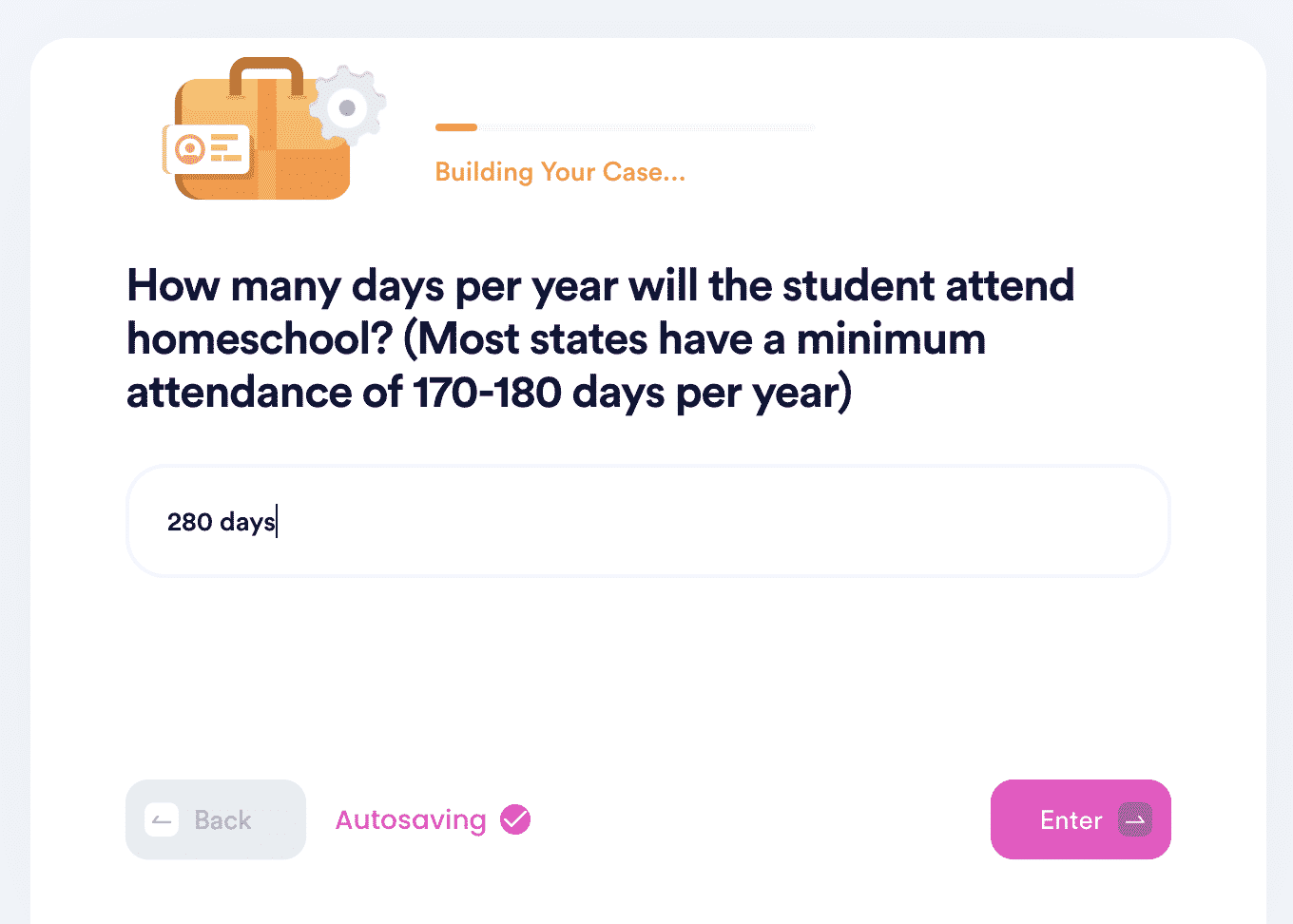 Do you want to learn more about homeschooling? DoNotPay's practical articles dissect the hot topics on home-based education, including:
Can DoNotPay Help Me With Any Other Admin or Legal Issue? You Bet It Can!
DoNotPay's robust products can assist you in fighting companies, individuals, and institutions that have wronged you in any way. Once you subscribe to our platform, we'll ensure that you never have to deal with any of the following again:
Our Product Range Offers So Much More
Subscribing to DoNotPay will bring you peace of mind as you won't have to go through tedious task completion on your own anymore. With our AI-powered app, you can get what's rightfully yours in the blink of an eye.
If you want to claim warranty or insurance, find your missing assets, get compensated for a canceled flight or a violent crime that you were a victim of, track your missing parcel, or draw up a child travel consent form, divorce settlement agreement, power of attorney, or any other legal document, you can count on us to lend you a helping hand.
Sign up today to get access to the entirety of our product range and forget about dealing with time-consuming and energy-draining chores!