The Accredited Homeschool Curriculum—Necessity or Fad?
Accreditation is not a prerequisite for homeschooling, but many parents feel more comfortable using a certified program when teaching. Look into the pros and cons of getting an accredited homeschool curriculum with DoNotPay.
We can help you with other homeschool-related queries and handle all the paperwork in your stead. To get started, —the world's first robotic lawyer.
What Is an Accredited Homeschool Curriculum?
According to homeschool laws, the parent or homeschool teacher is responsible for designing the curriculum. Some states may provide a list of mandatory subjects or demand that you get properly certified to teach.
Not everyone is comfortable devising a lesson plan from scratch. If you're not feeling up to the task, you have the option to use an accredited homeschooling curriculum instead.
An accredited homeschool program is:
Created by a third party
Evaluated and approved by a separate accreditation institution
On-par with the standard graduation requirements
Only schools with the proper accreditation can issue this type of program, such as:
You can check whether a program is on the accredited homeschool curriculum list by completing the following steps:
Visit the official website of the Distance Education Accrediting Commission (DEAC)
Access the Directory of Accredited Institutions page
Search for the name of your desired program
Check the details of the program and find the status (accredited, differed, or other)
What Are the Benefits of Using an Accredited Homeschool Program?
By using an accredited homeschool program to educate your kid, you can expect the following advantages:
Advantage
Details
True and tried curriculum
The program was deemed up to standard by a third-party accreditation agency.

Because of the official stamp of approval, many parents consider it a dependable source of home education

Consistent learning experience
When homeschooling your kids, consistency is crucial. By following an accredited homeschool program, it'll be easier to keep a steady learning pace and achieve optimal results
Scholarship opportunities
Kids who complete an accredited homeschool curriculum in high school can pursue different scholarship opportunities (e.g., NCAA funding)
Flawless record-keeping
While it's not always required by law, keeping records is highly recommended. The organization that issued your accredited homeschool plan can also take charge of your child's transcript. You won't have to keep records or create a portfolio
Legal protection
When you use an accredited homeschool program, your child's legal status and academic achievements are completely protected.

You'll reduce the risk of their diploma not being recognized by an educational institution or potential employer

Easier transition to traditional schooling
Homeschooled students who complete an accredited homeschool program perform well in traditional academic settings.

It's probably due to the number of accumulated school hours and similar learning materials. If, for some reason, you want to re-enter your child in public school, it'll be a smooth transition

Increased chances of academic success
Some colleges have incredibly strict enrollment and credit policies. If you want your child to have more options, using an accredited homeschool high school program is a safe bet. It'll be a lot easier for them to apply for Dual Enrollment or other advanced courses
The downside of using an accredited homeschool program is having little to no room for adjustments. If your child has a learning disability or an attention disorder, it might be better to use a personalized curriculum.
Families who want to center the teaching around religious beliefs may also struggle with the limitations of the program.
When Can You Get Started With the Accredited Homeschool Program?
When and how you get started in homeschooling depends on the local laws. If the child's midway through the school year, there's usually a waiting period before you can withdraw them from class.
The most common requirement for homeschooling is filing a declaration of intent to homeschool. You must submit the document to the authorities (e.g., school district superintendent) each year you continue homeschooling. Creating a notice of intent isn't mandatory everywhere, especially in the more homeschool-friendly states.
Let DoNotPay Take Care of the Paperwork and Save Yourself the Trouble
Even with all the benefits that come with the accredited homeschooling curriculum, you can't escape bureaucracy. If you want to breeze through the administration, try DoNotPay. Our Notice of Intent to Homeschool product will compose an impeccable letter of intent within minutes.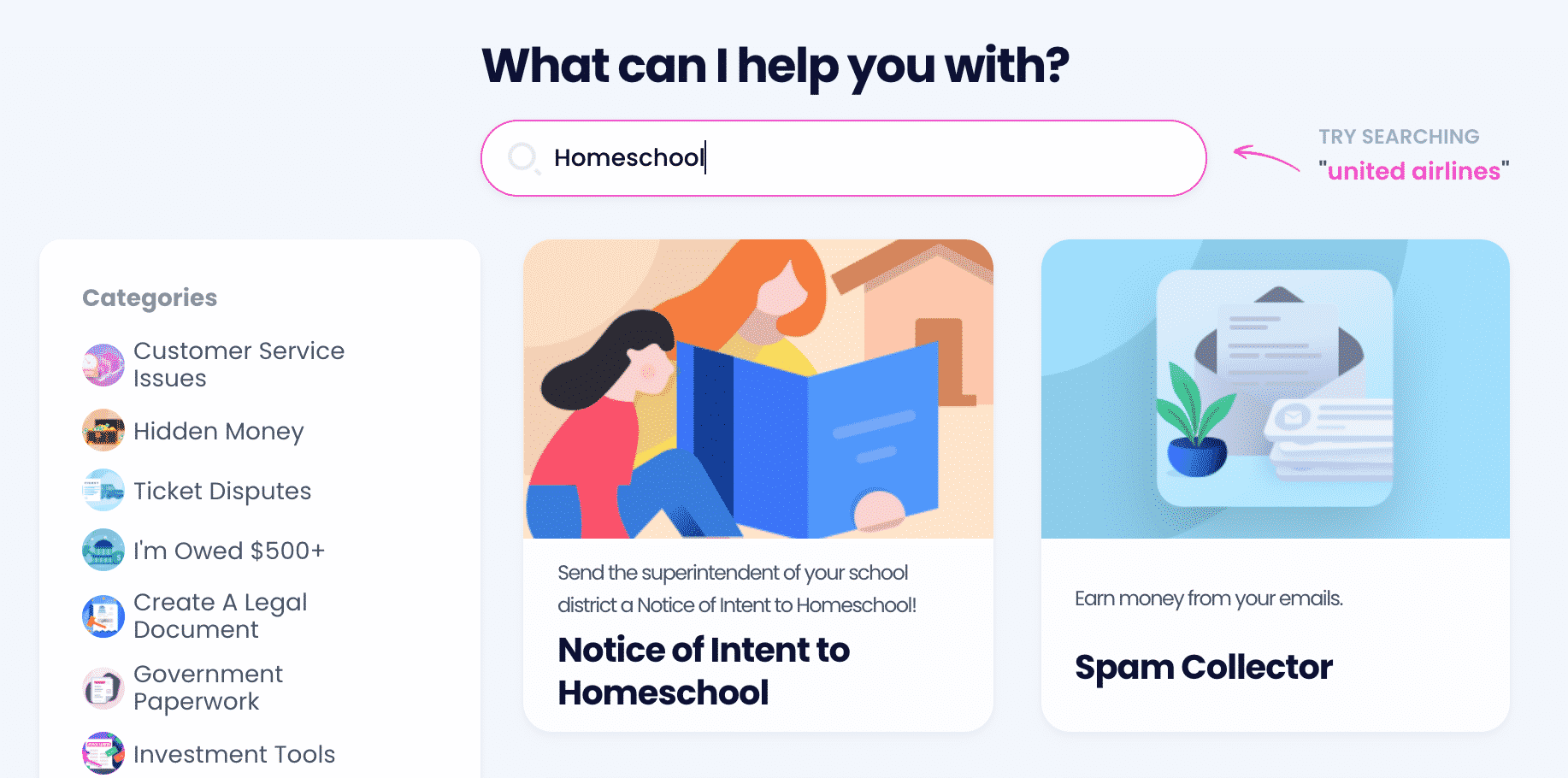 Follow these simple steps for using the feature:
using your browser
Click on the Notice of Intent to Homeschool product
Enter your school district
Answer a series of questions from our chatbot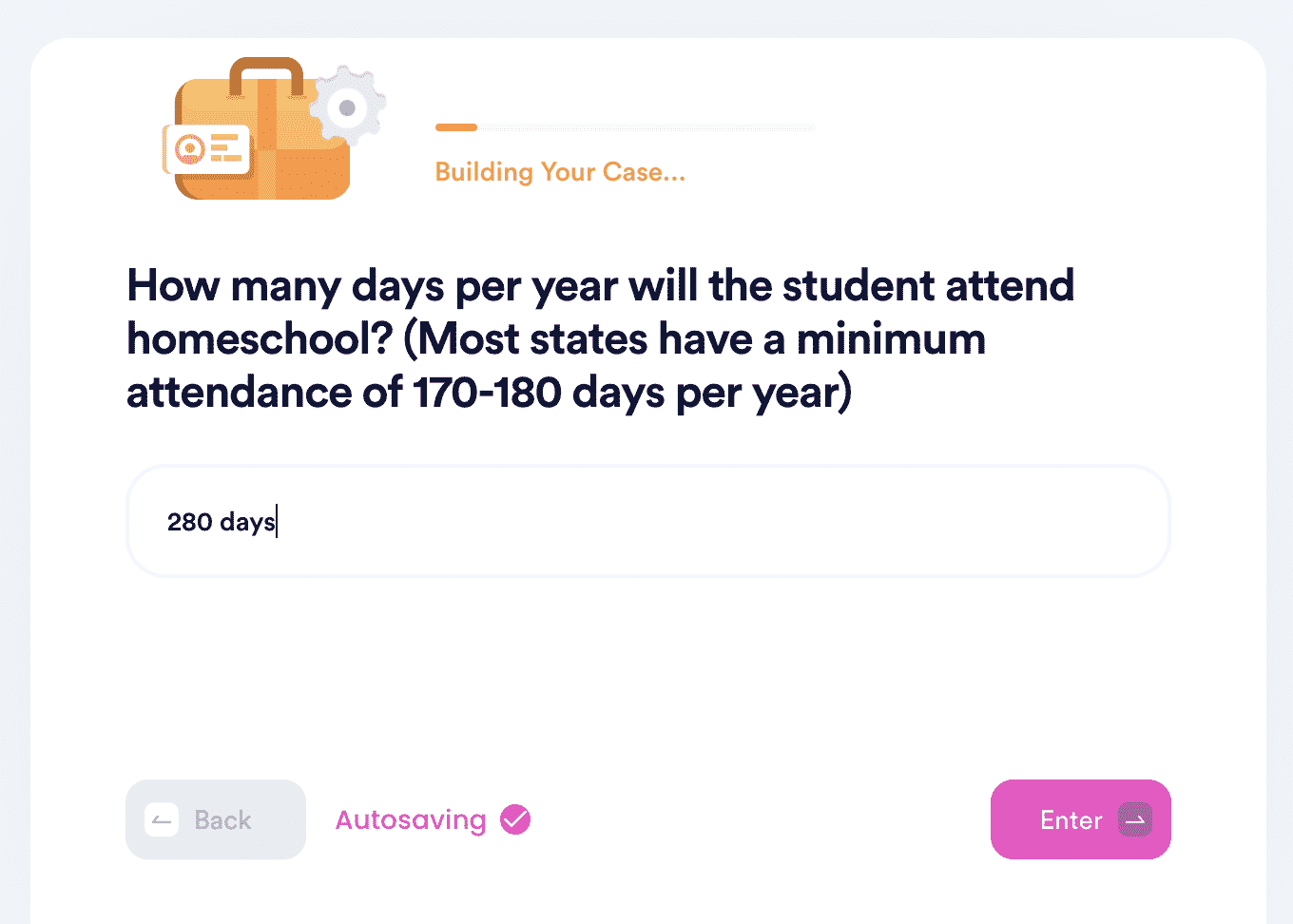 The AI-operated tool will then generate your homeschool affidavit and immediately provide a PDF version. You can take the copy to the notary office, but there's a better solution. Use DoNotPay's Notarize Any Document tool and get the declaration of intent notarized without ever leaving the house!
How Do You Know Homeschooling Is the Right Choice for You?
If you still have doubts about homeschooling, take a step back and ask yourself the following questions:
Don't Stop There—Check Out DoNotPay's Product Range
DoNotPay has many tricks up its sleeve—no matter the admin or legal issue at hand, our AI-enabled app can power through it in a split second. Look into our product range to find out how you can:
What Else Do You Need? DoNotPay Will Provide!
If you want to cancel a subscription before your free trial expires so that you don't get charged, you can count on our virtual credit card to do it in your stead! We can also make sure that you get what's rightfully yours—be it a refund, insurance, warranty, unclaimed money, flight refund, raffle ticket, or gift card cash back.
You no longer have to go through legal or administrative hurdles on your own—as soon as you sign up for DoNotPay, you'll get access to our app's assistance and will be able to use it to fight injustice.