What Types of Assistance Can You Receive if You Apply for Financial Aid?
If you're a college student or you're planning on becoming one, you should gather all the important info about the expenses you may encounter and ways to cover them. Since the best way to make the costs of enrolling and studying less expensive is to apply for financial aid, we're here to supply you with all the specifics.
Are you eligible for financial aid? What types of assistance can you receive if you apply for financial aid? These are some of the questions we'll answer for you!
Rely on DoNotPay to help you learn all about financial aid and appeal low offers or rejected applications with ease!
The Types of Financial Aid for College Explained
Financial aid comes in several different forms, and it can be federal, state, or institutional. The most common financial aid types for undergraduate and graduate students are:
Grants
Loans
Scholarships
Work-Study programs
Grants
Grants are a type of financial aid designed to help students cover the expenses of their studies without having to repay the money later on. Depending on the financial aid program that the student applies for and their financial circumstances, a certain amount of money will be disbursed to help with study costs.
Loans
Loans are the money you can borrow to enroll at your dream school, but you have to repay them (and the interests that accrue) after a certain period. You can check with your school about the available repayment options and inquire about other useful info about loans.
Scholarships
Scholarships are offered by nonprofit and private organizations to help students based on their academic success or financial situation. They are essentially free money provided by these organizations to assist deserving students during their studies.
Work-Study Programs
Federal work-study programs allow students to earn money to cover the expenses of their studies. Students can apply for work-study programs to work part-time jobs either on or off campus.
Types of Financial Aid for College—Programs
If you're wondering what financial aid programs you can apply for, check out the table below for some of them:
Financial Aid Type
Does It Have To Be Repaid?
Programs
Grants
No

Federal Pell Grant
Federal Supplemental Educational Opportunity Grant (FSEOG)
Teacher Education Assistance for College and Higher Education (TEACH) Grant
Iraq and Afghanistan Service Grant

Loans
Yes

Direct Subsidized Loans
Direct Unsubsidized Loans
Direct PLUS Loans
Direct Consolidation Loans

Scholarships
No

Merit-based
Financial need-based

Work-Study
No
Eligibility Criteria for Different Types of Financial Aid for College
There is a set of general requirements you have to meet to apply for any type of financial aid program. You have to:
Be a U.S. citizen or an eligible noncitizen
Not be convicted of the possession or sale of illegal drugs while you were receiving federal student aid
Be enrolled in an eligible program as a regular student
Register with the Selective Service System (if you are a male and not currently on active duty in the U.S. Armed Forces)
Have a high school diploma or a GED certificate
Keep satisfactory academic progress
Have a valid Social Security number (except for students from the Republic of the Marshall Islands, the Republic of Palau, and the Federated States of Micronesia)
Not be in default on a federal student loan or owe a refund on a federal student grant
Some financial aid programs require you to meet additional requirements. You should visit the Federal Student Aid website or your school's website to find relevant info about each financial aid program.
You can count on our help if you need more info regarding the financial aid application deadlines or you're wondering how long you can keep getting aid.
DoNotPay Can Help You Appeal a Rejected Financial Aid Application!
Your financial aid application may not be accepted right away. There are various reasons behind this, such as an error in your application or failure to meet one of the necessary requirements. No matter what the reason is, DoNotPay can help!
We can help you appeal a denied financial aid application or a low financial aid offer in a matter of minutes! We'll even save you from wasting time and create a financial appeal letter on your behalf. Here's what you should do to initiate the process:
Pick the Appeal for More Financial Aid feature
Answer a few questions about the college you want to enroll at and your family's financial situation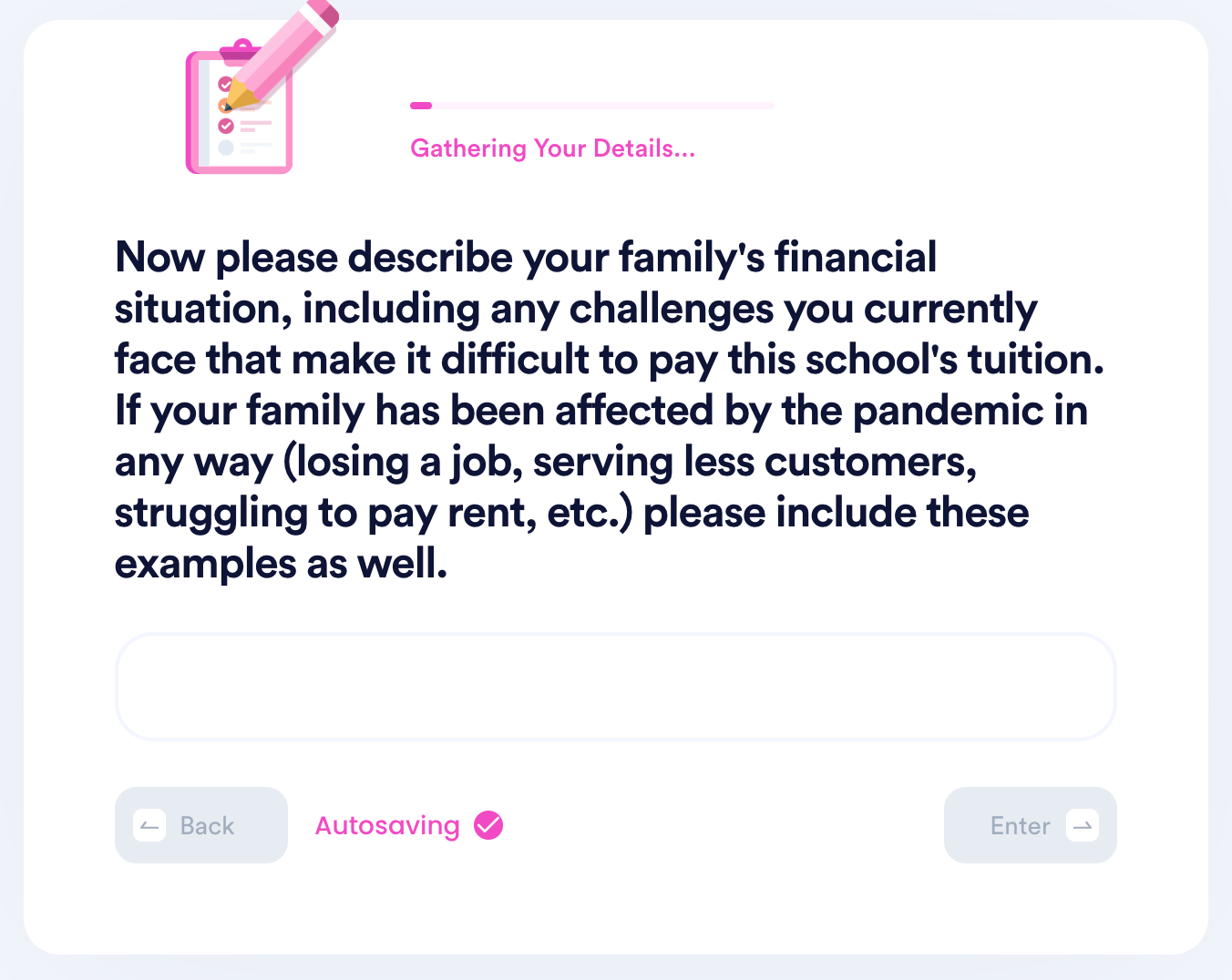 DoNotPay will create your appeal letter promptly and send it to the financial aid office of the school you choose!
If you want to look for more financial aid, you can see what other schools have to offer. Check out the table below and check out some of the schools DoNotPay can help you with:
Explore DoNotPay's Vast Database To Handle Administrative Issues Head-On
Dealing with administrative issues is never a fun experience, but you can save yourself from unnecessary hassle with our app! Once you sign up for DoNotPay, there is little you can't do. Aside from helping you deal with everyday tasks, such as reaching customer services, you can also use our app to:
Make Your Legal Troubles Disappear
Is a company giving you a hard time? Don't fret! DoNotPay can walk you through the process of suing it in small claims court and help you get the justice you deserve!
The best part is that assisting you take companies to court isn't all our app can do! We can also help you with: