Essential Information About Scholarships for Italian American Students
Most Italian Americans reside in and around New York, Philadelphia, Chicago, and Boston—homes to colleges and universities with top-level educational programs. As Italian American youth started pursuing higher education, many associations decided to help them afford tuition costs by distributing scholarships and grants.
If you're looking for information about scholarships for Italian American students, you found the right guide! In this article, you can get all the details on where to search for and how to get college scholarships for Italians!
Who Offers Scholarships for Italians?
The most common benefactors of scholarships for Italian American students are:
Organizations and associations
Federal and state agencies
Private donors
Scholarships for Italians From Organizations and Associations
The sources of scholarships for Italians are typically organizations and associations, such as:
Justinian Foundation
Italian Catholic Federation
Order Sons of Italy in America
National Italian American Foundation
John R. Mott Scholarship Foundation
The National Organization of Italian Women ensures that promising female students of Italian descent enroll in and finish college without breaking the bank.
You might have to be a member of some Italian American associations to be eligible for the scholarships they offer. Don't fret—most student-oriented organizations provide membership discounts for students.
Scholarships for Italian American Students Offered by Federal and State Agencies
If you're a student of Italian heritage, you can also opt for federal and state aid. Most federal and state scholarships and grants are need-based, but you can also find awards for academic accomplishments.
Scholarships for Italians From Private Donors
To impress private donors, you might have to:
Write essays or personal statements that explain why you think you're worthy of receiving the scholarship you're applying for
Submit several letters of recommendation written by your mentors, describing the traits they see in you that you might not be aware of
How To Find Scholarships for Italian American Students
You can find scholarships for Italians by:
Contacting:

The financial aid department of the school you're currently enrolled in or the one you plan to attend
Individual organizations
Your local religious group
Federal and state agencies
Your or your parents' employers

Using scholarship search tools
Asking previous scholarship recipients about the awards they applied for
Who Qualifies for Scholarships for Italian Students?
Besides being an Italian American, you most likely possess other qualifications that can earn you scholarships, such as:
If you're Italian but don't have a green card or permanent residence, consider applying for scholarships for international students.
Looking for scholarships for Italian students can be challenging with all of that information to keep in mind. Luckily, DoNotPay can help you streamline the process! To receive a list of scholarships catering to your qualifications, all you need to do is sign up and follow a few simple steps!
What Do You Need To Get a Scholarship for Italian Heritage?
Application requirements for scholarships for Italians vary. The essential documentation you need to apply for most scholarships for Italian American students includes:
Free Application for Federal Student Aid (FAFSA) or your local state equivalent—for federal and state financial aid
College Scholarship Service (CSS) Profile—for institutional scholarships
Individual scholarship applications
Proof of heritage and residency
High school or college transcripts—provide information about your grade point average (GPA), attendance record, and standardized test scores
Resume—includes information about your skills, work experience, academic accomplishments, and awards you received in the past
What Are Some of the Best Scholarships for Italian American Students?
Check the table below to learn about some of the best scholarships for Italian American students:
Category
Scholarships and Their Award Amounts
Scholarships for Italian American high school seniors

Ascend Educational Fund (AEF) Scholarship—$20,000
Columbus Citizens Foundation's College Scholarships—Full ride

Scholarships for undergraduate and graduate college students of Italian heritage

Oregon-Idaho Conference Ethnic Leadership Award—$750
National Italian American Foundation Scholarship Program—$2,500 to $12,000
JCCIA John Fischetti Scholarship—$2,000
Explore Scholarships for Italian American Students With DoNotPay!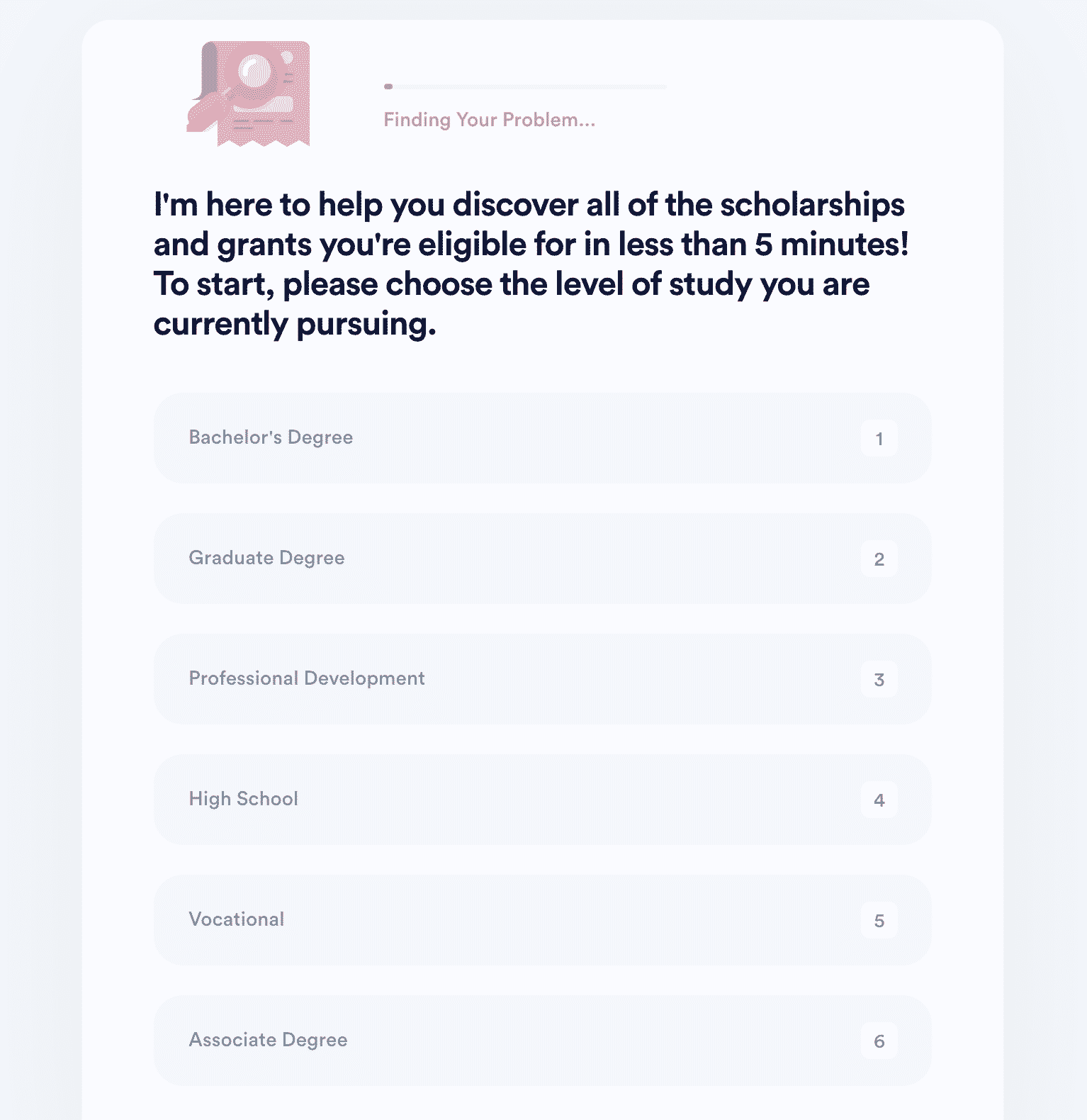 Looking for scholarships for Italians comes with its own set of difficulties. The available information is either outdated or incomplete. Students are often unable to find the essential requirements they need to know about to apply successfully. No-essay scholarships found through search tools often seem fishy.
How do you know which opportunities are available to you as an Italian American student then? The answer is simple—use DoNotPay!
Our app can create a custom list of scholarships for you, filtering hundreds of opportunities using your qualifications. To get started:
Enter Apply for Scholarships in the search bar
Answer a few short questions about your academic qualifications, the state you reside in, and other general information
Do you have no time to bother with no-essay scholarship applications? Save precious time—use our app to apply for no-essay scholarships automatically!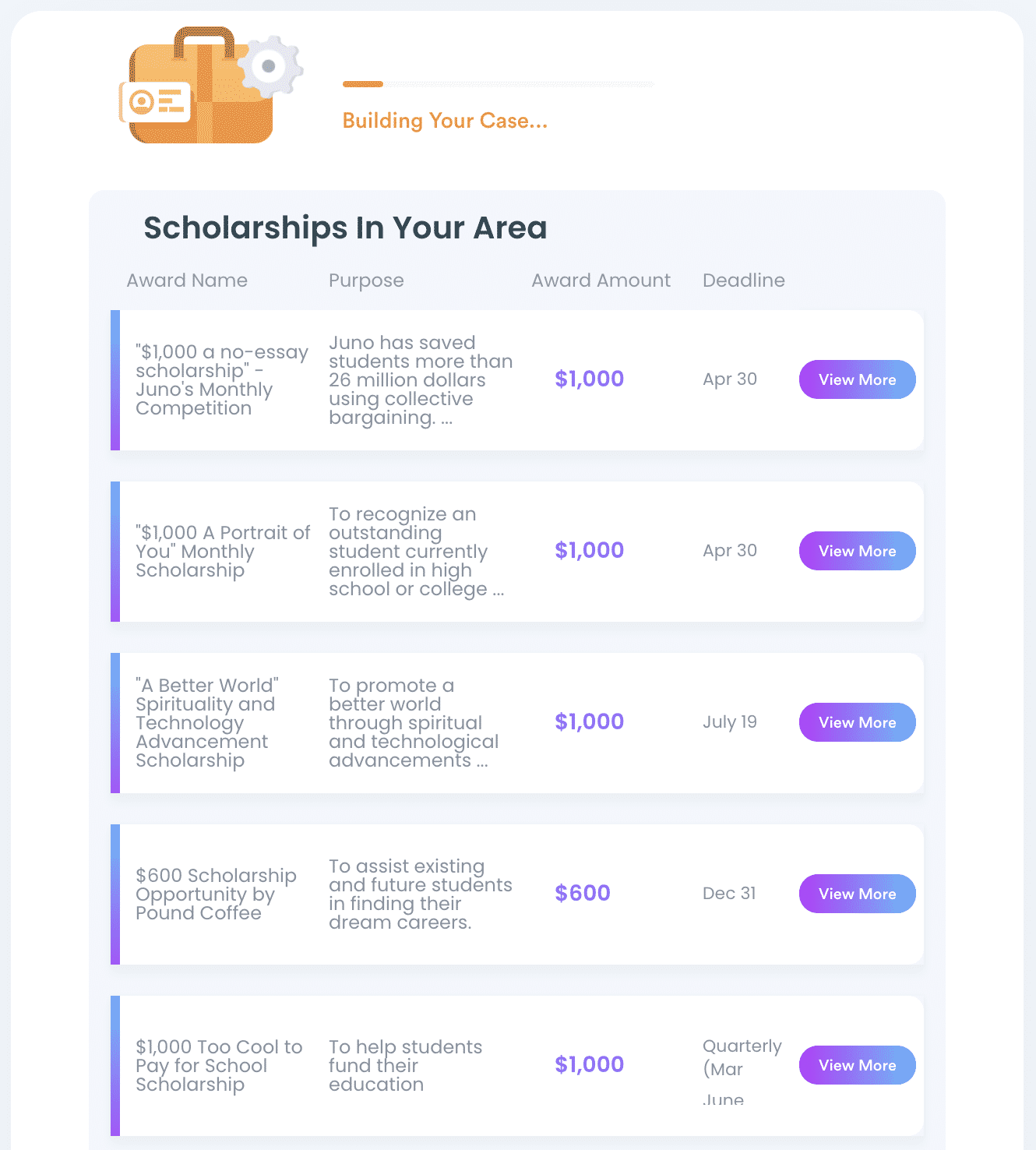 DoNotPay Offers Quick Solutions to Tedious Problems
Are you overwhelmed by your never-ending to-do list? We're happy to jump in with a perfect solution to deal with everyday tasks the easy way!
Once you subscribe to DoNotPay, you'll be able to schedule DMV appointments, lower your monthly bills, and contest parking tickets without breaking a sweat!
If you are looking for further assistance, our app will show you how to deal with the following tasks effortlessly:
Rely on DoNotPay's Legal Assistance Any Time!
If a company refuses to cooperate, use DoNotPay—the world's first robot lawyer—to sue it in small claims court! Getting the justice you deserve is only a few clicks away!
You can also use our app's various features to do the following: