How To Check if a Gift Card Has Money—Find and Retrieve the Leftover Cash Fast
Many popular stores sell gift cards that can be used to get any products or services they offer. Once you use a gift card, you'll likely forget about it and leave it in a drawer. When you come across it next time, you'll need to check its remaining balance before you decide what to do with it.
That's what we're here to show you—how to check if a gift card has money left on it. DoNotPay can also help you get your leftover gift card cash back without a hitch!
How To Check if a Gift Card Has Money On It
Gift cards usually don't have an expiry date. That means you can use them whenever you please, as long there's money on them. You may check the remaining gift card balance by using either of the methods listed below:
Visiting the store in question and checking in person
Using the company's website to check the balance
Calling the customer service hotline
Using DoNotPay's Check Gift Card Balance feature
When opting for any of the mentioned techniques, you'll need to know the gift card ID number and provide your details or email address for confirmation. Want to avoid dealing with customer service, driving to the store, and wasting a lot of time waiting? Then our app is the best choice!
DoNotPay Has the Quickest Solution for Checking a Gift Card Balance
Do you hate waiting around? Use DoNotPay to check your gift card balance in a flash. It only takes three steps to learn about your remaining balance using our app, as you can see below:
and click on the Check Gift Card Balance feature
Upload the photos of the front and the back of your gift card
Enter the email address where you want to receive the info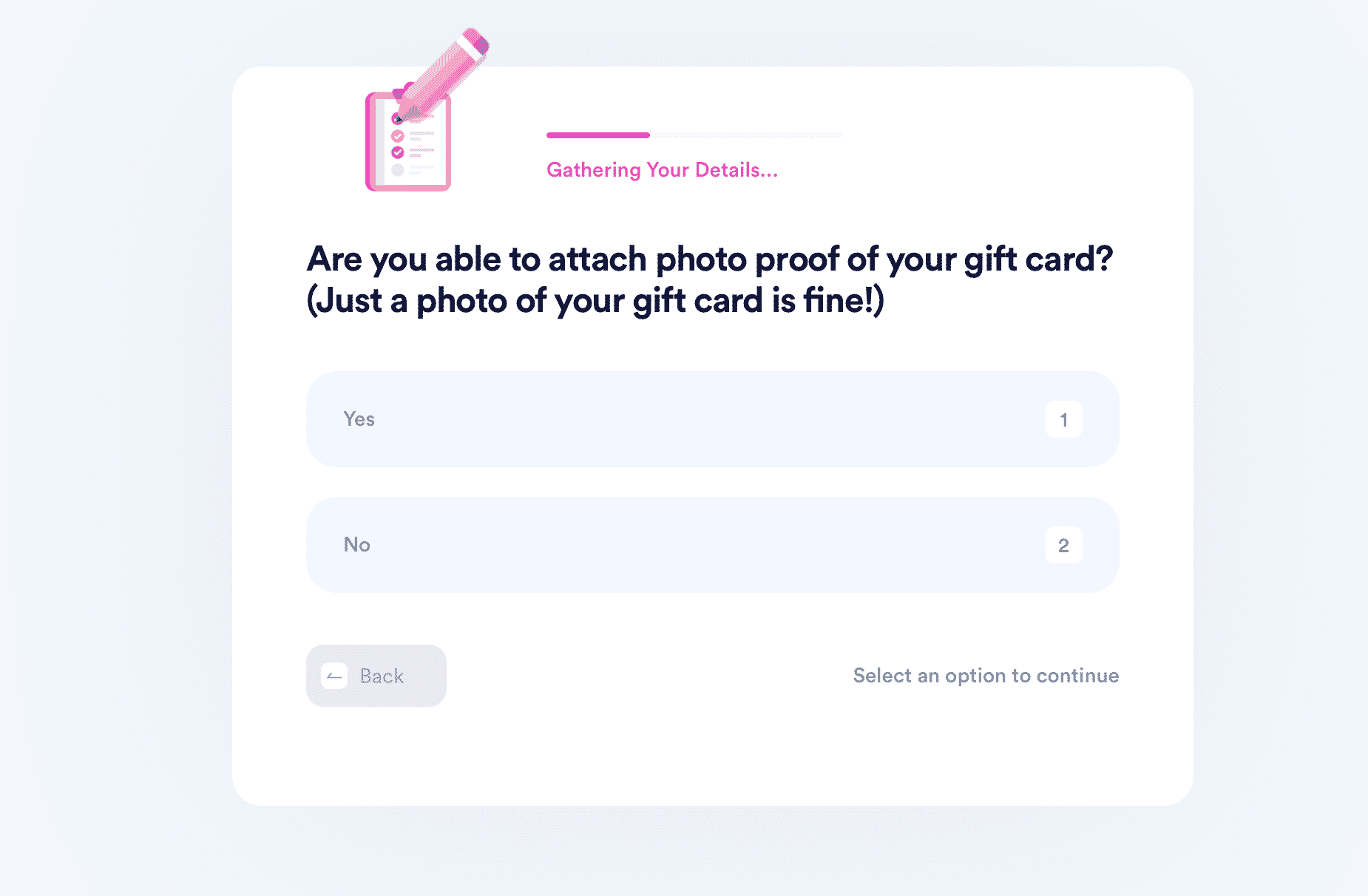 Do you need help with checking the gift card balance of multiple vendors? We have plenty of guides for you! Check the table below and learn the best ways to check if a popular brand gift card has leftover money on it:
How To Use the Remaining Money on Your Gift Card
There are several ways you can use the money left on your card. Check them out below:
Exchange your gift card for a different card if you want to use the money to shop at a specific store. Many websites provide gift card exchange services, but you should be careful not to get scammed
Sell your gift card to an online merchant, but remember that you won't get the full value of your card using this method
Return your gift card to the original store if their policy allows it. Most stores don't take cards back, so you best check their return policies beforehand
Sell your card at a gift card kiosk if you find one near you. Know that these kiosks usually offer up to 75% or 80% of your gift card's value in cash
Note that some U.S. territories allow gift card cash back, while others don't. The locations with cash back policies include Puerto Rico and the following U.S. states:
Oregon
Washington
Maine
New Jersey
California
Massachusetts
Colorado
Rhode Island
Connecticut
Montana
Vermont
DoNotPay Can Help You Get Your Gift Card Cash in a Jiffy!
DoNotPay can help you get some coins from your used gift cards. The amounts we can get for you aren't too crazy, but they add up if you find multiple used cards. You can expect to get from $3.00 to $10.00 cash per card, which usually isn't enough to shop at stores.
Getting the money is the easy part! After you check the balance, all you need to do is:
Enter everything you know about the card in our questionnaire
Provide us with an email address where we can reach you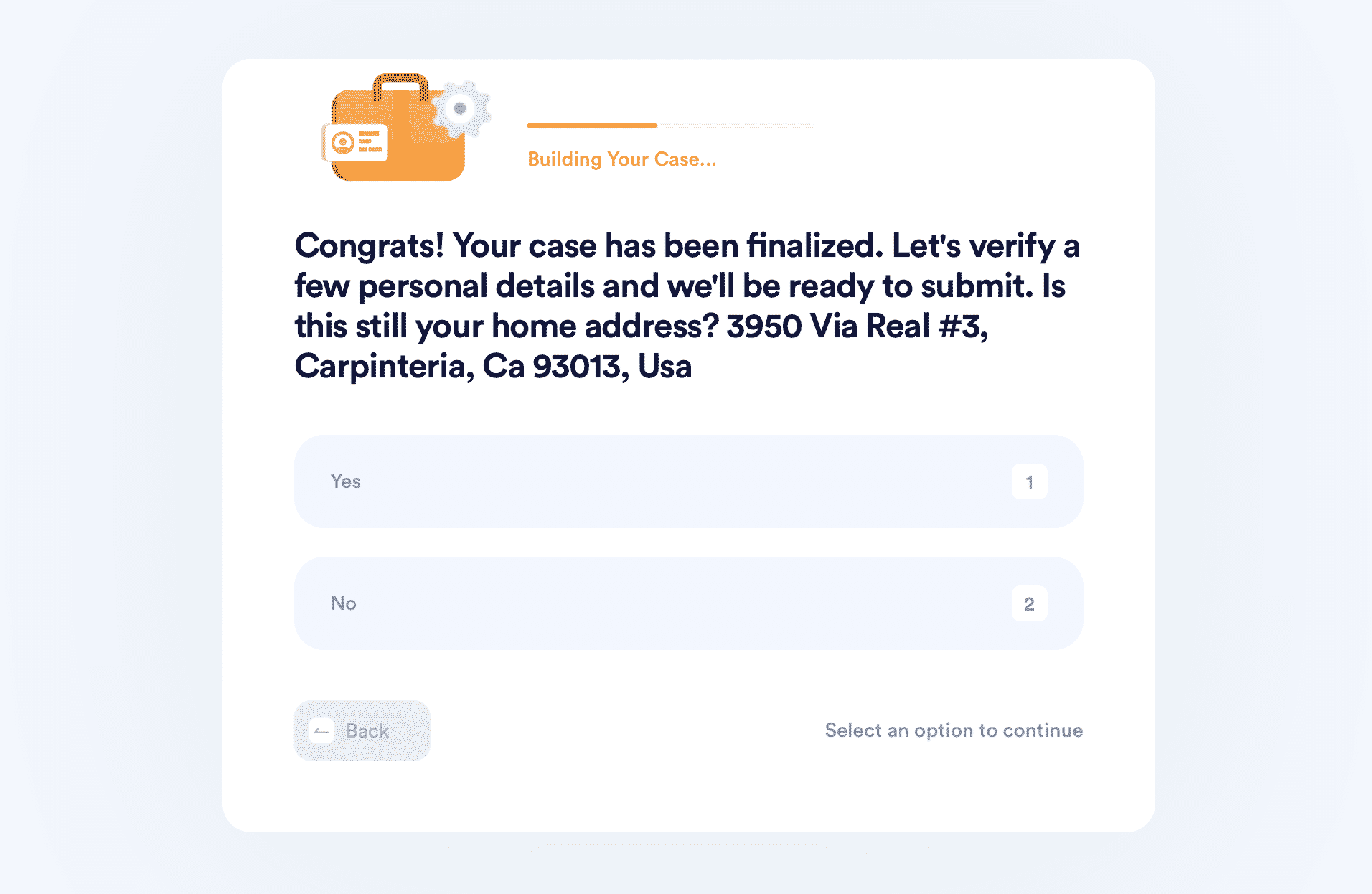 Once we check if the company has a store in one of the cash back states, we'll request your money back. The cash should be with you within 14 workdays.
Do you need more cash? Read our free gift cards guide for ways to get some nice freebies.
Is There Anything Else We Can Help You With? You Bet!
Need further assistance? No problem! As soon as you sign up for our AI-driven app, you will get access to a myriad of nifty products. DoNotPay can:
Create customized legal documents
Don't Let Greedy Companies Take What's Rightfully Yours
Have you ever signed up for a free trial that auto-renewed into a paid subscription without your consent? We're here to make sure that never happens again with our virtual credit card!
Using it, you can sign up for a free trial and not worry about getting charged because the card has no funds. Once the free trial is over, the company won't be able to take your money and will terminate the trial on its own.
Do you feel like a company wronged you? You can count on us to help you sue it in small claims court and fight for your right!
DoNotPay can also help you get refunds, insurance, warranty, and so much more!