Check Your Kroger Gift Card Balance in the Blink of an Eye
Are you planning on throwing away your used Kroger gift card but want to check if there's any balance left on it first? Let us help you out!
This article will teach you how to check your Kroger gift card balance like a pro and turn any leftover balance into cash! DoNotPay can also provide practical advice on:
What Is a Kroger Gift Card?
A Kroger gift card is a plastic card that you can use to shop at all retailers that belong to the Kroger Family of Companies, such as:
Dillons
Food 4 Less
Fred Meyer
JayC
Mariano's
The gift card works like cash, so it's important to keep it in a safe place. When you shop at any Kroger location, instead of handing over money, present your gift card to pay for your purchase.
The card has no expiration date, so you don't have a time limit to use it. In case you lose or damage your card, you will not be able to get a refund or a replacement card, even if you provide proof of purchase.
How To Check the Balance on Your Kroger Gift Card
You have three options to check the balance available on your Kroger gift card:
With your receipt
Over the phone
On the website
With Your Receipt
If you're making a purchase at Kroger using your gift card or have recently made one, check the receipt. The balance will be printed at the bottom of the sales receipt.
In case you haven't made a purchase, you can visit the nearest Kroger location. Present your gift card to the cashier and ask them to check the remaining balance for you.
Over the Phone
Here's what you need to do to check your gift card's balance over the phone:
Dial 1-866-822-6252
Press the required extension number to speak to a customer support agent
Provide your name, gift card number, and PIN
Ask them to check the balance on your card
On the Kroger Website
To check the remaining balance on your Kroger gift card on the website, follow these instructions:
Go to the Check Balance section of Kroger's website
Enter the required details, such as your gift card number and PIN
Click on Submit
You Have a Few Dollars on Your Gift Card—What Can You Do With Them?
Now that you've checked your balance and found some cash left in your gift card, you're probably wondering how to use it. See the list below to get some suggestions on using your remaining balance:
Go on a shopping spree—You can visit Kroger to make a purchase with your gift card
Gift it to someone—Do you know someone who could make use of the gift card? Consider giving it to them as a present
Sell it online—If you don't want to give your card away for free, try selling your gift card online on websites such as eBay, Craigslist, or Facebook Marketplace. Although it seems like a viable option, you might get a lower amount compared to the true value of your gift card, and there is a chance of getting scammed
Exchange it for cash—In case you want to get the remaining balance on your gift card converted to cash and use it somewhere else, you can do that, but the process is not so straightforward
Can You Exchange Your Kroger Gift Card for Cash?
Kroger gift cards are redeemable for merchandise and not cash unless stated by law. This means that you cannot redeem your card for cash unless your state has a cash back policy. You can get your money back in the following 11 states and Puerto Rico:
California
Colorado
Connecticut
Maine
Massachusetts
Montana
New Jersey
Oregon
Rhode Island
Vermont
Washington
This doesn't mean that you won't get your cash back if you're not from these states! , and we will get your cash back in a snap!
How To Get Your Cash Back From a Kroger Gift Card Using DoNotPay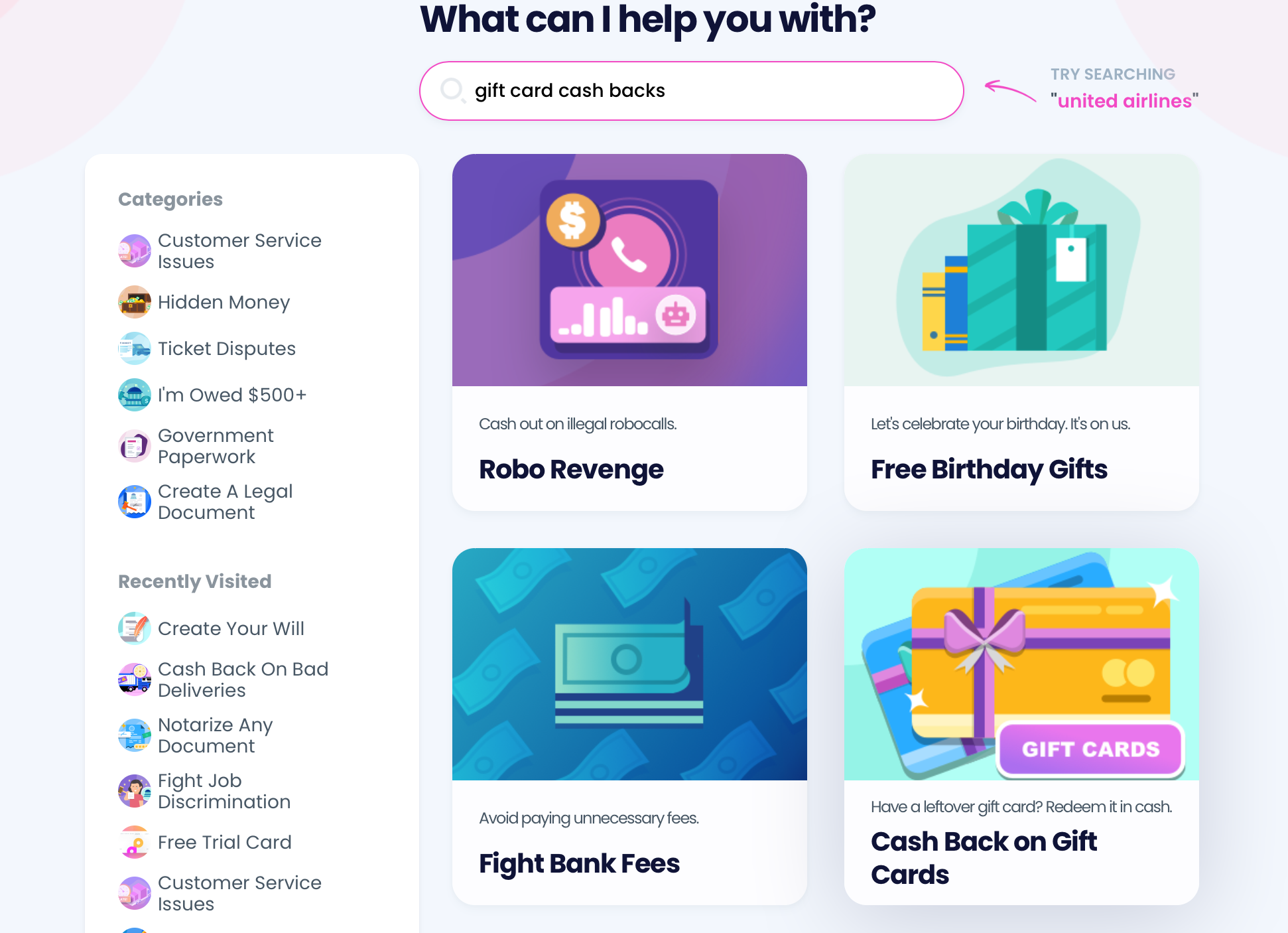 DoNotPay offers the best solution to get your money back without a hassle. All you need to do is follow these straightforward instructions:
from your web browser
Search for the Gift Card Cash Back feature
Provide necessary details, such as the company's name, your gift card number, and the remaining balance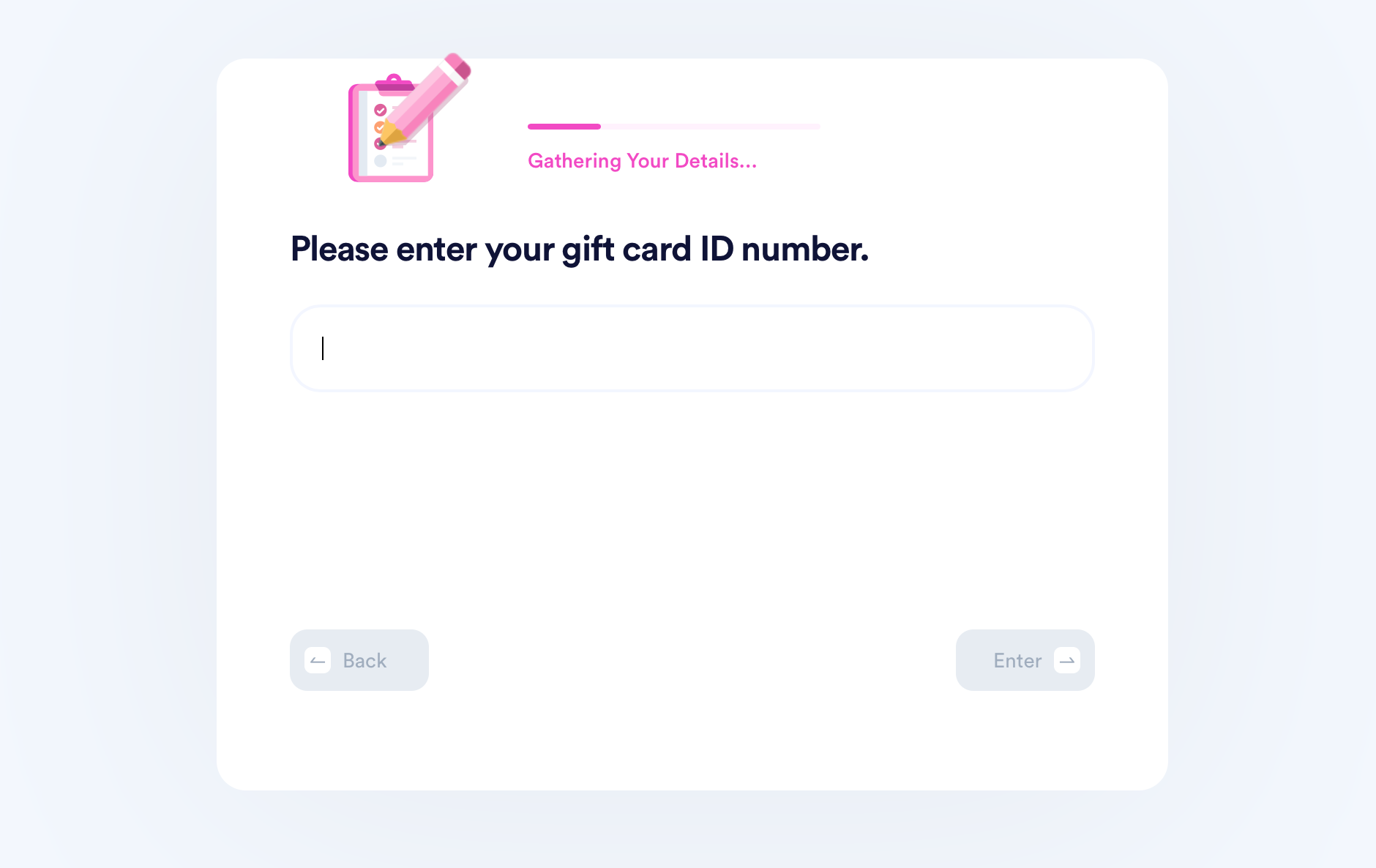 DoNotPay will send a request to the company on your behalf. Don't worry if your state does not have a cash back policy. We will locate an office in one of the states that do and send your request there. You should receive your money within 14 business days.
State laws set maximum limits on the cash back you can receive from a used gift card—usually up to five dollars.
Do you have more used gift cards with a small leftover amount? DoNotPay can assist you in getting your cash back from gift cards of various companies, such as:
More Nifty Solutions to Annoying Problems
If you're dealing with problematic neighbors or coworkers, you're not alone—our app can help you handle these issues with our Neighbor Complaints and Fight Workplace Discrimination products.
No problem is too big or too small for DoNotPay! Check out the best time- and money-saving solutions to different nuisances:
An Array of Hacks To Help You Deal With Greedy Companies
Nobody likes to spend more money than they have to. DoNotPay is here to offer many penny-pinching hacks and also stop companies from taking advantage of you.
Almost every free trial nowadays isn't really free. Companies request your credit card info and auto-renew subscriptions. Fight this sneaky practice by using DoNotPay's virtual credit card next time you want to snatch a free trial. We'll also uncover any unwanted memberships you have mooching off of you and help you cancel them in a few clicks.
If you need to contact a company's customer service, avoid wasting your time and money on hold and count on our app to wait in your stead.
Do you need to get your money back, but you don't know how? Use DoNotPay to: