How To Check a Cinemark Gift Card Balance Faster Than Saying "Cut"
Are you an enthusiastic Cinemark gift card user? One of the crucial aspects of owning a gift card is checking the card balance regularly. That will help you decide what to do if the funds are getting low.
Whether you want to continue using the card or decide to avoid the cinema for a while, DoNotPay is here to help. We will teach you how to check your Cinemark gift card balance and manage the remaining funds on your used gift card!
What Should I Know About My Cinemark Gift Card?
Whether you own a plastic or digital Cinemark gift card, you can use it for buying:
Movie tickets
Concession items
Food and drinks at the Cafe and Studio Eats Restaurants in the participating theatre locations
Both cards can be used for in-person and online purchases. If you choose the online option, you must register the card and sign in to your Cinemark account to go through with the purchase.
Cinemark gift cards are redeemable in all Cinemark movie theatres, both local and nationwide.
They never expire or depreciate, which means you can use them anytime without paying additional fees for their inactivity. If you decide to continue using the gift card, Cinemark lets you recharge it once the balance is completely depleted.
How To Check the Balance on Your Cinemark Gift Card
Cinemark offers one official method of checking your gift card balance—online. The process requires you to:
Visit the Cinemark's gift card page
Scroll down and click on Check Gift Card Balance
Enter your gift card number in the required field
Hit Check Balance
If you're a traditionalist, you can try calling the Cinemark customer support service on (800) 246-3627. The operator may ask for your gift card details and inform you of the remaining balance.
What To Do After Performing a Cinemark Gift Card Balance Check
A Cinemark gift card balance check can reveal that:
You have more than enough balance to keep using the card
The card has only a couple of dollars left
If you have enough funds to keep using the card but choose not to, try the following:
Selling the card—You can sell the card online or at a kiosk. Bear in mind that selling the gift card is not the wisest choice since you'll never be able to sell it for its full value
Exchanging the gift card—You can try swapping your gift card for another of similar value. Note that websites that offer these exchanges are not always reliable
Giving away the card—Many of your friends and relatives will likely benefit from using your gift card
Being left with an amount too small to make a purchase leaves you with limited options, including:
Letting the card collect dust at the bottom of your drawer
Redeeming the remaining balance for cash
If you decide to get your leftover gift card funds in cash, subscribe to DoNotPay and let us complete the task for you!
What Is Cinemark's Gift Card Cash Back Policy?
Cinemark states that it doesn't allow returning gift cards for cash unless the law says so. States with a gift card cash back policy require companies to reimburse the remaining gift card balance in cash provided the limit doesn't exceed a specific amount.
Check out the gift card cash back laws by state regarding the cash limit in the table below:
| | |
| --- | --- |
| State | Gift Card Limit |
| California | $10 |
| New Jersey, Oregon, Montana, Massachusetts, Washington, Connecticut, Maine, and Puerto Rico | $5 |
| Colorado | $3 |
| Vermont and Rhode Island | $1 |
Even if you live in one of the states with cash back policies, asking for the reimbursement yourself will likely be tiresome and complicated. DoNotPay can turn the remaining balance on your gift card into cash regardless of your state's law and spare your time and nerves in the process!
DoNotPay Will Give a Fairytale Ending to Your Cinemark Theatre Gift Card Balance Check

DoNotPay is here to simplify the gift card cash back process to the max! We can even get you cash reimbursement for your free gift cards. Here's what you have to do first:
Sign up with DoNotPay in your web browser
Choose our Gift Card Cash Back product
Provide you gift card details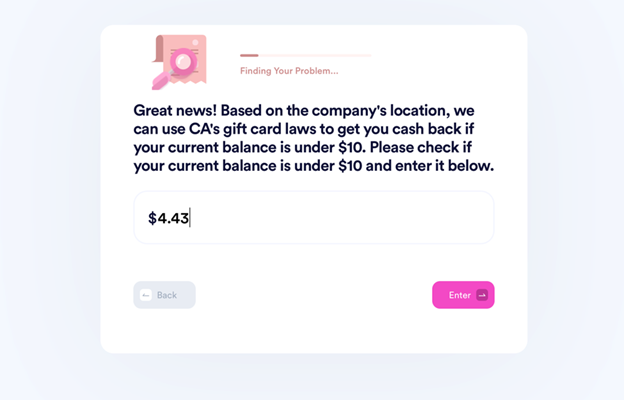 If you live in one of the cash back states, we will send Cinemark an official request in your stead.
What happens if you don't live in one of the states with a gift card cash back policy? Our app will immediately locate a Cinemark theatre in one of those states and send your claim there. You can expect to receive the money via mail within the next 14 business days max!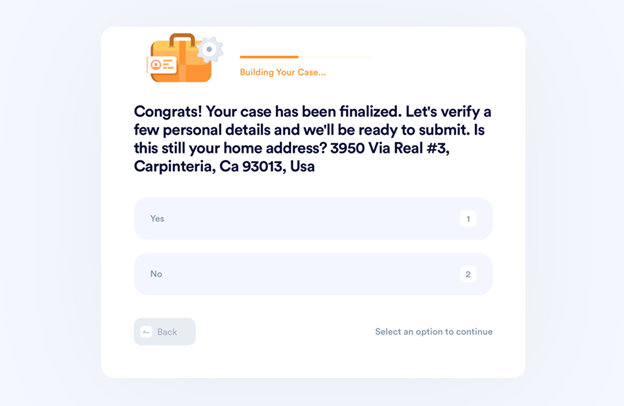 If you own gift cards from other vendors, we may be able to get cash back on these, too. Check out the companies whose gift cards we can assist you with:
Rely on DoNotPay To Solve Your Administrative Issues
Getting your documents notarized, drawing up legal paperwork, appealing parking tickets, and similar activities usually require a lot of effort. DoNotPay offers various useful products that can help you deal with administrative problems quickly and save a lot of time. We can assist you with:
Protect Your Consumer Rights With DoNotPay
Companies complicate cancellation and refund processes intentionally, hoping that consumers wouldn't want to spend hours trying to solve the issue they're having. DoNotPay knows how important consumer rights are, and that's why we created numerous products that can help you:
Many people forget to cancel their free trials on time and end up paying for the services they don't even use. To prevent that, DoNotPay has developed a nifty virtual credit card that will allow you to enjoy free trials risk-free. Our virtual credit card will also help you avoid spam email notifications by generating a random email address that you can use when signing up for a free trial.