Check Your Walmart Gift Card Balance Without a Hitch Using Our Guide
If you found a used gift card for Walmart with a small amount left and you believe that all you can do is give up on those funds or spend them on something you don't need, you are wrong! Learn how to check your Walmart gift card balance fuss-free and turn the leftover money from it into cash by signing up with DoNotPay!
How Do Walmart Gift Cards Work?
The gift cards offered by Walmart come in two models—standard (or plastic) and digital cards. They can be used in:
Online Walmart and Sam's Club stores
Walmart and Sam's Club shops all around the USA and in Puerto Rico
Several approved Murphy USA Fuel Stations
Each physical or electronic card can be loaded with an amount between $5 and $500, given that all gift cards whose balance exceeds $250 have to be activated before use. They come with a unique 16-digit gift card number and a four-digit PIN (security) code, and they can't expire, which means you can use them even after a longer period of time. The maximum number of gift cards you can combine in a single purchase is five.
While these can represent excellent personal or business (corporate) gifts, they mustn't be a part of any marketing strategy and other promotional activities. Walmart also features many specialty gift cards that can be redeemed while traveling, visiting restaurants, purchasing video games, or looking for other types of entertainment.
Ways To Check Your Walmart Gift Card Balance
The first step towards a potential cash-out is finding out how much you have left on your card. Walmart provides three methods for checking the gift card balance:
Online
In person
Via phone
Performing a Walmart Gift Card Balance Check Online
Follow these steps to see the current gift card balance via the online Walmart platform:
Visit the platform
Click on the icon showing three lines to expand the sidebar menu and choose Gift Cards
Pick the Check card balance tab
Input the unique gift card redemption code and the PIN
Click on Get card balance
Performing a Walmart Gift Card Check in Person
To check the balance of a Walmart gift card in person, do the following:
Choose the nearest Walmart facility by using their store finder
Show up at the chosen location
Provide the shop assistant with your gift card details and ask them to inform you about the current balance
Wait for them to locate your gift card number in their system and check the remaining amount on it
Performing a Walmart Gift Card Check Over the Phone
If you can't access the online Walmart platform or visit the store, you can call the company's customer support at (888) 537-5503. You must have the gift card by your side so that you can disclose all the necessary details to the agent. They will find the card information in their system and tell you the exact amount left on it.
What Can You Do With the Unused Walmart Gift Card Credits?
Here's a table showing some of the most common ways to use the remaining balance from your Walmart gift card:
Option
Short Explanation
Redeem the rest of the funds during a new order/in-store purchase
You can use the remaining gift card money as a partial payment method, along with other approved payment options, such as:

PayPal
ATM cards
Debit cards
Pay With Cash
Walmart Money Card
Credit cards—Visa, MasterCard, Discover, and American Express
Chase Pay
Amex Express Checkout

Trade Walmart gift card for another one from a different retailer
If you don't plan to use the leftover bucks for purchasing other items from Walmart, there's an option to exchange the partially used gift card from this retailer for a different one you like more
Selling the gift card to someone you know or online for cash
You can find various online platforms that can help you sell the card you don't want to use. If you believe you can't rely on online sale, find a person near you who may need the card and exchange it for cash
How To Receive Cash Back for the Unspent Walmart Gift Card Funds
Getting gift card cash back from Walmart is impossible unless the state-specific gift card laws require it.
Some states—11 U.S. states and Puerto Rico—have statutes that oblige companies to reimburse buyers for the remaining gift card money if the cash back isn't higher than the prescribed maximum. For example, customers in California can return gift cards for cash if the remaining balance is lower or equal to $10. Residents in most other states with a cash back policy, including Maine, Vermont, Oregon, and Missouri, can claim up to $5.
How Can DoNotPay Help Me Get the Extra Cash From Forgotten Gift Cards?
Do you want to know how to request gift card cash back from any retailer without going through tiresome bureaucracy and boring procedures? The answer is simple—rely on DoNotPay and get cash off various companies' gift cards right from your smartphone or laptop!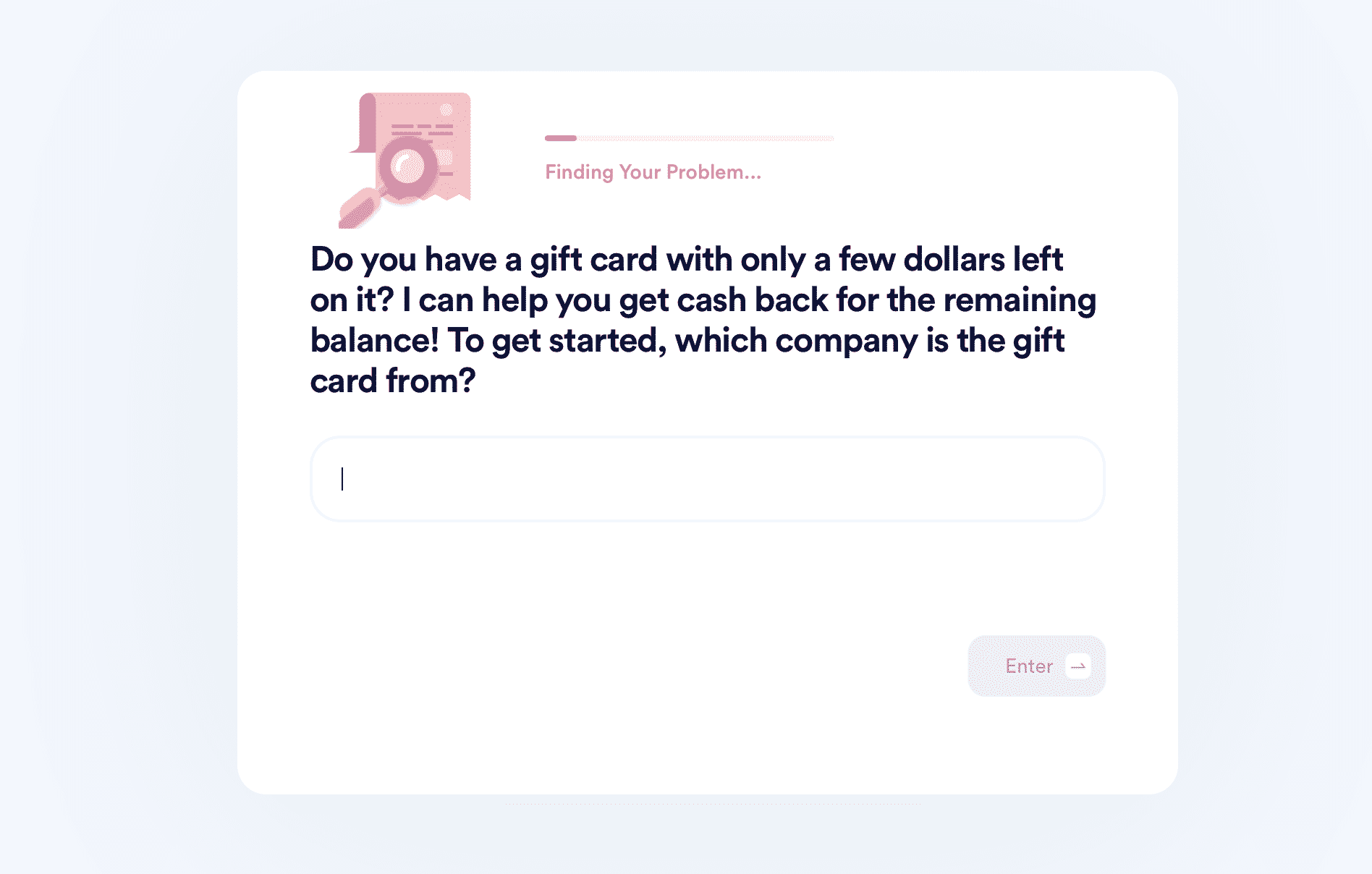 You can use our app to check whether the state you live in supports the cash back option and demand the unused gift card money from the company in a few clicks. Here's how it works:
Visit DoNotPay and log in to your account
Open the Gift Card Cash Back product
Disclose the essential gift card details
Even if you live in a state where getting cash back is impossible, we will try to find the company's office at that location. Once we do it, your request will be forwarded to the right recipient immediately!
That's not all—we offer you a bunch of handy guides on cashing out traditional and free gift cards from: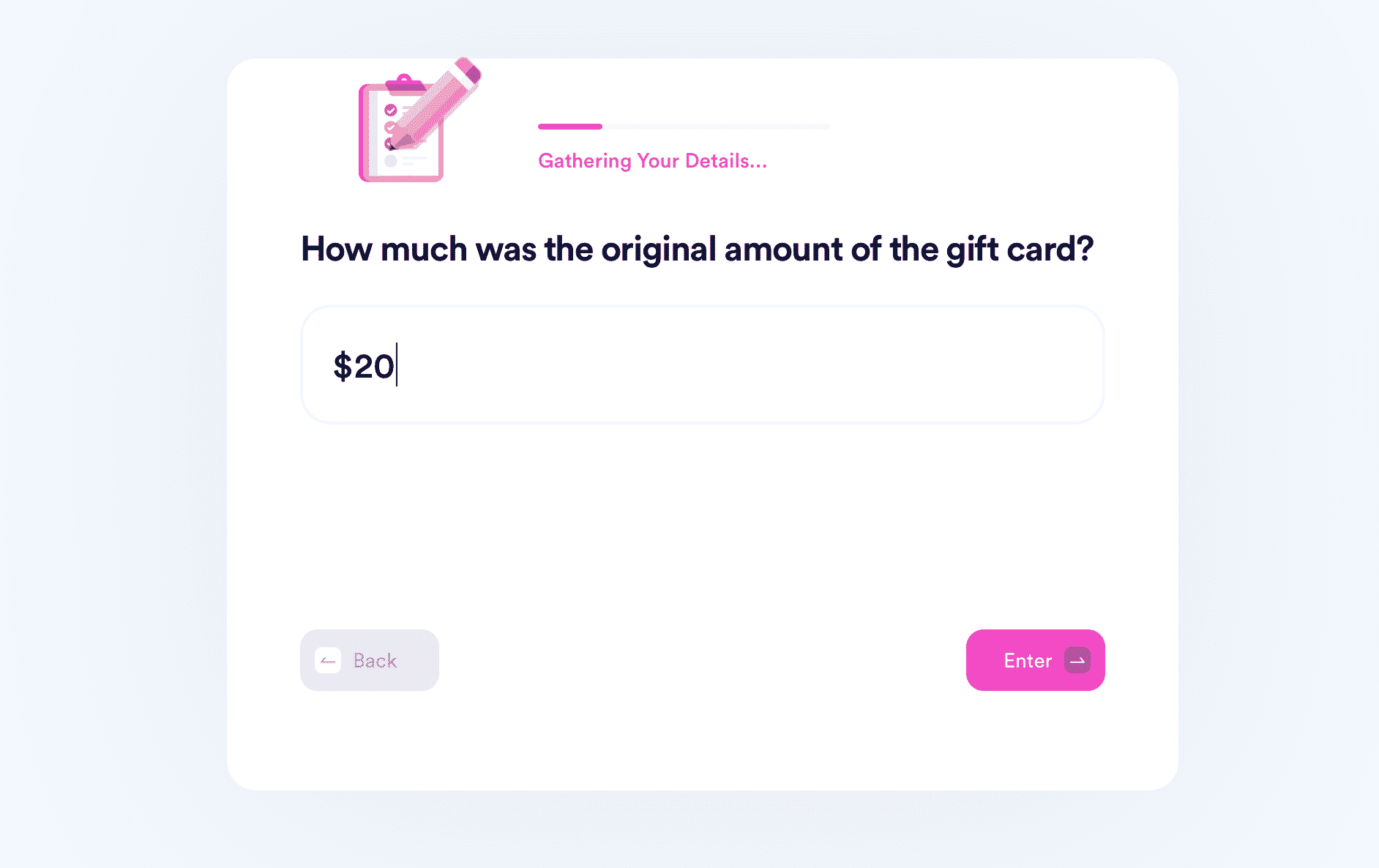 Let DoNoPay Help You With Your Paperwork
Why waste time on bureaucracy if you can rely on DoNotPay to handle pesky tasks for you? Cancel all your subscriptions at once, find unclaimed funds in a matter of minutes, appeal parking tickets hassle-free, and discover the best way to get your documents notarized remotely.
In case you need help paying bills or you want to earn some money by participating in paid clinical trials, DoNotPay is here to help you out!
Fighting workplace discrimination is of utmost importance, but the entire procedure seems rather complicated. The same goes for the crime victims compensation application in most states. DoNotPay is here to change that. We will help you file a report, request compensation, and create numerous other documents, including demand letters for neighbor complaints.
Keep Your Online Safety in Check!
While internet safety should be one of your top priorities, staying anonymous while surfing the web is almost impossible. If you want to avoid giving out your number when registering for services, you should try out our Burner Phone product.
DoNotPay can also protect your credit card info, name, and email address, all through our handy virtual credit card. Sign up for free trials without worrying about unexpected charges.
With our app, you will learn how to deal with stalkers and harassers and how to access public records the easy way.
DoNotPay offers many other useful products that can help you prepare for government tests, have your college fees waived, and manage any annoying issue in minutes.