Perform an Office Depot Gift Card Balance Check And See if You Can Get It Back as Cash
An Office Depot gift card is useful for people who are addicted to buying office supplies. If you are not a stationary fan anymore and have a used Office Depot gift card that you want to throw out, it's important to do a balance check.
In this text, DoNotPay will teach you how to do an Office Depot gift card balance check and get the remaining amount back in cash!
Want to learn about the ways to get free gift cards or exchange those you have? We can help you with that too!
The Fundamentals of an Office Depot Gift Card
For people who love hoarding stationery, Office Depot gift cards can be quite useful for shopping online or in stores in the United States, Canada, or Puerto Rico. If you were gifted one, here's what you need to know:
The Office Depot gift card amounts range from $5 to $2000
You can choose from available gift card designs or personalize the card with your own photos
Gift cards are not reloadable. Once you deplete the balance on the card, it automatically becomes invalid
The gift card works like cash, so it is important to keep it in a safe place
There are no additional service fees for using the card
The Office Depot gift card is not redeemable for cash unless required by law
If the card is lost or stolen, it will not be replaced unless you provide proof of purchase. It is essential to contact customer support as soon as you find that your card is missing
Although the gift card does not have an expiration date, if you have not used it for more than five years, you need to call customer service at 1-877-776-5056 to confirm if the card is still valid.
How To Check the Office Depot Gift Card Balance
To check the balance on your Office Depot gift card, you have several options, as elaborated in the table below:
Method
Steps To Take
Over the phone

Dial 1-877-776-5056
Press the extension key as instructed to speak to a customer support agent
Introduce yourself and state the reason for your call
Provide your gift card number and PIN. Both numbers are located on the top right corner at the back of your card

If you can't see your PIN code, scratch the metallic strip on the top right corner of your card to reveal it

On the website

Go to the balance check page on the Office Depot website
Enter your card number and PIN
Click on Check Balance

At any Office Depot store

Visit the nearest Office Depot store
Give your gift card to the cashier
Ask them to check the remaining balance on your card
Surprise! You Have a Few Dollars Left on Your Gift Card! What Should You Do Next?
If you've surprisingly found a few dollars left on your gift card and you're wondering what to do with them, we have a few recommendations:
Method
Brief Explanation
Use the card
Spend the card till the last cent. Buy stationery for yourself or give some to your friends and coworkers.

If you end up shopping more than the balance on your card allows, you can always use a credit card to pay for the rest

Sell it
If you feel that you've had enough of Office Depot and you want to make a profit, sell the card to someone you know.

In case you don't know anyone who would be interested in using the card, use online marketplaces to put your card on sale. Keep in mind that such places are full of scammers, so it is important to do thorough research beforehand

Redeem the card for cash
Office Depot terms and conditions state that the gift card cannot be redeemed for cash unless required by law. This means that you can exchange your cash if you live in a state with a cash back policy
You can either request cash back by yourself or and let us do it for you!
DoNotPay Can Help You Get Your Cash Back Without a Hassle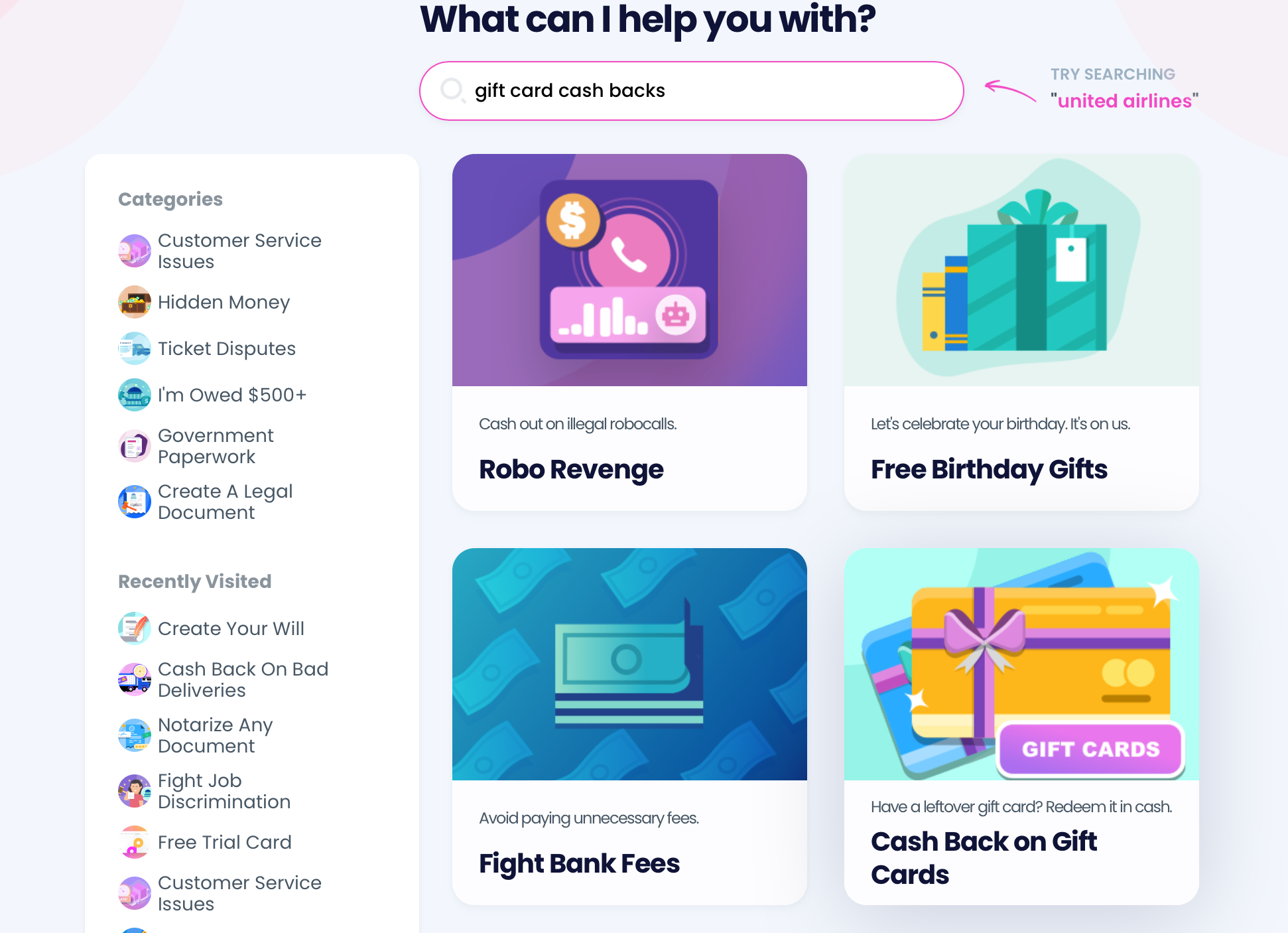 Although getting your cash back seems enticing, going through the process is frustrating and time-consuming. Why waste your time and effort when you can use DoNotPay and get your money back in a few steps?
Here's how to get started:
in your web browser
Select the Gift Card Cash Back feature
Provide details of the gift card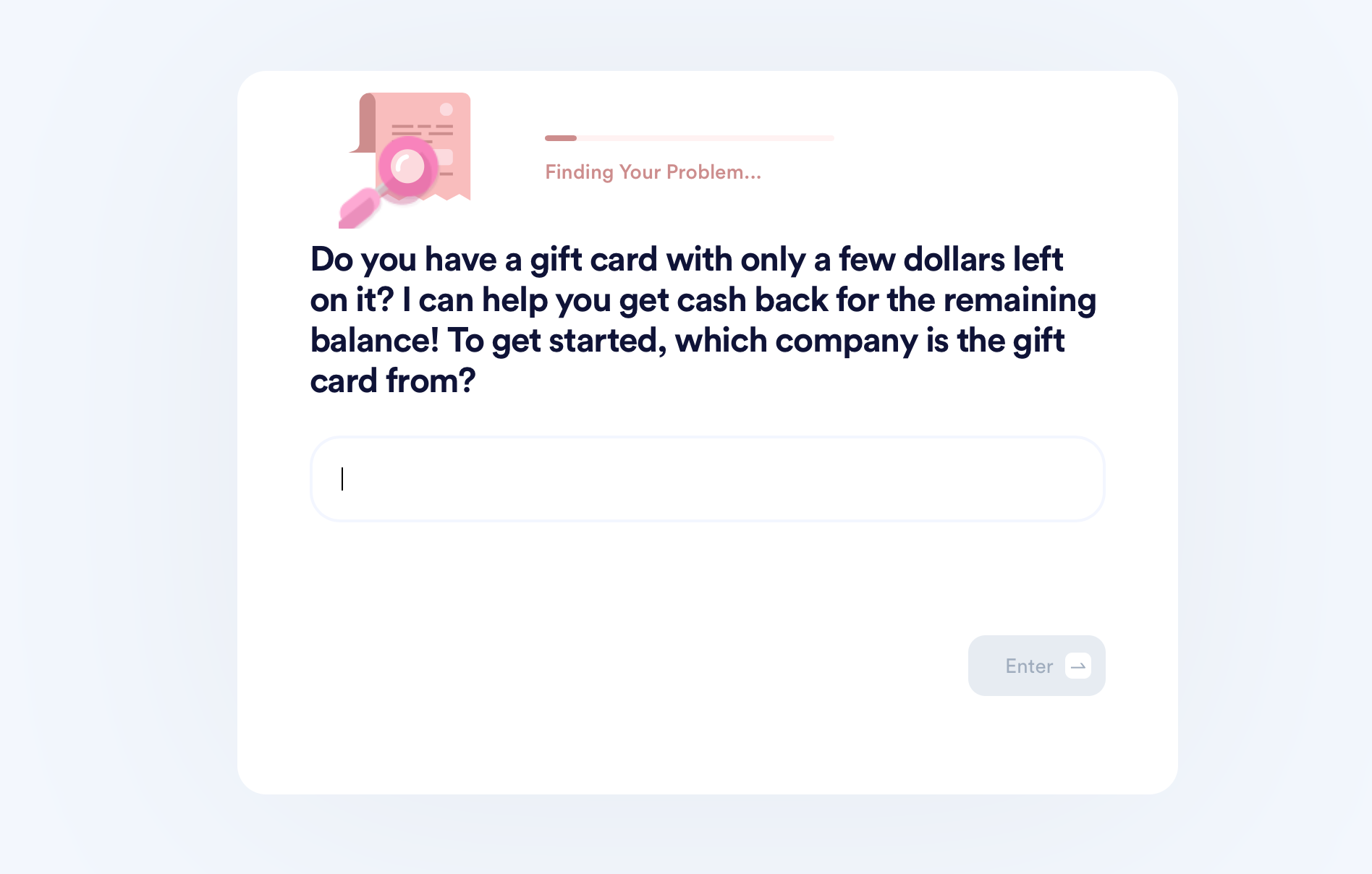 We will process your info and send your request to the company's office, provided your state has a cash back policy. If it doesn't, it's our job to check if the company has an office in one of the 11 states that do and send your request there. Rest assured—you are getting your money back either way!
Do you want to check the balance on other used gift cards? DoNotPay's knowledge base has articles on gift cards of various companies, such as:
More Nifty Solutions to Annoying Problems
If you're dealing with problematic neighbors or coworkers, you're not alone—our app can help you handle these issues with our Neighbor Complaints and Fight Workplace Discrimination products.
No problem is too big or too small for DoNotPay! Check out the best time- and money-saving solutions to different nuisances:
An Array of Hacks To Help You Deal With Greedy Companies
Nobody likes to spend more money than they have to. DoNotPay is here to offer many penny-pinching hacks and also stop companies from taking advantage of you.
Almost every free trial nowadays isn't really free. Companies request your credit card info and auto-renew subscriptions. Fight this sneaky practice by using DoNotPay's virtual credit card next time you want to snatch a free trial. We'll also uncover any unwanted memberships you have mooching off of you and help you cancel them in a few clicks.
If you need to contact a company's customer service, avoid wasting your time and money on hold and count on our app to wait in your stead.
Do you need to get your money back, but you don't know how? Use DoNotPay to: