DoNotPay Shows You How To Check Your Cold Stone Gift Card Balance
Anyone who enjoys ice cream must love Cold Stone Creamery gift cards and has one at home. If you own one that you haven't used in a while, you should check how much money you have on your card as there are various ways you can spend your remaining balance.
Whether you want to spend your leftover funds or return your gift card for cash, DoNotPay has your back! We'll show you how to check your Cold Stone gift card balance and redeem your card for money in a snap.
What Is a Cold Stone Gift Card?
Cold Stone gift cards are used for purchasing ice cream and other delicious products at Cold Stone Creamery parlors. You can buy the gift cards at:
Walmart
Amazon
Target
Cold Stone website
If you buy one on the official Cold Stone Creamery online shop, you can customize it with a personal message and load it with any amount between $5 and $100.
How To Perform a Cold Stone Gift Card Balance Check
Before turning your gift card into cash, you need to check how much money you have left on it. Here are your options—you can do it:
Online
Via phone
In person
Check Your Cold Stone Creamery Gift Card Balance Online
Checking your gift card balance online includes the following steps:
Visit the official Cold Stone Creamery website
Click on Buy Gift Cards
Tap on Gift Card Balance
Enter your 16-digit gift card number and email address
Complete the captcha and hit Check Balance
Check Your Cold Stone Creamery Gift Card Balance via Phone
To check the balance of your used gift card via phone, you will have to:
Call 1-800-832-0714
Ask the Cold Stone gift card specialist to check your balance
Provide the necessary info, such as your:
Check Your Cold Stone Creamery Gift Card Balance in Person
If you want to check your remaining gift card balance in person, follow these steps:
Use the locator to find the nearest Cold Stone Creamery
Ask the cashier to check your gift card balance
Give them your ID and the gift card
Are Cold Stone Creamery Gift Cards Redeemable for Cash?
Cold Stone gift cards aren't redeemable for cash unless required by law. They are treated as cash, which means that if you lose your card or it gets damaged or lost, you won't be able to get a refund.
Still, 11 U.S. states (and Puerto Rico) have cash back policies for gift cards, and they are:
Massachusetts
Montana
New Jersey
Oregon
Washington
Connecticut
Rhode Island
Vermont
California
Colorado
Maine
If you live in one of these states, you can call Cold Stone customer support and ask for a refund. In case you don't, fret not because can help!
What To Do With Your Remaining Cold Stone Gift Card Balance
You have several methods to use the remaining balance on your Cold Stone gift card. Check the table below for details:
Method
Details
Buy ice cream
Go to one of the Cold Stone Creamery locations and indulge in ice cream. If you don't feel like eating the cold delicacies, you can always treat a friend or a loved one to a cone
Sell your gift card
Offer your card to one of the numerous gift card reselling websites. You will get cash in an instant, but you will not receive the total value of the card
Exchange the card
Find a gift card exchange kiosk near you and get cash for your gift card. All you have to do is insert the card into the machine.

You will receive only a certain amount of the remaining balance

Trade the card online
List your card on the various online marketplaces and trade it with or sell it to someone. Take into account that you'll have to wait for a buyer and pay for shipping
Get Money for Your Cold Stone Gift Card Balance With DoNotPay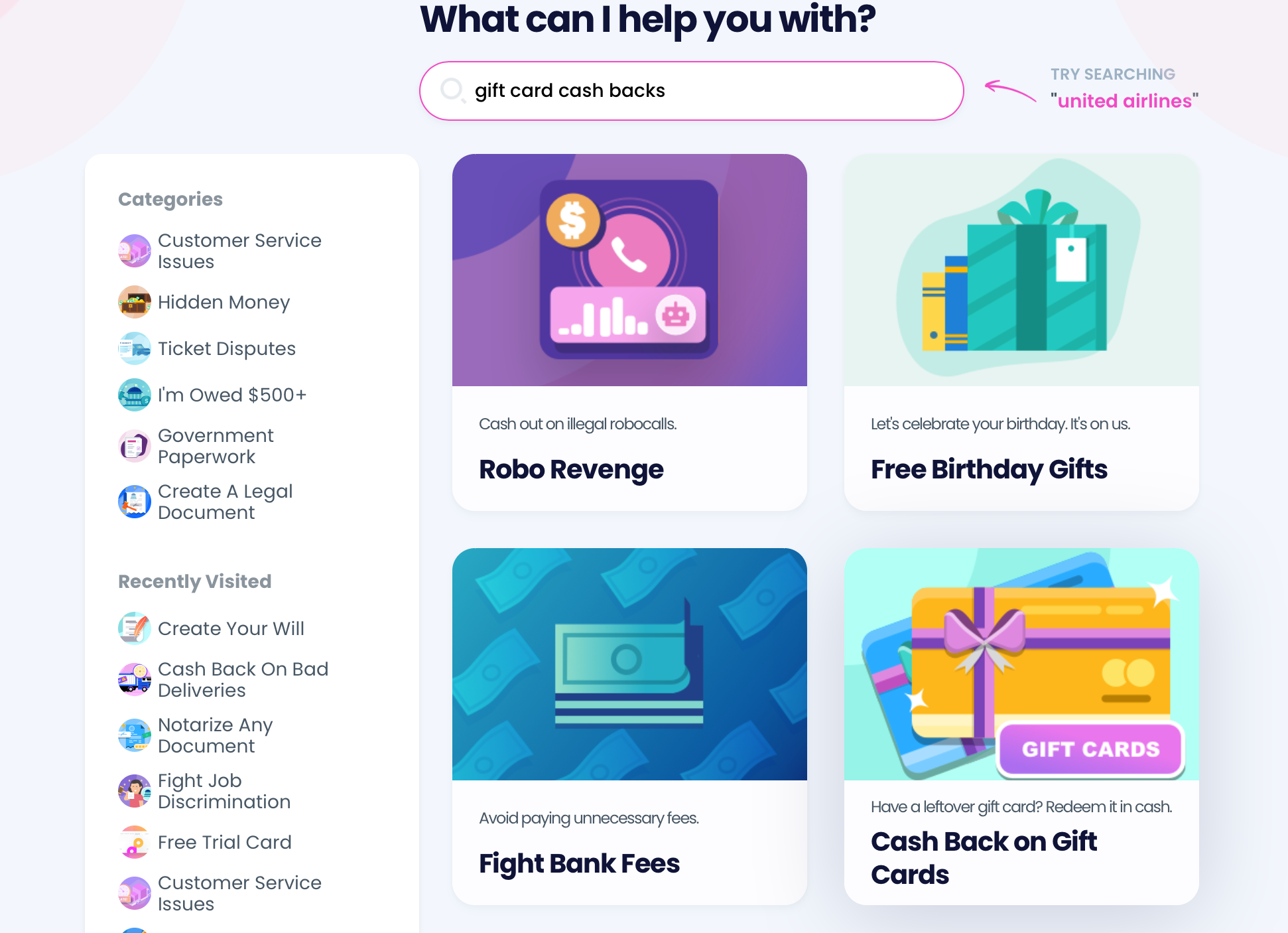 The easiest way to turn your Cold Stone gift card balance into cash is using DoNotPay! Our Gift Card Cash Back product allows you to redeem your remaining balance for money in no time!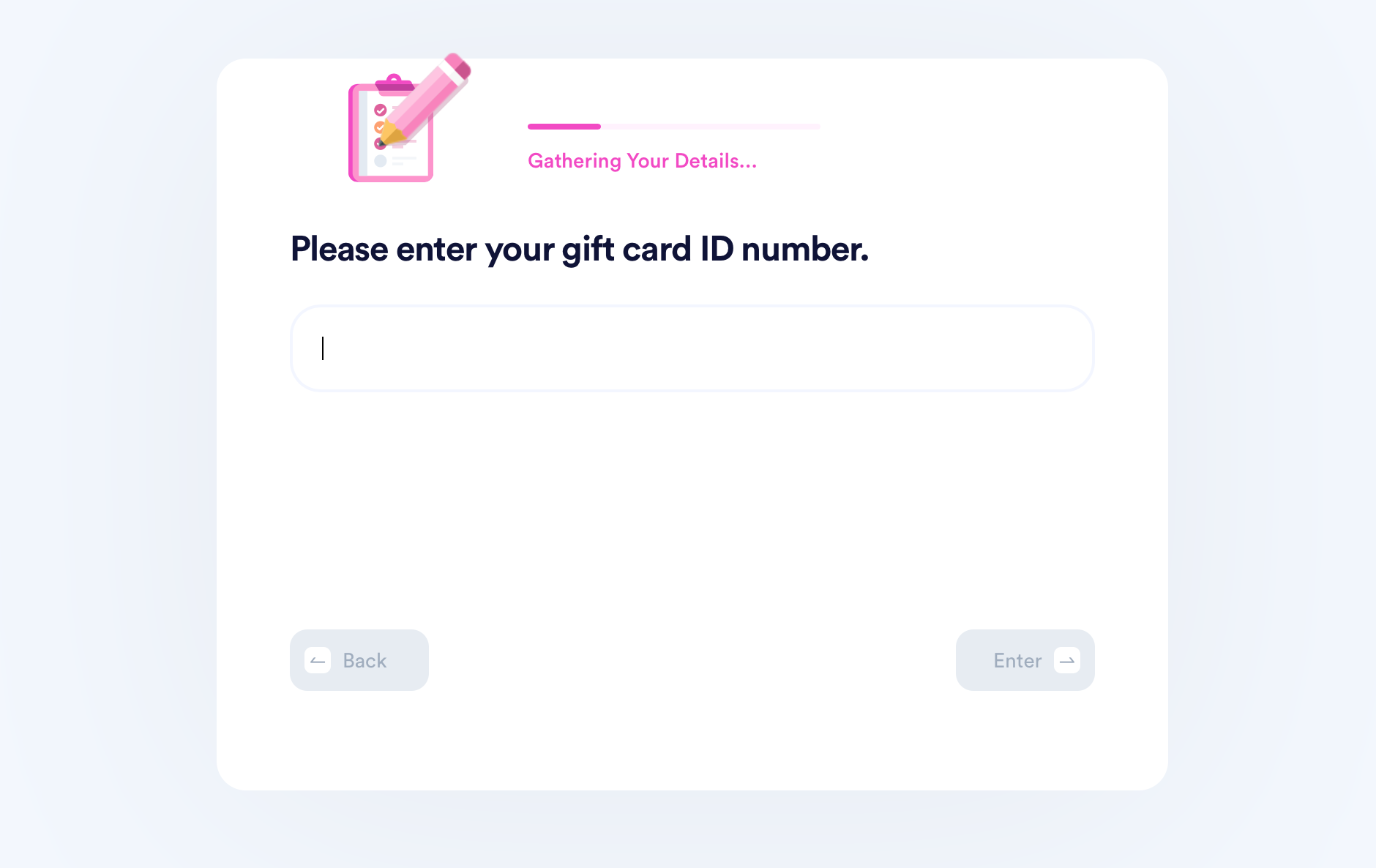 Follow these simple steps to get your cash back:
Select our Gift Card Cash Back product
Provide the necessary information, such as:

Your name
The remaining balance
Gift card number and company name
The state where your gift card was issued
Once processed, your request will be forwarded to a Cold Stone office located in one of the 11 states or Puerto Rico because they have cash back policies. You will receive your money within 14 business days.
DoNotPay's help doesn't end here! We can assist you in getting free gift cards or redeeming a card from a different company, including:
Save Some Coins With DoNotPay
Are various subscriptions and memberships burning a hole in your pocket? DoNotPay can help you cancel all of your memberships in a matter of minutes without having to contact customer service reps.
Next time you want to register for a free trial, prevent unexpected costs with our virtual credit card. Once the trial is over, you'll be unsubscribed right away because our virtual credit card doesn't contain any money. We will also generate a random email address you can use if you want to protect your privacy and avoid spam marketing emails.
Do you need help claiming warranties and insurance policies? DoNotPay can help with that too.
Should you need assistance returning an item or requesting refunds for purchased products, canceled flights, or late deliveries, we've got your back!
Avoid wasting money on lawyers—DoNotPay is here to help you sue anyone in small claims court and create numerous legal documents in the blink of an eye!
DoNotPay Can Help You Earn Money Too
DoNotPay users can save hundreds of dollars thanks to our app, but did you know that we can help you earn a few bucks as well? Our app enables you to claim missing money under your name or file your application for paid clinical trials in less than five minutes.
You can even get compensation for reporting robocalls or apply for a crime victims compensation program in your state by signing up for our app and following a few simple steps.