Check a GAP Gift Card Balance Without Stressing Out
Finding a few unspent bucks on your old GAP gift card may not seem like a big deal, especially if the amount left is really small, but that doesn't mean you should throw it away. Depending on your state laws, you could turn the credits you didn't spend into cash. This article will give you the best tips on how to check a GAP gift card balance and send a cash back request to the company without contacting them yourself!
GAP Gift Cards in a Nutshell
GAP offers two gift card models:
Standard (physical) gift cards
Electronic gift cards
Here's a table showing the overview of each category:
Details
Physical Gift Cards
Electronic Gift Cards
What's their form?
Plastic
Virtual (e-card)
Can these cards expire?
No
No
How can the cards be redeemed?

Online
In regular GAP stores
In GAP outlets and factory shops

Can you add value to these cards?
Yes
No
Are these cards personalized?
No
Yes
Both gift card types can be used for online orders or in-store purchases all across the USA. Note that you can't always combine them with other discounts or promotional codes.
How To Check a GAP Gift Card Balance
You can perform a GAP gift card balance check in two ways—by:
Seeing the remaining gift card amount on your GAP profile
Checking the card balance online
GAP Gift Card Check via Your Account
Here's how to see the gift card balance on your profile:
Select Your Account in the top right corner of the homepage
Go to Account Settings
Choose Check Gift Card Balance
Online GAP Gift Card Check
If you don't have a GAP account, you can check your balance by proceeding as follows:
Go to the official GAP website
Scroll to the bottom of the homepage and select Giftcards under the Ways to Shop section
Click on Check Giftcard Balance
Input the gift card number and the PIN
Tap on the red Check Balance button
Possible Ways To Use the Unspent Money on Your GAP Gift Card
Once you see the exact amount left on your gift card, you can decide whether you want to spend the funds on new orders or use the remaining balance in another way. Here are some possible options:
Solution
Details
Combine the gift card with another payment method during your next purchase
You can use the remaining funds on the card to get a small discount when using the following payment methods:

Rewards
PayPal
Afterpay
Apple Pay
Credit cards
Debit cards

Reload the gift card
There's an option to add value to your physical gift card by following the steps below:

Locate the nearest GAP shop by using the store finder
Visit the chosen store and inform the staff about the exact amount you want to add to your card
Pay in cash or with your credit or debit card

Exchange the used gift card for a different one
Another option is turning to certain websites that offer you to trade your gift card for another one of your choice. It can also be done by visiting the nearest gift card exchange kiosk
Selling your gift card for cash
You can sell the partially used gift card online—via specific websites—or somewhere near you and get instant cash
Giving the gift card away
A few dollars remaining on the card may not be so significant for you, but they can mean a lot to someone else
Does GAP Offer a Cash Back Option for Gift Cards?
You can return or exchange your used GAP gift card only if you live in a state that has an active cash back policy. The states to which this rule applies are:
Maine
Oregon
Vermont
Colorado
California
Missouri
New Jersey
Massachusetts
Washington
Connecticut
Rhode Island
Unincorporated U.S. territory of Puerto Rico
As per specific gift card laws in these states, retailers and other companies must provide cash back for any remaining funds on your gift card that don't exceed the proposed limits. If you live in any other state, you shouldn't despair— will help you reclaim the unused money in a few easy steps despite the absence of the cash back policy.
How To Fuel Your Wallet With the Unspent Gift Card Funds Using DoNotPay
Having long and exhausting conversations with customer support agents and negotiating the reimbursement with them is the worst part of starting a cash back process. What if we told you that we can stop all that for good by demanding a cash-out on your behalf?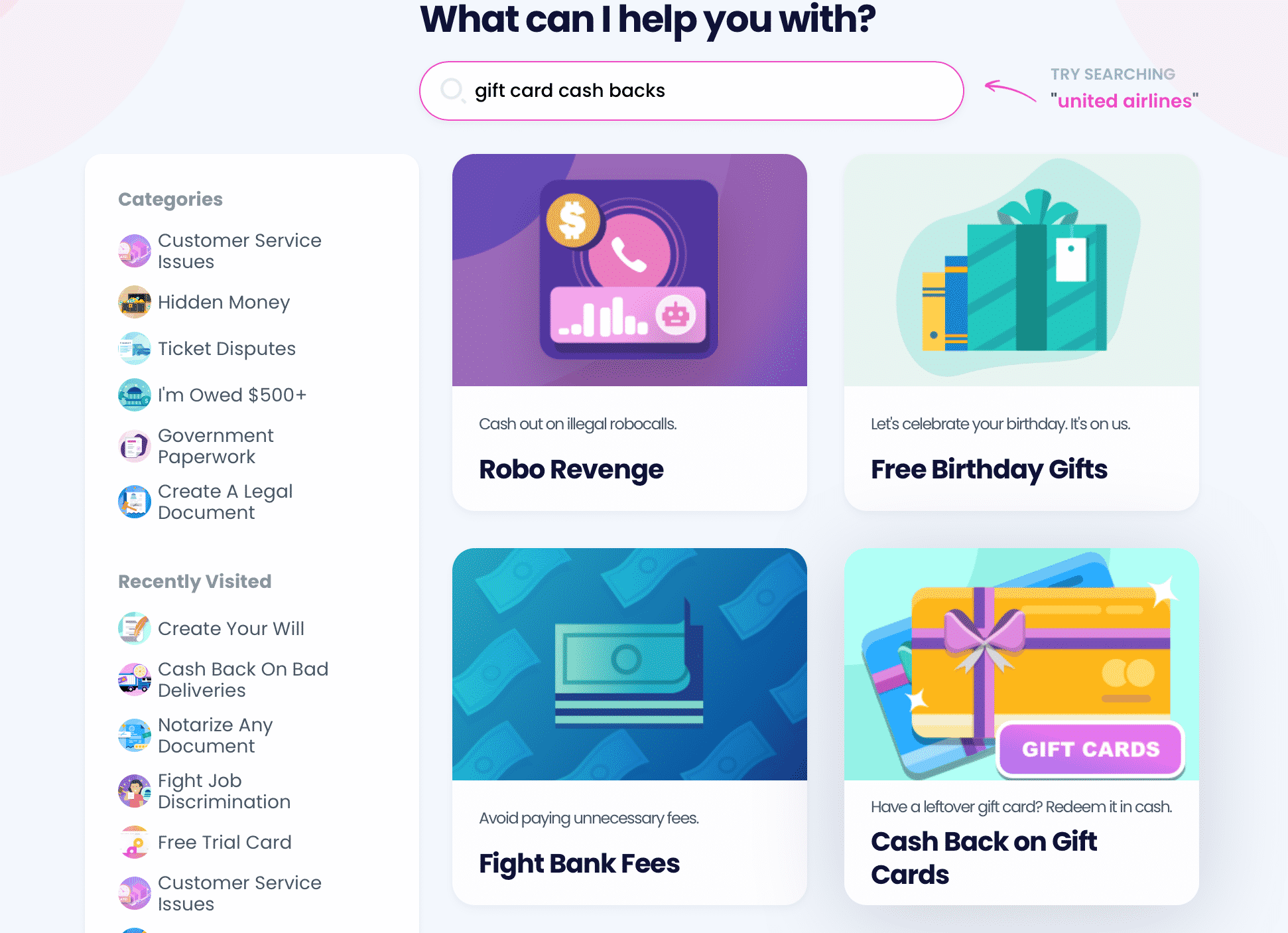 DoNotPay—the world's first robot lawyer—helps you file a cash back request in a few taps from any preferred location and claim the remaining gift card money the easy way. You don't need to visit stores or get in touch with the reps ever again. Provide us with your gift card info, and we will do all it takes for you to receive the money within 14 business days!
Here's how our service works:
and sign in to your account
Pick the Gift Card Cash Back option
Enter the gift card number, your location, the remaining balance, and a few other required details
Our system will check the state laws and see if you are entitled to receive cash back according to them. If yes, we will forward your request to the company immediately. If not, we will do our best to find the company's office in your state and send it your claim.
Here are some other shops and companies whose standard or free gift cards you can cash in with our Gift Card Cash Back feature:
| | |
| --- | --- |
| Clothing Stores | Other Retailers |
| | |

Learn About DoNotPay's Awesome Products!
DoNotPay is a multifunctional app that can solve numerous everyday challenges swiftly.
You can use our app to protect your work from copyright violations, schedule your driving exam or any other appointment with the DMV, reduce your property taxes in a few steps, and similar.
We have created many useful products to help our users take care of their issues through the same app. With us, you can:
DoNotPay Connects You With Your Loved Ones
Sending letters to inmates can be difficult since you have to follow certain rules to a T to avoid having your letter rejected. The situation is even more complicated if you don't know where your incarcerated loved one serves time. DoNotPay's app can help you locate prisoners and correspond with them without worrying whether you're breaking any rules.
Do you want to send a letter, but you don't feel like heading over to a post office? By using our mailing service, you can mail as many letters as you want from the comfort of your home. With DoNotPay, you can also send online faxes in under five minutes!
Email and text spam is something that everyone experiences at least once in their lives. DoNotPay has a solution for that too. Access your DoNotPay account and count on us to help you block spam and get compensation by reporting pesky robocalls.