More Cents That Make You Smile—Check Your Bath and Body Works Gift Card Balance With DoNotPay
If you are into pampering yourself, you can't go wrong with a gift card from Bath & Body Works.
DoNotPay helps you check your Bath & Body Works gift card balance and decide what to do with the remaining money. Check your cents for scents with DoNotPay!
Bath and Body Works Gift Cards From A to Z
Bath & Body Works gift cards come in electronic or plastic format. They are single-use payment options and can be used for purchases online or in any of the 1,728 Bath & Body Works outlets countrywide.
You can get Bath & Body Works gift cards in any whole dollar denomination from $5 to $500.
How Do I Check My Bath and Body Works Gift Card Balance?
Performing a Bath & Body Works Gift Card balance check is easy and can be done in any of three ways:
By phone
Online
In store
By Phone
If you call 1-800-756-5005 and follow the voice prompts, you can check your balance. Remember to have your card handy when you make the call.
Online
The Bath & Body Works website offers an online balance checking service. You will have to type in your card number and PIN (found on the back of your card).
In Store
Cashiers in any Bath & Body Works outlet can swipe your gift card and tell you how much remaining balance you have.
Once you know how much money you have available on your gift card, you can decide whether to spend or redeem it for cash.
How Can I Use the Balance on My Gift Card?
If you have a significant balance on your Bath & Body Works gift card and don't want to spoil yourself with a purchase, you have three ways of converting the card into cash:
| | |
| --- | --- |
| Cash Conversion Method | Explanation |
| Online merchant | Several websites make money by buying and selling gift cards. They will make you a cash offer for your card based on its desirability and face value. You are paid via ACH or PayPal |
| Kiosk | You can find card kiosks in many malls that will make an instant cash offer for your Bath & Body Works gift card |
| Card exchange | If you would prefer a different card instead of cash, a card exchange office will offer to swap your card for a card you want at a similar value |
All the above services are trying to make money, though. This means they will buy at the lowest possible price and sell at the highest. You can expect to receive a maximum of 80–90% of the actual value of your card.
Can I Return My Gift Card to Bath and Body Works for Cash?
If you only have a few dollars remaining on your card, you may be able to take advantage of a law in 11 states and Puerto Rico.
Under these cash back policies, gift card vendors are obliged to give you cash in return for your used gift card, provided that the remaining value does not exceed $5. The exceptions to this amount are:
California (maximum $10)
Connecticut ($3 or less)
Rhode Island and Vermont (maximum $1)
While this may be good news for some, the downsides to this option are that you:
Have to live in one of the 12 areas
Have to go to a Bath & Body Works outlet
May have to explain the law to an uncooperative staff member
DoNotPay has a solution, though. No matter where you live, we have a way for you to in a flash!
How Can DoNotPay Help Me Get Cash for My Bath and Body Works Gift Card?

DoNotPay is the master at simplifying your life, and getting cash back on your gift card is no exception!
Even if you don't live in one of the 12 areas with a cash back policy, we can get your card balance converted into the maximum possible amount. In some cases, we may even be able to show you how to get free gift cards. Here's what you need to do:
in your web browser
Click on our Cash Back on Gift Cards feature
Follow the prompts and give us your card details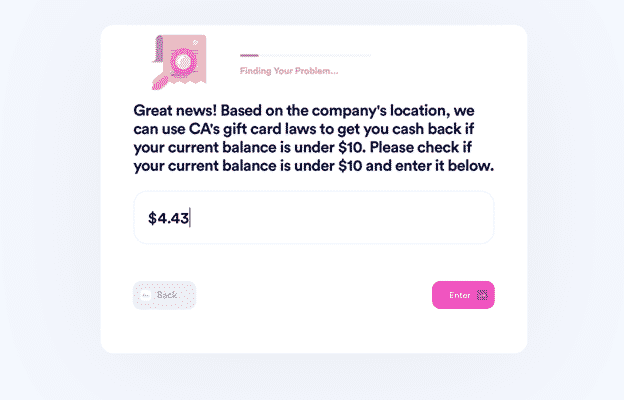 DoNotPay will handle the rest. Regardless of your location, we will send your claim to the best-located Bath & Body Works outlet for processing. You should get your money within 14 days.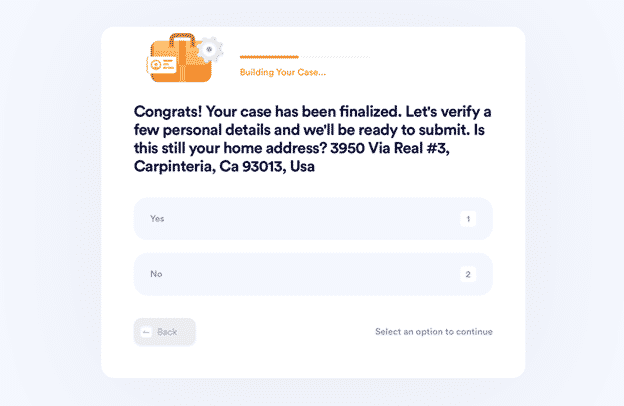 Does DoNotPay Only Deal With Bath and Body Works Gift Cards?
We can get you a cash reimbursement for most cards—some of the most popular ones we can handle are:
Shortcuts and Solutions at Your Fingertips
DoNotPay provides both the easy way out and the easy way in. Use our app to get rid of spam emails, text spam, unwanted services, and unpaid parking tickets. We can also assist you in signing up for services without revealing your real number and getting free trials using our virtual credit card.
Our app is all about saving you time and money. Forget about the obsolete fax machine and post office—you can use DoNotPay to send faxes, mail letters, and connect with your incarcerated loved one.
DoNotPay Goes Above and Beyond To Help
We understand how bureaucratic hurdles get too much to handle. This is why so many of our products deal with these types of issues. From getting a document notarized, filing a warranty claim, and skipping the phone line when calling customer service to requesting a refund, booking a DMV appointment, and drawing up legal documents—there's not much we can't do for you.
Dealing with the never-ending paperwork is a thing of the past for DoNotPay users! Our app makes it easy to: