How To Check a Nike Gift Card Balance Fuss-Free
Have you just found an old Nike gift card in your wallet and started wondering if there are any funds left on it? You may not be able to get a gigantic discount on your next pair of shoes, but you can still redeem those few extra bucks. In this simple guide, we will teach you how to check a Nike gift card balance easily and get reimbursement on the remaining funds hassle-free!
How Does a Nike Gift Card Work?
Nike offers two types of gift cards:
Physical gift cards—a standard plastic card that can be purchased in-store or ordered from the Nike website
Digital gift cards—an e-card that can be bought online and received via email within two hours of purchase
Buyers can choose the desired balance ranging from $25 to $500, and they can spend this amount in the U.S. only—online or in shops. The company allows you to combine up to ten cards during a single purchase, which is great if you have multiple used gift cards with some funds remaining.
Like most other companies, Nike also proposes some limitations. Selling gift cards to other people for a cash offer or using them to buy other companies' gift cards is prohibited by the company's terms and conditions. The same goes for unauthorized advertising and commercial use.
How To Check a Nike Gift Card Balance
Checking the balance on your Nike gift card is quite simple—you can do it by following the steps below:
Visit the official Nike website
Scroll to the bottom of the homepage and select Gift Cards
Click on Check Your Balance
Enter the gift card number and the security code
Hitting the Check Balance button will take you to the page where you can see the remaining amount.
What Can You Do With the Remaining Amount on Your Nike Gift Card?
Once you discover the remaining cash on your Nike card, you may start wondering how to make use of them. The table below shows a few possible solutions:
Option
Explanation
Spend the remaining amount
You can always complete an upcoming purchase with those few bucks left on the card, but this option doesn't bring a significant discount. It can be combined with cash or one of the following payment methods:

PayPal
Vouchers
Apple Pay
Credit cards, including:

Visa
Discover
MasterCard
American Express

Add value and buy more
Nike allows you to "refill" your gift card once your balance gets too low. The bad news is—it's not useful if you don't plan on spending more money but want to use the existing amount only
Exchange the gift card
Certain online platforms and websites offer the possibility of swapping a used gift card for another one
Can You Get Cash Back for Your Nike Card?
As per the company's terms and conditions, it's not possible to redeem a gift card for cash or return it to the store for a refund unless required by law. This means that the possibility of getting cash back depends on the state you live in, as only 11 U.S. states and Puerto Rico allow it. The retailer is obliged to reimburse buyers for the remaining amount on their gift cards in:
Maine
Oregon
Vermont
Missouri
California
Colorado
Washington
Massachusetts
New Jersey
Connecticut
Rhode Island
Puerto Rico
Avoid In-Person Cash Back Requests—Use DoNotPay
Did you know that $3 billion of unused gift card funds per year go unused or returned to retailers? Only a dollar or two may be on your card, but you don't have to let them go down the drain. With DoNotPay, you can request a gift card cash back without visiting the store, contacting customer support, and going through lengthy and tiresome procedures!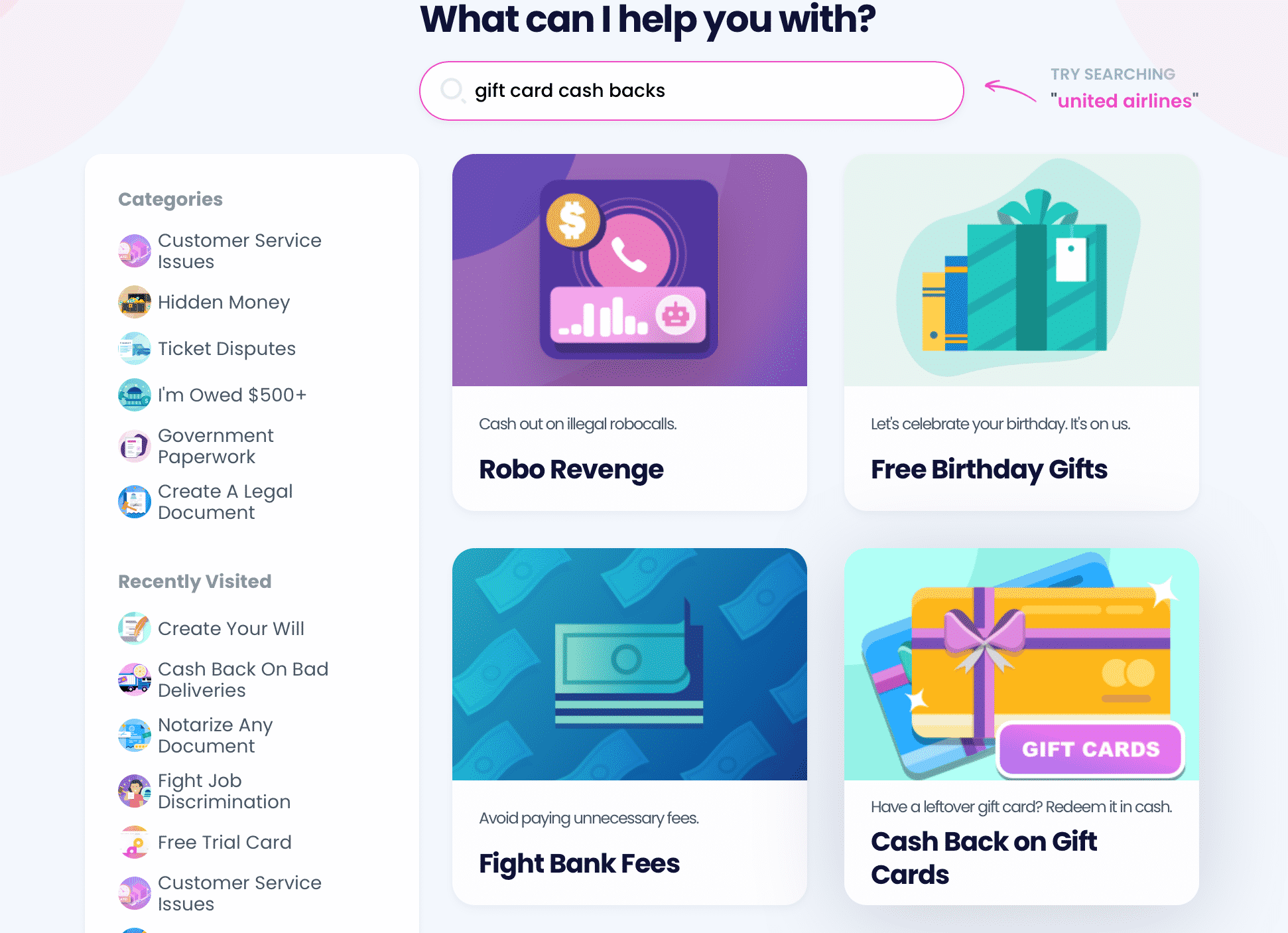 Here's how you can use our Gift Card Cash Back service:
and log in to your account
Navigate to the mentioned feature
Input the required details, such as the gift card number, the name of the retailer, and the state you live in
Our system will immediately check if your state has a cash back policy. In case it does, we will send a cash back request to the retailer right away.
No such policy at your location? No worries! If the company has branches in other states that approve gift card cash back, we will forward your request to one of these. You should receive the money within 14 business days.
Use DoNotPay's Cash Back Options for Various Retailers
and find some expert advice related to gift card cash back in our learning center! Check out the retailers from which we can request a cash back and other useful articles our knowledge base offers in the table below:
Learn About DoNotPay's Awesome Products!
DoNotPay is a multifunctional app that can solve numerous everyday challenges swiftly.
You can use our app to protect your work from copyright violations, schedule your driving exam or any other appointment with the DMV, reduce your property taxes in a few steps, and similar.
We have created many useful products to help our users take care of their issues through the same app. With us, you can:
DoNotPay Connects You With Your Loved Ones
Sending letters to inmates can be difficult since you have to follow certain rules to a T to avoid having your letter rejected. The situation is even more complicated if you don't know where your incarcerated loved one serves time. DoNotPay's app can help you locate prisoners and correspond with them without worrying whether you're breaking any rules.
Do you want to send a letter, but you don't feel like heading over to a post office? By using our mailing service, you can mail as many letters as you want from the comfort of your home. With DoNotPay, you can also send online faxes in under five minutes!
Email and text spam is something that everyone experiences at least once in their lives. DoNotPay has a solution for that too. Access your DoNotPay account and count on us to help you block spam and get compensation by reporting pesky robocalls.