Check Your Bed Bath and Beyond Gift Card Balance in Three Minutes or Less
Finding used gift cards lying around your house or in random drawers isn't uncommon. If you think those cards are worthless, we're happy to tell you there's a way to put them to good use!
With our help, you can learn how to check your Bed Bath & Beyond gift card balance in a few clicks. Should you have any extra money on your card, we will help you file a cash back request with ease.
Sign up for DoNotPay, and learn how to exchange your gift cards for cash effortlessly!
What Are Bed Bath & Beyond Gift Cards?
Bed Bath & Beyond gift cards are great for covering a part of the cost when shopping, especially if you get one for free. You can use them to shop online or at any of the Bed Bath & Beyond stores in the U.S.
Bed Bath & Beyond gift cards are also convenient because they never expire. No matter how long you've had one, you can always use it to shop without worrying whether it's still valid.
How To Check the Balance on Bed Bath & Beyond Gift Cards
You can check your Bed Bath & Beyond gift card balance either online or in person. Consult the table below for instructions:
Ways To Check Your Gift Card Balance
Instructions
Online
To check your balance online, follow these steps:

Go to the official Bed Bath & Beyond website
Provide your card number and PIN
Click on Check Balance

In person
If you want to check your gift card balance in person, complete the following instructions:

Visit a nearby Bed Bath & Beyond store
Ask the cashier to check the balance for you
Provide the info they require and follow further instructions
What To Do After the Bed Bath & Beyond Gift Card Check
If you received a gift card and you are thinking of ways you can use it, we'll give you a few ideas. After you perform the gift card balance check, see the list below to find some tips on what to do with the remaining balance:
Give your card to someone as a gift—If you don't want to waste any money that's left on your card, you can give it to someone as a gift. In case there's not a lot of money left, you can always add more before giving it away
Use your card to make a purchase—You can visit Bed Bath & Beyond, Buy Buy BABY, Cost Plus World Market, Christmas Tree Shops, and Harmon Face Values locations to make a purchase with your gift card
Sell your gift card—Various websites and kiosks buy gift cards for cash and resell them. Check different online registries or do a google search on where you can sell your gift card
Exchange your gift card for cash—In case you want to get the remaining money from your gift card and spend it elsewhere, you can go that route as well, and we'll show you how
Can I Get Cash Back for My Bed Bath & Beyond Gift Card?
Bed Bath & Beyond gift cards are redeemable for merchandise and not cash unless required by law. The company won't let you exchange your gift card for money unless your state has a cash back policy.
Puerto Rico and the following 11 states allow you to get cash back for your gift cards:
California
Colorado
Connecticut
Maine
Massachusetts
Montana
New Jersey
Oregon
Rhode Island
Vermont
Washington
That doesn't mean you can't get your money back even if you're not from one of the above-mentioned states—DoNotPay can still help you!
Bed Bath & Beyond Gift Card Check—Use DoNotPay To Get Your Money Back
DoNotPay offers the easiest solution to get your money back! You don't have to bother looking for instructions online! All you have to do is answer a few questions, and we will check whether or not your state has a cash back policy. Even if it doesn't, we'll provide further assistance.
Here's how to get started:
Pick the Gift Card Cash Back feature
Answer our questions from our chatbot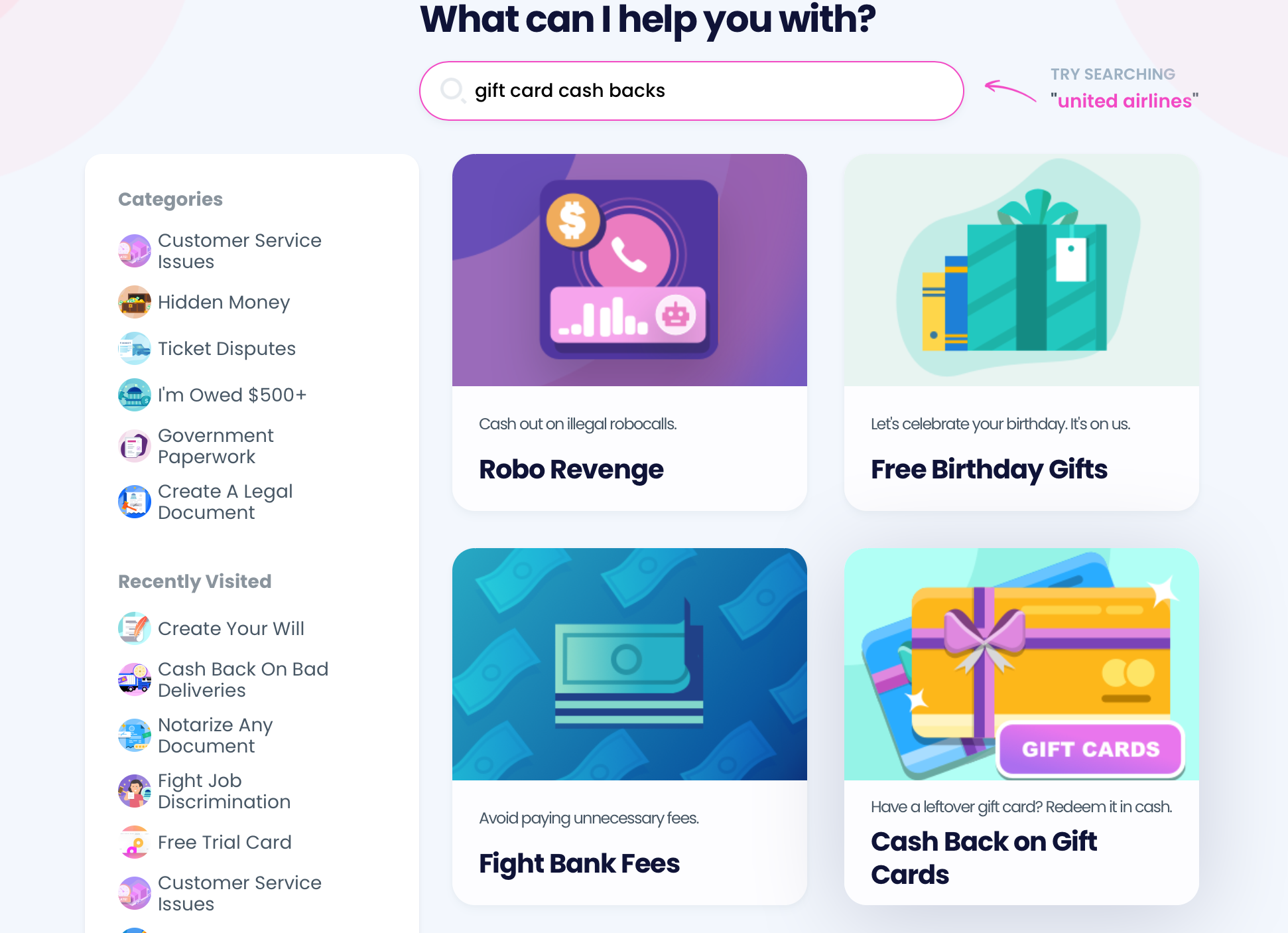 If it turns out that your state doesn't have a cash back policy, DoNotPay will do additional research. Our app will check if Bed Bath & Beyond has an office in any of the states with the said policy and send your request there. The company should respond promptly and send your money by mail within two weeks.
Bed Bath & Beyond isn't the only company we can help you with! Check out the list below if you need help with any of the following gift cards:
There's More DoNotPay Can Do for You
In case you're struggling to cover your bills, our hacks may help you earn or save some extra money. Use our app to sign up for paid clinical trials in your area and try your luck with free raffle tickets. We can also help you get late delivery refunds and cash back on gift cards. You may not even know that you have funds lying around—rely on DoNotPay to uncover your unclaimed money.
If you have any documents or letters you need to send, we can save you the trouble of using a fax machine or waiting in line at a post office, thanks to our nifty products—Online Fax and Mailing Service.
Fast-Track Your Tasks With DoNotPay
If you've been putting off your errands because they take too long or they are too complicated, we know what to do! From filing insurance claims, getting documents notarized, submitting item return requests, and getting a child travel consent—there isn't much we can't streamline for you.
You can count on our assistance even for more serious and complex tasks, such as: