Southwest—Check Your Gift Card Balance and Get Money Back in a Snap
Have you cleaned out your junk drawer and found a gift card from Southwest? Check your gift card balance with DoNotPay's assistance!
Not only can we help you check the balance on your used gift card but also turn it into cash.
What Is a Southwest Gift Card?
Southwest gift cards give you wings as they allow you to fly to over 95 locations. They're used for booking flights exclusively via Southwest Airlines.
You can buy a gift card by:
Visiting the official Southwest Airlines website and filling out an online order form
Calling 1-800-435-9792 and asking the customer support representative for a gift card
Going to one of the approved retail locations
How To Check Your Southwest Gift Card Balance
You can check your Southwest gift card balance in the following ways:
Online
Via phone
In person
Check Your Southwest Gift Card Balance Online
To check your Southwest gift card balance online, follow these steps:
Go to the official Southwest Airlines website
Scroll down to the bottom of the home page and select Southwest Gift Card
Click on Check Your Balance
Enter your gift card number and security code
Hit Check Now
Check Your Southwest Gift Card Balance via Phone
Checking your used gift card balance over the phone will require you to:
Call 1-800-435-9792
Inquire about your balance once the customer support representative picks up
Tell them your gift card number, security code, name, and other necessary info
Check Your Southwest Gift Card Balance in Person
If you'd prefer to check your balance in person, here's what you need to do:
Visit the nearest Southwest Airlines office
Ask one of the Southwest employees to check your gift card balance
Give him or her your gift card and ID
Can You Get Cash For Your Southwest Gift Card?
Southwest Airlines doesn't allow you to redeem your remaining balance unless required by law. There are 11 U.S. states, plus Puerto Rico, that have a gift card cash back policy. They typically have a limit of $5 for redeeming your balance. Still, some states, like California, will allow you to get up to $10 for your gift card.
What To Do With the Remaining Balance on Your Southwest Gift Card
You have a few options for using the remaining balance on your gift card:
Book a flight—If there are any available flights that you can pay with the remaining amount, you can book one and go on a vacation. In case you don't have sufficient funds, wait for a last-minute offer and buy a ticket at a lower price
Surprise a friend—You don't feel like flying? Airplane tickets serve as great gifts, so you can surprise your friend or a family member by sending them off on a vacation
Exchange the card—You can find various websites that deal with gift card exchange. You can find one and swap your unwanted gift for another card from a vendor that might better suit your needs. Note that you won't get the full value for your card by trading it this way
Sell the card at a kiosk—Find a gift card exchange kiosk near you and get cash for your gift card. You will have to insert the card into the machine and receive some value of the remaining balance on the card
Put the card up on a marketplace—You can list your used gift card on an online marketplace and sell it this way. This will require you to be patient until your card is sold, but if you don't want to wait, find a website that will purchase the card directly from you. Either way, you will only receive a percentage of the full value
Use our app— and use our Gift Card Cash Back product to redeem your gift card for cash and receive cash back without a hitch
DoNotPay Provides the Most Efficient Cash Back Solution
If you want to get money for your remaining Southwest gift card balance the easy way, use DoNotPay!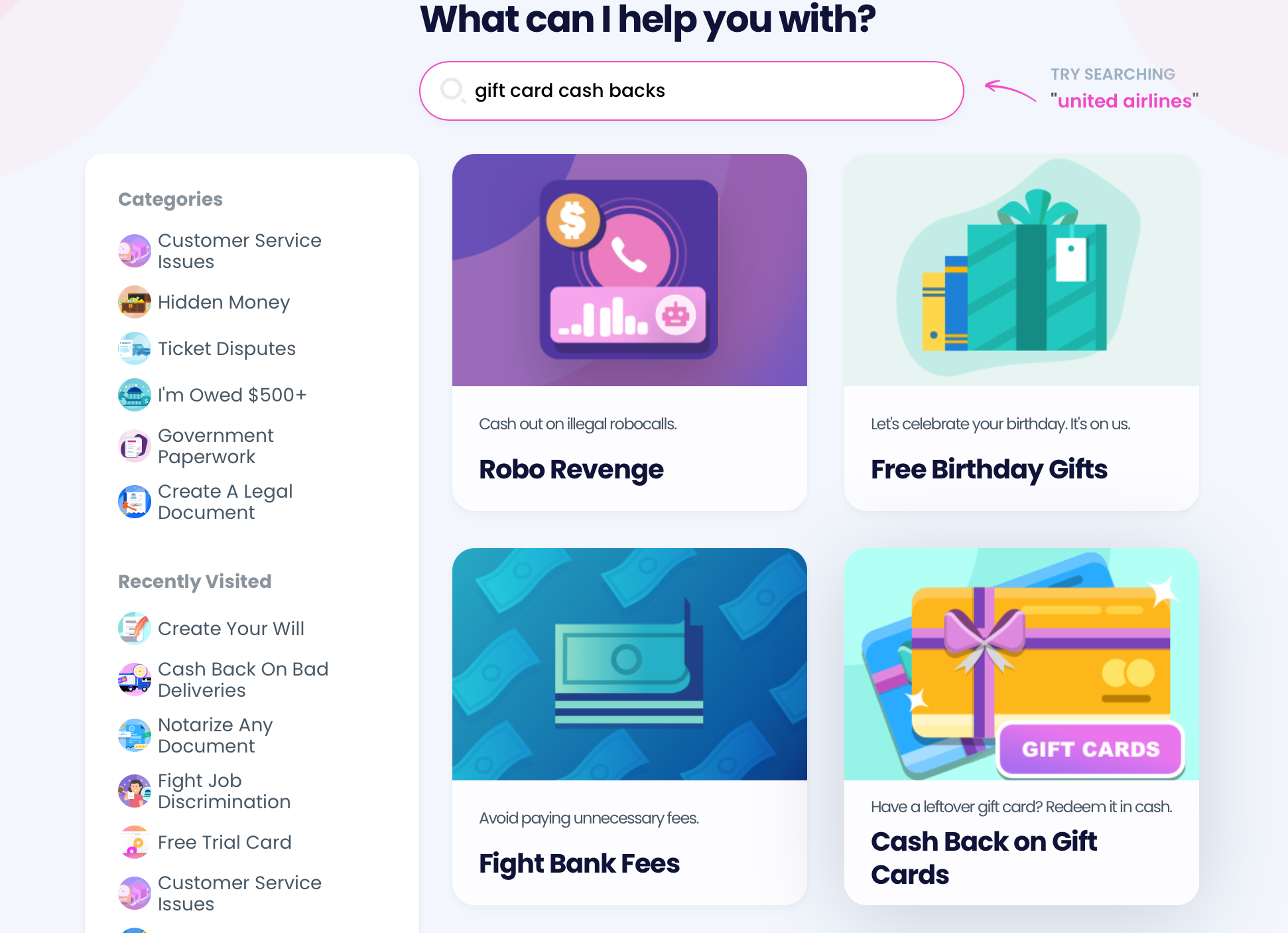 We're offering to redeem your unspent amount, and all you have to do is:
Select our Gift Card Cash Back product
Fill in the necessary information regarding your gift card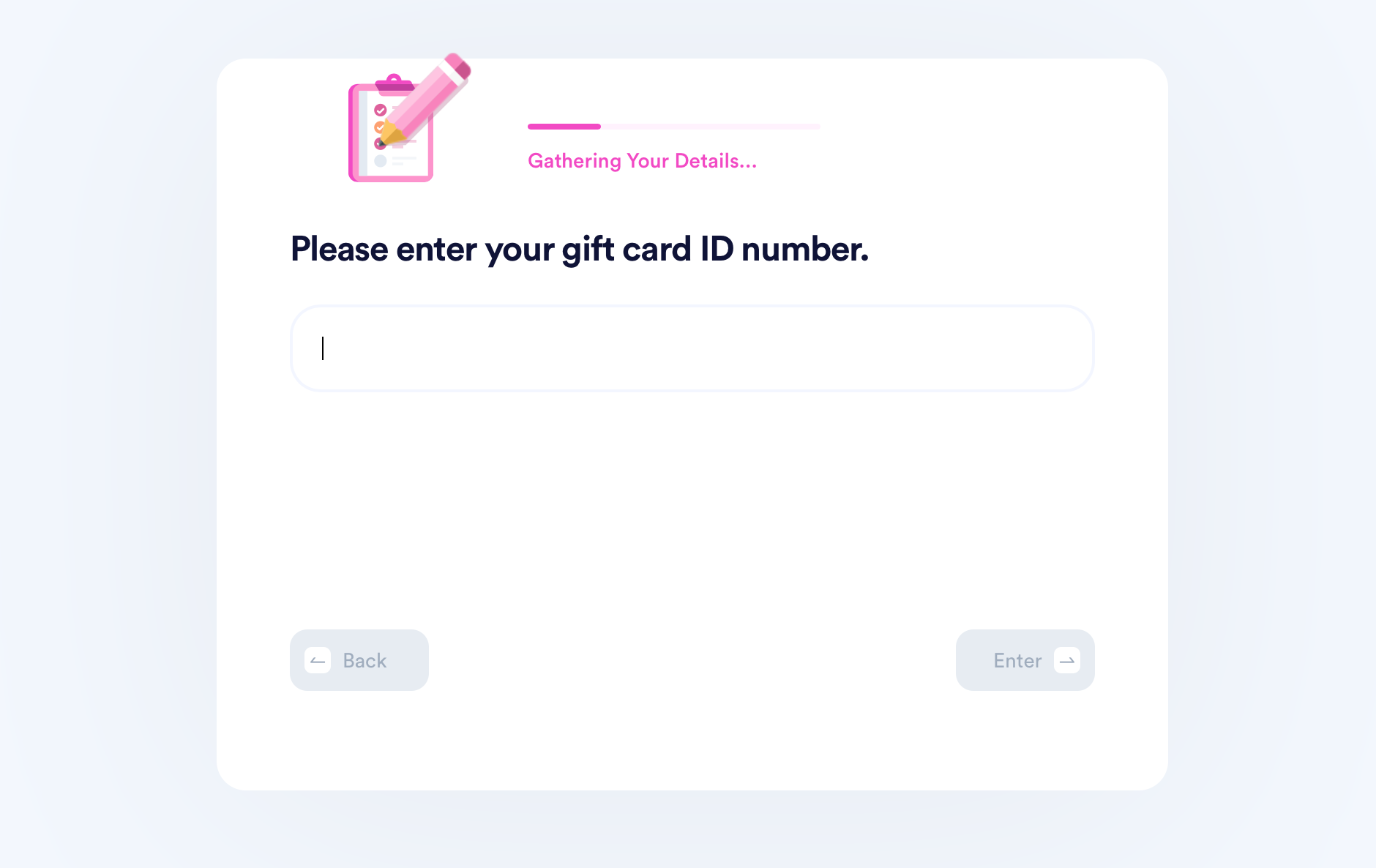 We'll forward your request to Southwest Airlines—either to the office in your state or another location in any of the states with cash back policies. You should receive your money within 14 business days.
DoNotPay has a knowledge base with gift card guides that you may find helpful, including:
| | |
| --- | --- |
| Guides Regarding Gift Cards | Company-Specific Articles |
| | |
Easy-Breezy Ways To Deal With Not So Breezy Issues
Administrative and similar tasks don't have to be as complicated as we've known them to be. With DoNotPay, dealing with paperwork and companies is done in a few clicks. Let the world's first robot lawyer help you:
Money Troubles? I Don't Know Her!
As our app's name says, DoNotPay's mission is to put a stop to losing money and overpaying. We will help you get your hands on free trials and snatch free raffle tickets. DoNotPay can also provide solutions for you to get help covering bills and reduce your property taxes.
If you want to get some additional funds, use our app to sign up for clinical trials. You may also take our practice tests to ace a government test and land a better-paying job.
It doesn't hurt to check whether you are owed some unclaimed money, and we can help you with the application.