The Simplest Way To Check the Kohl's Gift Card Balance
Kohl's gift cards are a great way to pamper yourself, but what should you do with only a few dollars left on your used gift card? The amount is too small to buy anything, but that doesn't mean you should give it up. So what are your options? We have the answers!
and learn the best way to check your Kohl's gift card balance and turn your remaining amount into cash!
How Do Kohl's Gift Cards Work?
Like any other gift card, a Kohl's gift card is a substitute for cash. You can use it at any Kohl's store or on their website to buy products you like.
Kohl's gift cards are not reloadable. If you spend the amount on the gift card, it will automatically become invalid.
Here are a few more details you should know about Kohl's gift cards:
The card does not have any expiration date, so you can use it whenever you like
Discounts, promotional offers, or coupons can not be combined with a gift card
Gift cards cannot be used to buy other gift cards
In case of a lost or damaged card, you can request a replacement card if you provide proof of purchase
How To Check Kohl's Gift Card Balance in a Snap
You can check your gift card's balance in the following ways:
Method
Steps To Take
Over the phone

Dial 1-800-655-0554
Let the customer support agent know that you want to check the remaining balance on your gift card
Provide all the required details of your gift card

On the website

Go to the Kohl's website
Enter your gift card number and PIN code (Alternately, you can also enter Kohl's cash number, found at the back of your physical card)
Fill out the reCAPTCHA form to confirm you're not a robot
Click on Check Balance

In the app

Download the Kohl's app, if you haven't already
Open the app and go to My Account
Enter your gift card or cash number
Tap on Check Balance

At any Kohl's location

Go to any Kohl's store
Hand over your gift card number to the cashier
Ask them to check your remaining balance
You Still Have Some Money on Your Kohl's Gift Card—What's Next?
If you have checked your balance and have some amount remaining on your gift card, here are a few ways to make the best out of it:
Spend every single cent—What better way to use a gift card than to spend every last penny on it? You don't need to worry that the purchase won't go through if the amount on your gift card is too small. You can add a debit or credit card to pay the rest
Sell it online—Although selling a gift card online is a viable option, bear in mind that the amount you get might be less than the true value of the gift card
Exchange it for cash—Kohl's does not allow customers to exchange their gift cards for cash, but don't let that put you down. Eleven states in the United States, along with Puerto Rico, have a cash back policy on gift cards, so you can still get your money back in no more than 14 business days!
You can either deal with annoying paperwork and fight uninformed cashiers on your own or go for the easier option—let us file a cash back request for you!
Use DoNotPay To Redeem Your Gift Card for Cash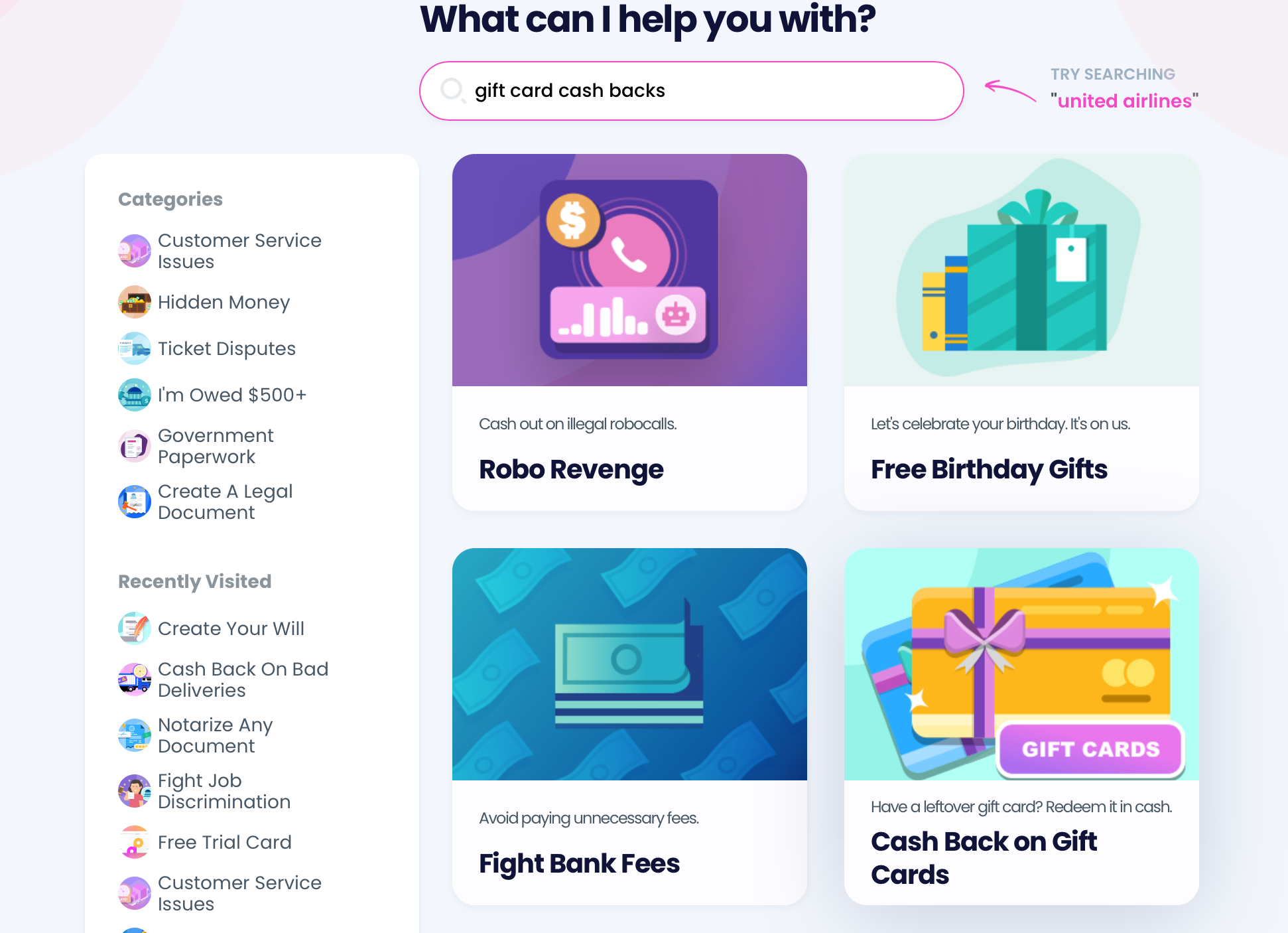 While some salespeople try everything they can to avoid giving cash back to customers, others don't even know that a cash back policy exists. To skip the frustrating and time-consuming process, use DoNotPay to redeem your used gift card for cash.
All you need to do is follow these straightforward instructions:
from your web browser
Search for the Gift Card Cash Back service
Enter your gift cards info, along with a few personal details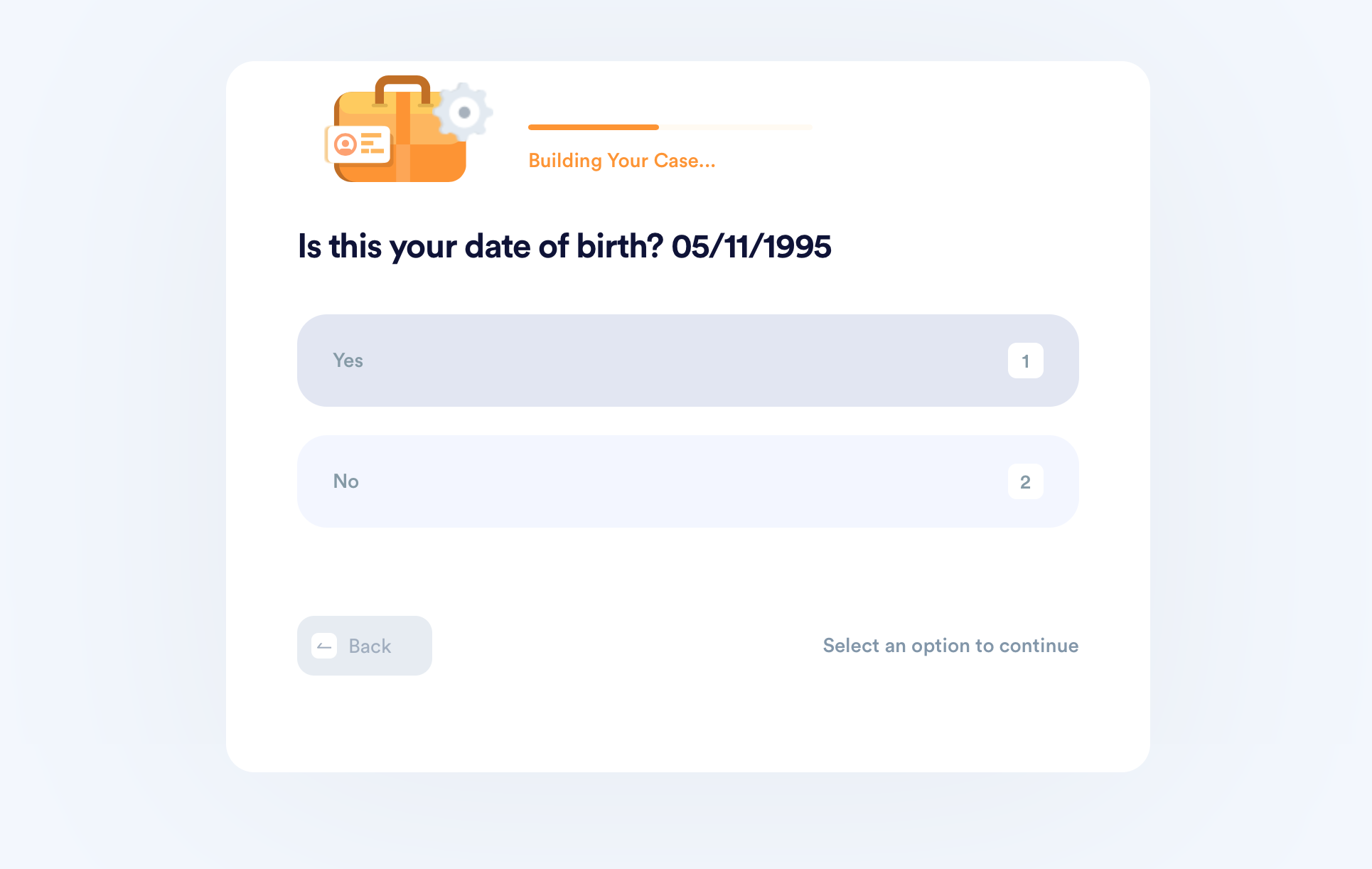 And you're done! DoNotPay checks whether your state has a cash back policy and then submits the request on your behalf. You should receive your money within a couple of weeks.
What if My State Does Not Have a Cash Back Policy?
You don't need to worry if your state doesn't have a cash back policy. DoNotPay will check if the company has an office in one of the 11 cash back states and send a request there. Either way, you get your money back!
Kohl's Is Only the Beginning
DoNotPay can help you get cash back from gift cards by brands like:
If you want to find out more about exchanging gift cards or getting free ones, DoNotPay can help you out as well!
More Nifty Solutions to Annoying Problems
If you're dealing with problematic neighbors or coworkers, you're not alone—our app can help you handle these issues with our Neighbor Complaints and Fight Workplace Discrimination products.
No problem is too big or too small for DoNotPay! Check out the best time- and money-saving solutions to different nuisances:
| | |
| --- | --- |
| Issues | Solutions |
| Email spam | Using DoNotPay's spam collector |
| High college fees | Applying for college fee waivers |
| Bothersome robocalls | Getting back at robocalls |
| Late delivery | Requesting a late delivery refund |
| No fax machine | Sending faxes online |
| High property taxes | Applying for property tax exemptions and appealing your property assessment |
An Array of Hacks To Help You Deal With Greedy Companies
Nobody likes to spend more money than they have to. DoNotPay is here to offer many penny-pinching hacks and also stop companies from taking advantage of you.
Almost every free trial nowadays isn't really free. Companies request your credit card info and auto-renew subscriptions. Fight this sneaky practice by using DoNotPay's virtual credit card next time you want to snatch a free trial. We'll also uncover any unwanted memberships you have mooching off of you and help you cancel them in a few clicks.
If you need to contact a company's customer service, avoid wasting your time and money on hold and count on our app to wait in your stead.
Do you need to get your money back, but you don't know how? Use DoNotPay to: