The Easiest Way To Do a Giant Eagle Gift Card Balance Check
Do you have a used Giant Eagle gift card that you want to do a balance check on? Look no further because you've come to the right place!
In this article, we will provide you with tips and tricks on performing a Giant Eagle gift card balance check and getting your money back in no time. and get practical advice on how to exchange gift cards for cash no matter the state you're living in!
The Basics of a Giant Eagle Gift Card
A Giant Eagle gift card can be useful when getting groceries and medication from a Giant Eagle store. Here's what you need to know about it:
How To Check Your Giant Eagle Gift Card Balance
You have several options to check your Giant Eagle gift card balance, as mentioned in the table below:
Check Your Balance
How To Do It
Over the phone
To check your balance over the phone, here's what you need to do:

Dial 1-888-927-4438
Introduce yourself to the customer support agent who picks up
Provide them with the details of your gift card, including your card number and PIN
Ask them to check the remaining balance on your card

On the website
In case phone calls make you uncomfortable, check your gift card's balance on the website by following the instructions below:

Visit the Check Gift Card Balance page on the Giant Eagle website
Type your gift card number and 8-digit PIN (you can reveal the PIN code by scratching the metallic strip on the back of your card)
Click on Check Balance

Visit a Giant Eagle location
If you're up for getting some fresh air, here's what you need to do to get your gift card's balance checked in person:

Go to a Giant Eagle location near you
After presenting your gift card to the cashier, ask them to check the remaining balance on it

Check your receipt
In case you've shopped at Giant Eagle using your gift card before, check your receipt. The gift card balance will be printed at the bottom
What To Do With the Remaining Balance on Your Giant Eagle Gift Card
Have you checked the balance on your card and found some amount left? If you're wondering what to do with the remaining balance on your gift card, let us recommend a few options:
This means that you can't get your money back—or that's what Giant Eagle wants you to think!
Use DoNotPay To Get Your Gift Card Cash Back Without a Hassle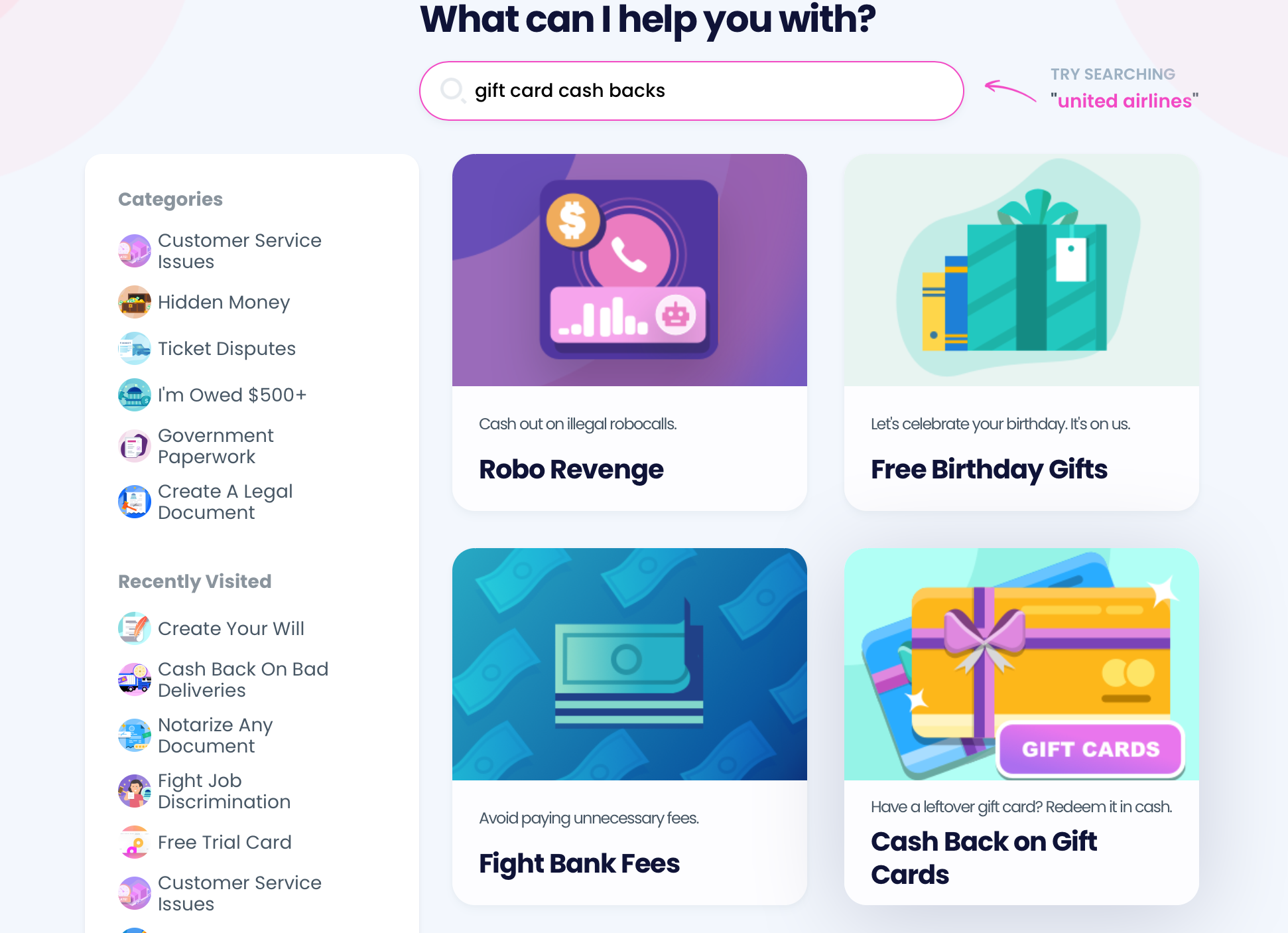 Use DoNotPay to return your gift card for cash the easy way! Our app's amazing Gift Card Cash Back feature allows you to redeem the balance in your gift card without a hassle! Here's how it works:
on your web browser
Select the Gift Card Cash Back product
Enter your gift card information, including the company name, gift card number, and the remaining balance left on it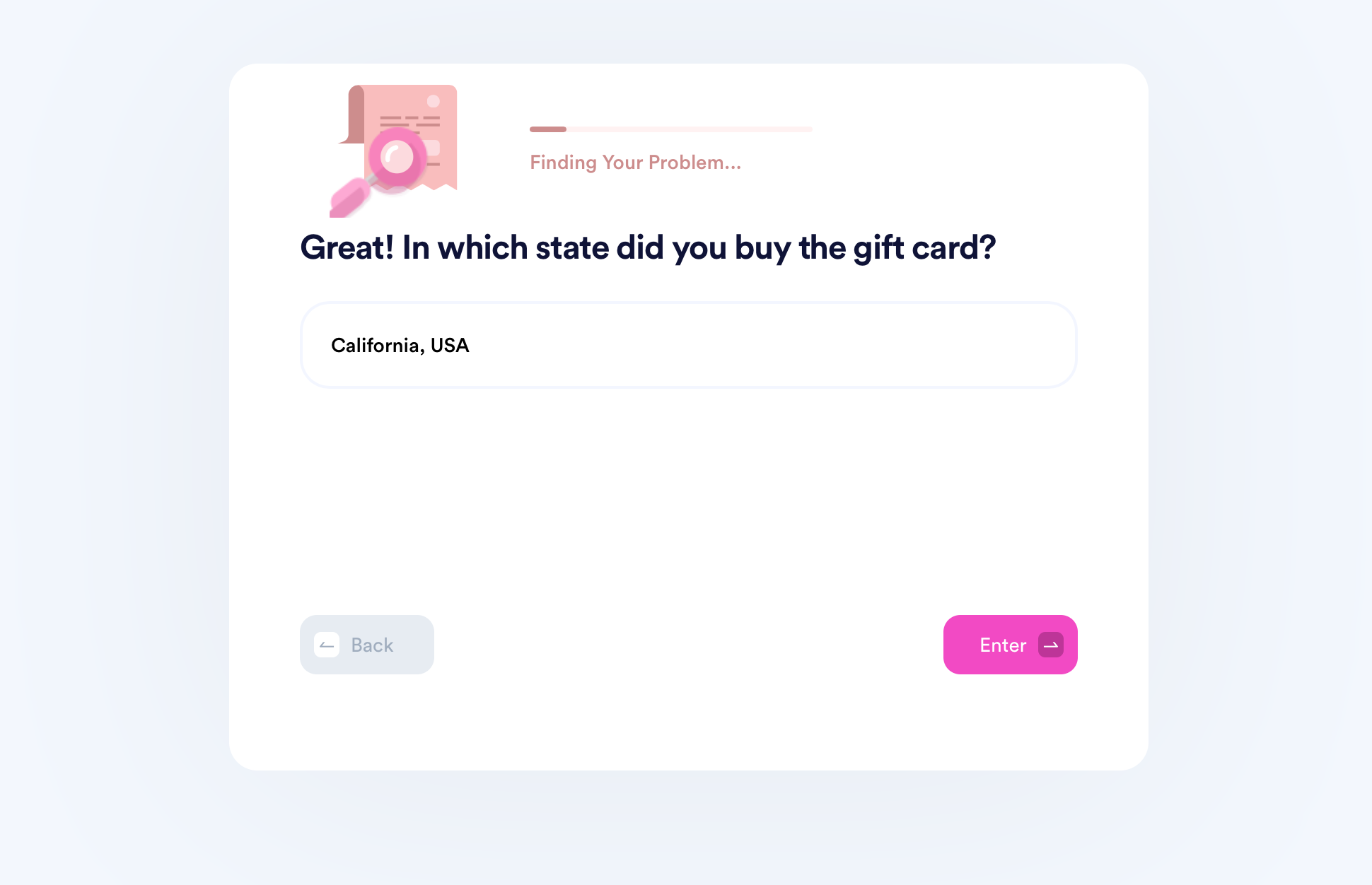 Once you're done, we will automatically send a cash back request to the company, provided your state has a cash back policy. In case it doesn't, we will locate the company's office in Puerto Rico or one of the 11 states that do and send the request there. Either way, you will receive your cash or check within 14 business days.
Do you have more used gift cards you want to get cash back on? DoNotPay can provide info on getting your cash back from different companies, such as:
If you want info on how to free gift cards, DoNotPay can help with that as well!
When You're In Over Your Head, DoNotPay Swoops In
With your virtual assistant extraordinaire, many tasks will be a breeze to deal with.
No fax machine? No problem! Use DoNotPay to send faxes online. If you don't want to waste time waiting in lines or on the phone, we come to the rescue with many of our products that will help you:
What Else Does DoNotPay Have in Store for You?
You can count on our assistance when you want to get rid of:
Our app has even more to offer—try out our hacks that will save you money and do the heavy lifting in numerous tasks: