A Guide to Torrid's Return Policy
Buying items from Torrid that aren't the right fit may be discouraging, but you don't have to be bummed out—DoNotPay is here to help! In this guide, you will learn how the Torrid return policy works, how to initiate a return request, and how to retrieve your money as soon as possible!
We can also help you return your items to Tillys, T.J.Maxx, or Old Navy as soon as you're done with Torrid!
Torrid Return Policy—The Basics
You can return items you bought from Torrid within 60 days of the purchase date. If your items are missing or damaged, you can contact customer support by:
Dialing 1-866-867-7431 for U.S. purchases or 1-626-603-3190 for international orders
Sending an email by filling out the form on the Contact Us page of the Torrid website
Items You Can't Return to Torrid
Torrid won't allow you to return:
Clearance and final sale items
Products with no proof of purchase
Torrid items you bought through third-party sellers
Merchandise that's missing the original packaging or tags
Torrid declares the following products as the final sale ones:
Tights
Earrings
Cosmetics
Gift cards
Underwear and lingerie
Washed or worn merchandise
Other similar items
How To Return Your Items to Torrid
You can return your faulty items to Torrid:
By mail
In store
Using DoNotPay
Return Your Items to Torrid by Mail
To initiate a return request to Torrid:
Visit the Easy Returns page
Enter your email address and order number
Follow further prompts to complete the return request
Fill out the return form on your packing slip if you're returning an online order, or print it out yourself and complete it
Pack your products along with your proof of purchase and return form
Take your package to your nearest USPS
Whether Torrid will charge you shipping fees depends on your return type—domestic or international—and membership tier.
If you're not a VIP tier member, the company will deduct a $6 return shipping fee from your refund.
Domestic VIP members are eligible for free shipping if they had the VIP status when they purchased the product they're returning. Torrid will waive shipping fees for VIP customers if they:
Use the shipping label they received with the original order
Ship all the items they're returning in one package
No matter which tier, customers making international returns must arrange shipping by themselves, but VIP members will receive a partial refund of the fees.
If you need additional guidance with your returns, you can always contact Torrid's customer support.
Initiate an In-Store Return Request to Torrid
To return your items in a Torrid store:
Visit the nearest Torrid location
Ask a representative to process your return request
Provide proof of purchase and other necessary information and wait for the staff member to complete the process
If you used Klarna, Apple Pay, or Google Pay to pay for the Torrid purchase you want to return, you have to do so by mail. Purchases you paid for using PayPal are eligible for returns both in store and by mail.
Return Your Torrid Products for Free With DoNotPay!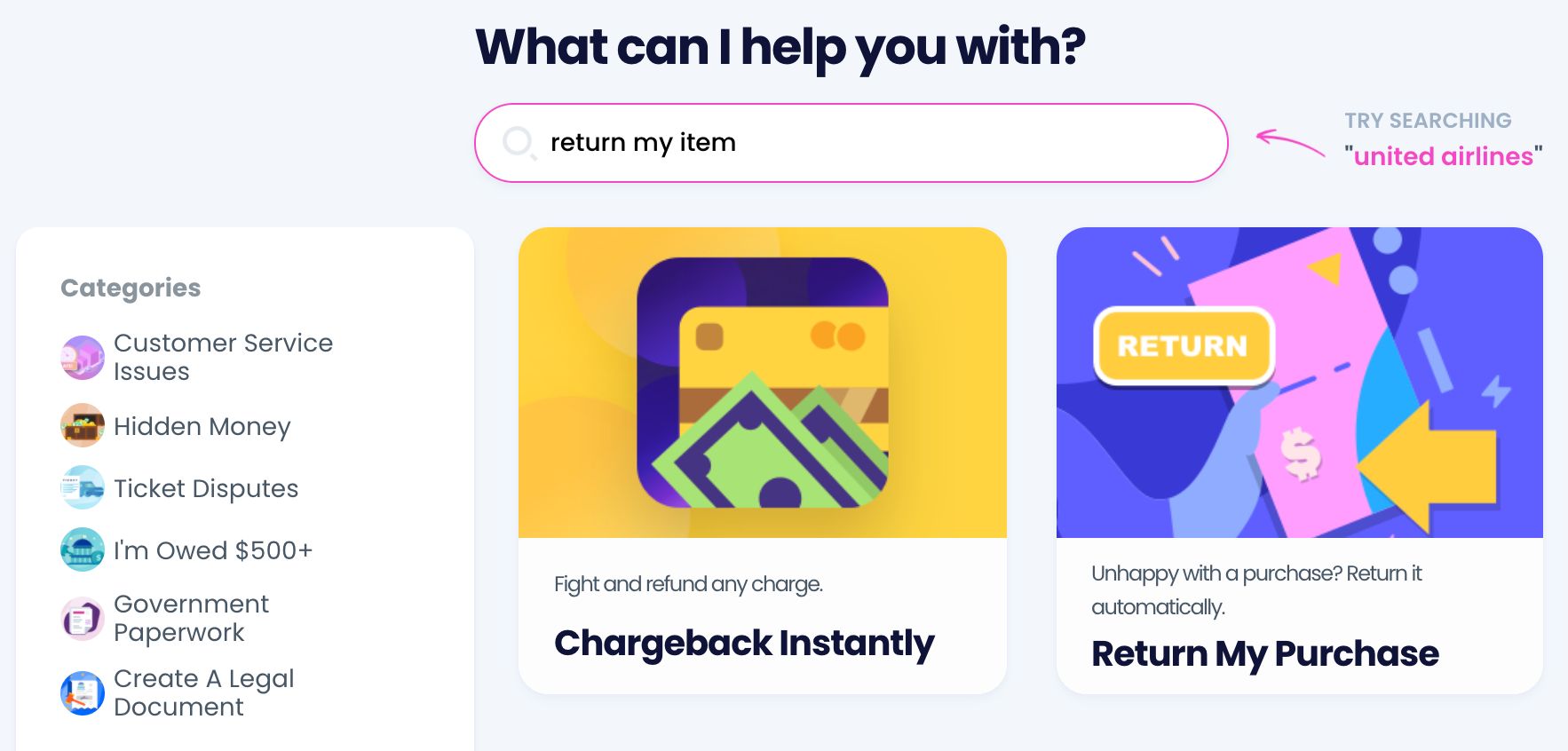 For every return you make through our Item Return Request product, we will give you a shipping label you can use to send your products back for free!
Here's how it works:
Select our Item Return Request product
Enter all required information about your Torrid purchase
Submit your return request
We will generate and mail a custom return request letter that will include all the information you provided. An additional benefit is that we will add a date by which Torrid must complete processing your return, so you can be sure that you'll get your money back as soon as possible!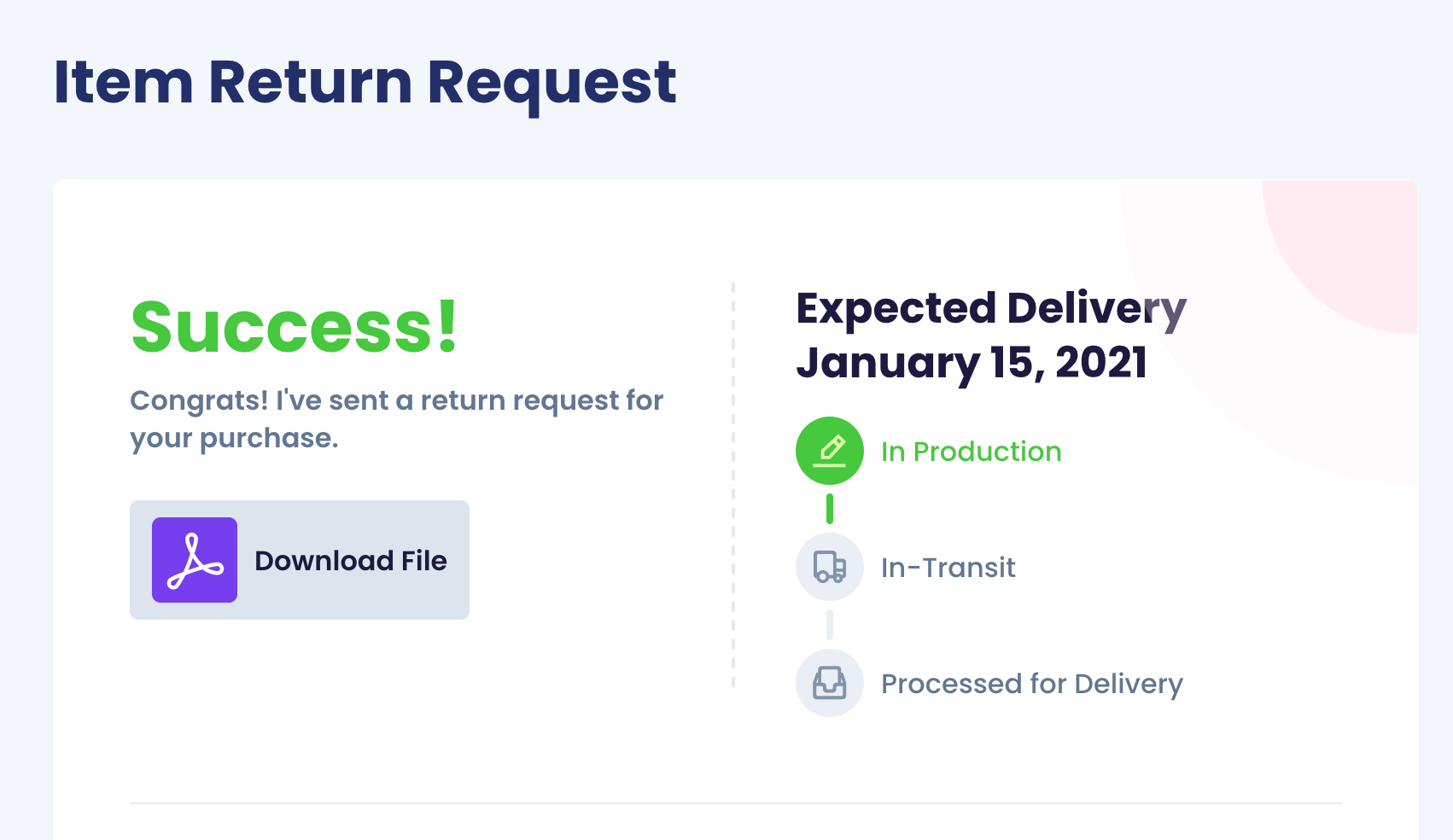 Check out other return policies we explained:
When Will Torrid Issue My Refund?
Torrid representatives will process your in-store returns and issue your refund immediately. Shipped returns take up to two weeks to process. Once the company completes this, it will issue a refund instantly. It may take up to seven business days for the refund to show on your original payment method.
If you paid for your purchase using a gift card, you might have to wait up to four weeks for Torrid to return the funds.
The company doesn't offer refunds for shipping and handling fees.
Get Your Money Back Now—Demand a Refund From Torrid Using DoNotPay
If Torrid accepts your return request and you want your money back as soon as possible, you can demand a refund in a flash once you and follow these steps:
Find and open our File a Chargeback product
Click on the Get Protected button
Provide some necessary information
Check out other companies we can help you demand a refund from:
Is the Company Refusing To Cooperate? We Can Help You Get Justice
Is whatever company you're dealing with not being a good sport? Don't worry—the world's first robot lawyer is here to help. Our app can prepare all the necessary paperwork and provide guidance if you want to sue the company in small claims court.
We can also help you draw up any legal document you need for the case, have it notarized by an online notary, and fax it to anyone in a matter of minutes.
If you want to get revenge on tiresome robocalls or report a stalker or harasser, you can rely on DoNotPay.
Anything Else We Can Do for You?
Our AI-powered app is versatile—you can complete many tiresome, daunting tasks that you wouldn't want to tackle by yourself. You can use DoNotPay to:
If you want to get access to all of our nifty products, sign up now!