The Crate and Barrel Return Policy in Detail
Have you received a Crate and Barrel item and realized it is not what you expected? Whatever the reason for your dissatisfaction may be, DoNotPay has got you covered! We can fill you in on the details regarding the Crate and Barrel return policy and help you initiate the return process in no time! to speed up the procedure and send back any item to Crate and Barrel or other merchants like Wayfair and Costco.
All About the Crate and Barrel Return Policy
The Crate and Barrel return policy differs for furniture and non-furniture returns. What they have in common is that all returned items have to be unused, and you have to provide evidence of purchase. The store will accept the following as valid proof:
Original receipt
Original packing slip
Gift receipt
Gift packing slip
eReceipt
Order number
Gift registry number
Follow one of the procedures below to return your product properly.
The Crate and Barrel Furniture Return Policy
The Crate and Barrel return process is the same for furniture and rugs. If you placed your order online, call the seller at 800-606-6462 to get further instructions. To return the product purchased in-store, contact the store where you bought it.
You need to reach out to Crate and Barrel within seven days of the purchase or delivery and initiate the return process! To return the item successfully, do it within 30 days of the delivery. Furniture is not eligible for online returns.
The Crate and Barrel Non-Furniture Return Policy
To return a Crate and Barrel non-furniture item, the store gives you a 90-day return window. Choose one of the three ways to send the product back:
Return the item, along with any proof of purchase, to a Crate and Barrel store
Send it by mail using the packing slip information:

Find the packing slip in the original purchase package
Call Crate and Barrel at 800-967-6696 if you misplaced the slip
Pack the item in a secure box
Provide any proof of purchase
Mail it to the address listed on the slip

Ship it via mail by using the online returns feature:

Access online returns using your order number and ZIP code
Select the item you wish to return
Provide reasons for your return
Print out a prepaid FedEx shipping label
Pack up the product
Drop it off at a FedEx store
If FedEx does not make the delivery on time or loses the package, the store could charge you or even deny your return request. For this reason, we suggest that you track your FedEx order. If they fail to provide the expected service, use DoNotPay's help to request a FedEx refund!
The CB2 Return Policy
CB2 is Crate and Barrel's sister brand. If you purchased a CB2 item and want to return it, you cannot send it to Crate and Barrel—return it to a CB2 store. The process is the same—return a non-furniture item within 90 days or any piece of furniture within 30 days of the date on your receipt.
| | |
| --- | --- |
| Can You Initiate a Crate and Barrel Return Request Via | Yes/No |
| DoNotPay | Yes |
| Email | No |
| Phone | Yes |
| Letter | No |
| C&B Website | Yes |
| In Person | Yes |
Are All Crate and Barrel Items Returnable?
The store will not accept all returns! The following Crate and Barrel products are non-returnable:
Final sale items
Custom furniture
Custom rugs
Live botanicals
Return the Crate and Barrel Product Without Effort With DoNotPay's Cool Feature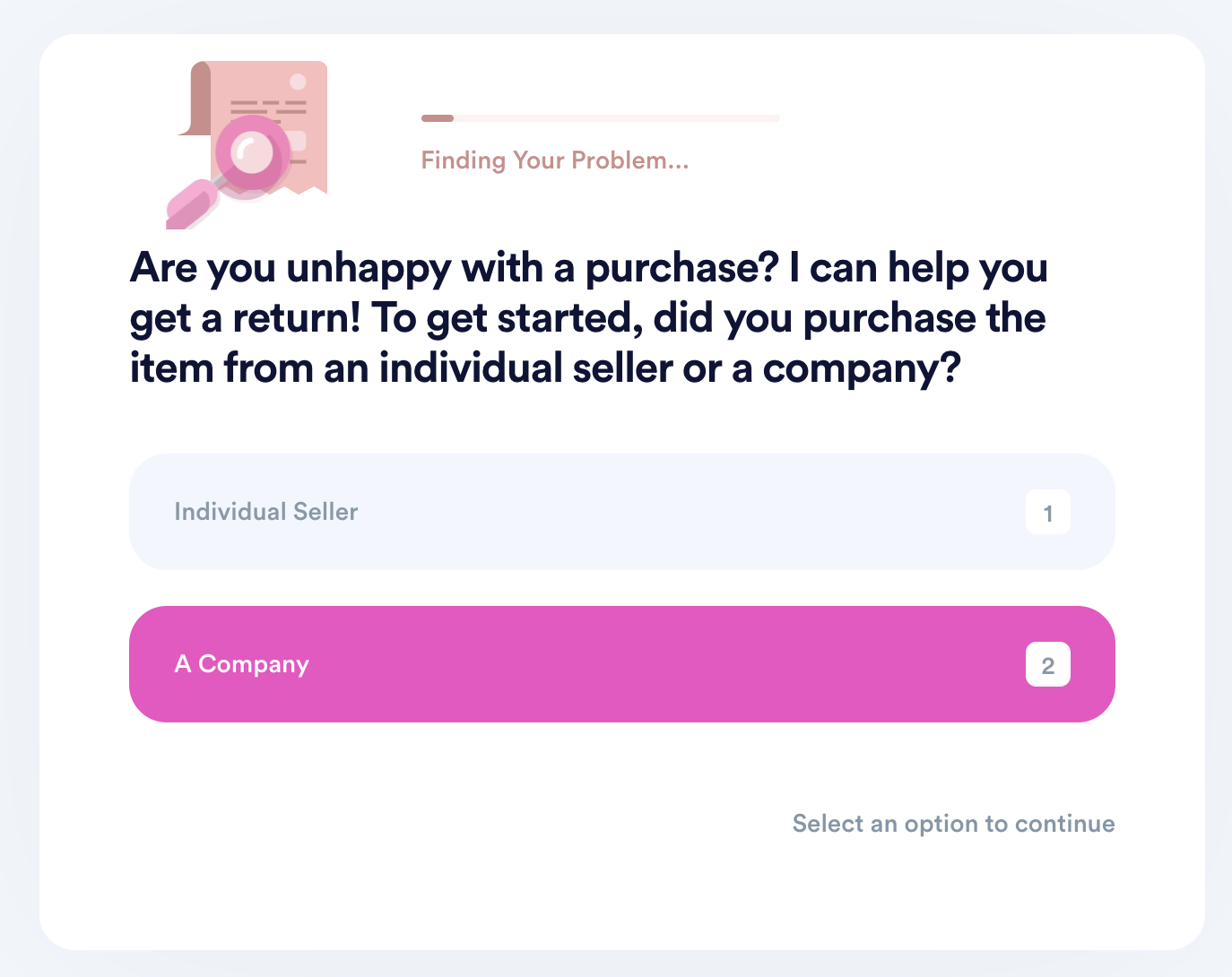 Taking an item back to a nearby store is child's play, but what if the store is miles away and you wish to mail the item back? Going through the Crate and Barrel process by yourself is a time-consuming and tiresome task—pick up speed with DoNotPay! We will help you avoid all the tedious steps by taking only five simple ones:
through any web browser
Tap the Item Return Request option
Reply to several questions
Include photos if needed
Submit your request
That's where DoNotPay takes over! We will incorporate the provided details in the Crate and Barrel return request letter and send it in your name. To make sure the seller reviews your request in a timely manner, we will add a deadline. DoNotPay is also going to get you a return label at no charge and free you from paying the FedEx shipping label!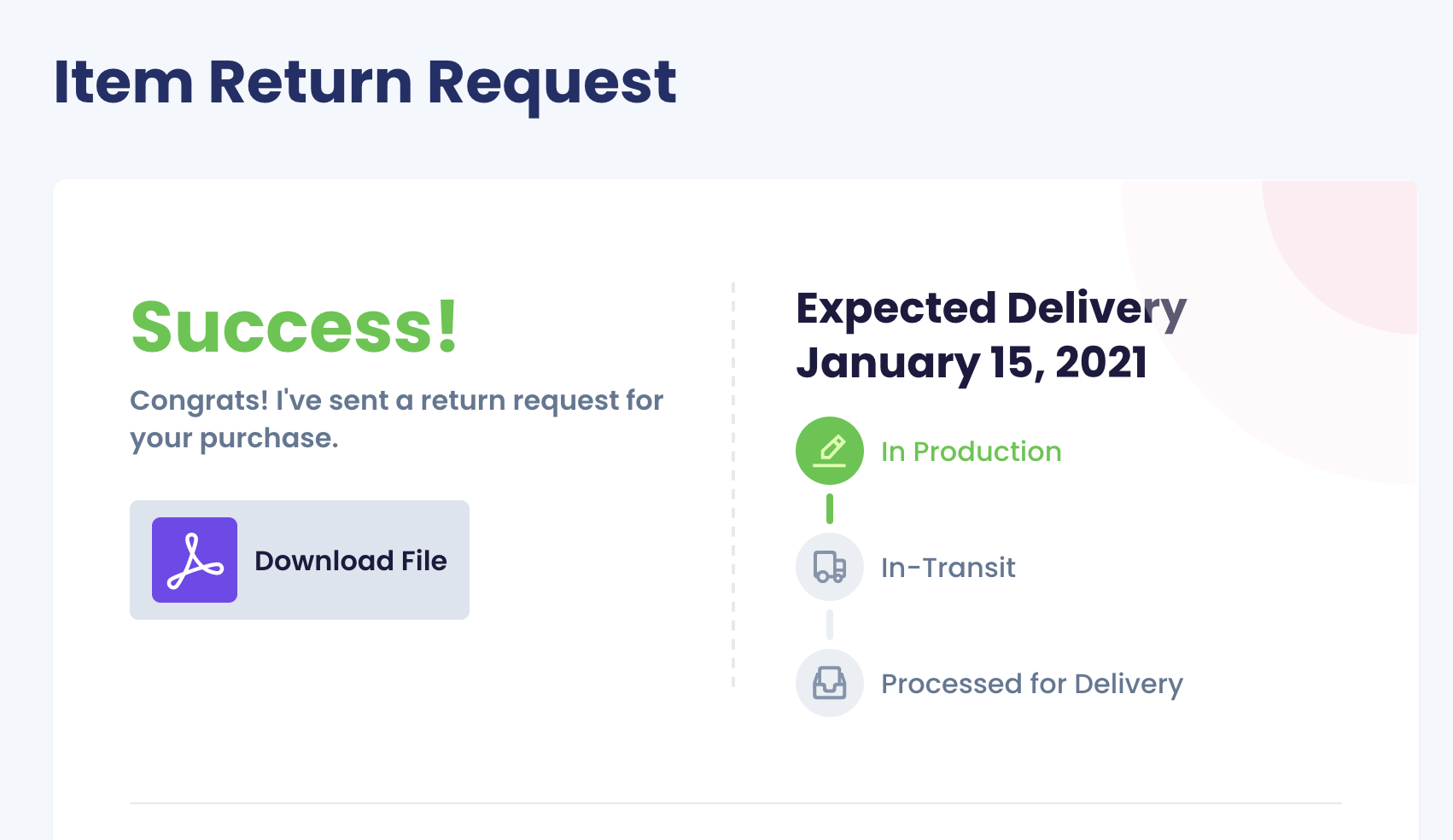 We can save your time and money even when you wish to return another seller's item! Read our guides to master other companies' return policies:
What Is the Crate and Barrel Refund Policy?
After completing the return process, Crate and Barrel will issue a refund in one of the following ways:
The original payment method—if you have the original receipt, original packing slip, eReceipt, or order number
A Shop Card or Gift Card—if you bring the gift receipt, gift packing slip, or gift registry number
The store states that Shop Cards and Gift Cards cannot be redeemed for cash, except if it is required by law. DoNotPay can help you discover if your state has a cash back policy. If it does, check your Crate and Barrel gift card balance and see how to return the card for cash with our useful app!
Is the Company Refusing To Cooperate? We Can Help You Get Justice
Is whatever company you're dealing with not being a good sport? Don't worry—the world's first robot lawyer is here to help. Our app can prepare all the necessary paperwork and provide guidance if you want to sue the company in small claims court.
We can also help you draw up any legal document you need for the case, have it notarized by an online notary, and fax it to anyone in a matter of minutes.
If you want to get revenge on tiresome robocalls or report a stalker or harasser, you can rely on DoNotPay.
Anything Else We Can Do for You?
Our AI-powered app is versatile—you can complete many tiresome, daunting tasks that you wouldn't want to tackle by yourself. You can use DoNotPay to:
If you want to get access to all of our nifty products, sign up now!