A Complete Guide to Tillys' Return Policy
Have you purchased online and received a defective Tillys item or bought a product in-store but changed your mind? Whatever the reason, DoNotPay will lay out the details about Tillys' return policy and guide you through the return process!
Avoid waiting in phone queues and stressing about not getting the answer from Tillys like other customers—use DoNotPay and send your item back easily! Our process is painless and the same for many companies, including SHEIN, Kohl's, Nordstrom, and Macy's.
All About Tillys' Return Policy
Tillys accepts the return of its products within 60 days of the purchase! Before returning a Tillys item, make sure the merchandise is:
Unworn
Unaltered
In its original packaging
To send the item back properly, follow the steps for online or in-store returns, based on where you purchased the product.
Tillys' Online Return Policy
If you wish to return an item bought in the Tillys online shop, make sure it satisfies the conditions above and start your return process. Here's what you need to do:
Enter the pickup confirmation number
Type in your ZIP code
Click on Next and follow the instructions
Tillys will provide a return label, but note that you would have to pay a $7 return label fee. After you take the Tillys return steps and attach the label, choose one of the following options to send the item back:
Return the package to your mailbox
Use a USPS blue collection box
Give it to your postal carrier
Drop it off at a post office
If you don't want to use the Tillys return label, send the package to the following address:
Tillys.com
E-Commerce Returns
17 Pasteur
Irvine, CA 92618
Dodge the shipping charges by taking your item to any Tillys store—bring the original receipt and your credit or debit card to complete the Tillys return process.
Tillys' Store Return Policy
Take the item to any Tillys store to return it with no additional charges or fees—all you need is the receipt. In case you lost it, the store will not allow you to get a refund. Without the receipt, you can exchange your item for another merchandise of equal value.
You cannot return all Tillys products to the store—the following items must be sent back by mail:
Bikes
Surfboards
Snowboards
Paddleboards
Return the Tillys Item Purchased Through PayPal or Amazon
If you used PayPal or Amazon to buy your Tillys product, you can get a refund to your original payment method for online returns only. The in-store return process is different—you can exchange the merchandise or get a Tillys gift card of the same value.
If you choose the gift card option, DoNotPay can help you find out if there is a way to return your gift card for cash. We also offer guides to the PayPal refund policy and Amazon refunds that may come in handy in such cases!
Stay Away From Tedious Tasks—Use DoNotPay To Return Your Tillys Item Stress-Free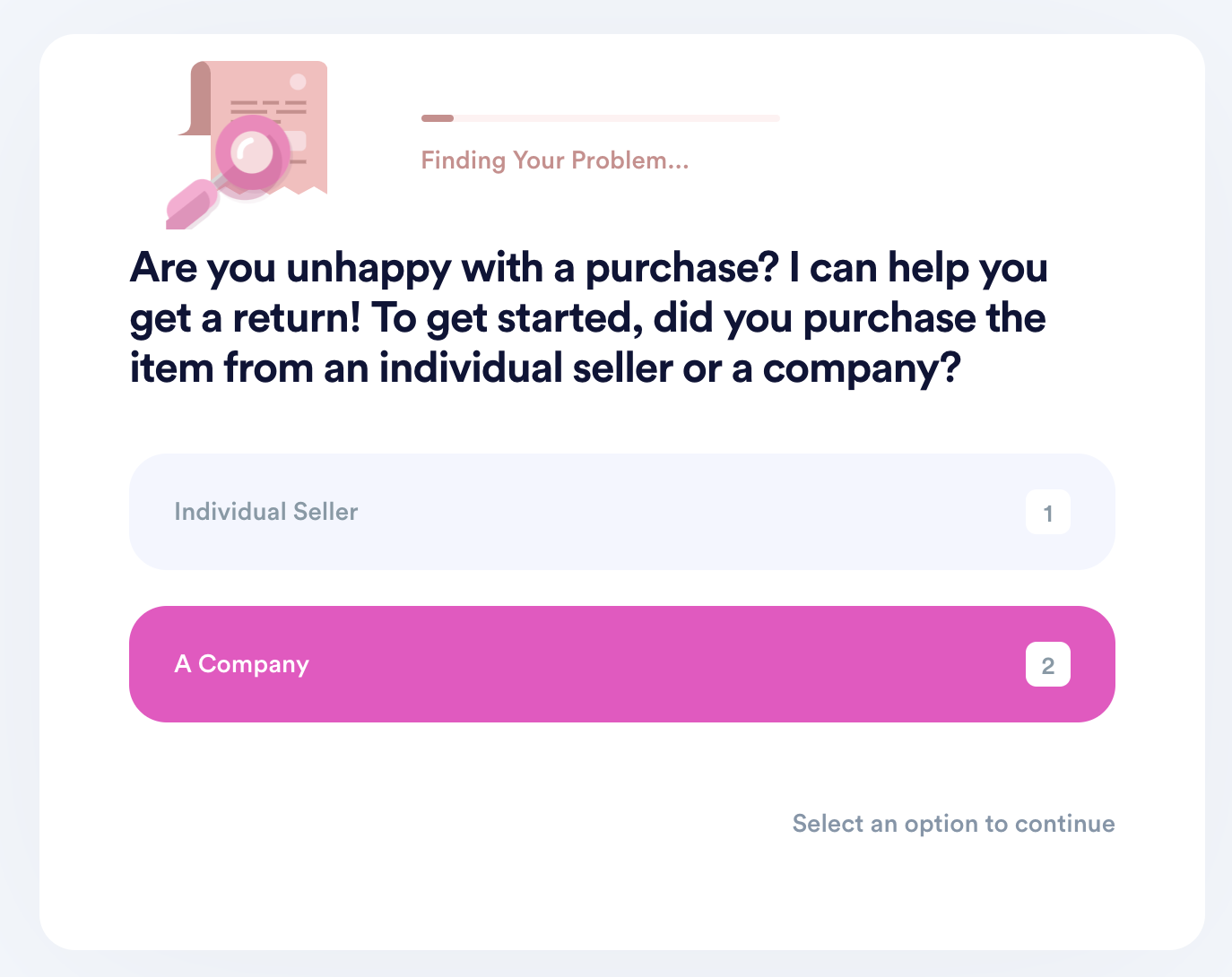 Returning a Tillys item can be such a headache! Avoid endless waiting for a response and going through dozens of steps—pick up speed with DoNotPay! Take the following steps and let the world's first robot lawyer take care of your return request:
using any web browser
Click on the Item Return Request feature
Answer a few questions about your purchase
Submit the request
That's all! DoNotPay is going to use the purchase-related information to compose a Tillys return request letter on your behalf. To make sure that the seller reviews your request in a timely manner, we will add a deadline. You will also get a return label to send the package free of charge and save $7 you would spend on the Tillys label!
DoNotPay Can Help You Send a Return Request Letter to Other Companies
Speed up any return process with DoNotPay! Check out our guides to learn other sellers' return policies and see how to send any other item back effortlessly:
Want To Demand a Refund for a Defective Item? DoNotPay Has Your Back!
Requesting a refund with DoNotPay's help is as simple as making a return! Here's what you have to do:
through any web browser
Select the File a Chargeback option
Click on Get Protected
Give answers to a few questions
Tap Sign and Submit
Discover more about this process by going through our guides to companies like Nike, Grailed, and Lowe's.
Has Tillys Wronged You? Sue It in Small Claims Court With DoNotPay's Guidance!
Has the company ill-treated you? The American Bar Association recognized DoNotPay's achievements, and we can lead you through the process of filing lawsuits in small claims court! Use our help to compose a demand letter, fill out the forms, gather paperwork, and file your complaint. We will also make a script with all the arguments you can use in court—your robot lawyer will smooth the way to justice!
Don't Tolerate Corporate Attitudes—Request What's Rightfully Yours
DoNotPay is known for being the champion of customer advocacy because we help our users claim what's rightfully theirs, and we don't tolerate big corporations taking people's hard-earned money.
No matter if you want to request a refund, insurance, extended warranty, or compensation from airlines, our AI-powered lawyer will fight for your right.
If you feel like you're overpaying certain subscription services, we can help you cancel them. Also, if you want to test a subscription before you start paying money for it, don't connect your credit card to the free trial page! You can sign up for free trials using our virtual credit card. That way, companies won't be able to charge you auto-renewal fees because the card has no funds.
Wait! DoNotPay Can Help You in Many Other Ways
DoNotPay has many different areas of expertise—helping you return your faulty items is only one of them.
Check out how our app can assist you in: