All You Need To Know About The North Face Return Policy
Did you look forward to the arrival of your new jacket from The North Face, but you received a completely different item? Don't worry—you aren't the only one! The good news is that you can return any items you don't want easily.
helps you understand The North Face return policy and speeds up the return process.
The North Face Return Policy Simplified
You can file a warranty claim for any of The North Face products. This means any defective item is eligible for free-of-charge repair or replacement.
Bear in mind that the return policy differs for items purchased:
In store
Online
Through a third-party store
Before starting the return process, make sure the item wasn't used or washed or that the original tag isn't missing. Your return request will probably be declined if these requirements aren't fulfilled.
Rules for Returning the Items Bought in a Company Store
For most of the year, the 60-day return policy applies. The only time when this differs is February through March. If you've bought your items in this time window, you'll have 120 days to return them.
Return Policy for the Products Bought Online
If you bought The North Face products online, you can return them to the store or ship them back within 30 days from receiving your Order Confirmation and get a full refund.
If you wait up to 60 days to start the return process, you'll get either store credit or a refund. The company will decide what applies to your specific case at its discretion.
Note that your return will not be accepted in The North Face stores in case you paid your item online via:
If you did, you will have to ship the product back using the shipping label provided with your package.
The North Face Return Policy for Pieces Bought in Third-Party Stores
If you purchased The North Face merchandise through a third-party store, you'll need to talk to them about the return.
For example, in case you bought your product in Target or Walmart, your next step will be to learn about their return policy.
DoNotPay can help you learn about the return policy of these two store chains and numerous other companies, including:
How To Return The North Face Products
Before jumping right into the nitty-gritty of the return process, here's an overview of the ways to file a return claim:
| | |
| --- | --- |
| Can You Initiate a Return Via | Yes/No |
| DoNotPay | Yes |
| Email | No |
| Phone | No |
| Letter | No |
| Website | Yes |
| In Person | Yes |
Returning a Product to one of The North Face Stores
Any product purchased in store can be returned to the same location in person. The same applies to the products purchased online (except for the ones paid via PayPal, Apple Pay, or Klarna). All you need to provide when you visit the store is:
The original receipt
Proof of your order through The North Face website
Returning a Product via The North Face Website
To initiate the product return process online, go to your account on The North Face website. If you are returning a gift and you don't have an account, don't worry. You can create a new account and initiate the return process from it.
Here are the steps:
Log in to your account, or create one if you don't have it
Find the item in question in your Order History
Choose Create a Return and provide the required info
Put the packing slip you got in the original package into the one you are sending away
Find and fill in the prepaid label you got with the original package and paste it on the return package.
Forward the package to the U.S. Postal Service
If you don't receive a reply, contact the company's customer support.
How Long Does The North Face Take To Review a Return Request Letter?
The North Face claims that they'll need around three business days to process your claim upon receiving your returned items. They also state that a package might take 10–15 business days to get to them.
This can amount to a full month of waiting. Many North Face clients complain of waiting even longer than that.
Return an Unsuitable Product Without Any Problems Through DoNotPay!
You don't need to waste your time filling out endless online forms and waiting for a response indefinitely. DoNotPay helps you initiate a return process in no time. The steps are as follows:
using any web browser
Find the Item Return Request feature
Provide the info about your purchase and upload some photos if necessary
Click Submit
If you are in a hurry to complete the return process, you can set a refund processing deadline for the company.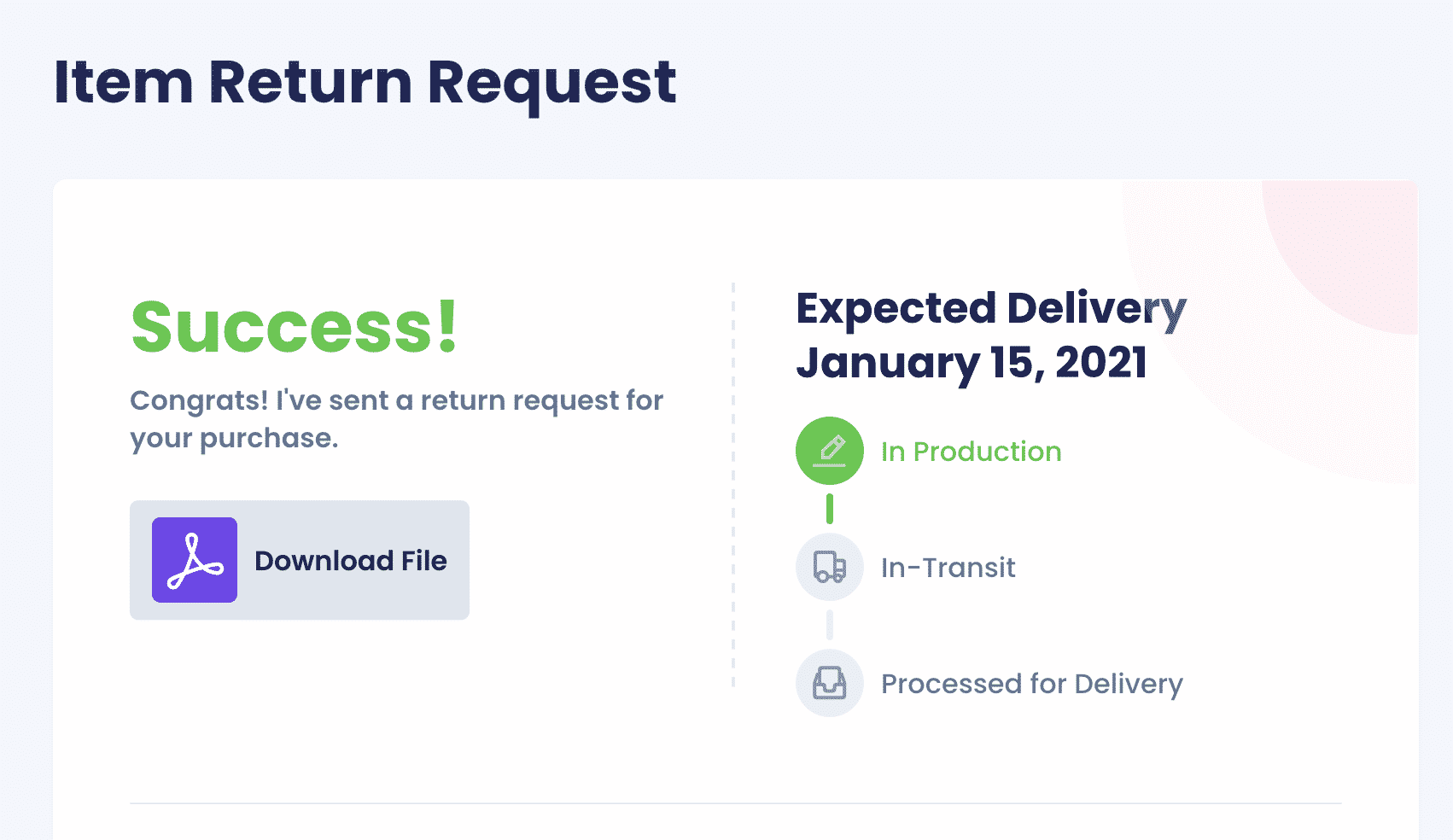 Don't Tolerate Corporate Attitudes—Request What's Rightfully Yours
DoNotPay is known for being the champion of customer advocacy because we help our users claim what's rightfully theirs, and we don't tolerate big corporations taking people's hard-earned money.
No matter if you want to request a refund, insurance, extended warranty, or compensation from airlines, our AI-powered lawyer will fight for your right.
If you feel like you're overpaying certain subscription services, we can help you cancel them. Also, if you want to test a subscription before you start paying money for it, don't connect your credit card to the free trial page! You can sign up for free trials using our virtual credit card. That way, companies won't be able to charge you auto-renewal fees because the card has no funds.
Wait! DoNotPay Can Help You in Many Other Ways
DoNotPay has many different areas of expertise—helping you return your faulty items is only one of them.
Check out how our app can assist you in: