How To Use the Barnes and Noble Return Policy to Your Advantage
Our guide to the Barnes & Noble return policy will inform you of the details and instructions on how to return any item properly. Keep reading to see how to send back a Barnes & Noble book, CD, toy, or game in a few steps with the help of DoNotPay!
All About the Barnes & Noble Return Policy
The Barnes & Noble return policy gives you 30 days to return a product, and the policy applies to:
Books
Toys
CDs
DVDs
Games
Electronics
Audiobooks
Vinyl records
To send an item back successfully, you have to satisfy a few conditions. Depending on where and what you purchased, go through one of the following processes.
The Barnes & Noble Online Return Policy
If you are not pleased with your online purchase at Barnes & Noble, return the item within 30 days to get a refund. Before the return, pay attention to the following details:
The item must be in its original condition
If it has a shrink wrap, it must remain firmly attached
Take the packing slip from your original shipment—it contains the return instructions
Have you lost the slip? No worries—print out the confirmation email you got after ordering from Barnes & Noble and put it in the box. Write the order number on the box and send it to the return address:
Barnes & Noble
Returns Department
1 Barnes and Noble Way
Monroe Township, NJ 08831
Bringing the item to any Barnes & Noble store can save you from the shipping process. Take the product with the packing slip or confirmation email back to any store.
The Barnes & Noble Store Return Policy
If you purchased the product in any of the Barnes & Noble stores, bring it back to the store along with the receipt. Remember to do it within 30 days of your purchase! You will get a full refund, except if you used PayPal to complete the order. In that case, Barnes & Noble will issue an in-store credit. If you want to request your money back from PayPal, DoNotPay can help you get a PayPal refund!
The Barnes & Noble Gift Return Policy
The B&N return policy for gifts differs from the original one. You can return a product with a gift receipt within 60 days of the purchase, but the store will not give you a cash refund. The company offers an in-store credit or Barnes & Noble Gift Card instead.
The Barnes & Noble NOOK Return Policy
If you purchased a NOOK device, the Barnes & Noble return policy gives you 14 days to return it. Choose one of the two options to initiate the return process:
Call 1-800-843-2665 to seek a return authorization
Return it to the B&N store along with the receipt or packing slip
The Barnes & Noble Textbook Return Policy
Barnes & Noble will issue a store credit for all textbook purchases. If you purchased the textbook at a B&N College Bookstore, the same rules apply, except if you bought it at a Barnes & Noble at Boston University. In that case, you can receive a refund! Return your textbook and the receipt within the first week of classes to get your money back.
Which Barnes & Noble Items Are Not Returnable?
Here's the list of non-returnable B&N products:
Gift cards
NOOK digital content
Orders of 50 or more copies
Opened shrink-wrapped items
If you want to make a Barnes & Noble return without the receipt, the store will not permit it—all items without receipts are non-returnable!
Dissatisfied With Your Barnes & Noble Purchase? Return the Item Hassle-Free With DoNotPay!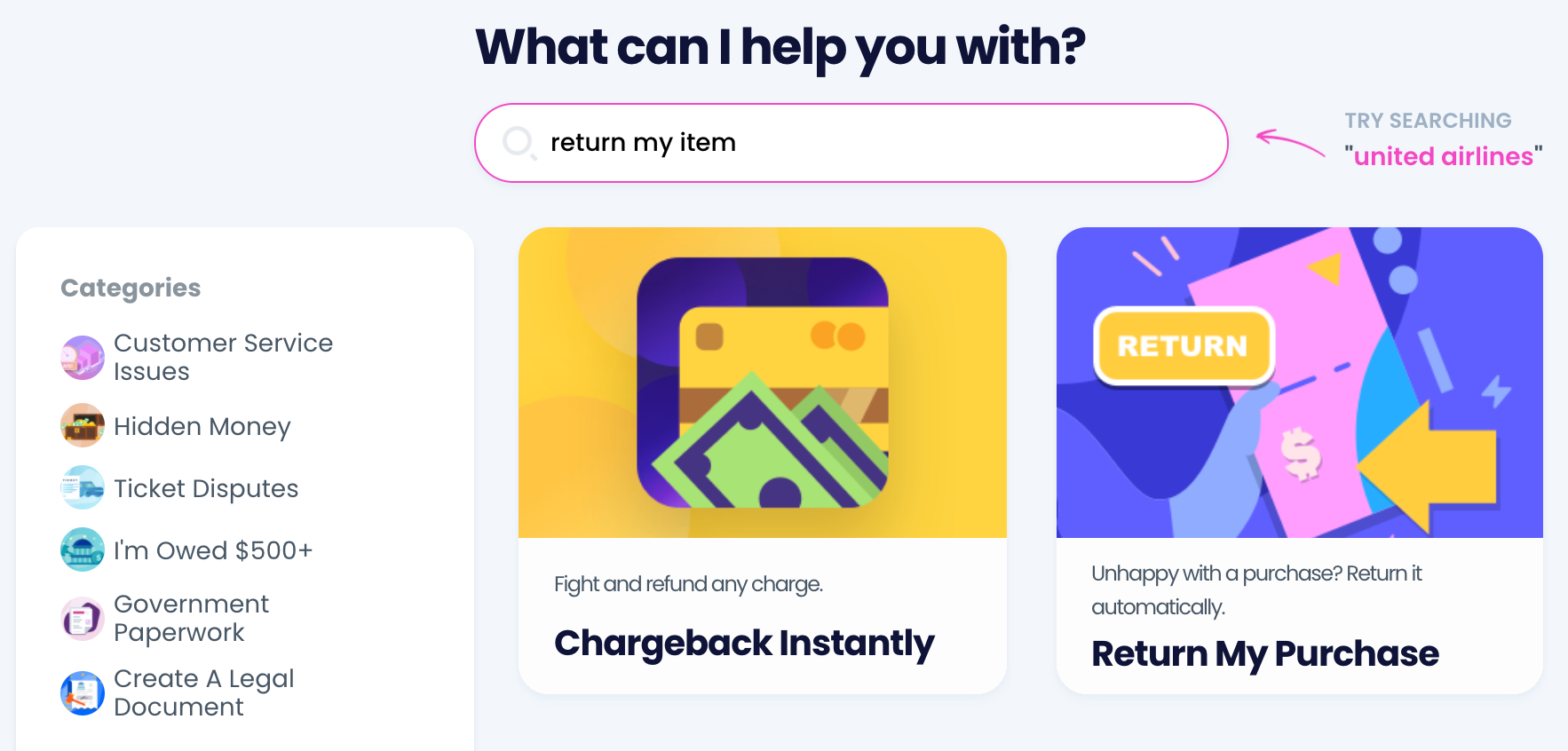 The Barnes & Noble return process can be exhausting! Going through all the steps and paying attention to every detail is time-consuming. Avoid all the fuss and speed up the process by using DoNotPay—you are only a few clicks away! Here's what you need to do:
Log in to your DoNotPay account via any web browser
Locate our Item Return Request feature
Answer a few simple questions and add photos if needed
Submit your request
Let DoNotPay take care of the rest! We will create and send a return request letter to Barnes & Noble informing them of your purchase and reasons for the return.
If you are not satisfied with the B&N services, DoNotPay can also help you cancel Barnes & Noble effortlessly!
How Long Until Barnes & Noble Review the Return Request Letter?
You do not have to worry about anything when using DoNotPay! Within the return request letter, we will include a deadline for Barnes & Noble. This way, you can rest assured that you are going to receive a response by a certain date.
We can save more than your time—you will also get a return label so that you can send the package back at no charge and save money on shipping!
DoNotPay Can Handle Your Return Process for Other Stores and Companies!
DoNotPay can help you in many ways! If you purchased a product from any company from the list below, check out our guide to discover how to return it.
Is the Company Refusing To Cooperate? We Can Help You Get Justice
Is the company you're dealing with not being a good sport? Don't worry—the world's first robot lawyer is here to help. Our app can prepare all the necessary paperwork and provide guidance if you want to sue the company in small claims court.
We can also help you draw up any legal document you need for the case, have it notarized by an online notary, and fax it to anyone in a matter of minutes.
If you want to get revenge on tiresome robocalls or report a stalker or harasser, you can rely on DoNotPay.
Anything Else We Can Do for You?
Our AI-powered app is versatile—you can complete many tiresome, daunting tasks that you wouldn't want to tackle by yourself. You can use DoNotPay to:
If you want to get access to all of our nifty products, sign up now!