Everything You Need To Know About the Ross Return Policy
Did you enjoy a shopping spree at Ross only to find out that the goods you bought were damaged? While you may be frustrated, you don't have to worry about the next steps—we created a guide that explains how the Ross return policy works and how to submit a return request with no fuss!
How Does the Ross Return Policy Work?
Ross uses a third-party refund verification system to prevent any fraud or abuse of their return policy. That system tracks all your return requests and allows you to get only a certain number of refunds without a receipt. Ross doesn't specify the exact number, so you should be wary of this.
After shopping at Ross:
Keep your receipt
Avoid taking off any tickets or tags before inspecting the items
Inspect your items
Returning products without a receipt or accompanying tags can prevent you from getting your money back and make you settle for in-store credits.
There are several Ross return policies:
General return policy
Fine jewelry, swimwear, and lingerie return policy
Holiday return policy
The General Return Policy
The general return policy states the following:
Ross doesn't offer refunds, exchanges, or store credits for items you used, wore, or altered
Refunds on items you returned with the original receipt will be issued through the same payment method you used to purchase the items if you're submitting the request within 30 days of purchase
The company will compensate you through store credit or exchange your item for another of the same value if you submit a return request after 30 days
Return requests can be submitted at any Ross store
Ross accepts software returns only if you don't open the packaging or the software is faulty
You can't get a gift card refund unless you live in California and the gift card balance is under $10.
Return Policy for Fine Jewelry, Swimwear, and Lingerie
The general return policy is also valid for fine jewelry, swimwear, and lingerie returns, with a few additional terms:
Ross accepts swimwear and lingerie returns only if the items have their original tickets attached
Fine jewelry returns require a receipt and the original tickets attached
Fine jewelry return requests can be submitted only at Ross stores that have a fine jewelry department
Holiday Return Policy
The company offers an extended return period during the winter holidays. The return deadline for the items you purchase between December 1 and December 31 is January 31.
What if I Lost My Receipt?
If you provide a valid photo ID, Ross will compensate you in the form of store credit or exchange the item for another of the same value.
Can I Use My Receipt if It's Damaged?
As long as the barcode at the bottom of your receipt is visible, Ross will accept it as valid.
When Can I Expect Ross To Process My Return Request?
In-store returns will be processed right away, while refunds may take up to five days, depending on your payment method.
How To Submit a Return Request to Ross
The only change to Ross's return policy during COVID-19 is that Ross will quarantine returned items for 72 hours before displaying them for sale again. Ross offers only one way to return items you bought from them—by submitting a return request in-store.
Before you submit a return request, prepare the following:
Items you're unhappy with
Payment method information
Your receipt
Photo ID (if you don't have a receipt)
Tags and tickets that were attached to the item
When you prepare everything, you can submit a return request by going to your nearest Ross store and leaving the item in question at the help desk or billing counter. A staff member will evaluate the condition of the item and check all the information you provided. If the product condition satisfies Ross's return policy requirements, your request will be accepted.
If you need to return items to any other company, sign up for DoNotPay!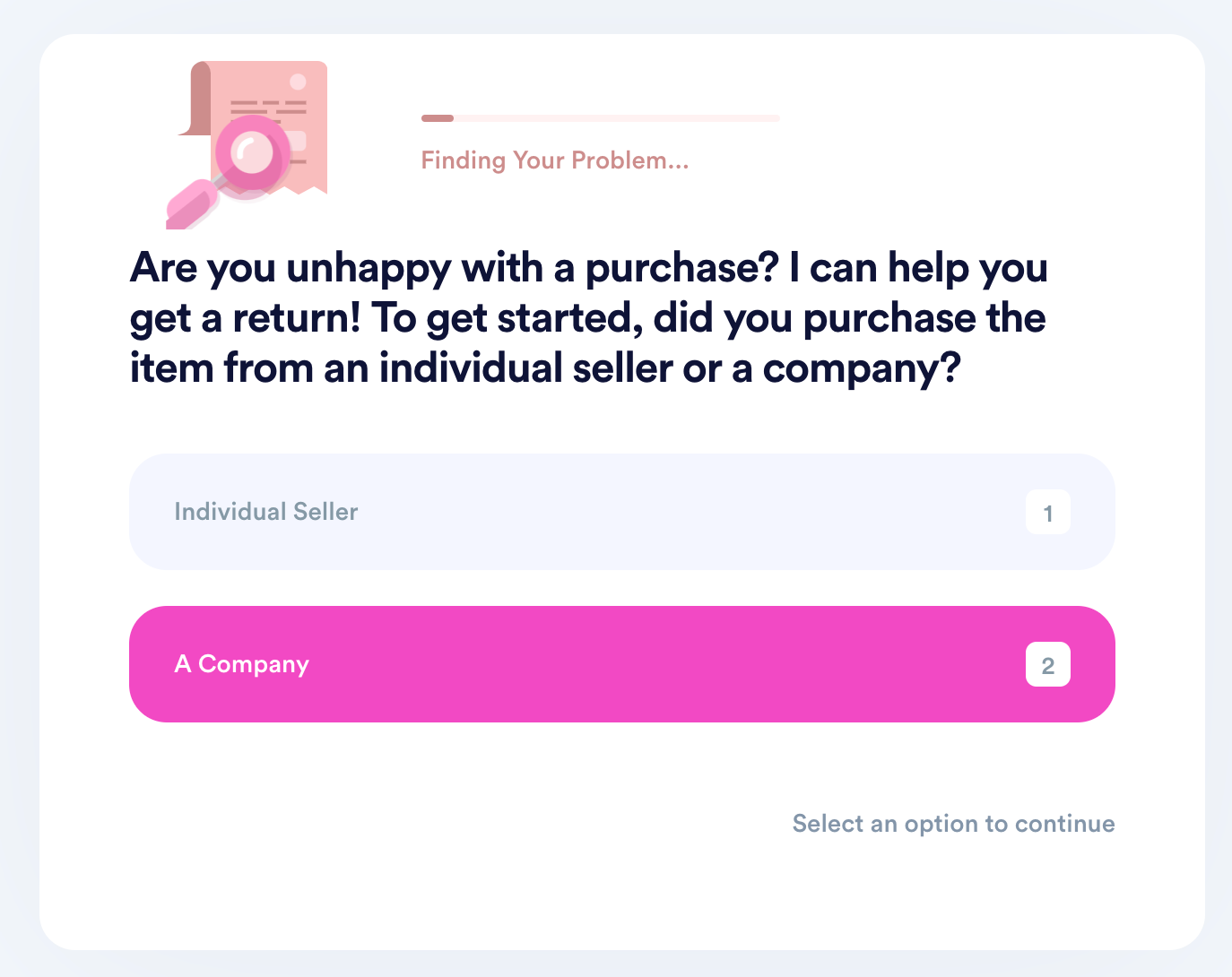 DoNotPay Handles Your Returns In No Time
Forget about trips to retail stores or post offices. Return your items using our Item Return Request product:
Open our Item Return Request product
Tell us what's wrong with your item and why you want to return it
Provide photographic evidence of your purchase
We will:
Send a custom letter to the vendor on your behalf
Demand that your return request gets processed up until a specific date
Give you a return label so you can ship the item you want to return for free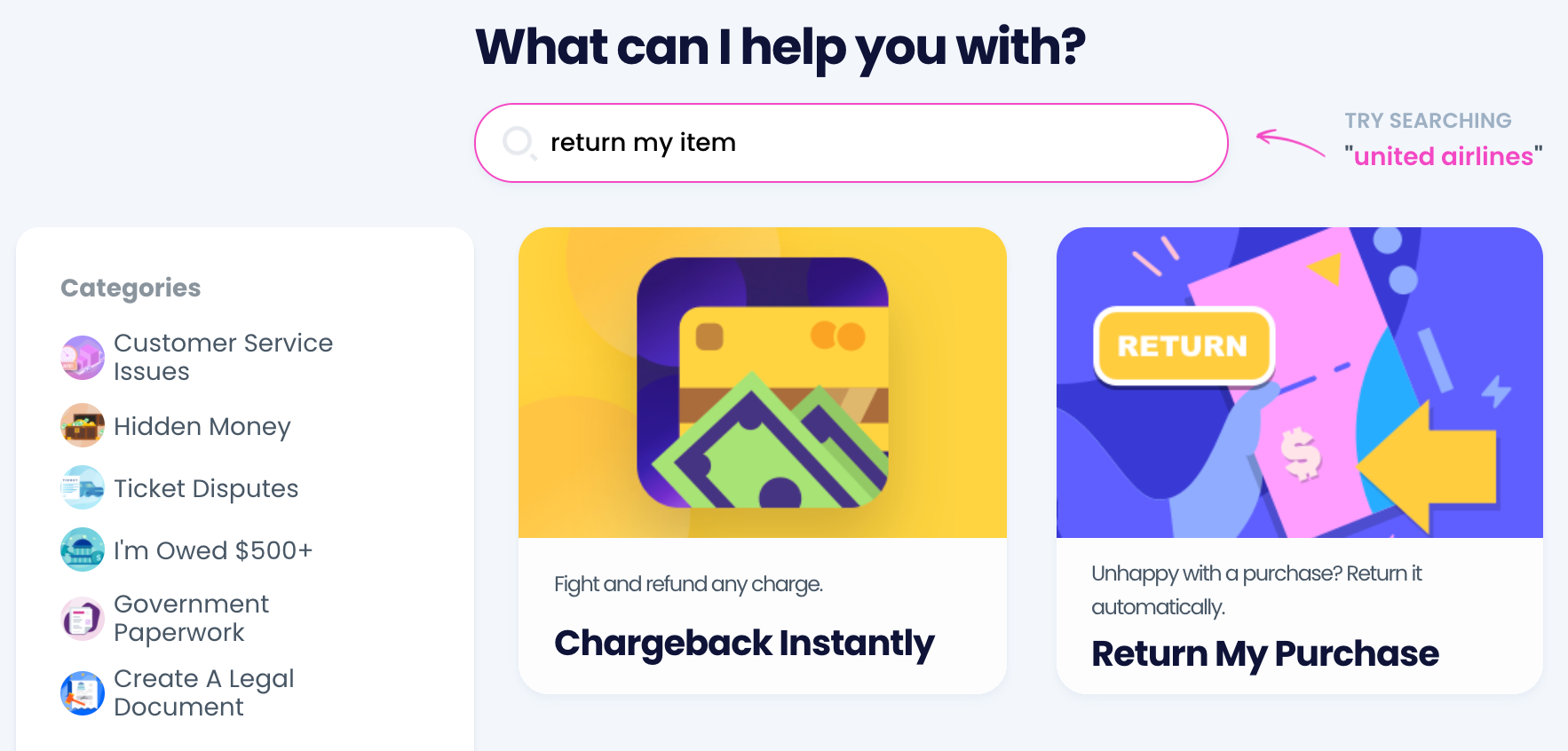 Our substantial knowledge base offers many more useful guides on how to return your items to plenty of other retailers, such as:
Returned Your Faulty Item? Discover Other Nifty DoNotPay Products!
Apart from being your shortcut through returning your faulty items to merchants, our app can do so much more! From helping you request a refund, get extended warranties, file insurance claims, and find clinical trials in your vicinity to assisting you in creating legal documents, notarizing them, and faxing them—DoNotPay can do it all.
Do you think you're eligible for a victims of crime compensation program? Our app can help you apply for it. Do you want to get revenge on persistent robocalls, report someone for stalking or harassment, or get your noisy neighbors to be quieter? We got your back!
You Don't Have To Waste Time in Endless Lines
Returning an item may require you to wait in endless lines, but if you sign up for our AI-driven app, you will be able to skip all kinds of queues! You won't have to spend ages waiting in lines at the DMV or in customer support phone queues because DoNotPay will provide an easier way to get what you need.
If you want to skip the hassle of waiting on the phone when canceling a service, requesting refunds or compensation from airlines, requesting a college fee waiver, or connecting with a loved one in prison, you can count on DoNotPay to provide easy solutions.