The Ins and Outs of the Princess Polly Return Policy
Princess Polly is notorious for misplacing orders and treating customers poorly, so it's no wonder that you want to get rid of the company's products. Having to cover shipping fees does not make the issue any easier to deal with.
Did you order from Princess Polly only to receive faulty or incorrect items? Check out how the Princess Polly return policy works so you can return your items and get your money back!
Everything You Need To Know About the Princess Polly Return Policy
If you're unhappy with your purchase and want to return your products, the Princess Polly return policy states the following:
Return period—You can return your Princess Polly products within 30 days of delivery for a refund or gift card
No exchanges—Princess Polly does not offer exchanges or store credit for international returns
Product condition—Items must be unworn and unwashed and have all of the original tags still attached to be eligible for a return
Swimwear returns—These products must have their hygiene seal still in place
Sale returns—Princess Polly accepts returns for items on sale
No shipping fee refunds—The company won't refund the shipping fees you paid for upon ordering
Damaged and incomplete deliveries—You can report damaged and incomplete orders by writing to hi@princesspolly.com.au, and the company will try to resolve the matter as soon as possible
Princess Polly Return Policy—Non-Returnable Products
Due to their sensitive nature, Princess Polly does not accept returns or exchanges for the following products:
Cosmetics
Earrings
Underwear
Beauty tools
How To Return Your Items to Princess Polly
To initiate a return request with Princess Polly:
Visit the Returns page on the Princess Polly website
Enter your order number and shipping ZIP code
Select the products and reason for return
Pack your items, including your proof of purchase
Print out the return shipping label and attach it to the package
Drop off your items at your nearest carrier location
Princess Polly will deduct a $6.95 fee from your refund to cover international shipping expenses.
The returns shipping address for the U.S. is:
Princess Polly Returns
5026 Chino Hills Pkwy
Chino, CA 91710
If you haven't received an email with your return label, wait 24 hours before contacting customer support.
DoNotPay Makes Princess Polly Returns Simple and Free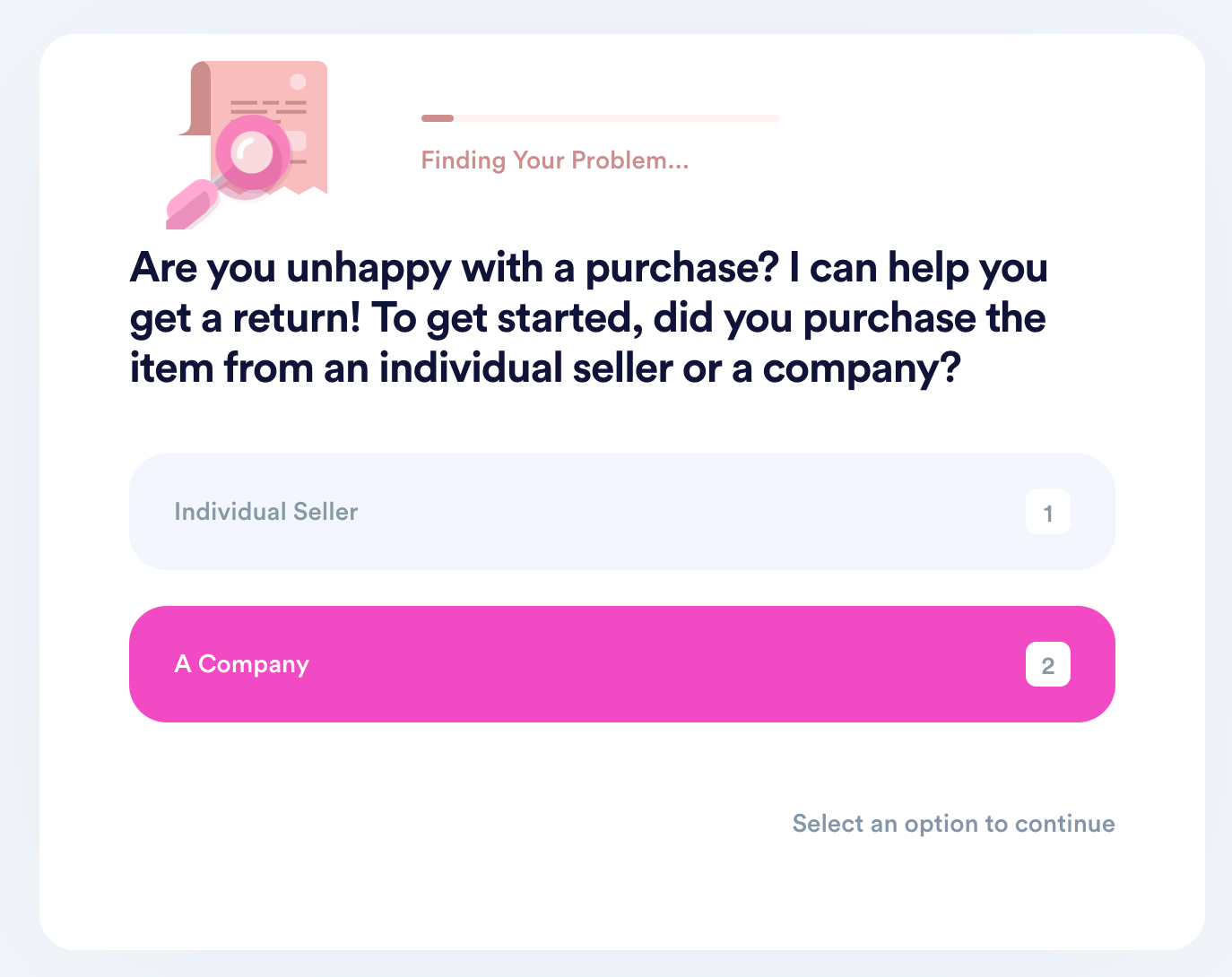 You don't have to break the bank to ship your items and get your money back. DoNotPay provides a free shipping label for all returns made with our app. To return your items to Princess Polly hassle-free:
Open our Item Return Request product
Provide all the necessary information to our chatbot
Submit your request
We will generate a custom return request letter and mail it to Princess Polly on your behalf. To make sure you get a response as quickly as possible, we will include a deadline for Princess Polly to process your return.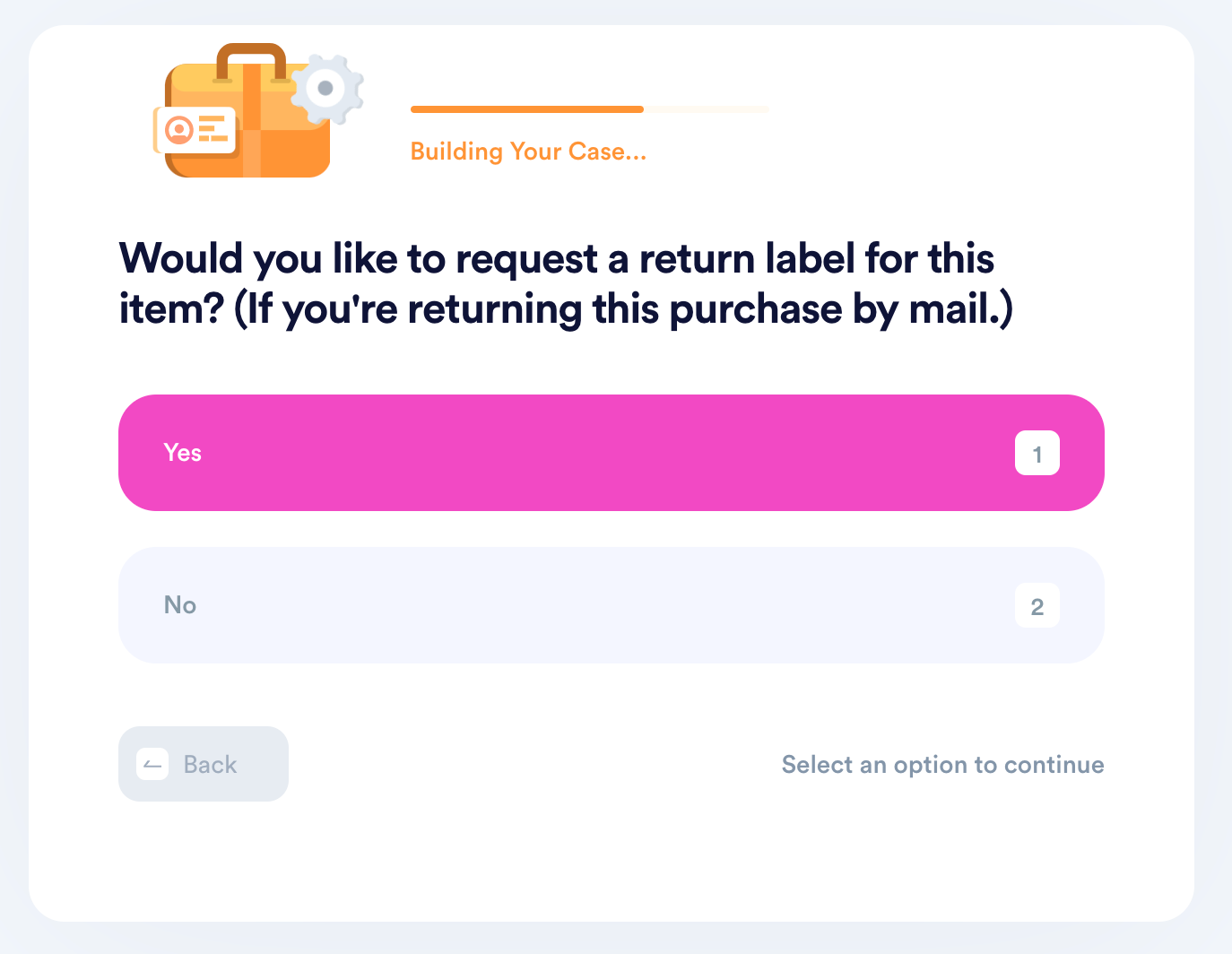 Check out this table with some of the companies that we can help you initiate a return request with:
Princess Polly's Refund Policy
When Princess Polly receives your package, it takes up to six days to process your request and issue a refund. It may take another seven days for the refund to show up on your card statement.
If you return the items you paid for using Afterpay, Princess Polly will remove the products in question from your Afterpay plan. Keep paying the installments until the items reach Princess Polly to avoid having to cover additional fees for late payments.
Get Your Money Back in a Flash—Demand a Refund From Princess Polly
Waiting for what seems like an eternity to get your money back is a thing of the past with our File a Chargeback product. To demand your refund from Princess Polly, and follow these steps:
Open DoNotPay in your web browser
Select the File a Chargeback feature
Click on the Get Protected button
Answer a few brief questions about the refund you're requesting, and click on Sign and Submit
Did Princess Polly Wrong You? Take It to Small Claims Court With DoNotPay
If Princess Polly is violating consumer protection laws and refusing to cooperate, you may have to take matters into your own hands. DoNotPay—a recipient of the ABA Brown Award for Legal Access—is your ally in your fight for justice.
If you decide to take Princess Polly to small claims court, we can help you with:
Gathering all of the necessary paperwork
Writing a demand letter to the company
Filing a complaint
Creating a rock-solid script for your hearing
Completing all of the court forms
Returned Your Faulty Item? Discover Other Nifty DoNotPay Products!
Apart from being your shortcut through returning your faulty items to merchants, our app can do so much more! From helping you request a refund, get extended warranties, file insurance claims, and find clinical trials in your vicinity to assisting you in creating legal documents, notarizing them, and faxing them—DoNotPay can do it all.
Do you think you're eligible for a victims of crime compensation program? Our app can help you apply for it. Do you want to get revenge on persistent robocalls, report someone for stalking or harassment, or get your noisy neighbors to be quieter? We got your back!
You Don't Have To Waste Time in Endless Lines
Returning an item may require you to wait in endless lines, but if you sign up for our AI-driven app, you will be able to skip all kinds of queues! You won't have to spend ages waiting in lines at the DMV or in customer support phone queues because DoNotPay will provide an easier way to get what you need.
If you want to skip the hassle of waiting on the phone when canceling a service, requesting refunds or compensation from airlines, requesting a college fee waiver, or connecting with a loved one in prison, you can count on DoNotPay to provide easy solutions.