The Ins and Outs of the Sam's Club Return Policy
Are you unhappy with your Sam's Club purchase? Did you receive damaged goods from the company? DoNotPay explains how the Sam's Club return policy works and how to initiate a return request in minutes!
Sam's Club Return Policy Explained
In-store and most website purchases are eligible for returns at any Sam's Club location. The company includes a disclaimer in the product description if a certain item can't be returned.
Staff members may ask you to show a valid photo ID and your Sam's Club membership card when submitting a return request.
While you can submit a return request without it, Sam's Club recommends keeping your proof of purchase—i.e., receipt—for easier return processing.
You should return your items in their original state with all accessories, manuals, and packaging included. Sam's Club may offer a partial refund for returns that lack any items your purchase came with.
Promotional purchase refunds and credits will equal the original product price minus the promotional savings. For example, if you made a purchase using Instant Savings, the company will calculate your refund as the entire bill minus the Instant Savings amount.
Sam's Club Return Policy on Electronics
Here is a table of all electronic products grouped by their return deadlines:
Return Deadline
Products
14 days since purchase
Cell phones:

Prepaid
Postpaid
No contract

30 days since purchase
Motorsport products:

ATVs
Go-karts
Golf carts
Other electric or gas vehicles

Commercial heavy equipment:

Vending machines
Commercial cooking ranges and hood vents
Ice machines
Other commercial equipment

90 days since purchase
Electronics:

TVs
Computers
Laptops
Monitors
Tablets
Smart devices
Cameras
Drones
Gaming consoles
Video games
Software
Movies
Music
Other electronics

Major appliances:

Washers
Dryers
Refrigerators above nine cubic feet
Freezers
Ranges
Cooktops
Over-the-range microwaves
Dishwashers
Note that customers are responsible for the proper removal of gasoline before returning motorsport products. Returns may require a gasoline purge certificate.
Exceptions to the Sam's Club Return Policy
The nature and value of some Sam's Club products require specific return terms.
The following products have their own return policies or are subject to law restrictions and limitations:
Adult beverages—Local laws regulate adult beverage returns. Contact your local Sam's Club for inquiries
Cigarettes and tobacco—You should return these products to the store you bought them from. Note that they may require the supplier representative approval
Watches and jewelry—Returns of watches and jewelry must take place at the jewelry counter in Sam's Club
Hearing center purchases—Only the stores that have a hearing center can take hearing center purchase returns
Optical purchases—Prescription glasses can be remade, and contact lenses can be returned or exchanged within 60 days of purchase with proof of prescription change. Bottles, vials, and contact lens boxes that were opened aren't eligible for returns unless the damage occurred during shipping
Automotive tires and batteries—You should return tires and batteries at the tire and battery center in Sam's Club
Sam's Club Return Policy—Items You Can't Return
Sam's Club doesn't allow returns of the following products:
Tickets
Prescriptions
Volume purchases
Custom, personalized products
Gift cards and prepaid cards
Purchases made through the Sam's Club Wholesale Trading Program
Sam's Club Refunds
Sam's Club will issue a full refund on the original payment method within five to seven days. If you can't receive credit on the account you used to purchase your item, the company will give you a gift voucher.
Can I Return Something to Sam's Club Without a Membership?
Non-membership returns depend on individual store policies—this is because Sam's Club uses the membership information from your receipt to identify the purchase in question in their register. The stores that do allow non-membership returns will require that you initiate a request within 30 days of purchase with a receipt.
Sam's Return Policy—Initiate a Return Request
You can use any of the following methods to request a return at Sam's Club:
On the website
In store
By phone
Request a Return on the Sam's Club Website
To initiate a return request, follow these steps:
Visit the Sam's Club website
Navigate to the My Account page
Find Purchase History
Select Return Item
Sam's Club will email you a return label you can use to ship your items for free.
Return Your Items in Store
Bring your products to any Sam's Club store to receive an immediate refund.
Request a Return by Phone
To request a return by phone, do the following:
Dial 888-746-7726
Follow the automated prompts for Online Shopping and Returns
Provide your order number and other required information to the customer service representative
Returning Products to Sam's Club Made Simple With DoNotPay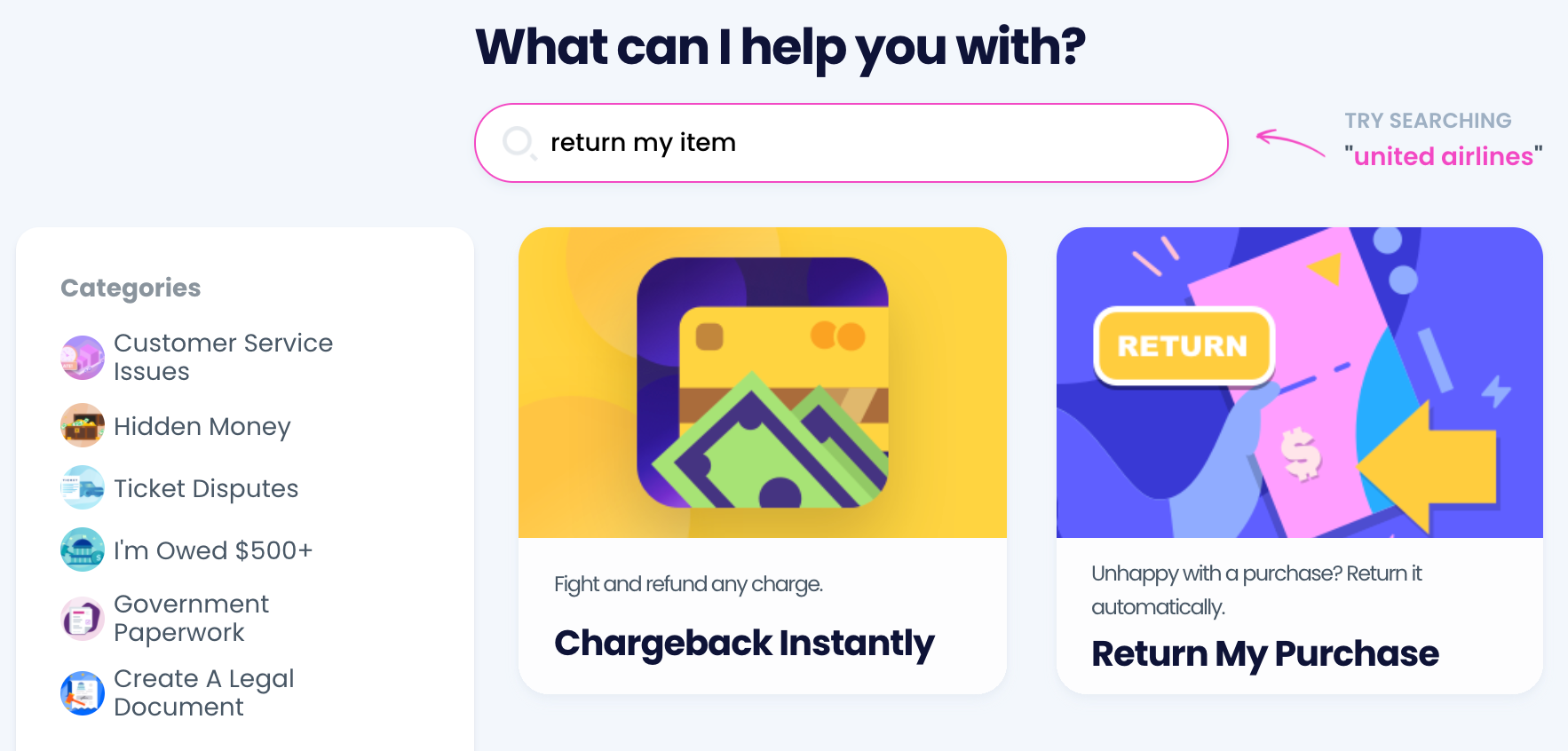 We can help you handle all your returns with ease! To return products you're unhappy with, follow these steps:
in a browser of your choosing
Find our Item Return Request product
Answer some questions regarding your purchase and attach photos if necessary
Submit your return request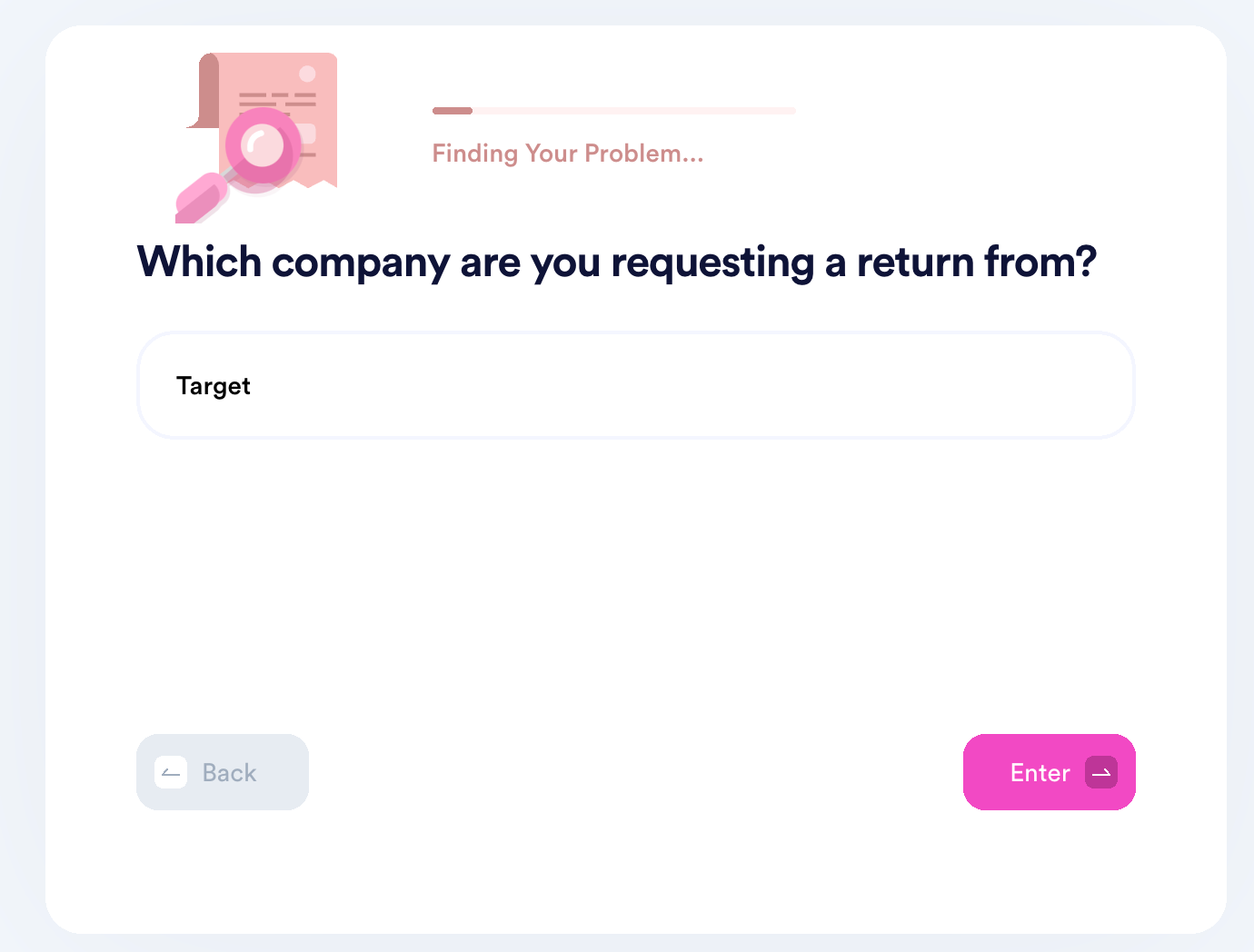 Our extensive knowledge base enables you to learn how to return products to the following retailers:
Has Sam's Club Wronged You? Sue It in Small Claims Court With DoNotPay!
If your consumer rights are being violated, we can help you take Sam's Club to small claims court. Get justice—, and we will assist you in:
Creating a script to use in court, including rock-solid argumentation
Gathering the necessary paperwork
Filing your complaint
Writing a demand letter
Get Your Money Back in an Instant
If you want to both return your item and get a refund for it, you can count on your personal AI-powered assistant. These two products aren't the only tricks DoNotPay has up its sleeve, though!
With our app, you can also claim insurance, get an extended warranty, find your missing assets, request refunds from airlines, reduce your property taxes, lower your utility bills, sign up for free trials without getting charged, get free raffle tickets, and a lot more.
If you want to avoid wasting your money, DoNotPay can cancel any subscription or membership in your stead and provide you with a virtual credit card that will prevent auto-renewal charges once your free trials expire!
With DoNotPay, You Can Also Say Goodbye to Waiting in Lines
Are you sick of waiting in lines? So are most of our app's users! You can say no to endless lines at the DMV if you sign up for a DoNotPay account. Our app can also help you jump the phone queue when you need to get in touch with a customer service representative.
If any company refuses to cooperate with you, our app will prepare all of the necessary legal paperwork and help you sue it in small claims court. Need to have any of your documents notarized? No worries—DoNotPay will employ an online notary and help you schedule your appointment. You can also e-sign and send the document to anyone using our Online Fax product.