Office Depot Return Policy—Make It Work To Your Advantage
We break down the Office Depot return policy and explain how to make it work in your favor. You can invest some time in returning the products on your own, or you can avoid the hassle and !
Office Depot Return Policy in a Nutshell
The return window for Office Depot merchandise depends on the product. You have a timeframe of 14 to 90 days, depending on the item in question. To return it successfully, you have to meet specific criteria. Check out the details in the table below:
Category
Return window
Criteria
Office supplies
90 days

Original packaging
Unopened

Ink and toner
30 days

Original packaging
Unopened

Technology and electronics
14 days

Original packaging with UPC
Like new condition
Exceptions: headsets, microphones, mice, and keyboards are non-returnable

Furniture
14 days

Original packaging with UPC (including all parts and manuals)
Unassembled

Software, CDs, DVDs, and video games
14 days

Original packaging
Unopened
Exception: Downloadable software is non-returnable
Opened items can be exchanged for an identical item

Office Depot brand products
Anytime
Cleaning, breakroom, and safety
Cannot be returned

Includes personal protective equipment, masks, face coverings, face shields, gloves, goggles, gowns, thermometers, and other similar products

Gift cards, pre-paid & phone cards
Cannot be returned

Are subject to the terms and conditions for each card
Can't be used to purchase other gift cards

Custom-made items
Cannot be returned

If damaged upon receipt, you should contact Office Depot
How To Return Office Depot Products
You can return Office Depot products in the following ways:
In person
By mail
Returning Office Depot Gear in Person
Whether you bought an item in a shop or online, you can return it to any of the 1000+ Office Depot stores. Bring your items to a checkout counter within the appropriate time frame, and you can get a refund or exchange.
How to Return Products by Mail?
To return Office Depot goods by mail, you'll have to:
Navigate to the Order History page
Choose the order you want to return and select Return in the upper right corner
Print a free return label
Once you have a return label, you can drop your item off at any carrier location. Note that you need an online account to process your return or exchange by mail.
Another method for returning your products by mail is with the Office Depot mobile app. Download it from the App Store or Google Play and follow the process.
Can I Return or Exchange Items Without a Receipt?
Yes, but not all. Technology products without a receipt are not eligible for returns. Software, CDs, DVDs, and video games can only be exchanged for an exact item.
Other product categories will be refunded as an Office Depot or OfficeMax return card in the same amount as the lowest retail price during the last 90 days. The items must still be active in the company's computer system to be refundable.
Office Depot's return policy states that all returns without an original receipt require valid government identification. The company keeps the right to deny an exchange or return at any time.
How and When Will I Get a Refund?
Refund processing time and type depend on the payment method.
Payment Method
Refund
Cash/Check

If you paid more than 10 days ago, you will receive a cash refund
If you paid less than 10 days ago, you will receive an Office Depot or OfficeMax return card within three or four weeks

Office Depot/OfficeMax gift card

Office Depot or OfficeMax return card within three to four weeks

Debit card

Refund depends on your bank's processing time

Credit card

Refund depends on your card issuer's processing time

Office Depot rewards certificate

Check refund in no more than four weeks

PayPal
Tired of Waiting for Your Return Request To Be Processed? DoNotPay Will Do It in a Minute
Office Depot return policy may seem simple in theory, but the reality is different. Many customers have complained about not being able to return their products in store, let alone online.
If you don't want to get stuck with an unwanted Office Depot product or lose time on endless return attempts, DoNotPay offers a shortcut to the otherwise exhausting return procedure!
In less than 5 minutes, we will generate a custom return request letter and send it to Office Depot. Our AI-powered app will also set a deadline so that your request gets processed as soon as possible. You get to pick whether you want a replacement or a refund.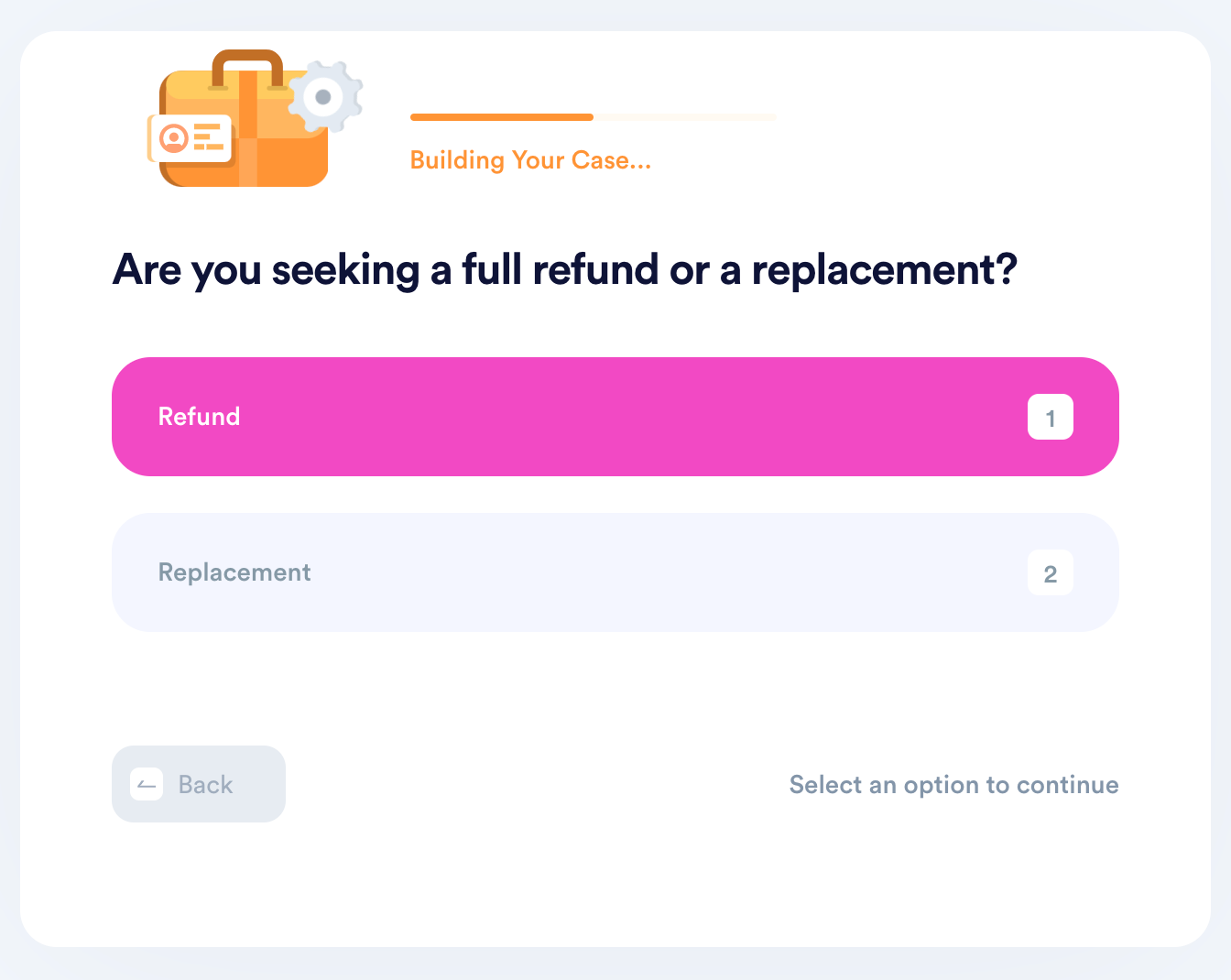 To get started, you need to:
Create a
Select the Item Return Request option
Answer our chatbot's questions regarding your purchase
Attach photos of the product (if applicable)
Click Submit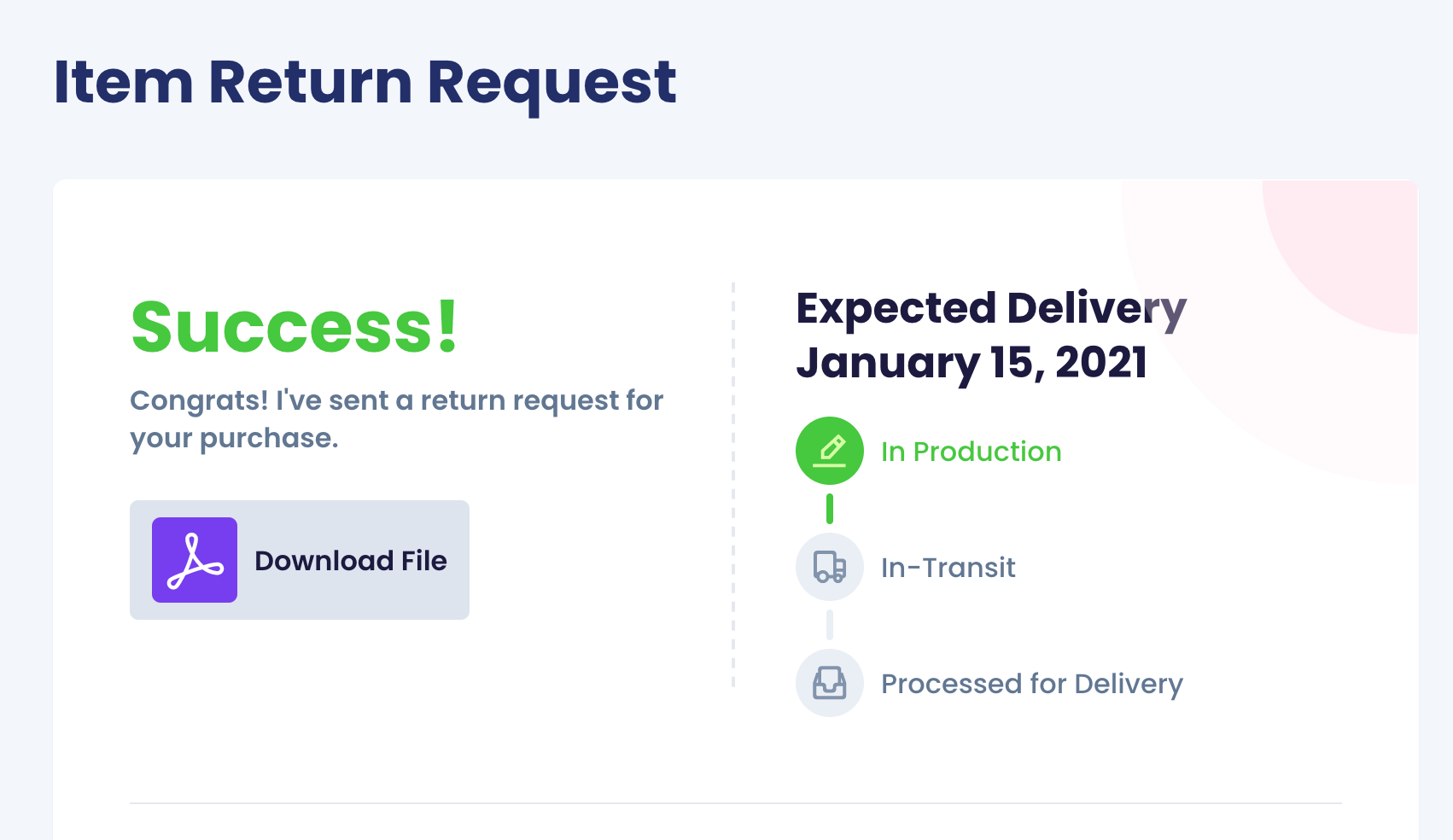 We'll take it from there and ensure you get the desired outcome! DoNotPay has helped customers get what was rightfully theirs from companies, such as:
Returned Your Faulty Item? Discover Other Nifty DoNotPay Products!
Apart from being your shortcut through returning your faulty items to merchants, our app can do so much more! From helping you request a refund, get extended warranties, file insurance claims, and find clinical trials in your vicinity to assisting you in creating legal documents, notarizing them, and faxing them—DoNotPay can do it all.
Do you think you're eligible for a victims of crime compensation program? Our app can help you apply for it. Do you want to get revenge on persistent robocalls, report someone for stalking or harassment, or get your noisy neighbors to be quieter? We got your back!
You Don't Have To Waste Time in Endless Lines
Returning an item may require you to wait in endless lines, but if you sign up for our AI-driven app, you will be able to skip all kinds of queues! You won't have to spend ages waiting in lines at the DMV or in customer support phone queues because DoNotPay will provide an easier way to get what you need.
If you want to skip the hassle of waiting on the phone when canceling a service, requesting refunds or compensation from airlines, requesting a college fee waiver, or connecting with a loved one in prison, you can count on DoNotPay to provide easy solutions.