Don't Waste Money—Do a Zaxby's Gift Card Balance Check, and Take What's Yours!
Americans tend to not fully use their gift cards, which makes a lot of money go to waste. If you don't want to become a part of the statistics, do a Zaxby's gift card balance check for any remaining money.
Once you've checked your balance, we will give you some tips on how to use it. Even better—DoNotPay helps you turn that gift card balance into cash in minutes!
How Do Zaxby's Gift Cards Work?
Zaxby's has a traditional approach to gift cards. Instead of issuing electronic or e-gift cards, they offer only plastic ones. Gift cards are available in $25, $50, $75, and $100 amounts.
These cards can be used for:
Shopping at any Zaxby's in the U.S., which is over 900 locations
Buying anything from Zaxby's menu
Purchasing items in bulk with multiple gift cards
The only thing Zaxby's gift cards can't be used for is online shopping.
How To Do a Zaxby's Gift Card Balance Check
Looking to check your Zaxby's used gift card balance? You have five options available:
Call the customer support
Email the customer service
Use the official website
Visit a Zaxby's store

Choose DoNotPay
Zaxby's Gift Card Balance Check Over the Phone
Checking your gift card balance via phone is easy. Call Zaxby's customer support at 1-844-801-4595 and provide them with your card info.
Do a Zaxby's Gift Card Balance Check Online
There are two ways to check your Zaxby's gift card balance online:
Using the website—Open the Account Balance page, enter your card number, confirm you're not a robot, and click on Submit
Sending an email to the customer support—Reach out to Zaxby's online customer support at zaxbysgiftcards@buyatab.com
In-Person Zaxby's Gift Card Balance Check
If you don't mind the walk or drive, visit your nearest Zaxby's and ask any cashier to tell you your remaining gift card balance.
Need help finding Zaxby's locations? Use their Locator page by entering your city, state, or ZIP or providing the website with permission to access your location.
How To Check Your Zaxby's Gift Card Balance With DoNotPay
Forget about dealing with customer support and wasting time traveling to a Zaxby's store! DoNotPay is here to simplify the process by checking your gift card balance for you. Complete the following instructions to get started:
Pick the

Check Gift Card Balance

feature

Upload photos of your gift card (front and back)
After you confirm your email address, DoNotPay will contact Zaxby's and find out how much money you have left on your card.
What Can You Do With the Remaining Zaxby's Gift Card Balance?
Getting a hot meal seems like the logical thing to do with the remaining balance on your Zaxby's gift card. You can get:
Salads
Sandwiches
Chicken fingers and wings
Sides
Desserts
Drinks
Sauces
Specials
Family packs
Kids meals
Not hungry? You can try to get your money back. Depending on the area you live in, that might be possible. Here are the states and U.S. territories where the law allows getting the remaining gift card balance back in cash:
| | | |
| --- | --- | --- |
| California | Colorado | Connecticut |
| New Jersey | Massachusetts | Maine |
| Montana | Oregon | Washington |
| Rhode Island | Vermont | Puerto Rico |

Can You Get Cash Back for Your Gift Card Balance?
Yes, you can get your cash back from a gift card, but don't get scammed. There are many websites that try to trick you, claiming they can:
In the best-case scenario, a website will return some of your cash back, but less than the actual remaining amount. If you sign up for DoNotPay, we will extract as much money as possible from your gift card and return it to you.
The only condition is that the company in question has stores in one of the cash back states. The amount that can be extracted is also limited. For example, in California, you can get a maximum of $10 back. The amount is smaller in other states.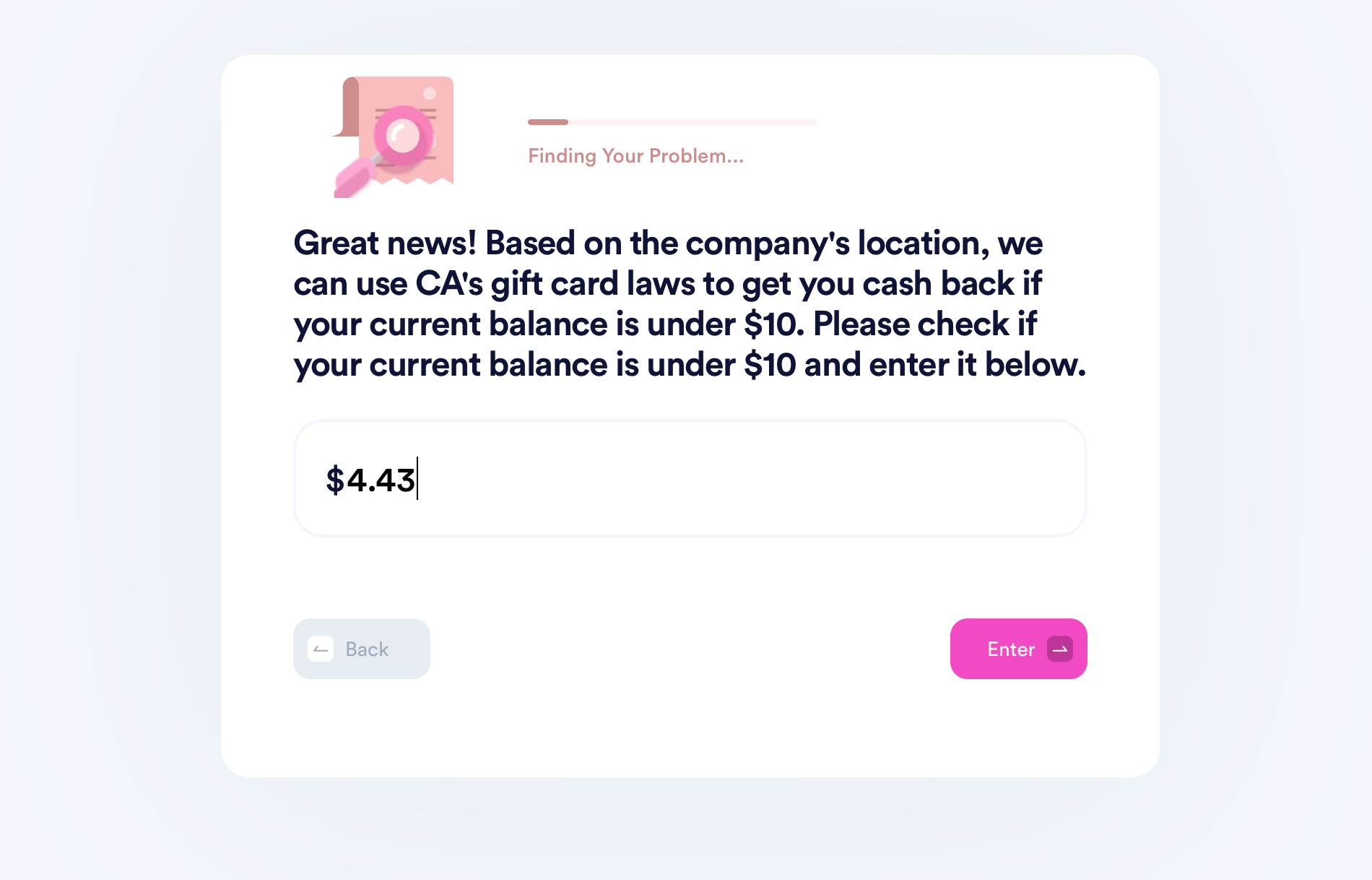 Have Any Leftover Gift Card Balance? Get It Back With DoNotPay!
Did you realize you have some leftover money on your Zaxby's gift card? That's great news! You can get it back in three steps:
Open the Gift Card Cash Back feature
Type in everything you know about the gift card—its number, PIN, date of issue, remaining balance, etc.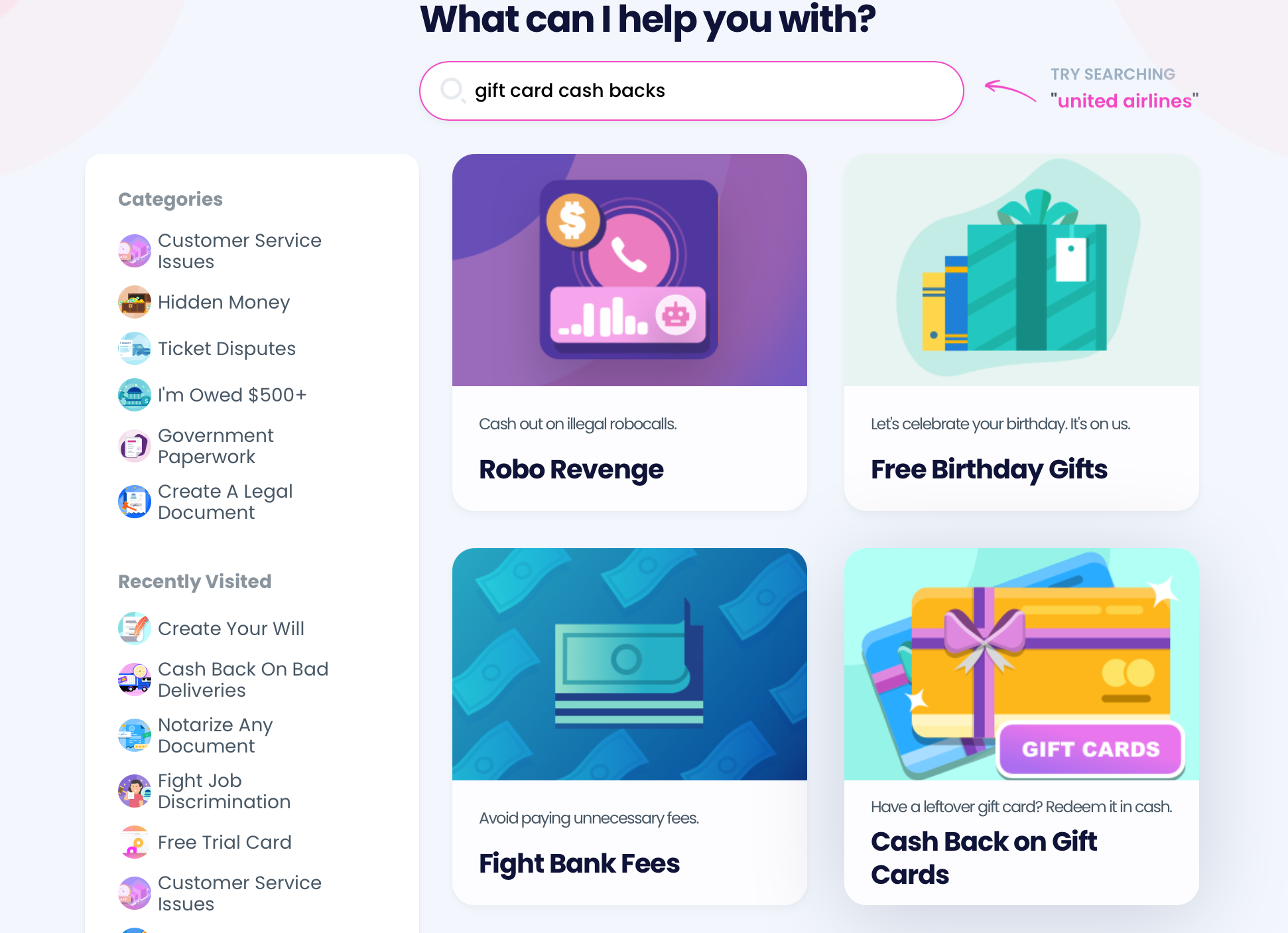 You can expect your money to arrive by mail in two weeks.
That's not everything we can do for you! Want some free gift cards? We have a guide for that! Do you wish to check the remaining balance on other company's cards? DoNotPay offers tips and tricks for checking your balance for any of these gift cards:
| | |
| --- | --- |
| Restaurant Gift Cards | Other Gift Cards |
| | |
Save Some Coins With DoNotPay
Are various subscriptions and memberships burning a hole in your pocket? DoNotPay can help you cancel all of your memberships in a matter of minutes without having to contact customer service reps.
Next time you want to register for a free trial, prevent unexpected costs with our virtual credit card. Once the trial is over, you'll be unsubscribed right away because our virtual credit card doesn't contain any money. We will also generate a random email address you can use if you want to protect your privacy and avoid spam marketing emails.
Do you need help claiming warranties and insurance policies? DoNotPay can help with that too.
Should you need assistance returning an item or requesting refunds for purchased products, canceled flights, or late deliveries, we've got your back!
Avoid wasting money on lawyers—DoNotPay is here to help you sue anyone in small claims court and create numerous legal documents in the blink of an eye!
DoNotPay Can Help You Earn Money Too
DoNotPay users can save hundreds of dollars thanks to our app, but did you know that we can help you earn a few bucks as well? Our app enables you to claim missing money under your name or file your application for paid clinical trials in less than five minutes.
You can even get compensation for reporting robocalls or apply for a crime victims compensation program in your state by signing up for our app and following a few simple steps.