Carry Out a Yogurtland Gift Card Balance Check in a Few Steps!
Finding leftover money on a used gift card can be simultaneously exciting and annoying. It is exciting because you've found some money you didn't know you had, but it's annoying because it's only a few dollars, so you don't know what to do with it.
If you're looking for a quick way to do a Yogurtland gift card balance check and redeem the gift card for cash, we're at your service! Sign up for DoNotPay, and get helpful info about gift cards, such as:
The Basics of a Yogurtland Gift Card
Yogurtland physical and electronic gift cards can be used to buy frozen yogurt at all Yogurtland locations. They can be loaded with any amount between $25 and $100 and are not reloadable. You can customize the card by picking from a range of designs and personalizing it with a custom message.
You can redeem your gift card once you add it to your Yogurtland account. Each account has a limit of five cards. If you merge more than five cards on your account, it will be suspended.
Gift cards do not have an expiration date, giving you the option to use them whenever you want. You don't have to pay any additional fees to use the card. In case you lose or damage your card, provide proof of purchase and get a replacement card in return.
Ways To Check Your Yogurtland Gift Card Balance
Before you think about what to do with the leftover balance, you need to figure out how much money is left on the card. You have multiple options to check the balance on your Yogurtland gift card, as mentioned in the table below:
Method
Steps To Follow
On the official Yogurtland website

Log in to your account on the Yogurtland website
Click on Gift Cards from the menu
Enter your gift card number and PIN
Tap on Check Card

You must make sure that your gift card is registered in your account if you want to use this option

Over the phone

Call 1-800-242-5353
Introduce yourself to the customer support representative
Let them know the reason for your call
Provide your gift card details

The support representative will promptly disclose the amount you have on your card

At the Yogurtland store

Go to your nearest Yogurtland location
Hand over your gift card to the cashier
Ask them to check the balance on it

With DoNotPay

Choose the

Check Gift Card Balance

tool

Provide photos of your gift card from the front and back

As soon as you confirm your email address, DoNotPay will reach out to Yogurtland and get all the info about your remaining gift card balance
What To Do After You've Found a Few Dollars on Your Gift Card
Now that you've found some money on your gift card, you're probably wondering how to use it. Here are a few suggestions:
Spend it—Buy some good fro-yo from Yogurtland. It's not necessary to have the exact purchase amount on your gift card. If the gift card balance isn't enough, use cash or a credit card to pay the rest
Sell it—Put the card up for sale on eBay, Craigslist, or Facebook Marketplace
Trade it—Are you on the lookout for another gift card? Trade your Yogurtland gift card for another one. Beware of scammers who might try to give you a fake gift card in return
Can You Get Cash Back From Your Yogurtland Gift Card?
Yogurtland's gift card terms and conditions state that the gift card is not redeemable for cash unless required by law. This means that if you live in Puerto Rico or one of the 11 cash back states, you can claim your money back.
The amount varies from state to state, but it usually caps at five dollars (ten in California). What happens if you don't live in a cashback state? DoNotPay comes to the rescue!
Use DoNotPay To Turn Your Yogurtland Gift Card to Cash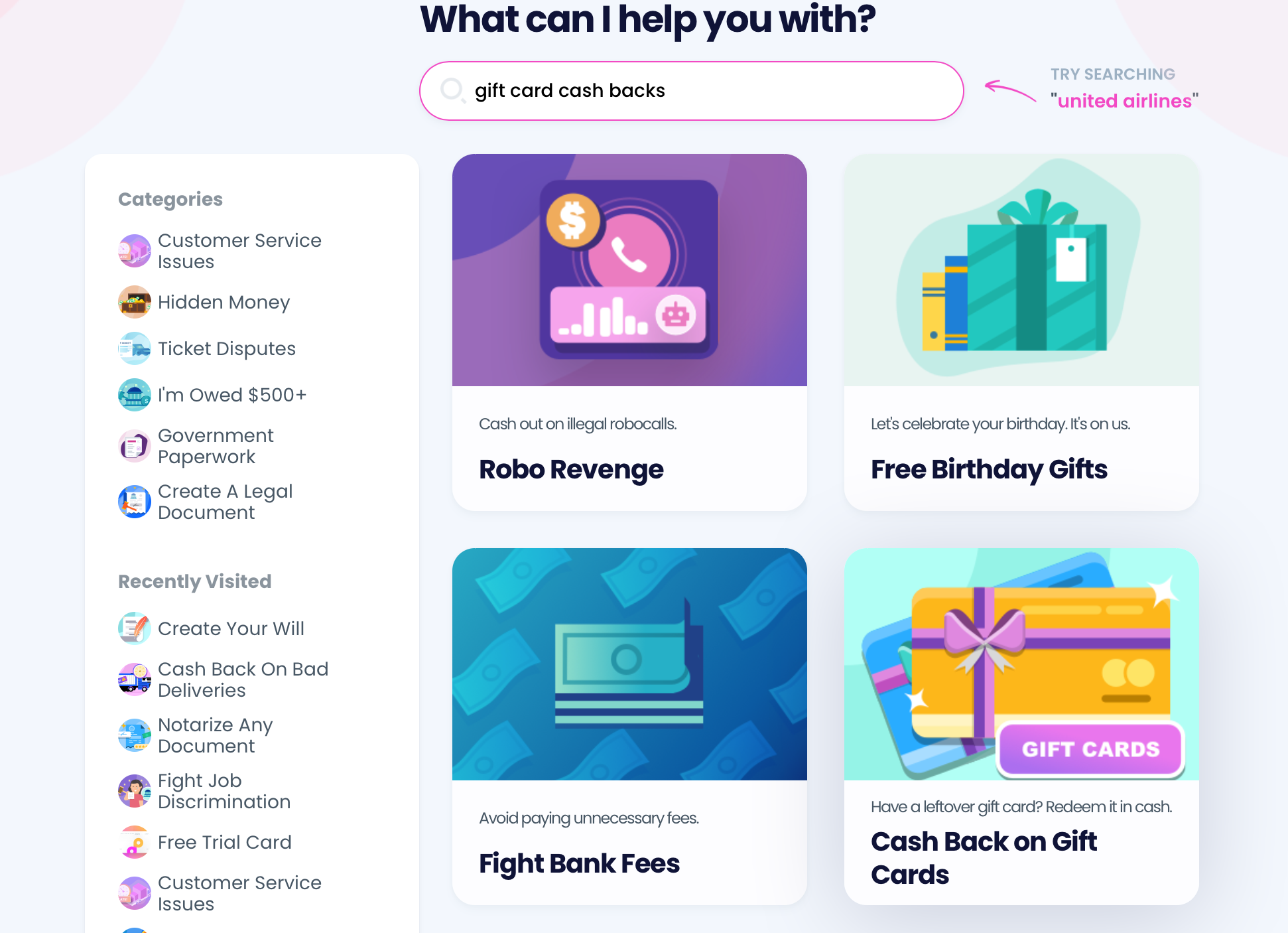 Do you have a used Yogurtland gift card that you want to redeem for cash? Skip hours of frustrating phone calls or multiple visits to the store. Use DoNotPay and get your money back in a few simple steps. Follow these instructions to get started:
from your web browser
Select the Gift Card Cash Back feature
Provide your gift card info, including the card number, company name, and remaining balance, to help us file the request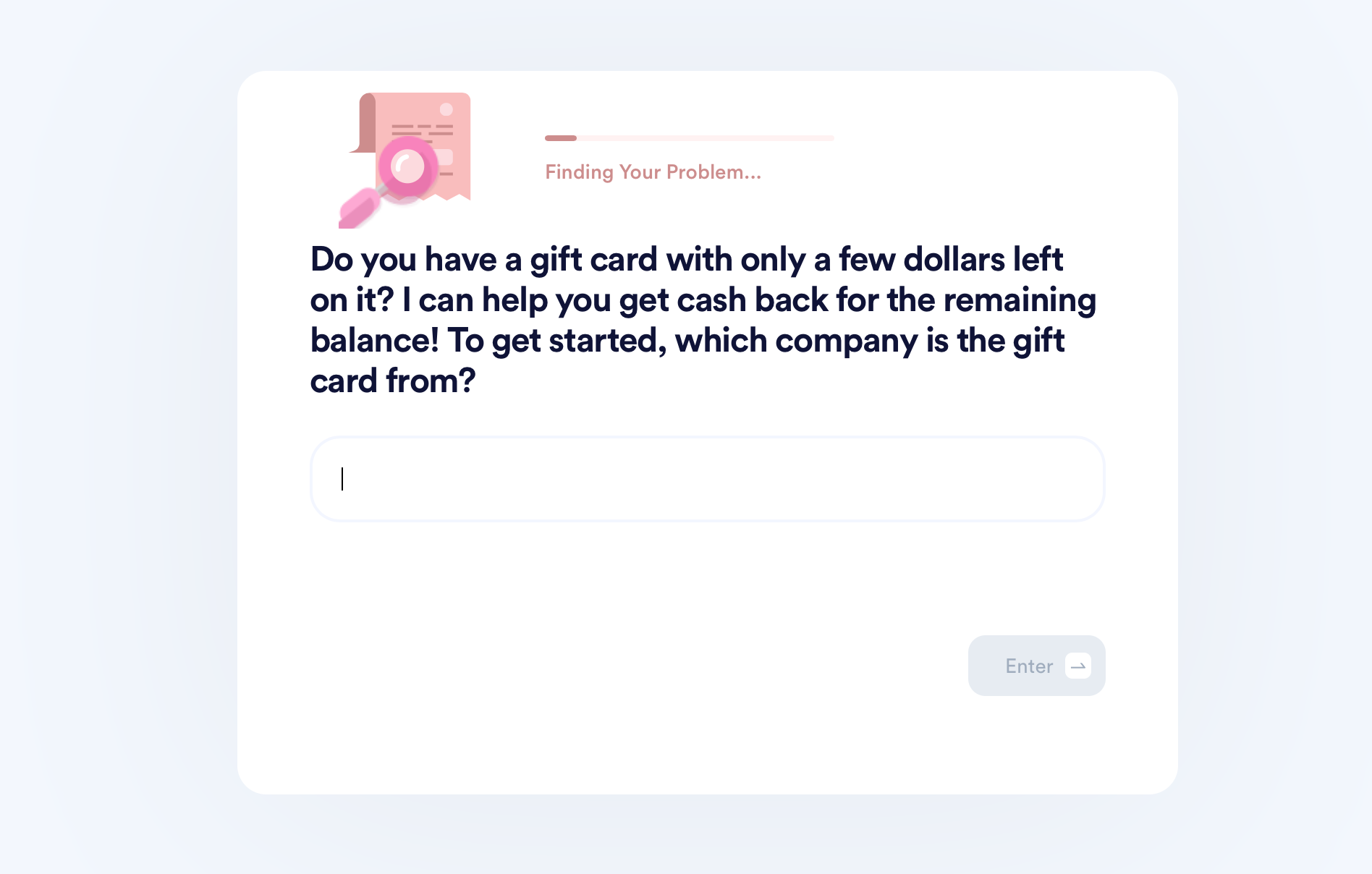 We will send your request to the company's office. If you don't live in a cash back state, DoNotPay will locate their office in Puerto Rico or one of the cash back states and forward the request there. You will receive your money by mail within 14 business days.
Can DoNotPay Redeem Other Gift Cards for Cash?
Do you have other used gift cards that you want to exchange for cash? Here are some restaurants and stores whose gift cards we can help you with:
| | |
| --- | --- |
| Restaurants and Cafes | Stores |
| | |
DoNotPay Makes All Issues Go Away in Several Clicks
Using DoNotPay comes with plenty of advantages, the main one being that you can resolve just about anything in a matter of clicks. It doesn't get any easier than that!
Do you need to fax a document, draw up an agreement, submit a FOIA request, get a contract notarized, file a warranty or insurance claim, get a burner number, schedule a DMV appointment, or appeal a parking ticket as soon as possible? Sign up now and clear out your schedule because we'll handle it all!
Are you looking for your missing money? Do you need help with your utility bills or property taxes? We're here to help!
Get Rid of Paperwork With Your AI-Driven Assistant
Even though paperwork belongs in the past, we have to keep dealing with it almost daily. To avoid this annoyance, you can just use DoNotPay!
If you need to compose a demand letter to a rude neighbor, submit a claim for a late or missing package, request compensation from an airline, or sue any company in small claims court, we have your back!
All you need to do is sign up, tell us what you need, and resolve any issue in a matter of minutes!