How To Do a Caribou Coffee Gift Card Balance Check Easily
If you are a passionate coffee lover, you can easily come across an old, partially used gift card from Caribou Coffee somewhere in the house. That's some good news because, in most cases, there are still a few unspent dollars on it.
You may be thinking about selling it or exchanging it with another, more attractive offer, but we can help you make a real profit and cash the card in no time! This guide will introduce you to all the available ways to do a Caribou Coffee gift card balance check and show you how to to request cash back in a jiffy!
A Few Words on Caribou Coffee Gift Cards
Besides many other customer perks, Caribou Coffee also provides a solid gift card program by offering two gift card models—standard (plastic) and digital. Whichever type you opt for or get as a gift, you can redeem it at any Caribou Coffee location for all types of food or drinks. The amount the card can be loaded with ranges from $5 to $100, and you can also combine multiple gift cards during the purchase.
One of the major disadvantages of the program is that you can't reload the card once you spend the credit. The retailer is also unable to replace it if the card gets lost, damaged, or stolen from you.
How To Check the Caribou Gift Card Balance by Yourself
Before you start planning how to use the remaining credit on your gift card, you should check the exact amount left. The only way to do it on your own is to use the online checker on the Caribou Coffee website. Here's how to do it:
Visit the Caribou Coffee website
Select the Gift Cards tab
Navigate to the Check Caribou Card Balance section
Provide the gift card number and the security code from the back of your card or an email purchase confirmation
Click on Check Balance
Other Ways To Do a Caribou Gift Card Balance Check
If you are unable to perform the check by yourself for any reason, you can search for help by contacting customer support. The company proposes several ways to do it—check them out in the table below, along with the instructions:
Option
Instructions
Phone

Dial (888) 227-4268
Disclose your gift card number and ask the representative to check the balance for you

Email

Write an email to customer support inquiring about the exact balance on your gift card
Include your gift card number
Send the request to customerrelations@cariboucoffee.com

Online form

Scroll to the bottom of the homepage and pick Contact Us
Find the Caribou Cards section
Click on Contact Us About Gift Cards
Fill in the form with the necessary information
Tap on Send Message
Can You Cash Out a Used Caribou Coffee Gift Card?
The possibility of returning or exchanging your free or standard Caribou gift card for cash depends on whether your state adopted a convenient cash back policy. If so, any merchant in your location, including Caribou Coffee, must accept to give you money for a used gift card if the amount doesn't exceed the maximum cash back limit.
For now, this type of policy is accepted only in Puerto Rico and 11 U.S. states, which are listed in the table that follows:
Maximum Cash Back Sum
States
$10
$5

New Jersey
Missouri
Maine
Massachusetts
Washington
Oregon
Colorado

$3
Connecticut
$1
California
How Does DoNotPay Help You Demand the Leftover Credit on Your Gift Cards?
Living in a state with a cash back policy is good news, but reclaiming the unused money can be quite a burdensome and exhausting task. Skip getting in touch with customer care or wasting time in shop queues—rely on DoNotPay and turn the gift card credit into cash easily!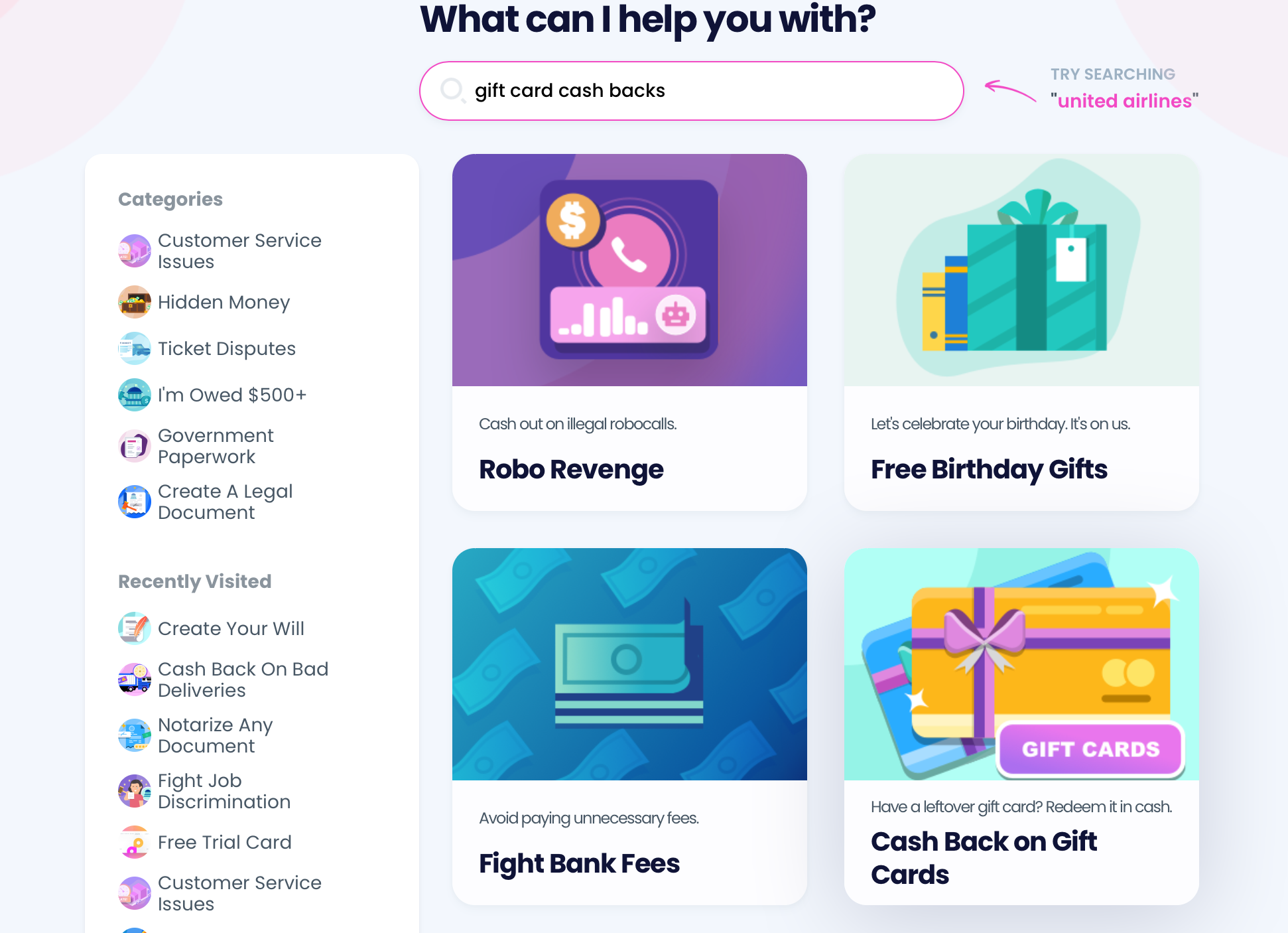 Regardless of whether you want to cash out a Caribou or any other merchant's gift card, we will create a cash back request in your stead—all we need is a few gift card details.
Here's how our service works:
Find the Gift Card Cash Back option
Input the name of the retailer, your gift card details, the remaining amount on the card, and a few more pieces of info
We will make sure your claim reaches the company even if getting cash back isn't an option in your state. Our app will check if there are any merchant's branches in the locations with cash back policies. If there are, we will gladly forward your claim to that location and help you grab the credit left without breaking a sweat!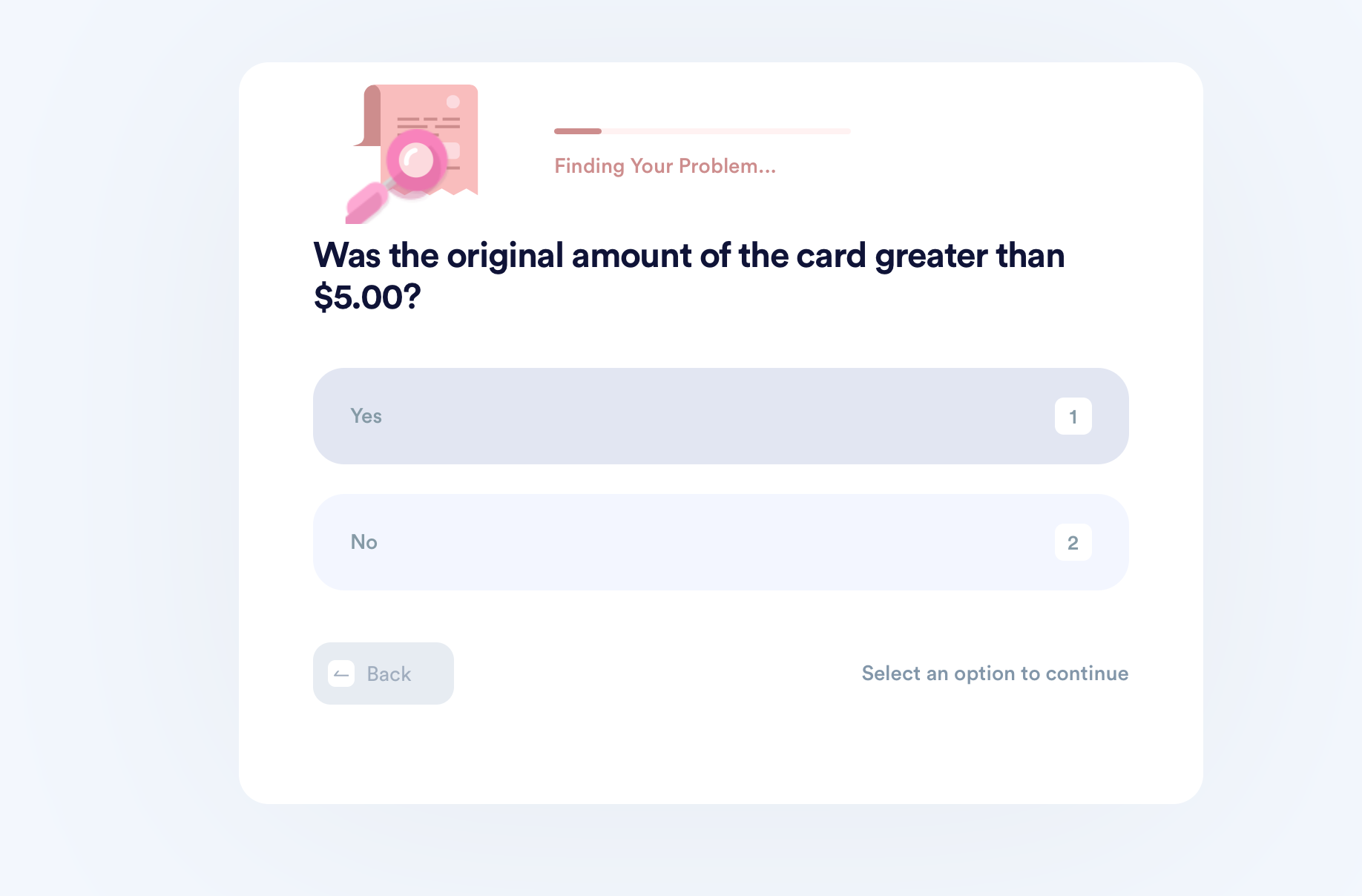 DoNotPay—a world-changing virtual lawyer—can also assist you with getting gift card funds from numerous companies, such as:
Rely on DoNotPay To Solve Your Administrative Issues
Getting your documents notarized, drawing up legal paperwork, appealing parking tickets, and similar activities usually require a lot of effort. DoNotPay offers various useful products that can help you deal with administrative problems quickly and save a lot of time. We can assist you with:
Protect Your Consumer Rights With DoNotPay
Companies complicate cancellation and refund processes intentionally, hoping that consumers wouldn't want to spend hours trying to solve the issue they're having. DoNotPay knows how important consumer rights are, and that's why we created numerous products that can help you:
Many people forget to cancel their free trials on time and end up paying for the services they don't even use. To prevent that, DoNotPay has developed a nifty virtual credit card that will allow you to enjoy free trials risk-free. Our virtual credit card will also help you avoid spam email notifications by generating a random email address that you can use when signing up for a free trial.