Make Sure To Check Your Guitar Center Gift Card Balance Before Throwing It Away!
Have you used your gift card a few times and are wondering how much you've got left on it? If you believe there are still a few bucks there, don't toss it away.
DoNotPay shows you how to check your Guitar Center gift card balance to determine the available funds. We also provide an efficient way to get your money back from Guitar Center or any other gift card.
How To Check a Guitar Center Gift Card Balance
If you've already used your gift certificate, you're probably mulling over whether you've got enough left for your next purchase. Here's how you can check your guitar center gift card balance:
Online
By phone
Via a chat service

With DoNotPay
Check Your Guitar Center Gift Card Balance Online
You can run a quick check of the remaining balance on the Guitar Center website. To do that, follow these steps:
Open the Gift Card Balance page
Enter your gift card number
Type in your PIN
Click on the Check Balance button
Check Your Guitar Center Gift Card Balance by Phone
Prefer speaking with a human? Then, pick up the phone and dial the following numbers:
1-866-498-7882—This number is best for gift card-related issues
1-855-770-3373—You'll reach a call center agent
Keep in mind that you should call during business hours:
From Monday to Friday: 5 a.m.–8 p.m.
On weekends: 6 a.m.–7 p.m. (PT)
Guitar Center Gift Card Balance Check via a Chat Service
If you don't like holding the line but would still like to reach a representative, you can opt for Guitar Center's chat service. Here's how:
Access the Customer Service page
Click on the Chat circle
Hit the Let's Chat box in the pop-up window
This type of service is available during the following hours:
From Monday to Friday: 6 a.m.–8 p.m.
On weekends: 7 a.m.–7 p.m. (PT)
How To Check Your Guitar Center Gift Card Balance With DoNotPay
Checking your Guitar Center gift card balance doesn't have to be a burden! DoNotPay makes the process super simple—here's how it works:
Select the

Check Gift Card Balance

feature

Provide us with front and back photos of your gift card
We'll ask you to confirm your email address and check with Guitar Center for all the info about your gift card balance!
What To Do With the Remaining Balance
You can check your remaining balance by using one of the options presented above. If you don't have enough funds to buy anything you like, apply for a cash back.
While most companies will try to avoid giving cash for their gift cards, you should know that some U.S. states require them to do that. Depending on the local laws, if you've got up to $5 or $10 left on a gift card, the card issuer needs to give it back to you.
To make sure you can return your gift card for cash and get the remaining amount, you can:
Check the state legislation
Negotiate with the gift card company
Sign up for DoNotPay and get your cash back automatically
DoNotPay Is a Rock-Solid Cash Back Way
DoNotPay will run all necessary checks automatically to determine if your state requires Guitar Center (or any other card issuer) to reimburse the remainder to you.
We won't stop even if we find out that your state doesn't have a cash back rule. Our AI-powered app starts looking for an office located in one of the states with this policy in place. Once we pinpoint it, we'll send your request to that address directly!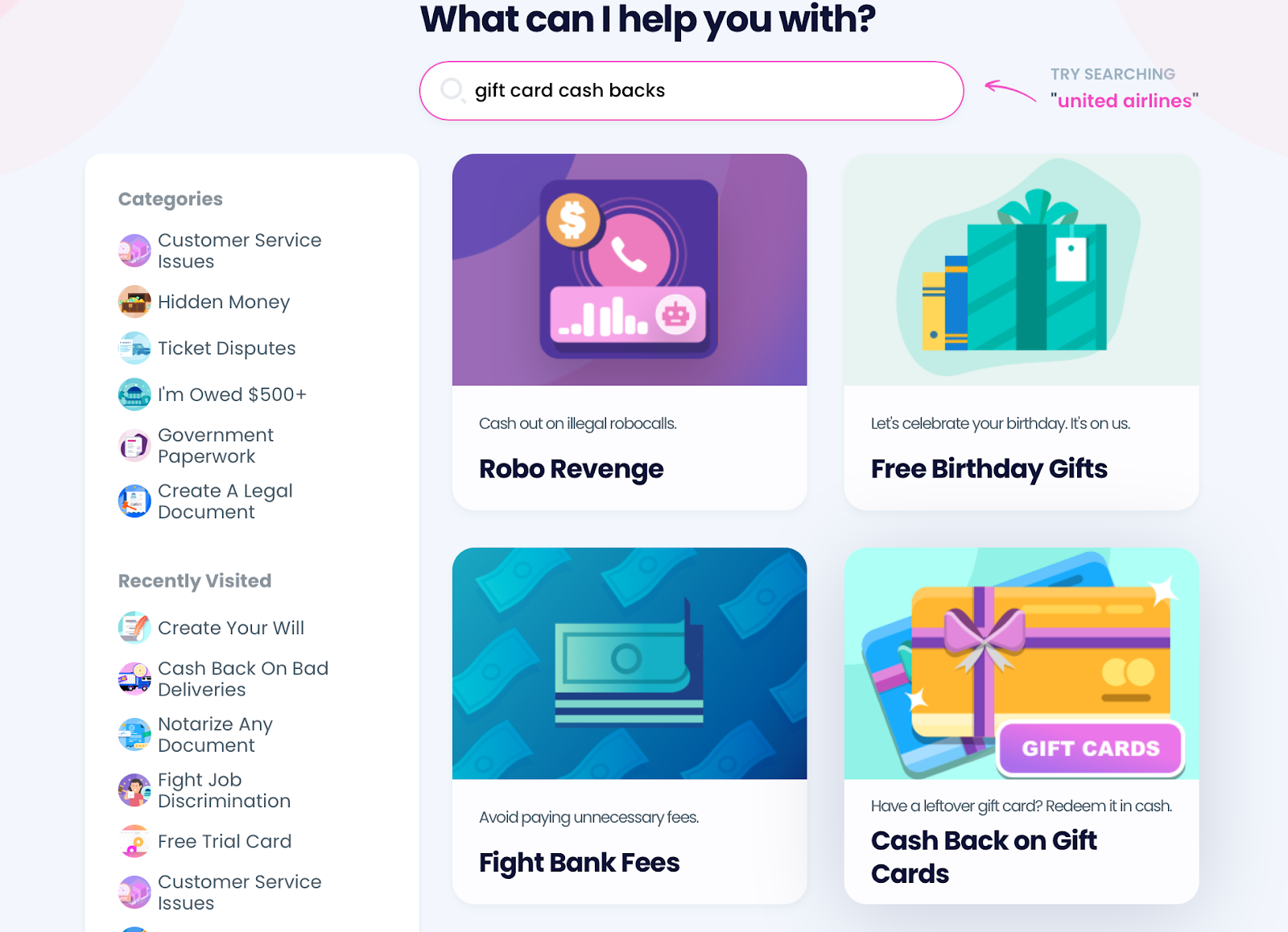 The whole process is automated since our AI-powered app contains all the necessary data and runs the search in a flash.
What's your part in this easy game? and take these steps:
Select the Gift Card Cash Back product
Provide information about your gift card, including the company name, card number, original amount, and current balance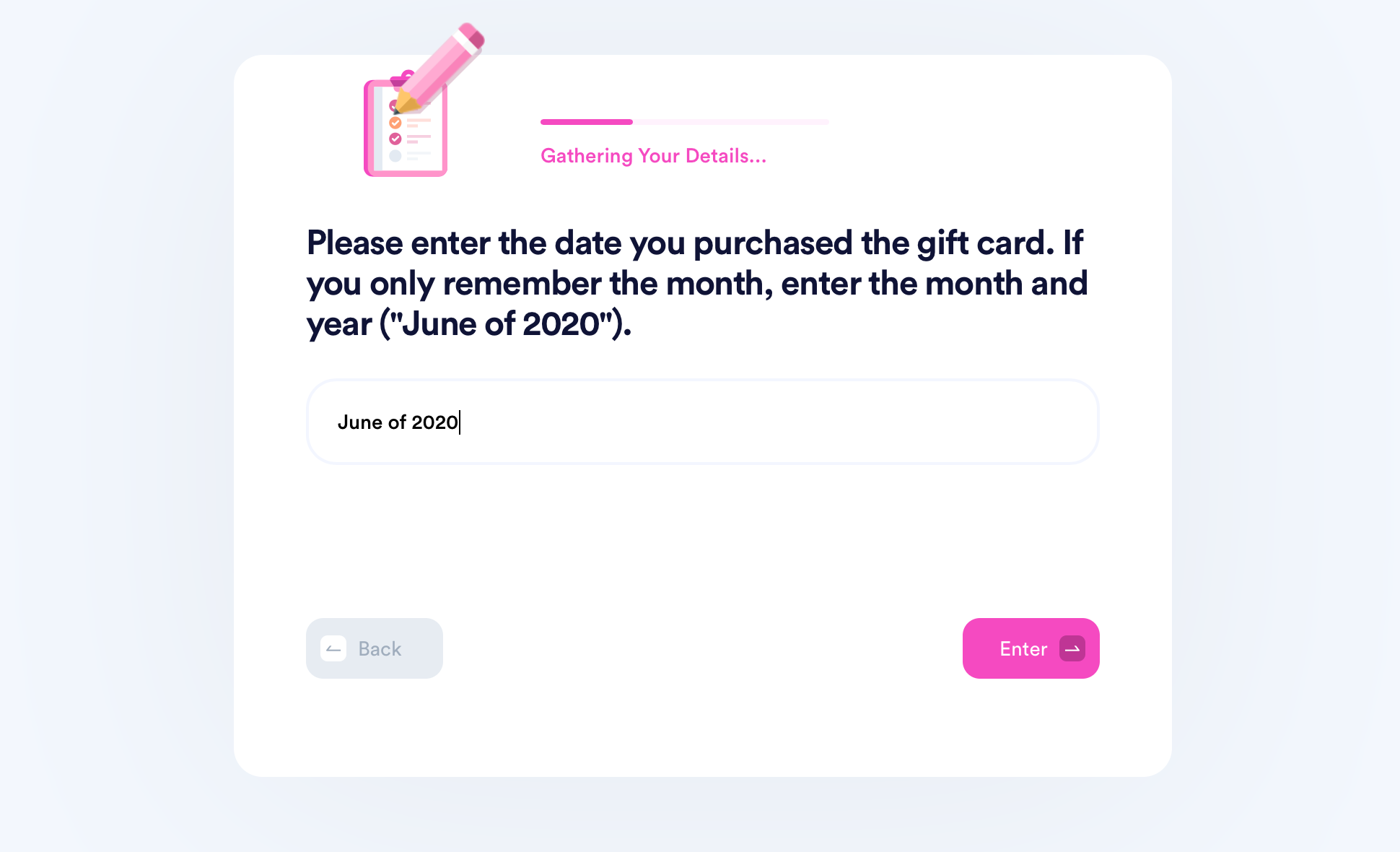 Once you've completed these simple steps, our app takes over to ensure you get your money back. You can expect to receive cash or a check within 14 business days via mail.
Now that you've seen how easy the whole process is, you can do it for any other gift card with a few dollars on it.
If you'd like to get more information on gift card-related matters, browse through our learning center since we provide lots of helpful guides, such as:
Useful Info About Guitar Center Gift Cards
In case you have or are about to get a Guitar Center gift card, you should be aware of the following:
They are available on the Guitar Center website, at their stores, and some other retailers, e.g., Staples
Gift cards can be exchanged for merchandise online or at a Guitar Center store
Preselected amounts are usually $25, $50, $100, or $200, but you can enter another sum
You cannot return or cancel a Guitar Center gift card once you've received it
Guitar Center gift cards have no expiration date
Before making a purchase, you might want to check the Guitar Center return policy for details.
What Guitar Center Gift Cards Are Available?
A musician at heart will be thrilled with a Guitar Center gift card whether they're playing professionally or for fun.
If considering this type of surprise for someone you like, here are your options:
Guitar Center Gift Cards
Additional Info
eGift cards

Select a suitable design
Include a personal message
Send the card via email:

Immediately (especially handy when you've almost forgotten a person's birthday)
On a preferred date (pick the date of the special event and have the card delivered then)

Deliver it face to face or via mail (print the eGift card first)

Traditional gift cards

Choose an image
Send it via mail (keep in mind the delivery could take up to 14 days)
Facing Financial Issues? DoNotPay Can Take the Burden Off Your Shoulders
If you need to count pennies at the end of each month, DoNotPay is here to help you get a payment extension and pay your bills worry-free.
Prospective students who struggle to cover their university-related costs can also rely on DoNotPay to request a college application fee waiver.
Do you think that your property taxes are too high? Use our app to reduce your property tax bill as effortlessly as possible.
Get Rid of Spammers For Good!
Are spam texts and emails cluttering your inbox? DoNotPay has a few products you could benefit from! Rely on us and get rid of spam in less than two minutes. If shady robocalls are testing your patience, you can block them with our help and request robocall compensation right away.
To avoid providing your real phone number when signing up for online services, you should choose our Burner Phone feature and use the number we provide.
What Else Can DoNotPay Assist You With?
DoNotPay boasts many useful products that help millions of Americans handle their everyday hurdles in minutes.
With us, you can prepare for any government test for a low monthly fee, send online faxes in the blink of an eye, and request cash back for your gift cards stress-free.
Do you have a friend or relative who's serving time? Use our mailing service to send letters to inmates with no hassle.
Learn how to fight workplace discrimination and confront a neighbor who's giving you headaches all through the same app!
Log in to DoNotPay and solve any administrative issue—including setting up an appointment with the DMV and filing an insurance claim—by following a few simple steps.