Don't Be a Chicken—Learn How To Check Your Chick-fil-A Gift Card Balance Easily
Did someone gift you a Chick-fil-A gift card, and you want to check the balance before making your next purchase? Or have you become a vegetarian and want to exchange the card for cash? Worry no more because we got you covered!
In this article, we will teach you how to check your Chick-fil-A gift card balance and how to get cash back in a few steps!
and get the best tips and tricks on gift card exchange and free gift cards.
What You Need To Know About Chick-fil-A Gift Cards
Chick-fil-A gift cards are available to use at any Chick-fil-A location across the United States. Here are the basics you should keep in mind:
The gift card amounts range from $5 to $100, and the card is available in digital or printed form
The card works like cash and is not reloadable
You can earn Chick-fil-A points when you use a gift card to make a purchase
Chick-fil-A gift cards do not have expiration dates, so you don't have a limited time to use them
There are no added fees to consider when using the card
How To Check Your Chick-fil-A Gift Card Balance
There are multiple ways you can check your gift card balance:
At a Chick-fil-A location
Over the phone
Via the app
Go to a Restaurant To Perform a Chick-fil-A Gift Card Balance Check
Visit the nearest Chick-fil-A restaurant that accepts gift cards and ask the cashier to check the remaining balance on your card.
If you're already at the restaurant to get food, check your receipt after making the payment. The balance will be printed at the bottom.
Check the Balance on Your Chick-fil-A Card Over the Phone
If you want to know your remaining balance, call customer support at 1-888-232-1864 and provide your gift card details to the customer support agent. They will instantly provide the required information.
Check the Chick-fil-A Gift Card Balance via the App
Install the Chick-fil-A app if you don't use it already. Enter your gift card number and other required information on the balance check section and tap on Submit. The app will show the remaining balance on your card.
You Have a Few Dollars on Your Chick-fil-A Gift Card—What Can You Do With It?
Now that you've checked your balance and found some money left on your card, you're probably wondering what to do with it. Here are a few options you can go for:
| | |
| --- | --- |
| Options | Brief Explanation |
| Use the card in its entirety | Why waste money when you can use it? If you have a few dollars left on your card, go to the nearest restaurant and have a delicious meal! Don't worry if you're a few dollars short. Chick-fil-A allows you to pay the remaining amount via cash or credit card |
| Transfer the funds to your account | If you're not the type of person who is good with keeping physical gift cards safe, transfer the funds from your physical card to your Chick-fil-A account, and use the funds to place an order online |
| Sell your gift card | You can sell your gift card to someone you know or put it up for sale on online marketplaces, such as Craigslist or eBay |
| Exchange it for cash | Although Chick-fil-A does not allow you to return your gift card for cash, some states have a cash back policy. If you're in one of those states, you can get the remaining money back if the balance is less than $5 (in most states) |
If you're not sure how to exchange your gift card for cash, DoNotPay can step in and do the hard work for you.
Get Your Cash Back With the Help of DoNotPay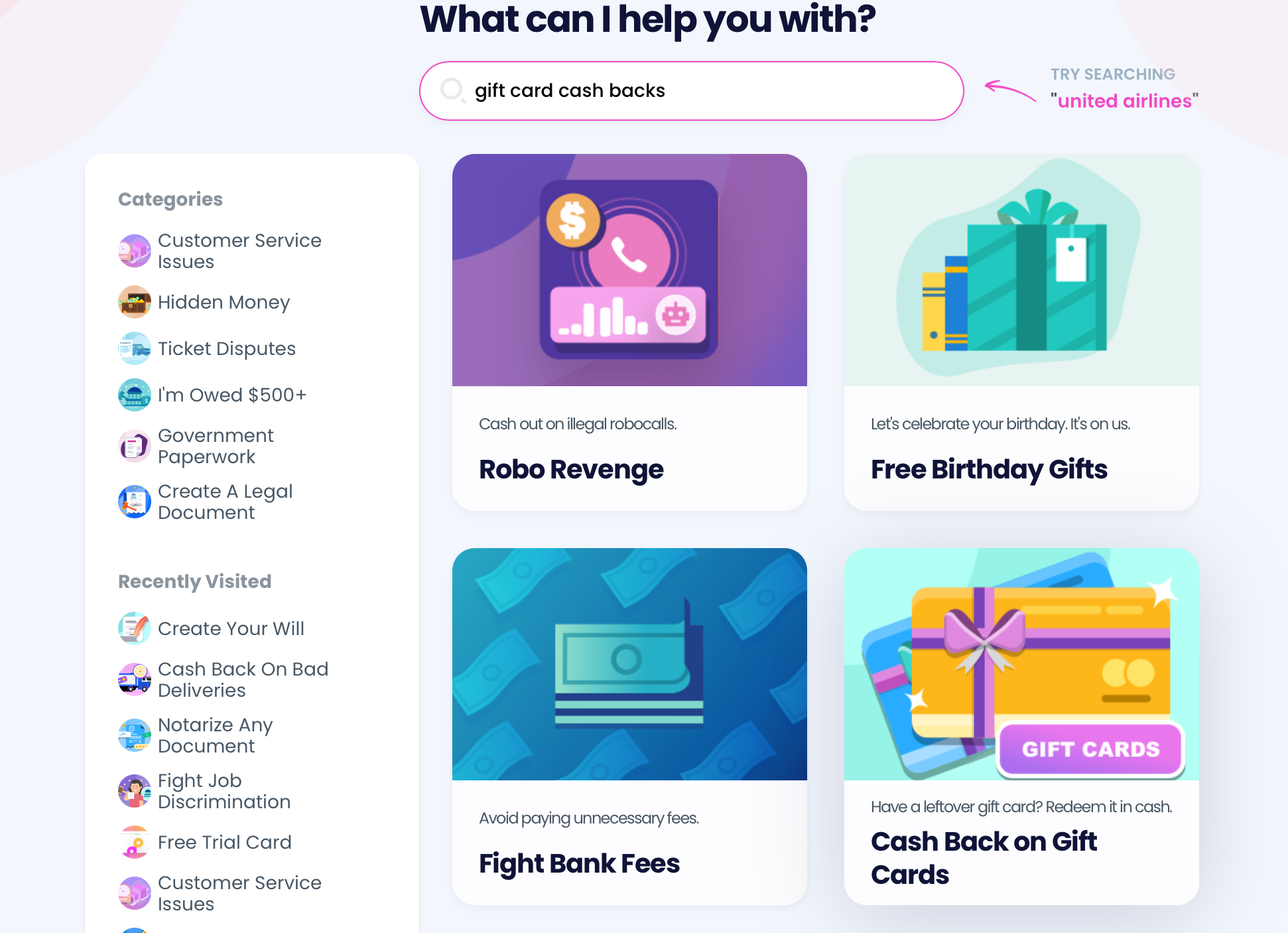 No matter what state you live in, DoNotPay can help you redeem your gift card for cash in a few easy-to-follow steps. Here's what you need to do:
Search for the Gift Card Cash Back feature
Provide us with the required information, including the company name, gift card number, and the remaining balance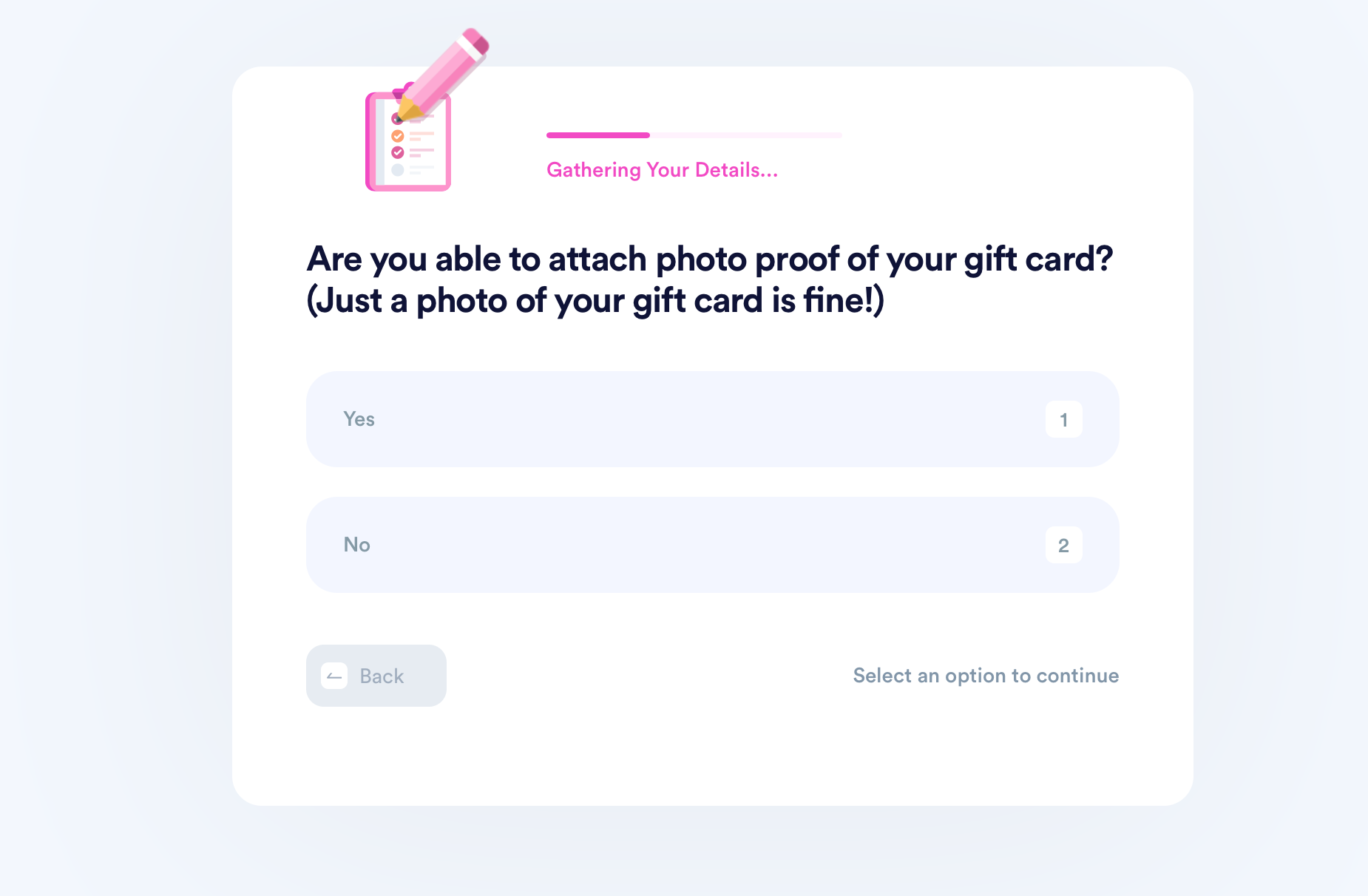 Sit back and relax while we process the information. If your state has a cash back policy, we will send a request to the company's office. If not, we will check if the company has an office in Puerto Rico or one of the 11 states with a cash back policy and send the request there. You will receive your money within 14 business days.
Do you have more used gift cards with leftover balances? Turn them into cash using DoNotPay! Here are some of the companies we can help you out with:
When You're In Over Your Head, DoNotPay Swoops In
With your virtual assistant extraordinaire, many tasks will be a breeze to deal with.
No fax machine? No problem! Use DoNotPay to send faxes online. If you don't want to waste time waiting in lines or on the phone, we come to the rescue with many of our products that will help you:
What Else Does DoNotPay Have in Store for You?
You can count on our assistance when you want to get rid of:
Our app has even more to offer—try out our hacks that will save you money and do the heavy lifting in numerous tasks: