Check Your Fred Meyer Gift Card Balance in Three Minutes or Less!
Have you found a used gift card or received a new one for free, and you're not sure how much money you have left on it? We can help you find out!
Besides providing you with a step-by-step guide checking your Fred Meyer gift card balance, we'll also show you how to get your money back and exchange your gift card for cash with ease!
Subscribe for DoNotPay, and use our app to get your gift card cash back from various companies!
How Does the Fred Meyer Gift Card Work?
The Fred Meyer gift cards are a great way to save some money and avoid spending cash on your purchases. If you are planning a trip to a grocery store, using your gift cards can be pretty beneficial. The Fred Meyer gift cards are sold in increments from $10 to $250.
You can use a Fred Meyer gift card at various locations, including:
Kroger
Baker's
City Market
Copps
Dillons
Food 4 Less
Foods Co.
Fry's Food and Drug
Your Fred Meyer gift card does not expire, so you can use it whenever you want without worrying if it will come through.
How Do I Perform a Fred Meyer Gift Card Check?
To check your Fred Meyer gift card balance, choose one of the options explained in the table below:
Check Your Fred Meyer Gift Card Balance
Description
Online
To check your balance online, follow these instructions:

Go to the official Fred Meyer website
Type in your card number and PIN
Click on Check Balance Now

In person
Check your balance in person by completing these steps:

Visit your nearby Fred Meyer store
Ask the cashier to check your balance
Wait for them to provide you with the info you seek

Over the phone
If you want to check your balance over the phone, here's how you can do it:

Dial 1-866-822-6252
Tell the rep that you want to check your gift card balance
Give them all info they ask for and wait for them to check your card

Via DoNotPay

You don't have to deal with checking your balance by yourself—DoNotPay will do it instead! Follow the next steps to get started:

Choose the

Check Gift Card Balance

feature

Upload front and back gift card photos

After you confirm your email address, DoNotPay will reach out to Fred Meyer and check your gift card balance in no time
Fred Meyer Gift Card Check—What To Do With the Remaining Balance
If you aren't sure what to do with the remaining balance from your Fred Meyer gift card, here are some tips:
Go grocery shopping—Use your Fred Meyer gift card to stock up on groceries for the week without having to spend any extra cash. If you can't find a Fred Meyer store nearby, you can always visit other locations that accept the Fred Meyer gift cards
Give your card to someone—If you can't figure out what to give to someone as a gift, your Fred Meyer gift card can come in quite handy. Instead of you trying to figure out what the other person wants, give them your gift card and let them choose for themselves
Sell your card online—You can search the internet and find a dealer nearby who is willing to buy your gift card. The downside is that you won't get the full value of your card.
Exchange your card for cash—Another option is to find an exchange kiosk near you and sell your gift card for cash. Take note that these kiosks exist only in certain states. You will also only get paid for around 80% of your original balance
How Can I Get Cash Back for My Fred Meyer Gift Card?
Fred Meyer's policy states that you can't return your gift cards for cash except where required by law. That means that you can get your money back if you are from one of the states with a cash back policy that lets you exchange gift cards for money. The following 11 states (and Puerto Rico) mandate cash back:
California
Colorado
Connecticut
Maine
Massachusetts
Montana
New Jersey
Oregon
Rhode Island
Vermont
Washington
If you can't see your state on the list, don't despair! We can still help you get your money back.
After You Check Your Fred Meyer Gift Card Balance, Use DoNotPay To Get Your Cash Back Easily!
DoNotPay steps in with a neat feature that helps you check whether your state has a cash back policy instantly! Even if it doesn't, our app will provide further assistance and help you get your cash back no matter where you're from! Follow these steps, and rest assured you'll get your money back in no time:
Pick the Gift Card Cash Back feature
Provide the required info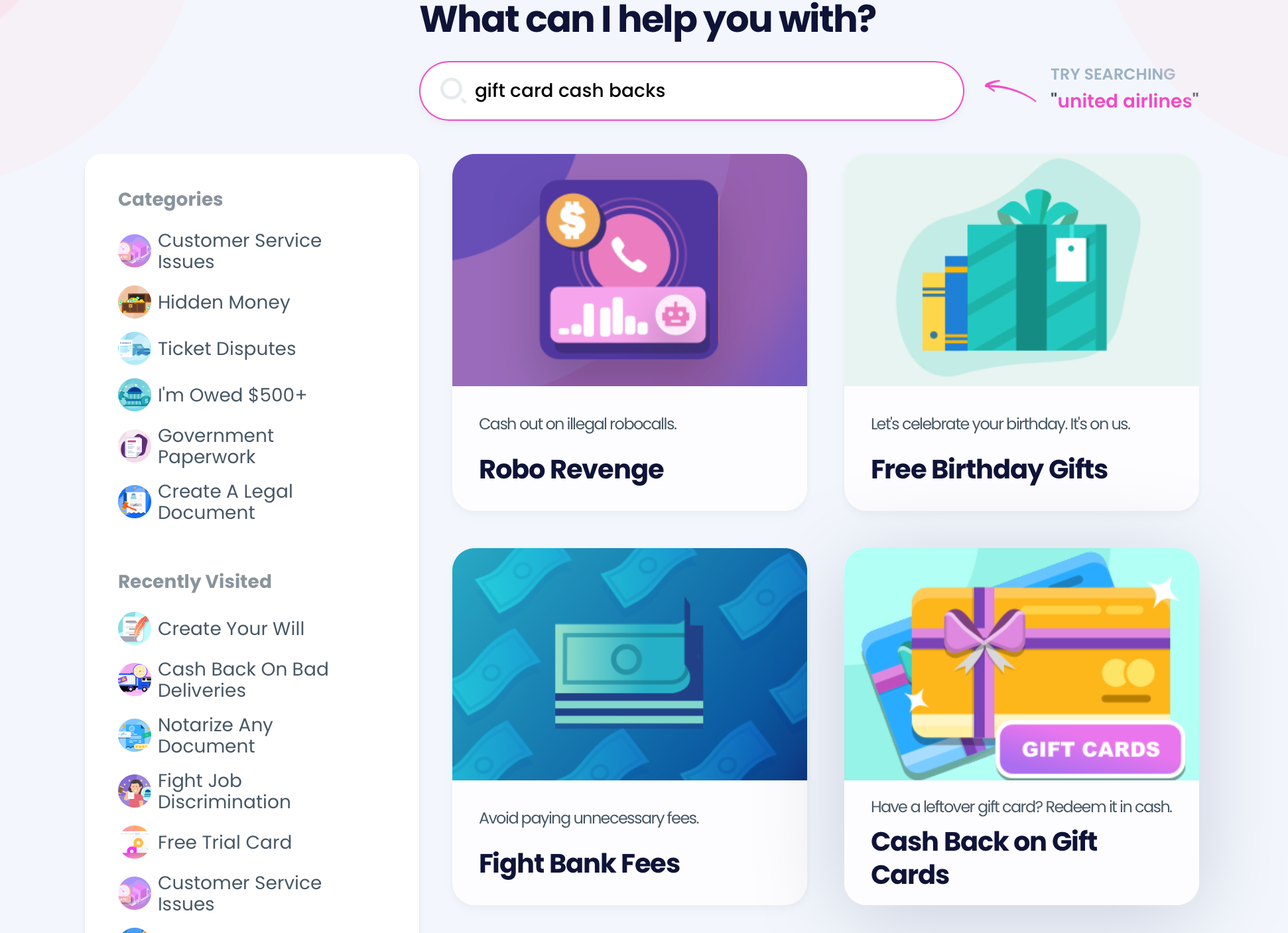 Wondering what happens if your state doesn't have a cash back policy? DoNotPay checks whether Fred Meyer has an office in any of the states with the policy. Once we locate them, we'll send them a request in your stead, and you should receive your money by mail within two weeks.
Should you need assistance with other companies apart from Fred Meyer, DoNotPay got your back! Check out the list below to see some of the companies we can help you get your money back from:
DoNotPay Gets the Job Done—Solve Any Issue Within Several Clicks
DoNotPay is an ever-growing app, which is constantly adding new ways to help you with your everyday tasks and those not so common.
Count on your virtual assistant when you need to:
Deal with noisy and rude neighbors
Have Your Cake and Eat It Too—Earn, Save, and Get Your Money Back
Not only can we help you complete numerous tasks, but we can also make sure your money stays where it belongs—in your wallet. Let DoNotPay assist you in getting different types of refunds and compensation:
Late delivery refund
Gift card cash back
Our app can also help you find your unclaimed funds, get free trials and free raffle tickets, and obtain a college fee waiver.