It Has Never Been Easier To Check Your Finish Line Gift Card Balance
Having a Finish Line gift card, especially if you get it for free, is a great way to get a hold of some hot sports apparel. If you've already used it, you should check the remainder before making a new purchase.
Follow our straightforward guide and check your Finish Line gift card balance without complications. DoNotPay can also help you get the remaining few dollars back smoothly!
Choose the Most Suitable Way To Check Your Finish Line Gift Card Balance
To make sure you've got enough funds on your used card for yet another purchase, you should check your Finish Line gift card balance. The following ways are at your disposal:
Online
At the stores
By phone
Via email

With DoNotPay
Check Your Finish Line Gift Card Balance Online
You can check the remaining balance on the Finish Line website following these steps:
Open the Finish Line Gift Cards page
Enter your gift card number
Type in your PIN
Click on the Check Balance button
The card number and PIN are on the back of your gift card.
Visit a Store To Check Your Finish Line Card Balance
If a Finish Line store is on your way, stop by and ask a cashier to check the balance for you. If you'd like to make a purchase when you're there but don't have enough money on your gift card, consider combining:
Other Finish Line gift cards—You can use up to three gift cards per purchase
Additional payment methods—You could use cash and your credit or debit card
Call To Check Your Finish Line Gift Card Balance
If you prefer speaking with a representative and would also like to inquire what you can do with the remaining amount, you should call 1-888-345-7940.
Can You Check Your Finish Line Gift Card Balance by Email?
While the previous three options are easier for determining the remainder on your gift card, contacting Customer Care via email requires a bit more effort. Here's how:
Access the Customer Care Contact page
Click on the Email logo
Enter your name, email, and message in the pop-up window
Hit the Submit box
Keep in mind that you'll need to wait for a response, and a representative might ask you for further information before providing the balance details.
Check Your Finish Line Gift Card Balance With DoNotPay Easily
Why bother waiting for a rep to reply to your email or visiting Finish Line in person when you can have us check your balance for you? DoNotPay's Check Gift Card Balance feature makes checking your balance a piece of cake! Here's how to get started:
Choose out

Check Gift Card Balance

feature

Upload front and back photos of your gift card and confirm your email address
We'll contact Finish Line right away and discover the exact amount you have left on your gift card.
What You Should Know About Finish Line Gift Cards
You can get a card at the Finish Line website and stores, but also at other retailers, including Kroger. Pick a plastic or eGift card with preloaded amounts of $10, $25, $50, or $100.
Numerous famous brands are available at Finish Line, including Nike, Lacoste, and Timberland. You can use these gift cards to purchase items at the Finish Line website, stores, or Macy's.
Don't Let the Remaining Balance on Your Gift Card Go To Waste
If you've still got a few bucks left on your Finish Line or some other gift card but think you cannot do anything with that amount, you're wrong! Keep in mind that there's always a way to use the remainder.
Here are some suggestions you can explore:
Use the Remainder Wisely
Additional Tips
Use different payment forms
To spend the remaining amount, you can combine a gift card with:

A few other gift cards from the same company to buy something nice. Card issuers usually permit using a few gift cards per purchase
Your gift card with a credit/debit card or another method of payment

Return a gift card for cash
Some gift card providers might agree to reimburse the balance for cash
Give away your gift card
If there's a sensible amount left, you could give your gift card to a friend, relative, colleague, or charity organization
Sell your gift card for cash
Some websites, retail stores, and specialized gift card exchange kiosks might offer cash for your gift cards
Collect the remaining amount
Sign up for DoNotPay to get your cash back easily
Turn to DoNotPay To Collect the Remaining Amount From Any Gift Card
While most card issuers state they don't give cash for gift cards, you should know that some U.S. states require companies to reimburse up to $5 or even $10 to cardholders.
To determine whether your state has a cash back policy, you should research the legislation.
If you don't want to waste your time or energy going through different laws and talking to the company's customer service trying to explain the law to them, our app can do everything for you.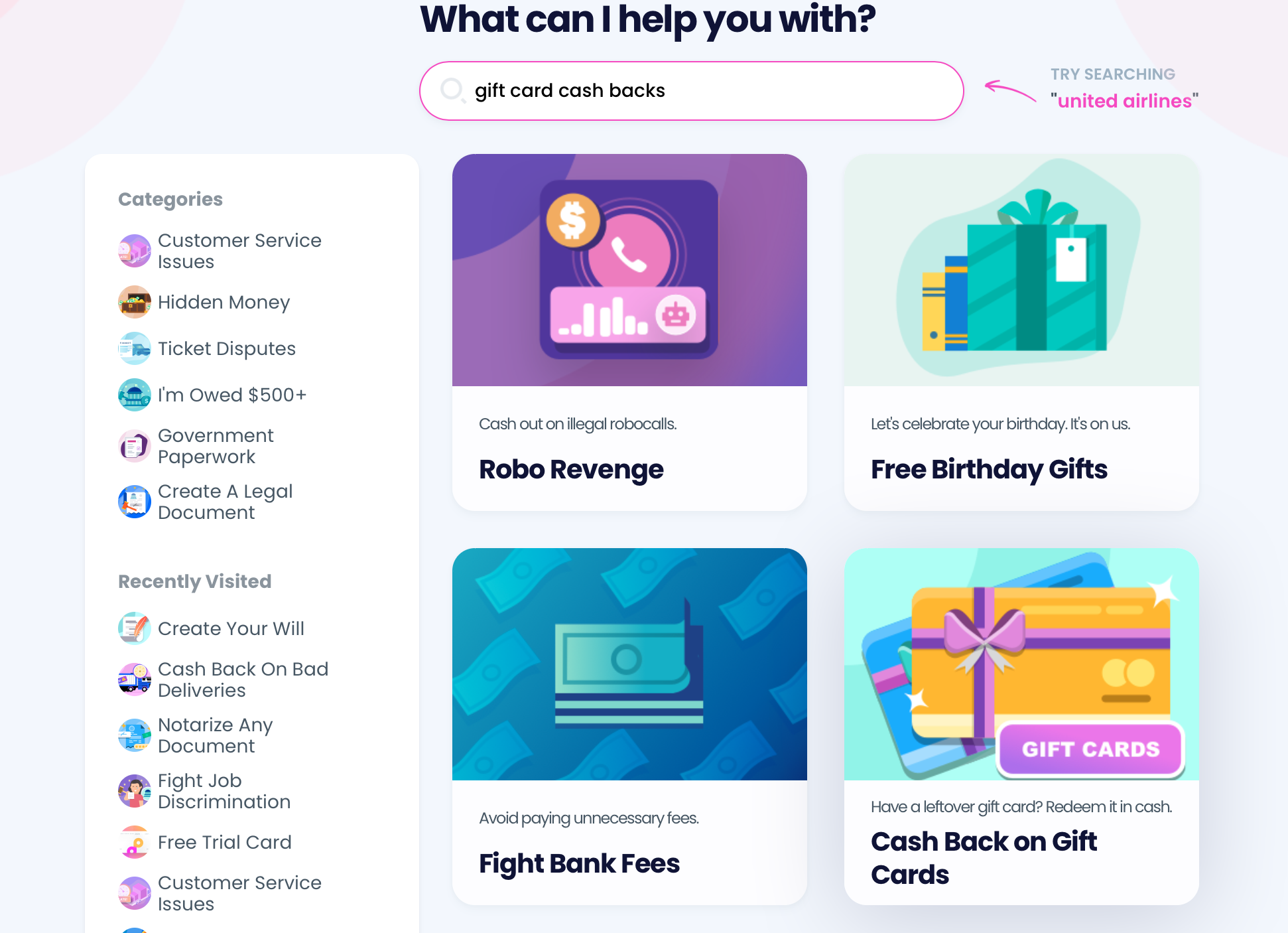 Here's what you should do. and take these steps:
Pick our Gift Card Cash Back feature
Enter information about your gift card, e.g., the card issuer, card number, and current balance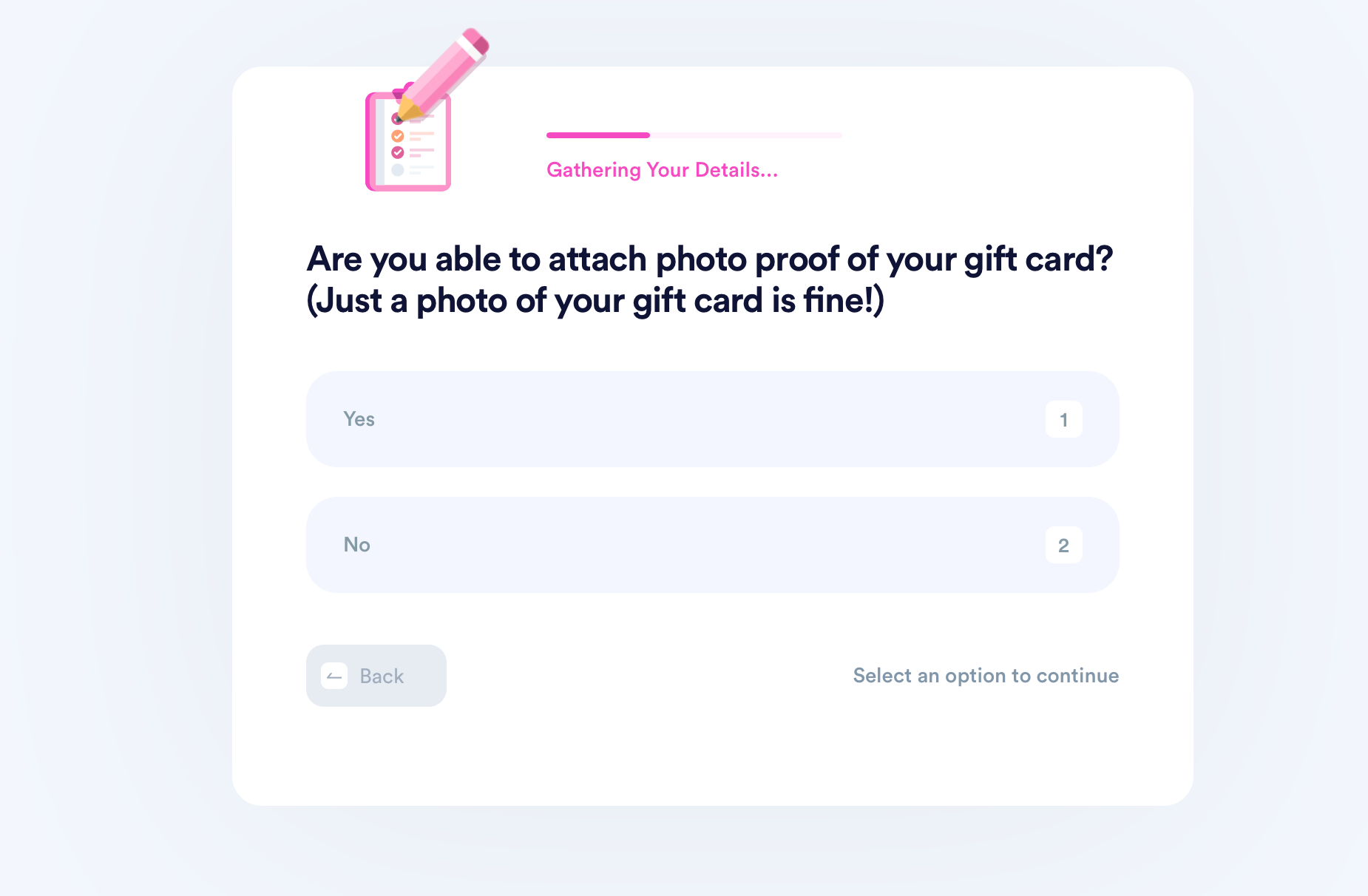 Once you've provided the necessary information, DoNotPay starts checking if your state has the cash back policy in place. If not, we launch another search. This time, we scan their office locations throughout the U.S.
Once we find one in a cash back policy state, we direct your request there. What's next? Expect to receive cash or a check within 14 business days via mail.
DoNotPay Helps You Deal With Various Problems Worry-Free
DoNotPay has developed a wide variety of products you can use to manage numerous tasks.
Do you want to get a refund from a company? Are you wondering whether you can request compensation from airlines for poor Wi-Fi or canceled flights? Is hiring a lawyer to draw up legal documents too expensive for you? Sign up for DoNotPay and solve your issues in a matter of minutes!
Use our AI-powered app to get rid of robocalls, spam emails, and text messages.
Need help locating and canceling all your unused memberships? DoNotPay has a product for that too!
Prepare for your driving test using our Government Tests Prep feature and schedule a meeting with the DMV to take the test through the same app. We can even help you claim your car insurance or warranty and contest parking tickets in a flash!
Learn How To Protect Your Privacy With DoNotPay
Protecting your personal info online can be challenging but not impossible. The next time you come across a service that requires phone verification, make sure to use our Burner Phone product and have us generate a fake phone number you can use.
Our virtual credit card can help you sign up for free trials without having to disclose your name, email address, or credit card info.
Are you thinking about connecting with an inmate pen pal? Make sure to keep your real address a secret by relying on DoNotPay. Besides helping you send letters to inmates, we can also receive mail from the prison on your behalf, scan each letter, and send it to your email address.