Check Your Subway Gift Card Balance in the Blink of an Eye
Are you looking for a quick way to check the remaining amount on your used gift cards? We will show you how to check your Subway gift card balance and get those last few bucks back in cash.
Sign up for DoNotPay to get the best tips and tricks on how to:
What Is a Subway Gift Card?
A Subway gift card is used for purchasing food and services at Subway restaurants in the United States, Canada, on their website, or the Subway app. You cannot use the card to buy gift cards or exchange them for cash unless mandated by law.
Subway cards come in physical and digital formats, can range in value from five to 500 dollars, and do not have any fees associated with using them.
Does the Card Have an Expiration Date?
Subway gift cards do not have an expiration date, so you can use the card whenever you want without any penalties.
From time to time, Subway provides promotional gift cards that have expiration dates, which are visible on the front of the card. If you're not sure about the expiration date of the gift card you own, call customer support to confirm.
Can You Reload Your Subway Gift Card?
The short answer is yes. If you run out of balance on your gift card, Subway allows you to reload it so that you can keep enjoying Subway meals whenever you desire. Once you've registered your card at a Subway restaurant, you can reload your card either at their restaurant or on the official website.
What Happens if You Lose Your Gift Card?
If you lose or damage your gift card, Subway will only replace it if you registered the card online. You can contact their customer support team at 1-877-697-8222 to request a new card. Make sure to provide the support agent with your lost gift card's number and PIN code.
How To Check the Balance on Your Subway Gift Card
If you are not sure how much cash is left on your Subway gift card, you can check the remaining balance using the methods explained in the table below:
Balance Check
Steps To Take
Over the phone

Dial 1-877-697-8222
Provide them with the necessary info, including your name, gift card number, and PIN code
Ask them to check the remaining balance on your gift card

On the Subway website or app

Head over to the Subway website or app
Go to My Account
Select Check Balance
Enter your gift card number and PIN code

At any Subway location

Go to a Subway restaurant near you
Hand over your gift card to the cashier and ask them to check your gift card balance
What Can You Do With the Remaining Balance on Your Gift Card?
If you have a few dollars left on your gift card, here are a few options to consider:
Do you need help with getting your cash back from a used Subway gift card? Subscribe to DoNotPay, and we can help you get it back without any hassle!
Use DoNotPay To Get Cash Back on Subway Gift Cards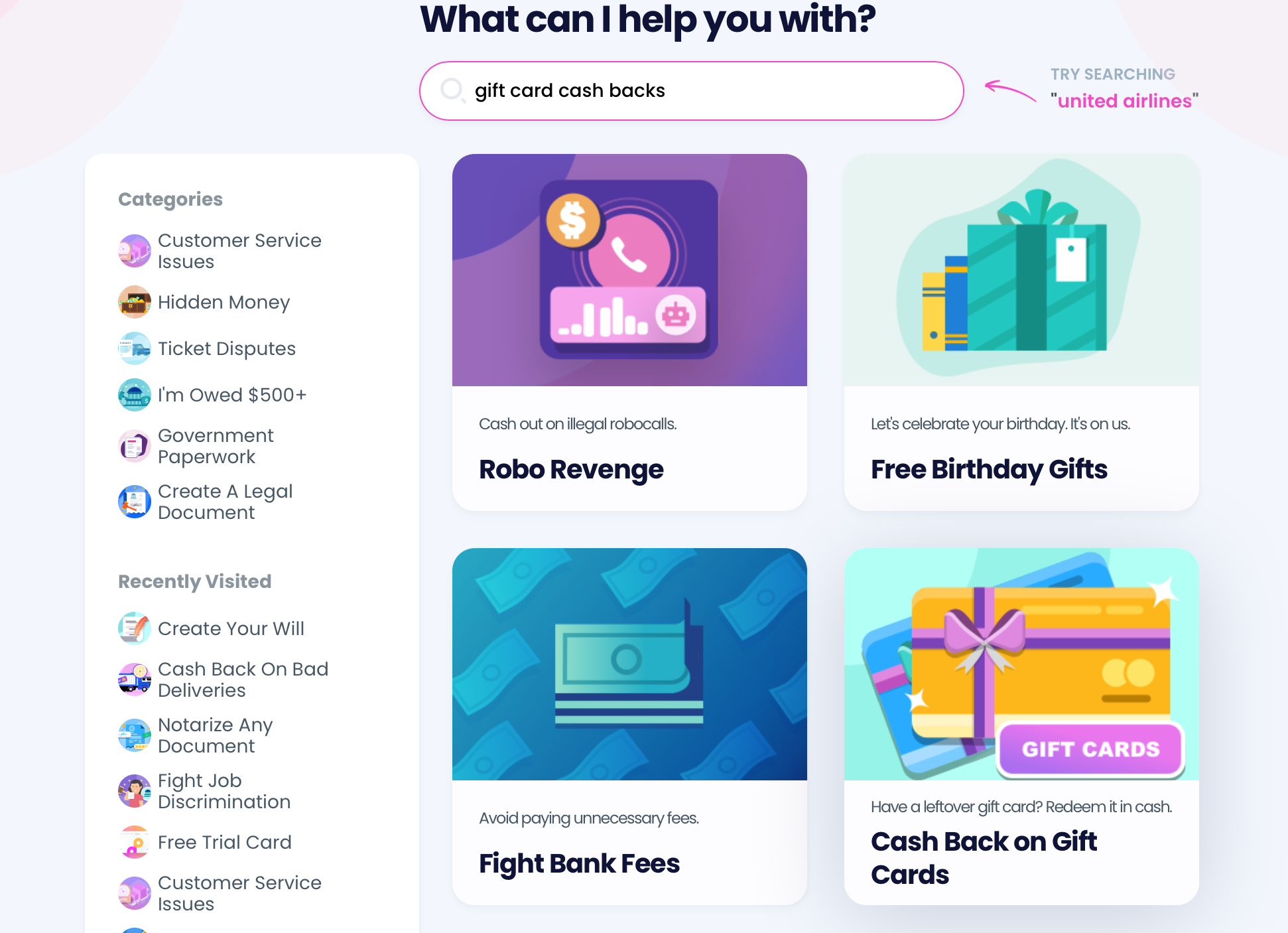 Getting your cash back from a gift card has never been easier! Here's everything you need to do:
Open DoNotPay in your web browser
Go to the Gift Card Cash Back feature
Provide the necessary details, such as the vendor, gift card number, and remaining balance
We will send the info to the nearest Subway location for processing. Even if you live in a state that doesn't have a cash back policy, we will find a Subway location in a state that does and forward your request. Either way, you should receive your money within 14 business days.
Drawer Full of Used Gift Cards?
DoNotPay's method doesn't work on Subway gift cards only. We can help you retrieve your cash from gift cards by:
More Nifty Solutions to Annoying Problems
If you're dealing with problematic neighbors or coworkers, you're not alone—our app can help you handle these issues with our Neighbor Complaints and Fight Workplace Discrimination products.
No problem is too big or too small for DoNotPay! Check out the best time- and money-saving solutions to different nuisances:
An Array of Hacks To Help You Deal With Greedy Companies
Nobody likes to spend more money than they have to. DoNotPay is here to offer many penny-pinching hacks and also stop companies from taking advantage of you.
Almost every free trial nowadays isn't really free. Companies request your credit card info and auto-renew subscriptions. Fight this sneaky practice by using DoNotPay's virtual credit card next time you want to snatch a free trial. We'll also uncover any unwanted memberships you have mooching off of you and help you cancel them in a few clicks.
If you need to contact a company's customer service, avoid wasting your time and money on hold and count on our app to wait in your stead.
Do you need to get your money back, but you don't know how? Use DoNotPay to: