The Scoop on the Texas Roadhouse Gift Card Balance Check
Everyone who wants to get their money's worth needs to know how to check their gift card balance and what they can do with those remaining few bucks.
If you need the scoop on the Texas Roadhouse gift card balance check, you've come to the right place. Subscribe to DoNotPay and learn how to perform a balance check in a snap and get practical advice on:
Everything You Need To Know About the Texas Roadhouse Gift Card
If you've received your Texas Roadhouse card as a gift, you might not know what it is and how it works. Here's everything you need to know:
How To Check the Balance on Your Texas Roadhouse Gift Card
Texas Roadhouse offers several options to check your gift card balance:
Ways To Check Your Balance
Steps To Take
Over the phone

Dial 1-800-839-7623
Enter the required extension to speak to a customer support representative
Ask them to check your gift card balance

Don't forget to provide important info, such as your name, gift card number, and PIN code

On the Texas Roadhouse website

Open the Texas Roadhouse website
Click on Check Your Balance
Enter your gift card number and PIN code in the pop-up window
Click on Check Balance

At any Texas Roadhouse location

Go to the nearest Texas Roadhouse restaurant
Hand over your gift card to the cashier and ask them to check the leftover balance
What To Do After the Texas Roadhouse Gift Card Balance Check
Are you wondering what to do with the remaining amount on your gift card? Here are a few options you can go for:
You can try getting your money back on your own or go for the easier route— and let us do it for you!
Redeem Your Gift Cards With the Help of DoNotPay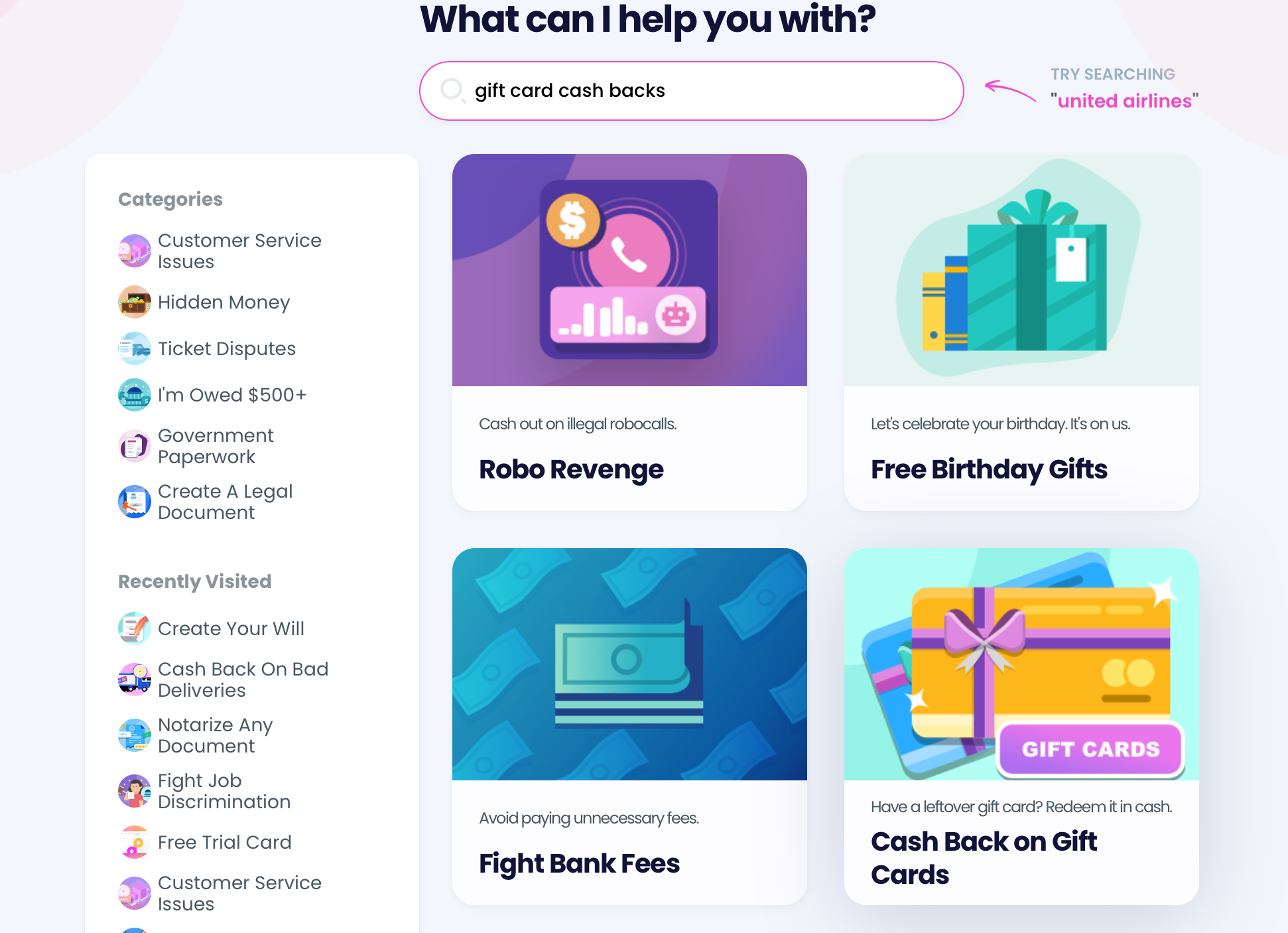 Getting cash back from a used gift card requires a lot of time-consuming processes, such as going to the nearest shop and filling out a cash back request. Skip the frustration and use DoNotPay to exchange your gift card balance for cash in a few easy steps!
Here's what you need to do:
from your web browser
Search for the Gift Card Cash Back service
Enter the details of the company, your gift card number, and the remaining balance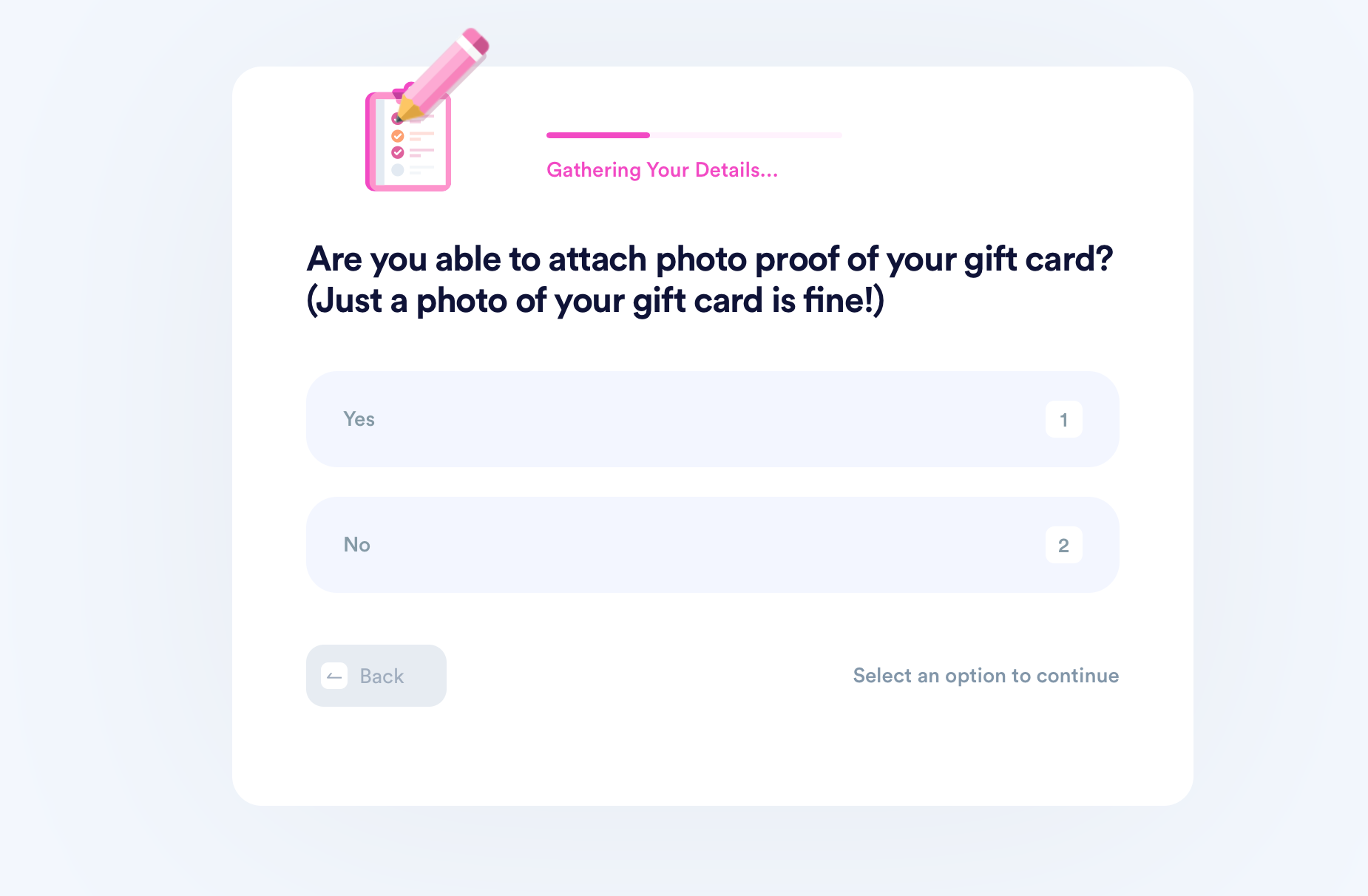 Once you provide all the information, we will let you know if your state has a cash back option and process the request. If you live in a state without a cash back policy, we will check if the company has a branch in one of the states that have it and forward the request there. This means that you can get your funds back regardless of your location within 14 business days!
Don't miss a chance to get cash back from other used gift cards. DoNotPay can help you receive your money from other companies, such as:
Easy-Breezy Ways To Deal With Not So Breezy Issues
Administrative and similar tasks don't have to be as complicated as we've known them to be. With DoNotPay, dealing with paperwork and companies is done in a few clicks. Let the world's first robot lawyer help you:
Money Troubles? I Don't Know Her!
As our app's name says, DoNotPay's mission is to put a stop to losing money and overpaying. We will help you get your hands on free trials and snatch free raffle tickets. DoNotPay can also provide solutions for you to get help covering bills and reduce your property taxes.
If you want to get some additional funds, use our app to sign up for clinical trials. You may also take our practice tests to ace a government test and land a better-paying job.
It doesn't hurt to check whether you are owed some unclaimed money, and we can help you with the application.