Use a Slice of Our Advice To Check Your Papa John's Gift Card Balance
Owning a gift card is all fun and games—until you realize there are three dollars left on it that you're unable or unwilling to spend. When that happens, people tend to forget the leftover money and let it sit on the card unused for who knows how long.
Did you know you can retrieve the remaining balance in cash under certain conditions? In this article, DoNotPay will break down practical ways to check your Papa John's gift card balance and help you manage the leftover funds on your used gift card!
Your Papa John's Gift Card in a Nutshell
Before performing your Papa John's gift card balance check and deciding how to use the remaining funds, you should know all about your gift card's characteristics. Take a look at the table below for more details:
Papa John's Gift Card Can Be
Papa John's Gift Card Cannot Be

Bought in the traditional or digital form (as an e-card)
Used to purchase food, drinks, and gratuities in all participating Papa John's restaurants across the U.S.
Used at any time since it doesn't have an expiration date

Replaced if lost, stolen, damaged, destroyed, or used without your permission
Redeemed for cash, unless required by state law
How To Conduct a Papa John's Gift Card Balance Check
You can check your Papa John's Gift Card balance in one of two ways:
By phone—Call Papa John's customer support at (800)-325-1119, present the agent with your gift card information, and get details about your balance instantly
Online—You need to access Papa John's official website and:

Hit the Check Balance tab on the bottom left
Enter the card details
Click Submit
If you want to continue using your gift card, you can reload it at any participating Papa John's location or by calling their Corporate Office at (866) 528-4438.
In case you decide you've had enough pizzas for a while, you can try:
Selling the card online or at a kiosk
Giving the gift card away
Exchanging your half-used card for another one from a different vendor
Redeeming the remaining balance in cash
How Can You Retrieve the Remaining Funds on Your Papa John's Gift Card?
You are considered eligible for redeeming your Papa John's gift card in cash if you:
Live in one of the states with cash back policies
Have a gift card balance that's below a specific amount
Some U.S. states and Puerto Rico have a policy that requires companies to redeem the leftover money on gift cards in cash. Those states are:
Maine
Massachusetts
Oregon
New Jersey
Colorado
California
Washington
Connecticut
Vermont
Montana
Rhode Island
Not all cash back states are consumer-friendly. While in most states you can get a reimbursement for any amount lower than $5, Vermont and Rhode Island will redeem only gift cards worth less than $1. California is the most generous state towards customers, offering gift card cash back for any balance below $10.
You can file a request at your local Papa John's yourself, but that may involve the following issues:
Papa John's employees are probably not familiar with cash back state laws
If you don't live in a cash back state, you will have no choice but to call it quits
There's no need to waste time and nerves fighting the gift card battle alone. If you , we'll take care of the entire process on your behalf. What's more—our app ensures you'll get your gift card cash back wherever you are!
Check Your Papa John's Gift Card Balance, and Get Your Papa John's Cash Back With DoNotPay

Turning gift cards into cash with DoNotPay is simple! We can help you get the remaining funds from every gift card—including the one you got for free. The process requires you to in any web browser and:
Click on the Gift Card Cash Back product
Provide essential details, such as:

Card number
Remaining balance
State where the card was issued

Hit the Submit button
Once you complete the steps, DoNotPay will draw up and send the request. If it turns out you don't live in a state with a gift card cash back policy, we will:
Check whether Papa John's has restaurants in one of the states with such policies
Forward your request there
You will get your cash or check via mail in less than a fortnight!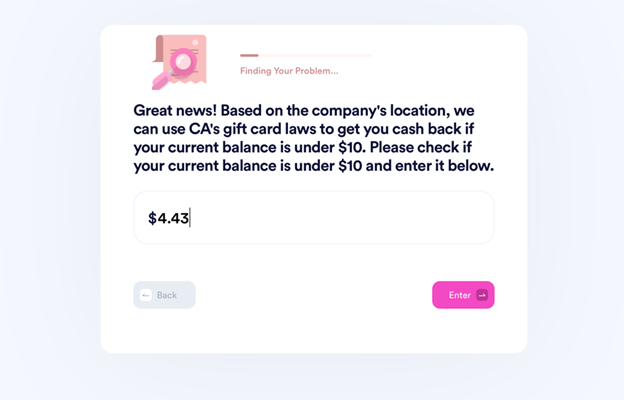 Are you wondering what other gift cards we can help you with? Check out the table below for answers:
| | |
| --- | --- |
| Restaurants and Coffee Shops | Retail Companies |
| | |
Learn About DoNotPay's Awesome Products!
DoNotPay is a multifunctional app that can solve numerous everyday challenges swiftly.
You can use our app to protect your work from copyright violations, schedule your driving exam or any other appointment with the DMV, reduce your property taxes in a few steps, and similar.
We have created many useful products to help our users take care of their issues through the same app. With us, you can:
DoNotPay Connects You With Your Loved Ones
Sending letters to inmates can be difficult since you have to follow certain rules to a T to avoid having your letter rejected. The situation is even more complicated if you don't know where your incarcerated loved one serves time. DoNotPay's app can help you locate prisoners and correspond with them without worrying whether you're breaking any rules.
Do you want to send a letter, but you don't feel like heading over to a post office? By using our mailing service, you can mail as many letters as you want from the comfort of your home. With DoNotPay, you can also send online faxes in under five minutes!
Email and text spam is something that everyone experiences at least once in their lives. DoNotPay has a solution for that too. Access your DoNotPay account and count on us to help you block spam and get compensation by reporting pesky robocalls.