Ways To Check the Build-A-Bear Gift Card Balance
What can be more fun than spending your Build-A-Bear gift card credits on a giant teddy bear or buying a toy for your loved one? The answer is—realizing that you still have a few extra bucks left on your card. While these funds can still make a tiny discount for your next purchase, you can also cash them and keep the money.
In this article, we will show you how to check the Build-A-Bear gift card balance and demand the leftover credit with minimal effort!
Build-A-Bear Gift Cards in Brief
Here is some basic information about Build-A-Bear gift cards:
The company sells two types of cards—physical (made of plastic) and e-gift cards (sent via email)
Each physical card can be loaded with $25, $50, $75, or $100, while you can choose any amount between $10 and $75 for digital cards
These gift cards are redeemable in any Build-A-Bear store, partnering Build-A-Bear Workshop locations, and on the company's online shop
You can request a refund for the cards or use them to buy other gift cards from the same company
How To Know How Much Money You Have on a Build-A-Bear Gift Card
If you are unsure about the remaining balance on your gift card, there are four ways to check it:
Online
Via phone
Via an email form
In person
Checking Your Build-A-Bear Gift Card Balance Online
The company's website has a built-in app that can show you the current value of your card. Here are the steps to follow:
Visit the Build-A-Bear official website
Navigate to the Let Us Help You section and choose Gift Cards
Scroll down to find the Check Gift Card Balance
Provide your gift card number and the security code
Hit Check Balance
Checking Your Build-A-Bear Gift Card Balance Over the Phone
You can also get the information about your gift card balance by proceeding as follows:
Call customer support at (888) 566-4977
Inform the agent that you would like to check the amount on your gift card
Provide them with the necessary details, such as the gift card number
Wait for them to track down your gift card in their database and give you the info you need
The provided phone number is toll-free.
Checking Your Build-A-Bear Gift Card Balance via an Email Form
Build-A-Bear offers an email form you can use for inquiries about gift cards. To use it, do the following:
Choose Contact Us on the homepage of the website
Enter your name and contact details
Choose Gift Cards from the My Question drop-down menu
Write your question
Click on Submit
You should receive a response to the email address you provided in the form.
Checking Your Build-A-Bear Gift Card Balance in Person
Another method you can use is inquiring about your balance in person. Here's how to do it:
Visit the retailer's website
Navigate to Stores
Find the nearest Build-A-Bear location by inputting your city, ZIP code, or the full address
Bring your gift card to the store you chose and ask the store manager to swipe the card and check the balance on site
| | |
| --- | --- |
| Can I Check the Build-A-Bear Gift Card Balance Via | Yes/No |
| Online | Yes |
| Phone | Yes |
| Mail | No |
| Email | Yes |
| Chat | No |
| In Person | Yes |
Can You Cash Out the Remaining Money From Your Gift Card?
It's a little complicated. You are allowed to request reimbursement from the merchant only if you live in one of the 12 locations that have a cash back policy, including:
Rhode Island
Washington
Missouri
Massachusetts
New Jersey
Vermont
Connecticut
California
Oregon
Maine
Colorado
Puerto Rico
Not every remaining amount can be cashed out because there's a specific law in each state and Puerto Rico proposing the maximum amount you can turn into cash. In California, for example, the limit is $10. In most other locations that approve the cash back option, you can get up to $5 per card.
What Can You Do if Your State Doesn't Have a Gift Card Cash Back Policy?
Not everything is lost if you live in a state which hasn't adopted a cash back policy. If you find some extra balance on a used gift card, regardless if it's a free or standard card, you can:
and let our app help you get the remaining money regardless of your location
Ask the retailer if you can reload the card and keep using it
Use the remaining amount when making your next purchase with Build-A-Bear
How Can DoNotPay Help You Turn Your Gift Card Credits Into Cash?
If your state prohibits returning gift cards for cash or you want to avoid contacting customer support, DoNotPay can help you solve the matter the easy way!
We will collect all the necessary details from you, generate a gift card cash back request, and send it to the company—all that in less than five minutes.
Here's how to start the procedure:
and log in to your account
Pick Gift Card Cash Back
Provide our chatbot with a few necessary details—the state you live in, the gift card number, and other basic info
Our app will let you have the rest of the money from your gift card regardless of the state rules. How? It's simple—we will find the retailer's location in one of the states with cash back policies and send your request to that branch.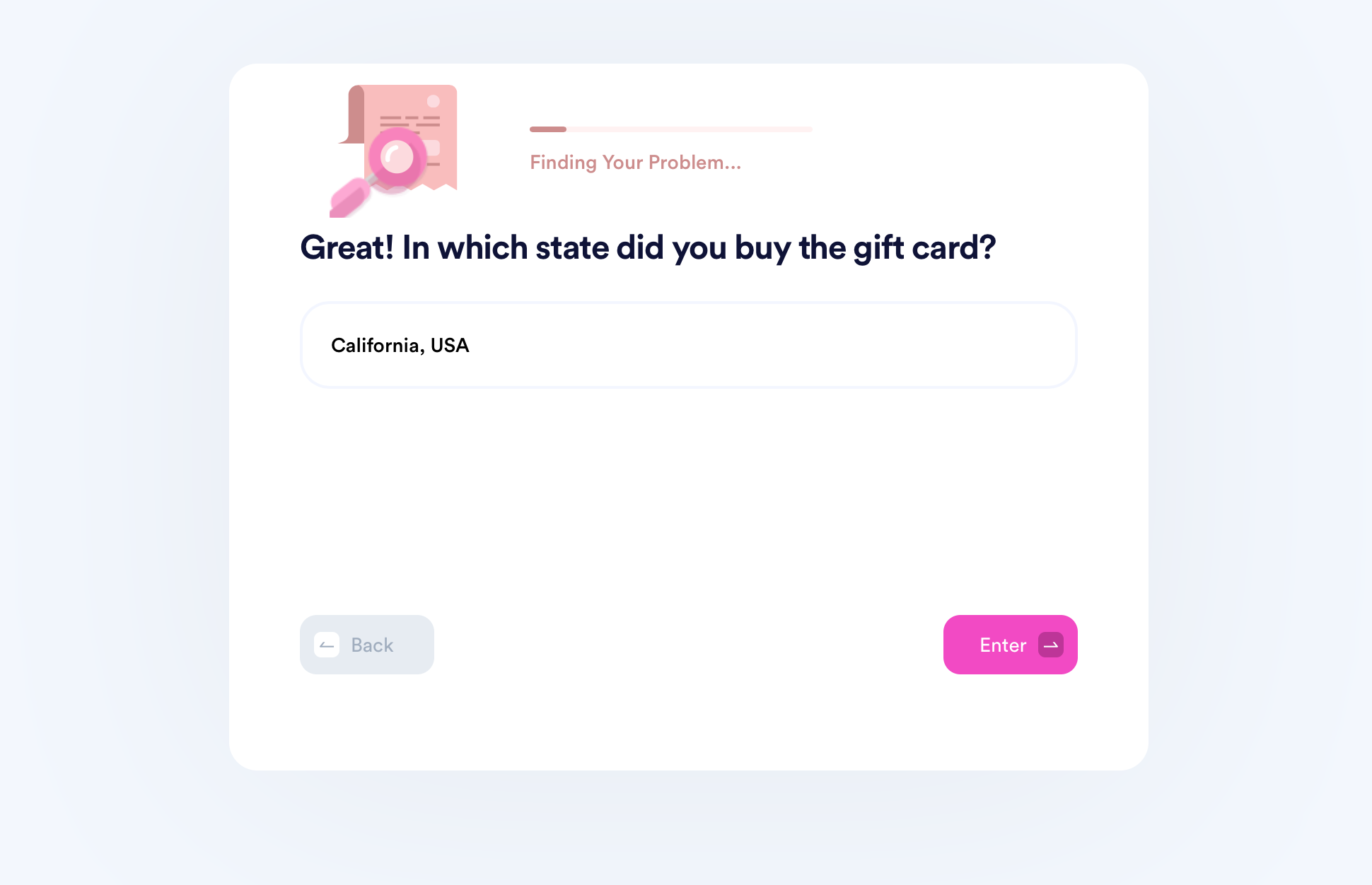 With DoNotPay, you can get the leftover credit from various companies, such as:
Learn About DoNotPay's Awesome Products!
DoNotPay is a multifunctional app that can solve numerous everyday challenges swiftly.
You can use our app to protect your work from copyright violations, schedule your driving exam or any other appointment with the DMV, reduce your property taxes in a few steps, and similar.
We have created many useful products to help our users take care of their issues through the same app. With us, you can:
DoNotPay Connects You With Your Loved Ones
Sending letters to inmates can be difficult since you have to follow certain rules to a T to avoid having your letter rejected. The situation is even more complicated if you don't know where your incarcerated loved one serves time. DoNotPay's app can help you locate prisoners and correspond with them without worrying whether you're breaking any rules.
Do you want to send a letter, but you don't feel like heading over to a post office? By using our mailing service, you can mail as many letters as you want from the comfort of your home. With DoNotPay, you can also send online faxes in under five minutes!
Email and text spam is something that everyone experiences at least once in their lives. DoNotPay has a solution for that too. Access your DoNotPay account and count on us to help you block spam and get compensation by reporting pesky robocalls.