Where To Get Passport Photos in Michigan—DoNotPay Has the Answers!
Having your passport renewed in Michigan can be a daunting task. Ensuring the passport photo fits the standards set by the U.S.Department of State is a common cause of frustration. Luckily, you can avoid the stress by knowing the best and most affordable places to have your passport photos taken.
If you're wondering where to get passport photos in Michigan, DoNotPay will give you the rundown of the most convenient locations that offer passport photo services. That's not all—we can show you how to take a perfectly suitable passport photo at home and save some money on the way!
What Are the Basic Passport Photo Requirements?
Whether you plan to use a passport photo service or complete the process at home, you must know which government rules to abide by. Failing to meet the standards can cause your application to get rejected.
The table below contains a detailed description of the passport photo requirements in the U.S.:
U.S. Passport Photo Requirements
Details
Passport photo size

Photo must be exactly 2 x 2 inches (51 x 51 mm)
Head size needs to be 1 to 1 3/8 inches (25–35 mm) from the top of the head to the bottom of the chin

Background

Uniform color
Plain white or off-white
Free of shadows

Choice of clothing, glasses, and accessories
You should avoid:

Uniforms and camouflage clothing
Scarves and jewelry that cover a portion of your face
Headphones
Hats or any kind of head attire, sunglasses, subscription glasses, or an eyepatch except for religious or medical reasons. If you must wear them, you must:

Submit a medical statement supporting your claim
Make sure the accessories keep your face clearly visible

Pose and facial expressions

Eyes wide open
Neutral expression or a natural smile
Full-face view

Print size and quality

Printed on a matte or glossy paper in high resolution (not grainy or blurry)
Free of holes, creases, and smudges
Not digitally altered (e.g., to remove red eyes)
Make sure the photo you're submitting is not older than six months.
Where To Get Your Passport Photos Done in Michigan
If you want to have your passport photo taken professionally, you can take your pick from the following places in Michigan:
Pharmacies
Retail stores
Professional photography studios
Shipping centers
U.S. passport offices
Passport expediters
Have Your Passport Photo Taken at a Pharmacy
Pharmacies such as CVS and Walgreens typically offer passport photo services. If you live near one, call ahead and confirm that you can have your photo taken at that specific location. You can expect to pay around $15.
Visit a Retail Store for a Passport Photo Service
If you live in Michigan, you are bound to be in the vicinity of a Walmart, Target, or Meijer. Passport photos at these locations usually cost between $5 and $13.
Call a Professional Photography Studio
A professional photography studio can ensure your passport photo fits government requirements to a tee. The only catch is that:
Not all photography studios offer passport photo services
Prices are on the steep side
Use the Shipping Centers' Passport Photography Services
You can use shipping service providers, such as UPS and FedEx, to have your passport photographs taken. They typically charge around $12 and $15, respectively.
Kill Two Birds With One Stone at the U.S. Passport Offices
There are numerous facilities where you can have your passport photo taken and submit your passport application, most notably:
Post offices
Public libraries
Court clerk's offices
Another country, state, municipal, and township government offices
Note that the prices can be higher than in other locations, typically due to the privilege of having the whole passport procedure completed in one place.
Hire a Passport Expediter
If you need a passport in record time, you can hire a registered passport expediter to submit an application in your name. They typically offer to take your passport photo as a part of their service, but do call them ahead to confirm.
Can I Snap My Passport Photo at Home?
Do you want to avoid the hassle of searching for an appropriate location with a passport photo service? Skip the long lines and save money by taking a digital passport photo from your home and submitting it online!
Bear in mind that you have to follow the same government passport-photo regulations we mentioned above. Take the following tips to ensure you meet the standards:
Ask a willing friend or a family member to take your picture—selfies are not allowed
Use a device with a high-resolution camera ( it can be a phone, tablet, or a digital camera)
Stand in front of a white wall (you can place a white sheet of paper behind your back as well)
Stand near a window on a bright day to get the best lighting
Crop the photo yourself to make sure it fits the requirements
The trouble is that, without a proper photo-quality assessment, you're still in danger of getting your application denied. If you , we will make sure you submit a suitable passport photo on the first try!
DoNotPay Is Your Fast Ticket to a Quality Passport Photo
Are you wondering how to save precious time and nerves and get a top-notch passport photo? DoNotPay is the answer to your problems!
You only need to snap a picture at home—we will make necessary adjustments and send you two copies via email immediately. If you don't have a printer, you can choose to receive your printed photos by mail in three to ten business days!
Here's what to do:
in any web browser
Find our Create Passport Photo product
Take a photo of yourself and upload it
Choose how and when you want your photos to be delivered
We will display a preview before sending the photos your way. If it turns out the photo needs to be retaken for a better result, our app will inform you immediately.
Find your place of residence in the table below to see where you can have your passport photo taken: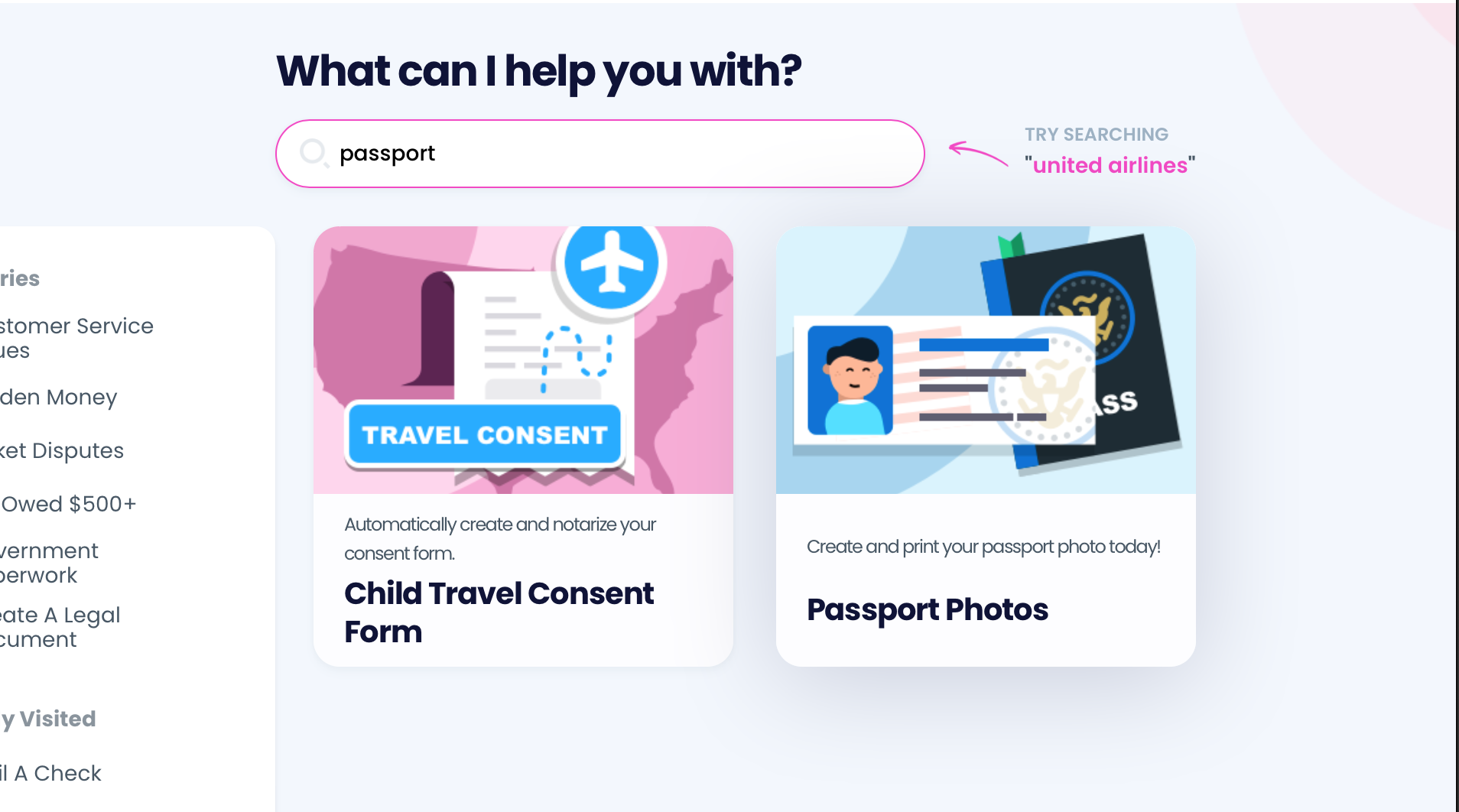 Good Things Come in Small Packages
Siri and Google Assistant are great in their own right, but their skills leave a lot to be desired when it comes to the practicalities of our daily lives. DoNotPay is an app, a true pocket-sized assistant that has the power and the know-how to help you deal with navigating bureaucracy and fighting for your rights efficiently.
Our platform, accessible from your phone or computer, is brimming with products that will help you:
From Government Tests Preparation to Copyright Protection
Whether you are getting ready for your driving test or wish to protect your creative work, DoNotPay has something in store for you.
We can help you handle some serious tasks—like suing someone in small claims court or reporting workplace discrimination—or deal with more mundane activities, such as getting that leftover money from your used gift cards.
The best part is that your DoNotPay subscription gives you access to all our services, be it online fax or virtual credit cards!