Bartell's Passport Photo Price and Service Explained
Bartell Drugs is one of the most convenient places in Seattle to have your passport photo taken. In this article, DoNotPay will address Bartell's passport photo price and help you get the info on other aspects of their service.
Stick around and discover many other places in your area where you can have your passport photo taken at a reasonable price. We will also show you how to take a passport photo at home without any hassle!
Passport Photo Requirements in a Nutshell
Before heading out to Bartell's, it doesn't hurt to get familiar with basic passport photo requirements set by the U.S. Department of State. That way, you may be able to recognize if the photo needs to be retaken and react accordingly.
Your passport photo must:
Measure exactly 2 x 2 inches (51 x 51 mm) in size, with your head measurements being between 1 and 1 ⅜ inches (25 to 35 mm)
Be clear (free of shadows) and in high resolution (minimum 600 x 600 and maximum 1200 x 1200 pixels)
Present you standing in front of a white or off-white background
Be printed on high-quality photo paper (matte or glossy)
The requirements don't stop here—you must also:
Wear appropriate clothing— Have the photo taken in your everyday clothes and avoid uniforms and costumes
Remove glasses—If you have to keep them on for medical reasons, don't forget to submit a doctor's statement with your passport application
Put away hats or any headgear—You can leave them on only for religious or medical reasons
Keep a neutral facial expression—A natural smile is allowed
Look straight into the camera—Don't tilt your head, turn sideways, or look down
Bear in mind that the passport issuance facility will dismiss your photo quickly if it fails to meet any of the criteria. Your passport photo also shouldn't:
Be older than six months
Contain holes, creases, or smudges
Be digitally altered in a way that changes your appearance
What Is the Bartell Drugs Passport Photo Price?
Bartell's website doesn't offer much information on the price for taking your passport photo. Your best bet is to call one of their drugstores in your vicinity and ask them about:
Costs of taking and printing your passport photos
Other terms of their service, such as:

When to pick up the photos
Whether you can have the images delivered and at what price
Bartell Drugs offers an efficient method of locating their drugstores in your neighborhood. You need to:
Access Bartell's official website
Click on the Photo tab in the upper right corner
Scroll down to find the Passport Photo section
Click on Find a Store
Enter your city, ZIP code, and neighborhood in the required field
Once you complete the steps, the website will display the nearest store's:
Exact location
Business hours
Contact information
Other Convenient Places for Having Your Passport Photo Taken in Seattle
What if you don't have a Bartell Drugs near you or you're not satisfied with the terms of their service? Fear not because Seattle offers a myriad of other places where you can have your passport photo taken. Check out our suggestions in the table below:
Places To Have Your Passport Photo Taken
Details
Other pharmacies
Check out if there's a Walgreens, CVS, or Rite Aid in your neighborhood. Make sure to call them ahead and confirm they provide passport photo services
Retail stores
Walmart and Target typically offer to have your passport photo taken at the store for a fairly low price
Shipping companies
FedEx and UPS centers in your vicinity may provide passport photo services
Passport acceptance facilities
Many government facilities that accept passport applications—especially post offices—offer to take your passport photo for a few extra dollars
Professional photography studios
Before contacting a professional photographer, make sure to call ahead and confirm that they:

Provide passport photo service
Are familiar with passport photo regulations

Bear in mind that you'll have to pay significantly more than in other places
If you want to avoid the hassle, you can take a passport photo at home and let adjust it according to government standards. That way, you'll be able to save time and finish the whole process online from the comfort of your home!
Taking Passport Photos With DoNotPay Is a Slam Dunk
Why should you waste time at passport photo centers? You can take a digital passport photo yourself and let DoNotPay take care of the rest! Our program will process your photo and:
Fix the size, positioning, and shadows
Send you digital and printed copies of the image (per request)
Let you know if you need to retake the photo for a better result
Our app is available 24/7, so you don't have to worry about business hours.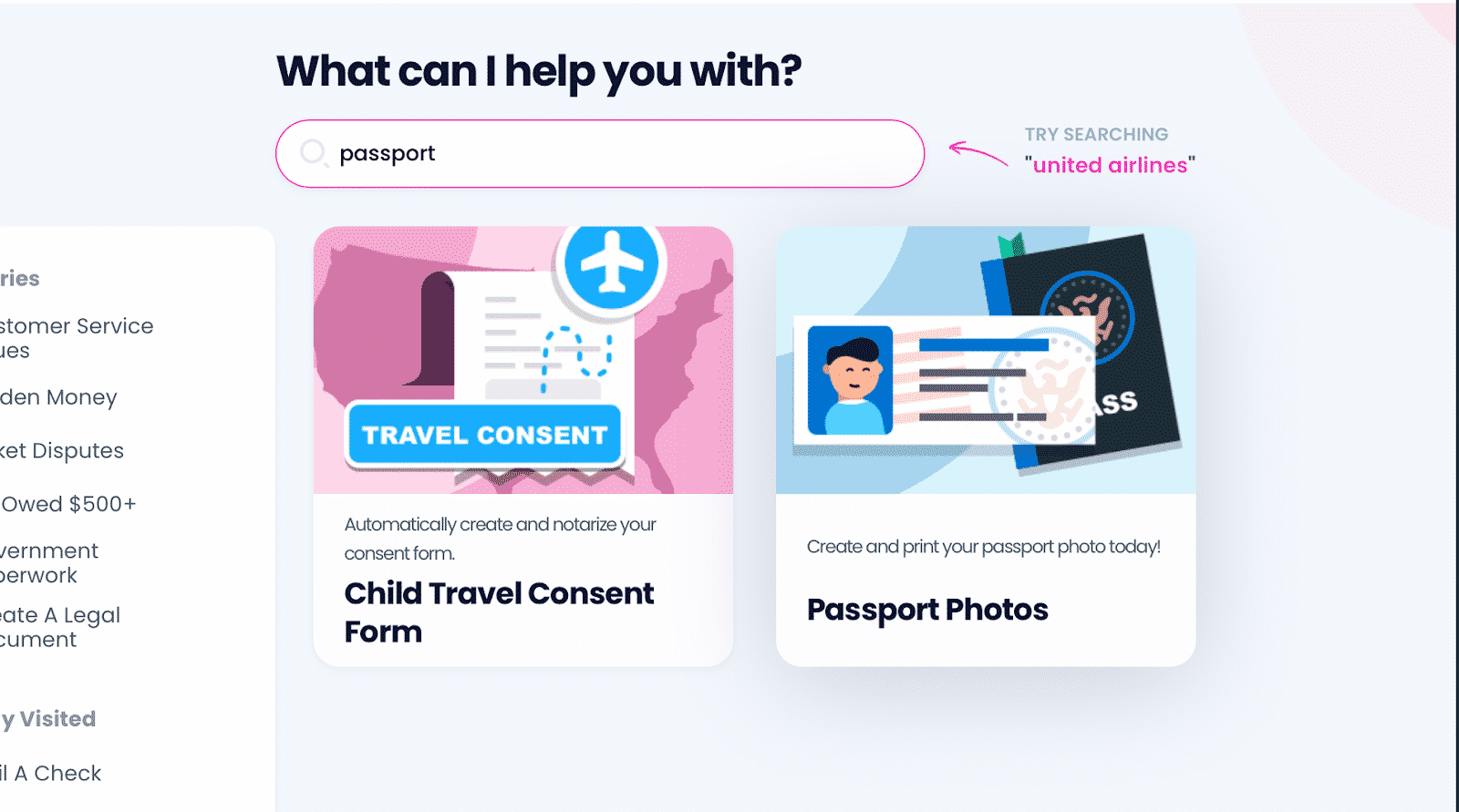 All you have to do is ask someone to take your headshot with a high-quality camera and:
Choose our Passport Photos feature
Upload the photo
Select whether or not you want to have two printed copies delivered to you in three to ten days (you'll get digital copies immediately)
You won't have to worry whether a passport issuance facility will accept passport photos created with our help!
Find your place of residence in the table below to see where you can have your passport photo taken:
DoNotPay Covers All the Bases
From getting you ready for various government tests to helping you reduce your property taxes, DoNotPay offers valuable assistance with the tasks that make most people at least roll their eyes. Dealing with bureaucracy isn't fun, but it also doesn't have to be as difficult as it is.
Every product in DoNotPay's portfolio is designed to efficiently deal with a specific issue within a few minutes and without sacrificing your comfort. Take a look at the tasks our app can make much more simple:
A Little More Money Never Hurt Anybody
Hardly anyone would turn down a chance to earn some more cash. That's why DoNotPay not only protects your rights and interests but also offers great opportunities to improve your financial situation.
With our help, you can find paid clinical trials, locate your missing money in any state, get your cash back from used gift cards, or enter various raffles and win great prizes.