Navigate the Lidl Return Policy Without Breaking a Sweat
Buying groceries can be tricky—you may not always be satisfied with the quality. Luckily, Lidl allows customers to return items they are dissatisfied with.
This guide will walk you through everything you need to know about the Lidl return policy. Discover how you can use DoNotPay to return items without too much effort.
What Is the Lidl Return Policy?
Lidl's return policy states that unwanted items can be returned within 90 days of purchase. The specifics of the policy depend on whether you want to return a:
Lidl-branded item
National brand and non-food items
Key Points About Returning Lidl-Branded Items
If you want to return an original Lidl-branded product, you can do so as long as you have the receipt. Lidl promises a full refund for an eligible item returned within the stipulated 90 days.
The return policy for Lidl-branded items excludes:
Items that are classified under Lidl Surprise
Gift cards
Alcoholic beverages
National brand products
Items must be returned in their original packaging.
The Lidl Return Policy Regarding National Brand and Non-Food Items
National brand and non-food items also have to be returned to Lidl in their original packaging. Similar to the policy about Lidl-branded items, you are required to present the receipt when returning the product. The return policy is not applicable to gift cards or alcohol, both of which are considered final sale items.
What Is the "Lidl Love It!" Guarantee?
Under the Lidl Love It! guarantee, the store allows you to return an item and try another one in its place if you are unhappy with the quality. This policy only applies to the Lidl-branded items but excludes alcohol.
The guarantee comes with a catch—you can only return one eligible item from your total order. For instance, if you buy two items and both are eligible, you can only return one. Exceptions to this rule are completely at the discretion of the store and may not be applicable at all times.
How To Return an Item to Lidl
There isn't much information about how to return items to Lidl. You do have the option to head over to a Lidl store with a purchase receipt and request a return.
You also have the additional option of filling out a form to request customer service. While the form does not contain a specific field for return requests, you can select "Other" from the menu and type in your request. Since there is no guarantee that a representative will reach out to you during the 90-day window, your safest bet is to return the purchase in person.
Will I Get a Refund?
Lidl promises a full refund if you return the item within the stipulated period. All refunds are made to the original form of payment.
If you don't present a receipt when filing a return request, Lidl will offer you store credit. The amount of credit offered will be equivalent to the lowest selling price of the product you are returning.
How Can DoNotPay Help With My Return Request?
Companies often make the return process difficult, forcing you to jump through hoops to get a response to your request. DoNotPay provides a hassle-free solution that is:
Easy to use
Time-saving
Cost-effective
Our app will generate a customized return request letter on your behalf and send it over to the retailer of your choice. We will specify why you want to return the item and what actions you would like the company to take. The letter will also include a deadline to ensure your request is processed as soon as possible. DoNotPay also provides you with a free shipping label so that you can mail any product free of charge!
To initiate a return request, log in to our app and:
Locate the Return My Purchase product
Type in a few details about the item you wish to return and include photos, if possible
Click Submit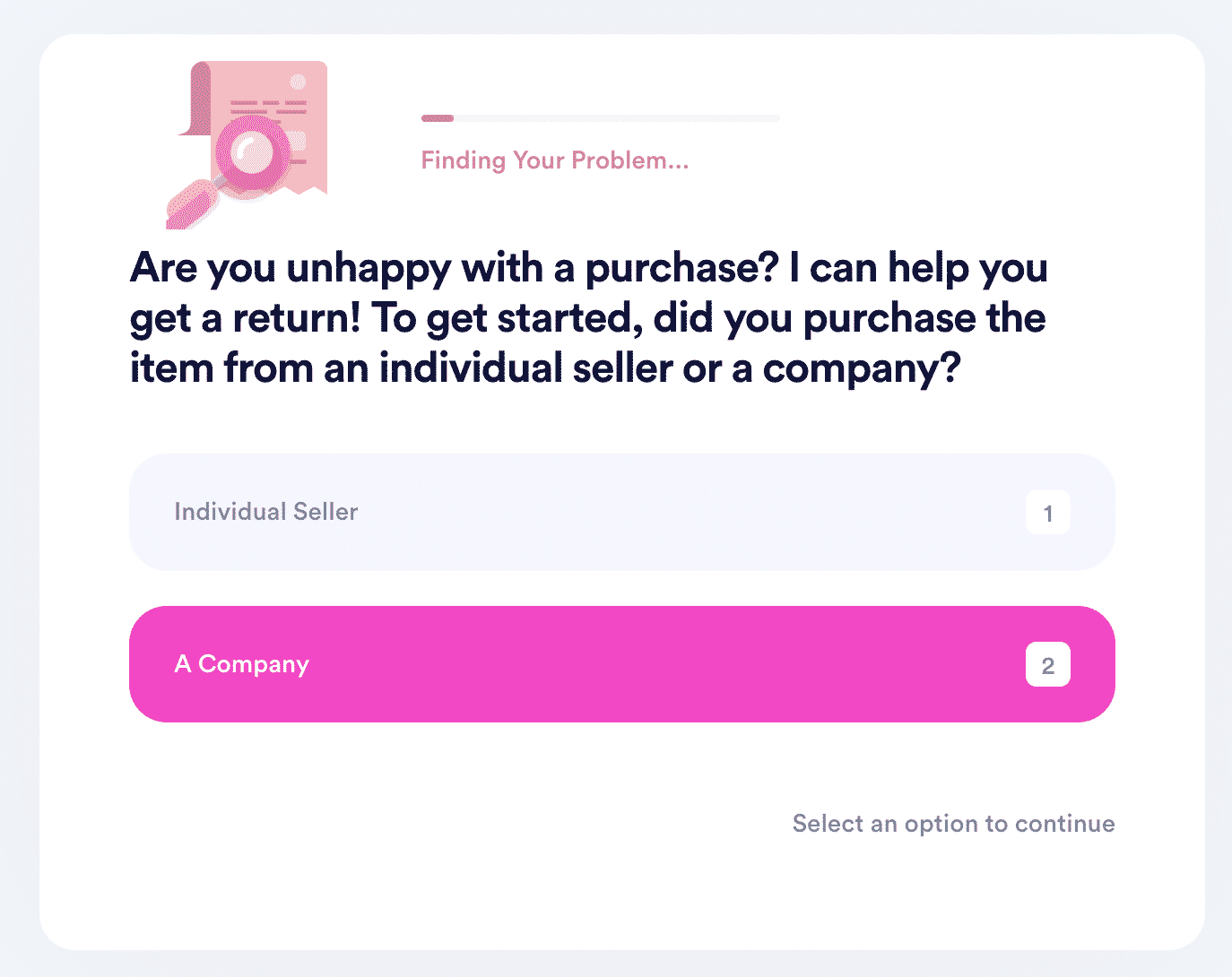 DoNotPay Can Also Help You Get a Refund!
Whether you have already filed a refund request and got no answer, or you want to initiate a new one, we have got your back! To request a refund through our app:
Navigate to the Chargeback Instantly option and click on Get Protected
Answer a few questions about your request
Sign and Submit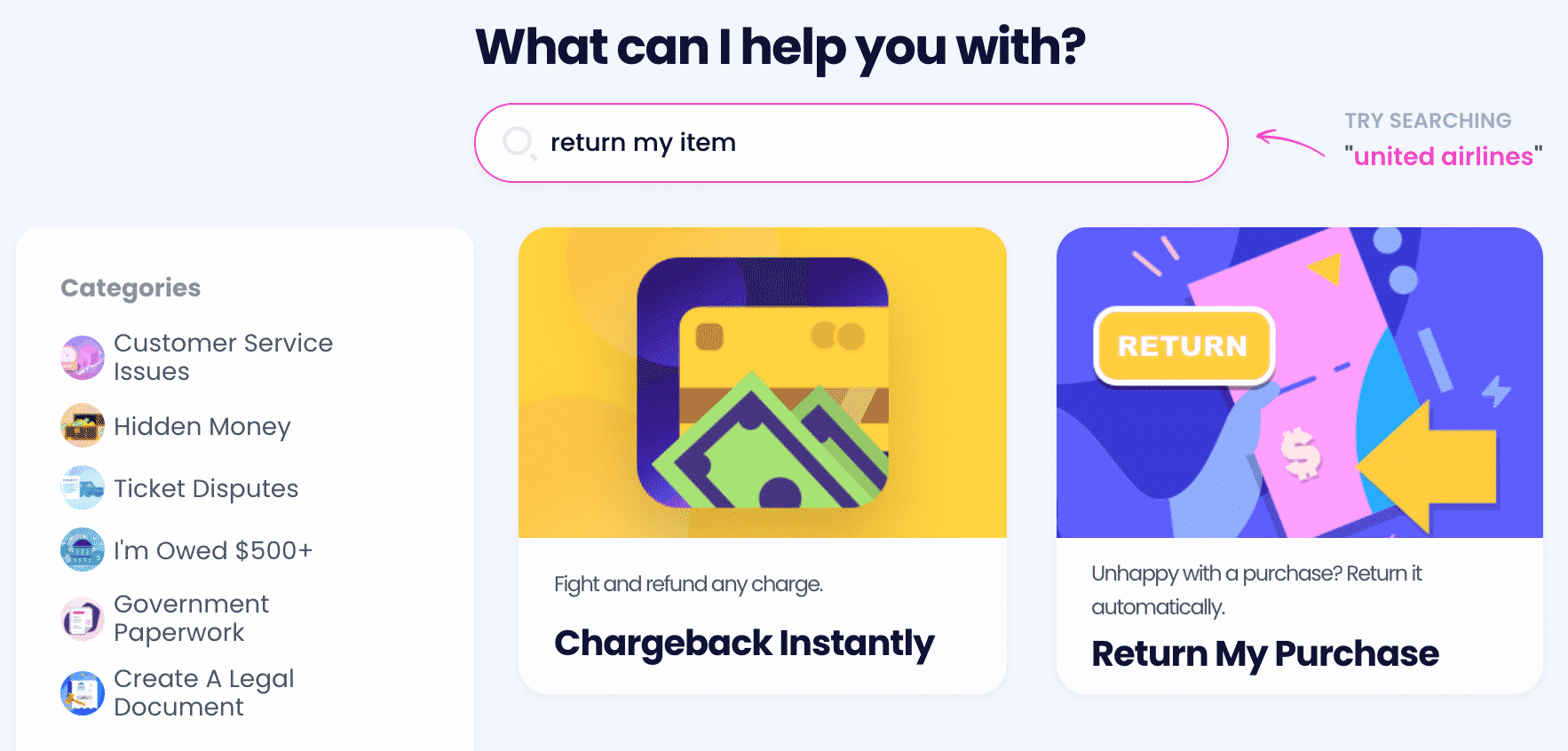 Can I Initiate Returns to Other Retailers With DoNotPay?
We can help you return items to a plethora of stores without any hassle. Learn all about different stores' return policies by checking out our guides in the table below:
Wasted Your Money on a Non-Returnable Purchase? There Are Other Methods To Earn It!
Don't feel down if the item you got isn't returnable—DoNotPay has many more tricks up its sleeve that will help you earn some money!
From helping you enter sweepstakes, decrease your property taxes, and lower your utility bills to assisting you in earning off email or text spammers and robocalls, waiving your college application fees, submitting a college financial aid appeal letter, and getting a refund from any company or airline, we can do it all!
DoNotPay Is Always at Your Disposal
Our app's mission is to take everyday admin and legal tasks off your plate so you don't have to waste any of your precious time. If you want to appeal your parking tickets, draw up a legal document, get any agreement notarized, get a tourist visa, keep a sex offender at bay, mail anything without waiting in line, or get in touch with a loved one in prison, DoNotPay will resolve any of these with ease.
Too busy to track your memberships? You don't need to worry about canceling your free trial on time before it turns into a paid subscription if you use our virtual credit card.
With DoNotPay, you can tackle any otherwise annoying chore stress-free.