Untangling the Sears Return Policy
Sears is one of the largest retailers in the USA, with products ranging from electronics and furniture to grills. Despite having so much to choose from, the item you got may not have met your expectations.
We have deciphered the Sears return policy, and we'll provide you with spot-on instructions on how to return products to Sears, minus the headache! If you don't feel like going through the trouble yourself, you can and let us get you a refund or an exchange in under five minutes!
The Standard Sears Return Policy
Given the extensive amount of products Sears sells, the company return policy is a bit complicated. Sears has product-specific return policies for a lot of its items, but most of them can be returned within 30 days of the purchase date. If you're a member of the Shop Your Way program, you can return items within 45 days.
The items you wish to return have to be in their original packaging, with all parts and instruction manuals included and in new condition. You will also need to provide your receipt to make a return.
While most of the products are subject to the standard 30-day return policy, the following exceptions apply:
Product Type
Return Policy
Delivered and indoor upholstery furniture
Seven-day return window
Automotive products
Non-returnable
Postpaid cell phones

14-day return window
Early termination fees may apply

Valentine, Easter, Halloween, and Christmas items
Non-returnable
Custom or personalized items
Non-returnable
Gift cards
Non-returnable
Opened music, movies, software, video games, and collectibles

Non-returnable
If defective, your item can be exchanged for an identical one

Prescription drugs
Non-returnable
Standby generators
Non-returnable
Mattresses and foundations

180-day return window or a year for Sears Best Stuff items with a 30-day adjustment period
All mattresses must be in use for 30 nights before qualifying for a return

Headboards and footboards
30-day return window
Adjustable foundations and bases
Non-returnable
Sears Outlet Return Policy and Sears Parts Direct Return Policy
Sears Outlet and Sears Parts Direct have different return policies. While Sears Outlet items can only be returned to the outlet stores, you can both return Sears Parts Direct to a Sears store or mail them back to the company's warehouse.
Sears Return Fees
Note that delivery, labor, and installation fees are non-refundable. Additional charges regarding your return might apply as follows:
A 15% cancellation fee for every Special Order Item canceled more than one day after purchase and prior to delivery
A 15% restocking fee for:

Mattresses
Foundations
Assembled or upholstery indoor furniture
Water heaters
Built-in home appliances
Opened consumer electronics
Patio furniture
Gazebos
Canopies
Pergolas
Air conditioners
Dehumidifiers
Space heaters
Grills

A pick-up fee for the transportation of the returnable item
Returning Sears Items
Depending on where you bought your product from, there are many ways you can return it to Sears:
Purchase Method
Available Return Options
Items bought online, by phone, or in store

Ship them back
Return them to any Sears store

Products mailed to you

Ship them back using your own shipping label or a pre-printed return label
Return them to any open Sears location

Items delivered to you

Schedule a pick-up
Bring them to a store near you

Items sold by Kmart

Ship them to Kmart's warehouse
Return them to any Kmart store

Products sold by a Marketplace seller
Mail the return directly to the Marketplace seller
How To Return Sears Items Bought Online, in a Store, or by Phone
The easiest way to return items is by visiting the nearest store. All you have to do is bring your original receipt or a packing slip and ask an employee to process your return.
If you want to avoid a trip to a Sears location, you can always ship the products back. All you have to do is:
Start your return by filling out a short Return Form
Enter your email address and order number if you purchased the items online, or input your phone number and order confirmation number if you made an order over the phone
Click on Continue and follow the instruction provided by Sears
Returning Sears Merchandise That Was Mailed to You
If you are unsatisfied with certain Sears items that you had mailed to your home address and now you want to return them to a store, don't forget to bring your:
Online return form
Receipt
Order confirmation email or packing slip
Original form of payment—i.e., your credit or debit card
When shipping the items back, you can use a pre-printed return label or your own shipping label.
You can use your own shipping label for the return, but be sure to use a trackable service.
To send the parcel back, you have to:
Enclose the packing slip you received with your purchase
Select the items you wish to return, set the proper quantity, and indicate the return reason
Pack the items, preferably using the original box
Ship the parcel to the return shipping address found on the packing slip
Returning Sears Items That Were Delivered to You
Large and oversized items—such as home appliances or mattresses—are usually delivered to your home. While you can bring them to a Sears store if they're in their original packaging, it's better to schedule a pick-up and have the Sears team take care of everything.
You can contact Sears customer service to arrange a pick-up at 1 (800) 697-3277.
Sears Marketplace Return Policy
Products on Sears Marketplace are sold by third-party merchants, so their return policies may vary. Check the seller's return policy on their profile page. Most items sold by these merchants can be returned within 30 days of delivery if they're in new condition.
The following terms and conditions apply to all Marketplace items:
Return requests have to be submitted within 30 days of delivery, except for refurbished Consumer Electronics products, which have a 14-day return time frame
The items you wish to return must be mailed or shipped in no more than 14 days after the return was authorized by the Marketplace seller
Holiday products must be sent back prior to the holiday to qualify for a return
All items are subject to this return policy, except:
Worn apparel or footwear with tags removed
Items damaged after delivery (you may be able to return them if the warranty is still valid)
Custom products, including jewelry
Standby generators
Sexual Wellness items
Holiday products bought after the holiday season
Opened electronics, music, movies, software, video games, and collectibles
Select items considered hazardous (batteries, flammable liquids, computer equipment, and similar)
All Sears Marketplace items must be returned directly to the Marketplace seller, not to Sears. Even if a certain item is marked non-returnable, don't hesitate to request a return. The Marketplace seller may choose to take the product back and charge a restocking fee.
With DoNotPay, You Can Return Sears Items Effortlessly
With so many different products and various product-specific return policies, Sears returns can become a nightmare. If you don't want to waste your time or effort on making sense of the Sears return policy, we have your back!
, and in three simple steps, we will complete the process in your stead. All you have to do is:
Navigate to our Item Return Request product
Answer several purchase-related questions
Click on Submit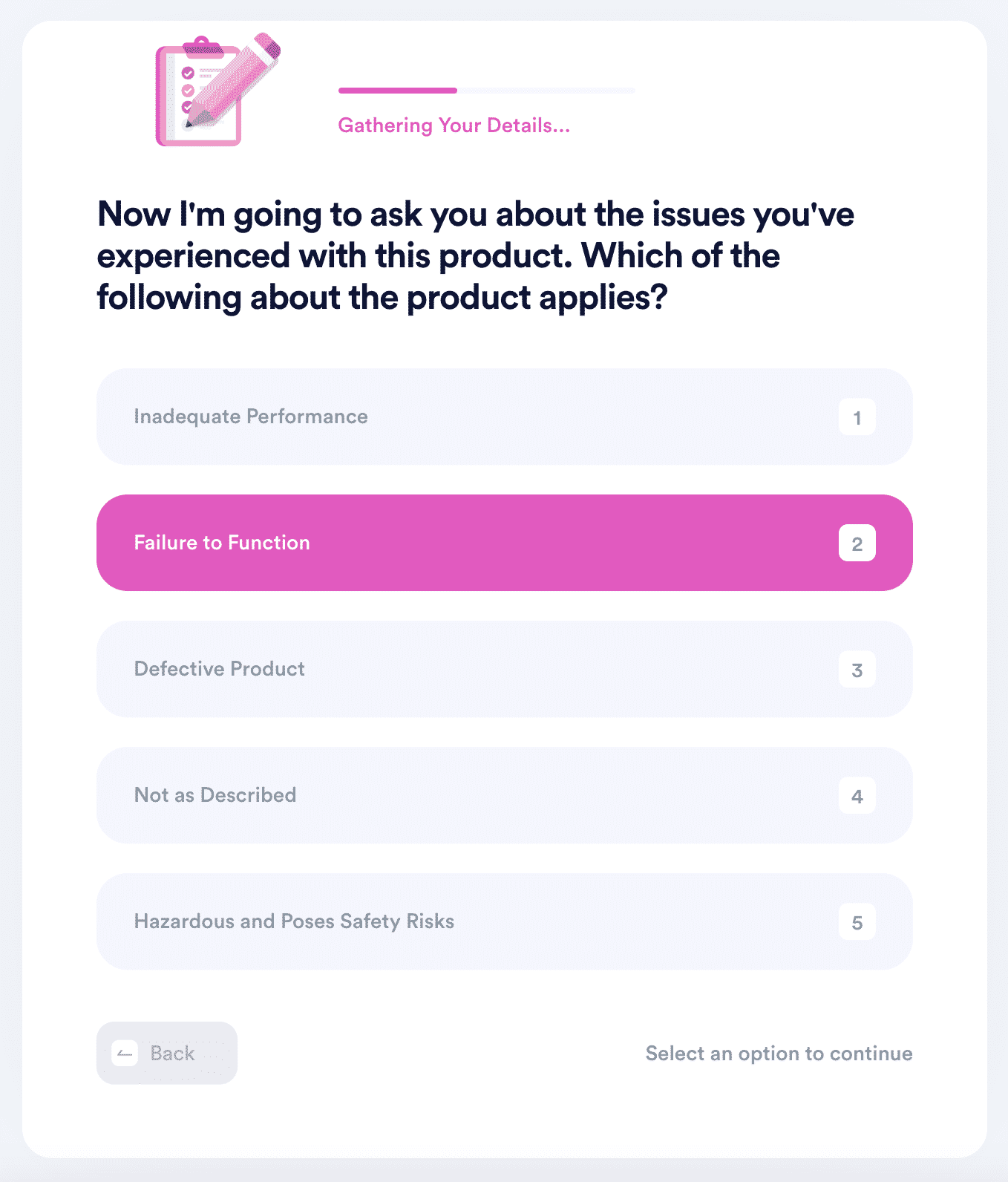 Within minutes, our AI-powered app will draft and send a customized return request letter to Sears. We will notify the company about your decision to return or exchange an item, and we'll include a deadline to ensure your request gets processed promptly. DoNotPay will also provide a free return shipping label!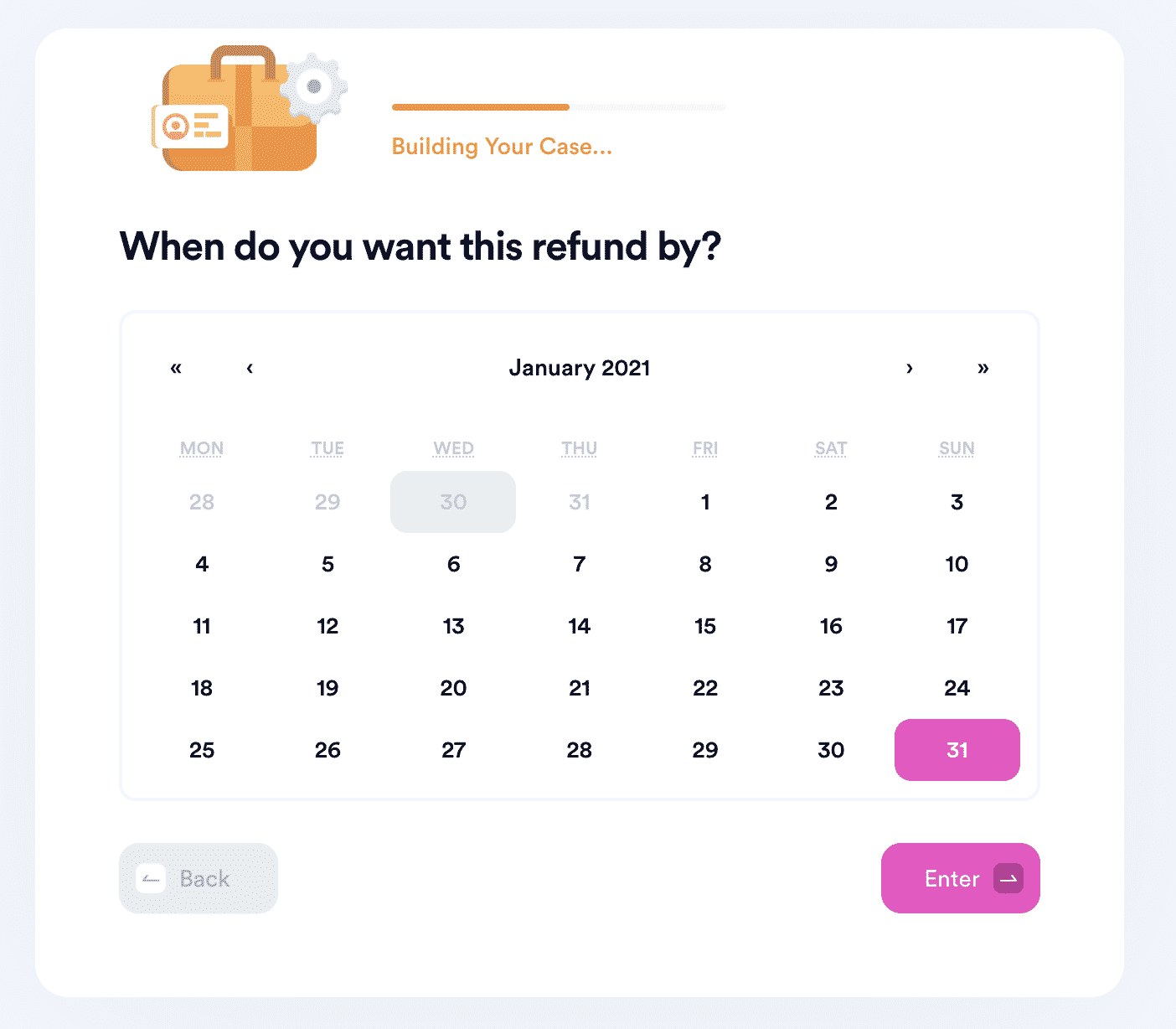 DoNotPay is always on the customer's side. We're here to help you return items to other popular retailers, such as:
Get Your Money Back in an Instant
If you want to both return your item and get a refund for it, you can count on your personal AI-powered assistant. These two products aren't the only tricks DoNotPay has up its sleeve, though!
With our app, you can also claim insurance, get an extended warranty, find your missing assets, request refunds from airlines, reduce your property taxes, lower your utility bills, sign up for free trials without getting charged, get free raffle tickets, and a lot more.
If you want to avoid wasting your money, DoNotPay can cancel any subscription or membership in your stead and provide you with a virtual credit card that will prevent auto-renewal charges once your free trials expire!
With DoNotPay, You Can Also Say Goodbye to Waiting in Lines
Are you sick of waiting in lines? So are most of our app's users! You can say no to endless lines at the DMV if you sign up for a DoNotPay account. Our app can also help you jump the phone queue when you need to get in touch with a customer service representative.
If any company refuses to cooperate with you, our app will prepare all of the necessary legal paperwork and help you sue it in small claims court. Need to have any of your documents notarized? No worries—DoNotPay will employ an online notary and help you schedule your appointment. You can also e-sign and send the document to anyone using our Online Fax product.