Menards Return Policy Explained—How To Return Menards Merchandise Effortlessly
Menards return policy should serve the clients, securing fair return and exchange conditions. Despite the company's good intentions, returning Menards items can be a complicated endeavor. We're here to take the weight off your shoulders and offer an easy solution to your return problems.
We will break down Menards return policy and walk you through the process. , and we can handle the entire procedure for you.
Menards Return Policy—General Information
If you wish to return an item to Menards, you have a 30- or 90-day return window, depending on the product. Customers can return purchased goods in the following ways:
In a store
Online
You can also return items purchased online to a Menards store, but the store keeps the right to refuse the return.
We listed the refund options below:
Payment method
Refund option
Cash
Debit card
Check

In-store credit if the receipt is less than six days old
Cash if the receipt is more than six days old

Credit card
In-store credit, coupons, and gift cards
Unlike any other company, Menards allows its customers to make a return even after 90 days of purchase. Although you can't get your money back, you'll receive in-store credit in the amount of the original purchase price.
Menards Product-Related Return Rules
Menards return policy also depends on product type. Check out the details in the table below.
Product Type
Return/Exchange Policy
TD (30-day over-the-counter exchange)

Return or exchange products within 30 days of purchase with a receipt

ND (90-day over-the-counter exchange)

Return or exchange products within 90 days of purchase with a receipt

GP (Gas-powered items)

(Including lawnmowers, snow throwers, tillers, log splitters, chipper shredders, generators, pressure washers)

Returns are possible within 30 days of purchase with a receipt, only if the product hasn't been used, hasn't been filled with gas, and is in the original packaging

SV (Service items)

May be returned within 30 days of purchase in unused condition and in the original packaging
Can be exchanged for a new item within seven days of purchase if the product proves faulty

MA (Major appliances)

Can be returned or exchanged within 30 days of purchase in unused condition and in the original packaging

SB (Special order items)

May be returned at the discretion of Menards with a 25% restocking fee

HI (Holiday items)

May be exchanged for the same or similar item of equal value
May be refunded at the receipt price before the holiday. After the holiday, customers are refunded at the lowest register clearance price

PG (Plant guarantee)

Perennials, trees, and shrubs get one year guarantee from the date of purchase
Return the product with a receipt, exchange it for another one, or get store credit for your purchase price

CI (Chemical items)

If opened, may be exchanged for the same or similar item at the same price point
Can be refunded with in-store credit
CI that are unopened may be returned as per the regular return policy

BA (Bargain area/clearance)

Merchandise bought during clearance is non-refundable

HP (Handling and packaging)
Additional Info About Menards Return Policy
To complete your return, keep the following requirements in mind:
Products missing the original Universal Product Code can only be exchanged for an identical product
Returned merchandise bought on a rebate must have the original rebate receipt. Otherwise, Menards will deduct the value of the rebate from the return amount
Sale price adjustment is allowed during the sale of an item when purchased up to 14 days before the sale. In-store credit will be issued for this balance
End-of-season discounts, closeout items, and special promotions are not eligible for sale price adjustment
Returned products must be unused, in the original packaging, and contain all accessories, paperwork, and parts
The cost of the return shipping is deducted from your refund amount unless you're returning defective merchandise
Cut or altered stock merchandise is subject to a 25% restocking fee
Menards doesn't accept returns for:
Custom windows or window treatments
Custom exterior shutters
Doors
Steel door glass
Replacement table tops glass
Building plans
Blueprint sets
Study sets
Reproducible masters
Menards Return Policy Without Receipt
If you lost your receipt, you can print a Return Receipt only in case the purchase was made by check or credit card. To do so, visit the Return Receipt Kiosk located by the Customer Service Desk at any Menards store. For your convenience, you can print the Return Receipt online from your Menards account as well.
To look up a receipt online, you have to:
Sign in to your account
Select My Account from the dropdown menu
Choose Lookup Receipts under the Recent Purchases section
Specify the credit card you used for the purchase
Check the box next to the desired receipt in the Select column
Click on Save, and you'll be able to view the receipt as a PDF and print it as needed
In case your items are on order, you will be issued in-store credit for the lowest price, including discounts. Keep in mind that Menards reserves the right to refuse any refund without a receipt. When trying to return an item without a receipt, a driver's license or state ID is required to complete the process.
Returning Menards Merchandise by Mail
You can return the products by mail if you don't want to visit a Menards store. All you have to do is:
Contact Menards Guest Service Representative
Explain the reason for reaching out, and a representative will answer your query
Follow the detailed return instructions
Returning your package via mail is at your cost. Menards will also deduct a 25% restocking fee.
Menards In-Store Return Policy
With 335 locations in 15 states, there's a fair chance you can find a Menards store in your neighborhood. To return the items, you must:
Find a location that best works for you
Bring the confirmation email or purchase receipt with you
Show the order details at the Service Deck usually located by the entrance
Need an Easy Way Out of Complicated Return Policies? Let DoNotPay Take Over
With our Item Return Request feature, you can return Menards items with a push of a button! File a return request within minutes and get a refund or have the goods replaced in the shortest possible time.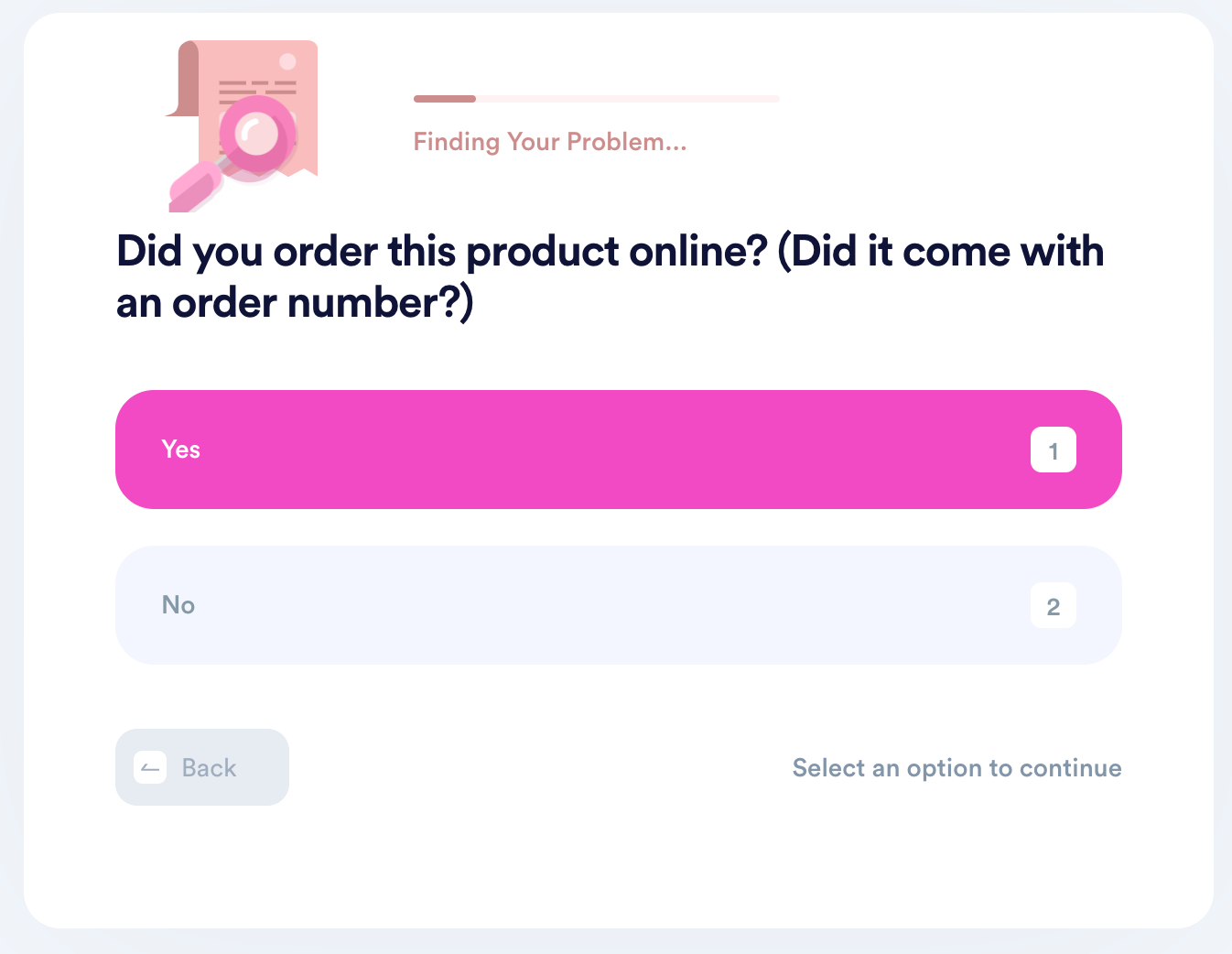 To start using this service, you should:
Navigate to the Item Return Request feature
Answer our chatbot's questions regarding your purchase
Upload pictures to prove your products' condition if necessary
Our AI-powered app will generate a customized return letter and send it to Menards. You get to pick if you want to receive a refund or exchange your product.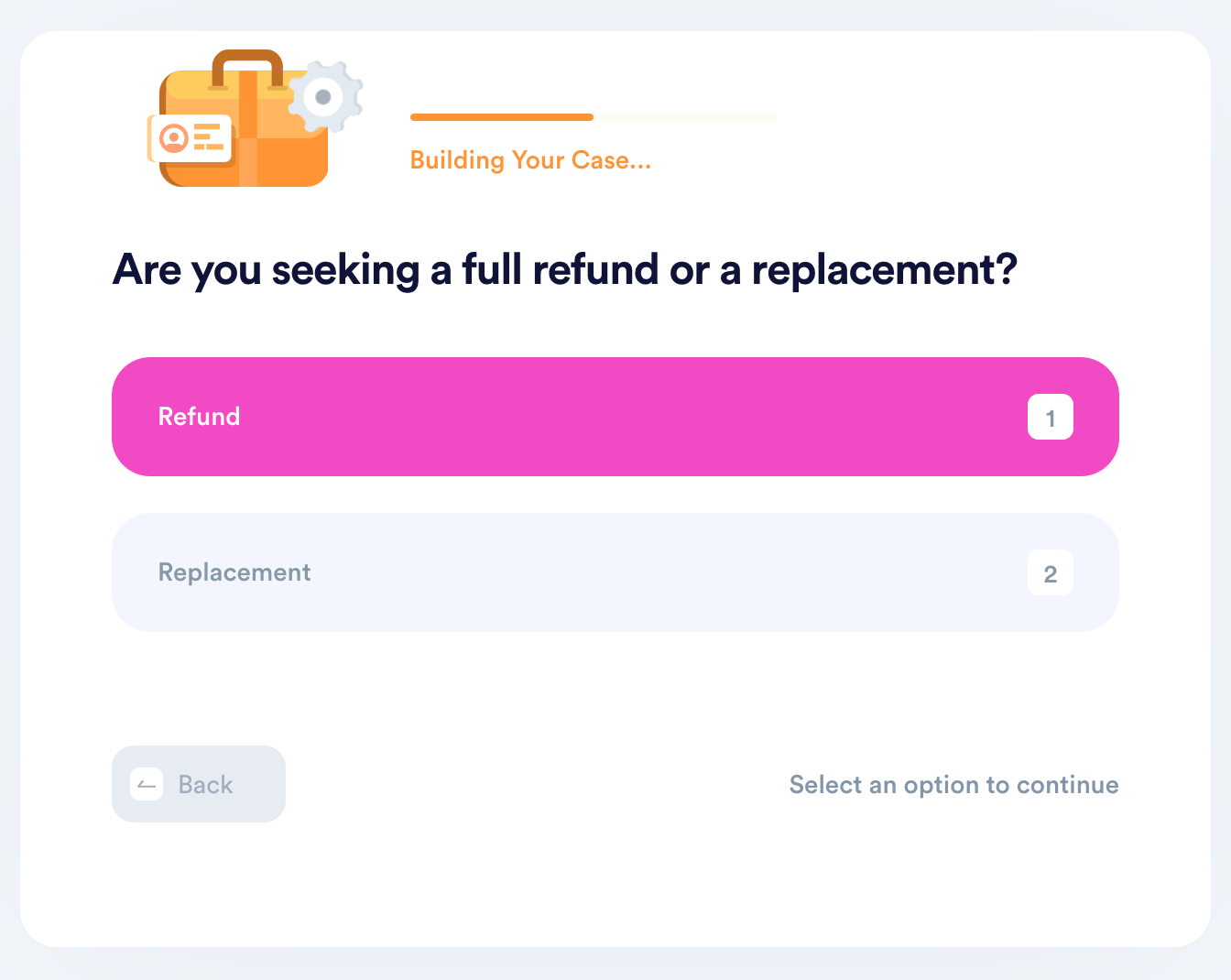 Learn about the return policies of other popular retailers.
Returned Your Faulty Item? Discover Other Nifty DoNotPay Products!
Apart from being your shortcut through returning your faulty items to merchants, our app can do so much more! From helping you request a refund, get extended warranties, file insurance claims, and find clinical trials in your vicinity to assisting you in creating legal documents, notarizing them, and faxing them—DoNotPay can do it all.
Do you think you're eligible for a victims of crime compensation program? Our app can help you apply for it. Do you want to get revenge on persistent robocalls, report someone for stalking or harassment, or get your noisy neighbors to be quieter? We got your back!
You Don't Have To Waste Time in Endless Lines
Returning an item may require you to wait in endless lines, but if you sign up for our AI-driven app, you will be able to skip all kinds of queues! You won't have to spend ages waiting in lines at the DMV or in customer support phone queues because DoNotPay will provide an easier way to get what you need.
If you want to skip the hassle of waiting on the phone when canceling a service, requesting refunds or compensation from airlines, requesting a college fee waiver, or connecting with a loved one in prison, you can count on DoNotPay to provide easy solutions.