Before a Shopping Spree at Banana Republic, Check Your Gift Card Balance!
Getting a Banana Republic gift card is a fabulous present. You can get some cool clothes, shoes, or accessories. If you have already used your card a few times, you should check what's left to know how much money you'll need to set aside for your new purchase.
We will explain how to conduct a Banana Republic check of the card balance easily. DoNotPay also offers a way to collect the remainder in cash smoothly.
Banana Republic Gift Cards
Banana Republic gift cards:
To make a perfect plan on how to use the remaining amount, you need to check the current balance on your gift card.
Run a Banana Republic Gift Card Balance Check Quickly
You can check how much you've got left on your gift card:
Online
At a store
Via phone
Check the Banana Republic Gift Card Balance Online
Here is how to check your balance on a computer or mobile phone:
Open the Banana Republic Gift Card page
Click on the Check Gift Card Balance box
Enter the card number and PIN in the pop-up window
Confirm you are not a robot
Hit the Check Balance box
You could also inquire about the remainder by following these steps:
Log in to your account in the top right corner of the website
Open the Account Settings
Click on the Check Gift Card balance link
Provide your card number and PIN
Check the Gift Card Balance at Banana Republic Stores
You could check the remaining balance in any Banana Republic store. If you would like to locate the nearest to your home or work, you should:
Access the Store Locator page
Enter your location in the search box or click on the Browse for stores by state link
Choose your state and select the convenient location
When you complete these steps, you will get all the necessary details, including the address, directions, and business hours.
Conduct a Banana Republic Gift Card Balance Check Over the Phone
If you prefer speaking with an agent, you should get in touch with customer service at 1-888-277-8953. The hard of hearing persons should call 1-888-906-1345.
Can I Add Money to My Banana Republic Gift Card?
You can add money to your or a friend's Banana Republic plastic/traditional gift card in any store with cash or a debit/credit card.
While you cannot increase the amount on a gift card online, you can use this method to purchase new gift cards.
Can I Return a Banana Republic Gift Card?
You can return an unused gift card in any store. To receive the refund in the original form of payment, you must present a sales receipt or online invoice to a sales assistant.
Used gift cards can be returned for cash if:
If you would like to collect those few dollars you've got left, you should check whether your state has a gift card cash back policy in place. In case it does, you can head to a store and request your money back from a sales assistant. They might not be familiar with this law, so you may need to get a hold of a manager or customer service.
Is there a less complicated way? Subscribe to DoNotPay, and we will handle everything for you in the blink of an eye!
DoNotPay Ensures You Get Your Cash Back Smoothly!
Our AI-powered app can check your state legislation in a flash. In case we find out that your state does not require companies to reimburse their gift card holders for the remaining few bucks, we will check if the gift card provider has offices in one of the cash back policy states.
Once we locate one, we will send your request to that office directly to make sure you receive cash or a check within 14 business days.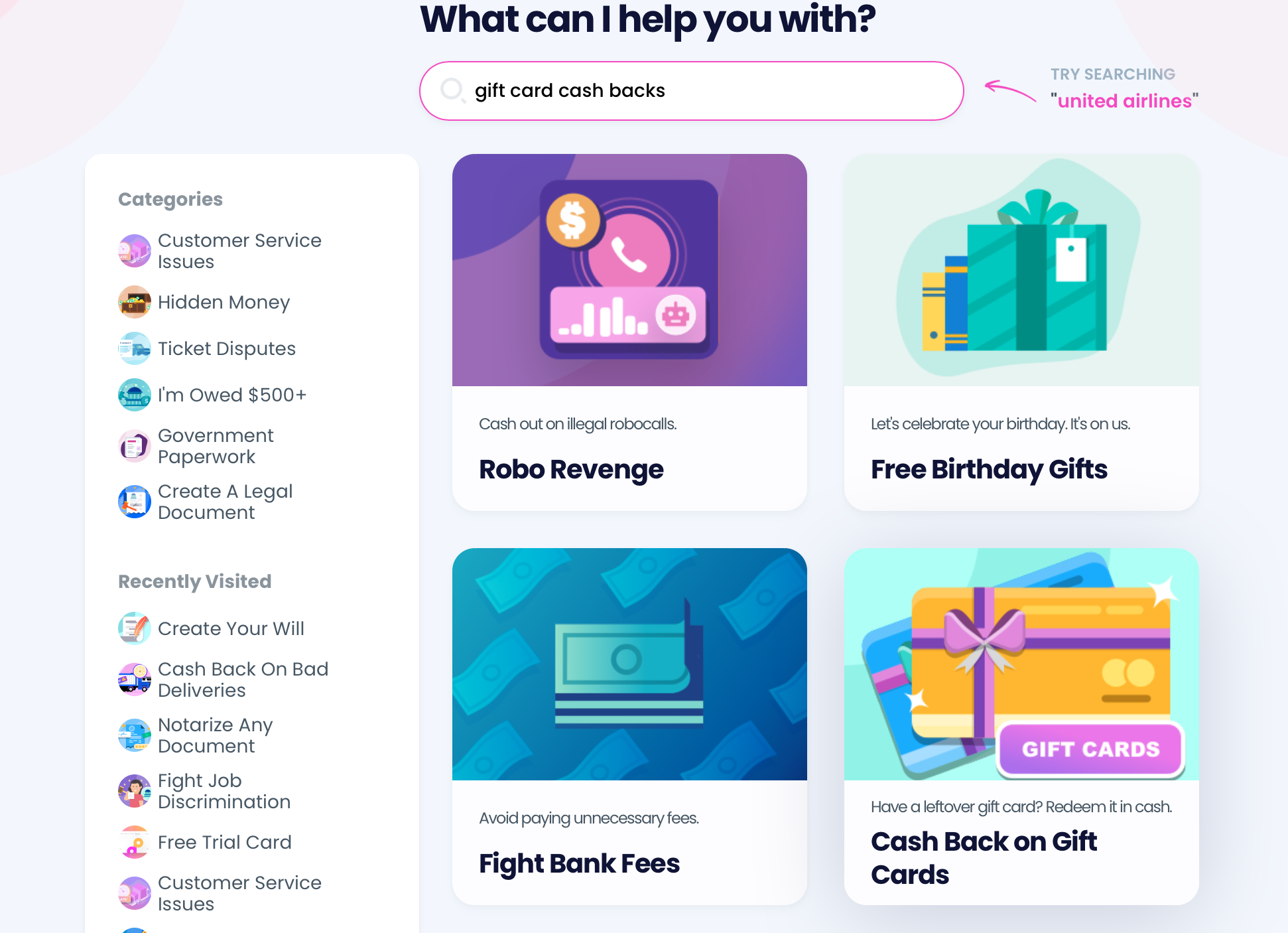 Would you like to initiate the process right now? Sign up for DoNotPay and complete these simple steps:
Select our Gift Card Cash Back product
Provide information about your gift card, e.g., the company name, card number, and remaining balance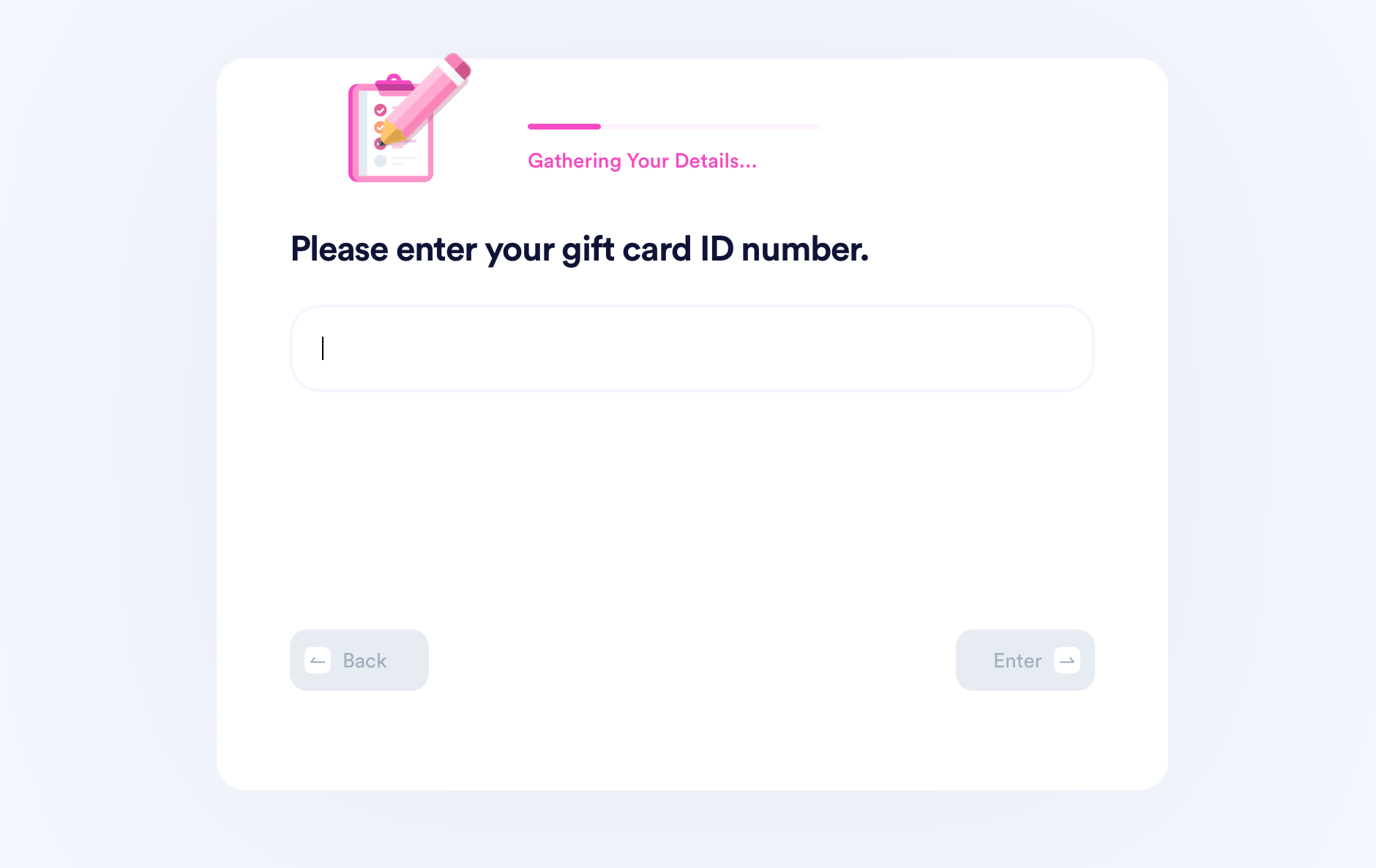 Want More Information on Gift Cards?
We offer numerous helpful articles to help you solve different cash back issues. If you would like to learn more about gift cards, you could check out the following:
DoNotPay also presents relevant information about various gift card issuers, such as Amazon, Sephora, Olive Garden, American Eagle, Cabela's, IKEA, Walmart, and more.
DoNotPay—The Quickest Way To Deal With Greedy Companies
Spending hours on the phone with customer care reps struggling to get a refund or cancel certain services due to complicated procedures can be tiresome.
If you sign up for DoNotPay, we can help you:
Has a company refused to accept your warranty claim even though it was valid or wronged you in any other way? Make sure to serve them justice by bringing them to small claims court with DoNotPay's help!
Use Our App To Resolve Any Issue
DoNotPay has numerous products you can use. We can help you resolve any problem in a few clicks.
Do you want to find unclaimed money? Would you like to know how to protect your work from copyright infringement? Are you wondering how to apply for a college fee waiver because the application fee is too expensive for you? If you rely on us, you will solve all of these and many more issues stress-free!
Even victims of violent crimes—such as stalking—can use DoNotPay to solve their problems. Having a stalker is traumatic and potentially dangerous. We can tell you how to deal with the situation and apply for crime victims compensation in your state if you need help covering counseling expenses.
We can simplify the document notarization process and help you send online faxes and mail letters from the comfort of your home in less than five minutes.