Can You Get Cash Back From a Target Gift Card? DoNotPay Provides an Answer
Love shopping at Target? If you do, the Target gift card could be a super-fun present for you.
Once you're done with your shopping spree, you might be wondering what to do with the remaining balance on your used gift card.
Can you get cash back from a Target gift card? How can you cash in your gift card?
DoNotPay provides the answers!
Our easy-to-follow article will show you how to:
Convert your Target gift card to cash
Familiarize Yourself With Target Gift Cards
Before getting cash back from your Target gift card, you should know the basics. Target gift cards are:
Accepted at Target's retail and online stores
Loaded with any amount between $5 and $500
Available in both physical and electronic form
Valid indefinitely
Can You Get Cash Back From a Target Gift Card?
Although Target has a generous return and refund policy for its products, the company gift cards are only redeemable for cash if required by law. You can claim money for your Target gift card only if you're a resident of a territory that has a cash back policy. Those locations are as follows:
Vermont
Rhode Island
Connecticut
Maine
Oregon
Montana
Colorado
New Jersey
Washington
Massachusetts
Puerto Rico
California
To get cash back, you must know the state laws and explain them to the customer service representative.
The amount you can claim mustn't exceed the limits set by the state. For example, in Oregon, you may get $5 for your gift card, whereas, in California, you can claim up to $10. Because of this set limit, you should check your remaining gift card balance before cashing it in.
How To Check Your Target Gift Card Balance
You have several methods of doing a Target gift card balance check at your disposal. You can do it by:
Going to the Target website
Visiting a Target store
Calling Target customer support
Using DoNotPay
Check Your Target Gift Card Balance by Going to the Target Website
To check your Target gift card balance online, go to the Target website and:
Locate the Gift Cards section in the upper-right corner of the page
Go to Check your balance
Enter your gift card number and PIN
Click on Check Balance
Checking Your Target Gift Card Balance in a Target Store
Use the Target Store Locator and visit the nearest store to you. Once there, give the cashier your gift card and inquire about your remaining gift card balance.
Calling Target Customer Support To Check Your Gift Card Balance
If you want to do a Target gift card balance check over the phone, dial 1-800-440-0680. Once the customer service rep answers, give them your gift card number and ask them to check your balance.
Check Your Target Gift Card Balance Hassle-Free—Use DoNotPay
The easiest and most effective way of checking your gift card balance is by using DoNotPay. With our Check Gift Card Balance feature, you can see your remaining funds in no time! Here's how it works:
Select the Check Gift Card Balance feature
Upload a photo of the gift card from both sides
Enter your email address
Once you submit your request, we'll contact Target and let you know how much money you have left.
DoNotPay can also check your leftover balance on other gift cards, such as Home Depot or Walmart. In case you have any money on them, you can exchange them at Target for other gift cards or get your cash back with our app.
How To Get Cash Back From a Target Gift Card With DoNotPay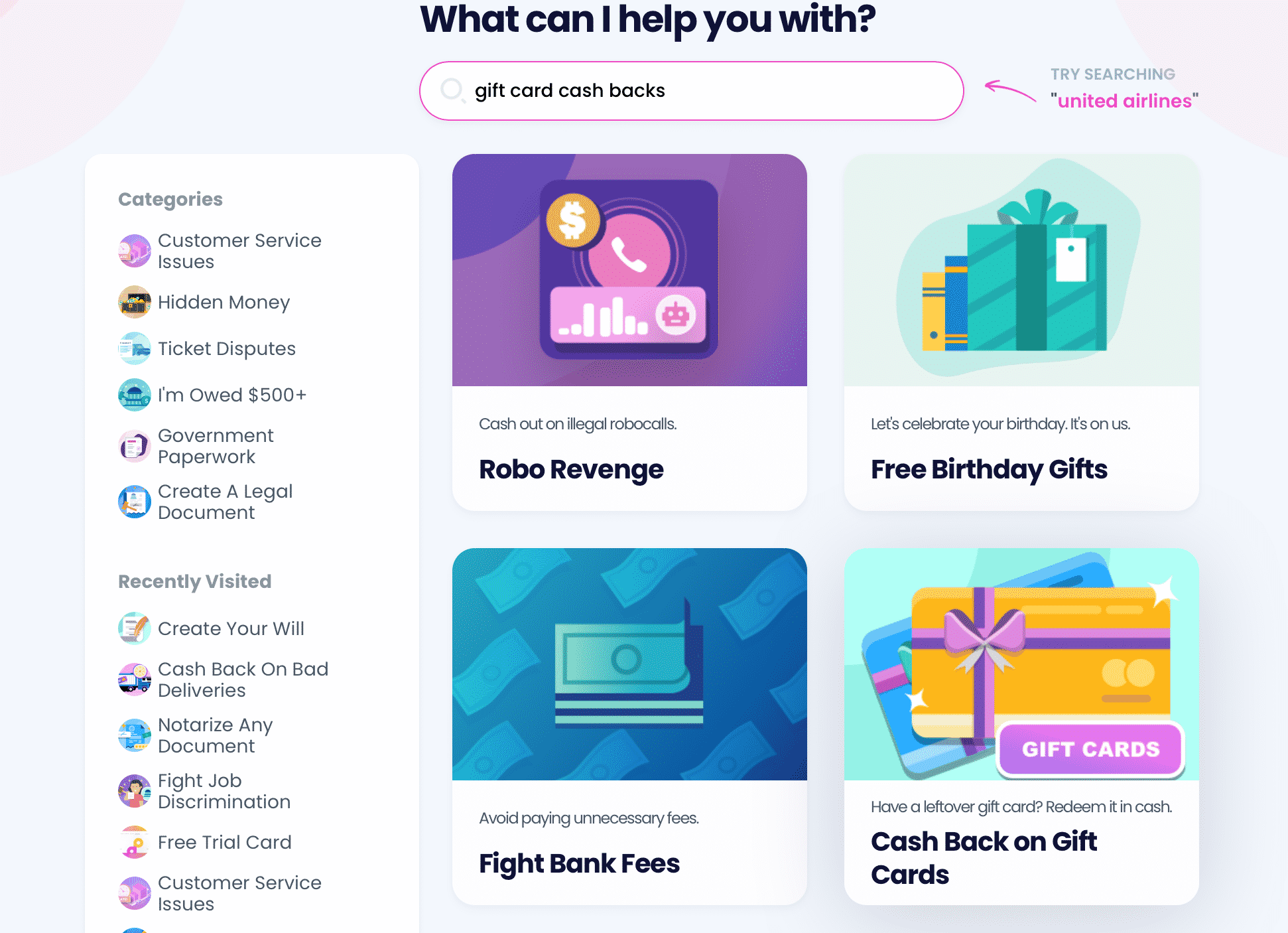 Want to get cash back from your Target or any other gift card, but you're not a resident of a cash back state? You can do it effortlessly with DoNotPay! Our Gift Card Cash Back feature allows you to claim your money regardless of your location, and on top of it all, it's super easy to use! Here's the drill:
Select our Gift Card Cash Back product
Enter the necessary gift card details, including:

How much money you have on your gift card
Where your gift card was issued
When you purchased your gift card

Sign and submit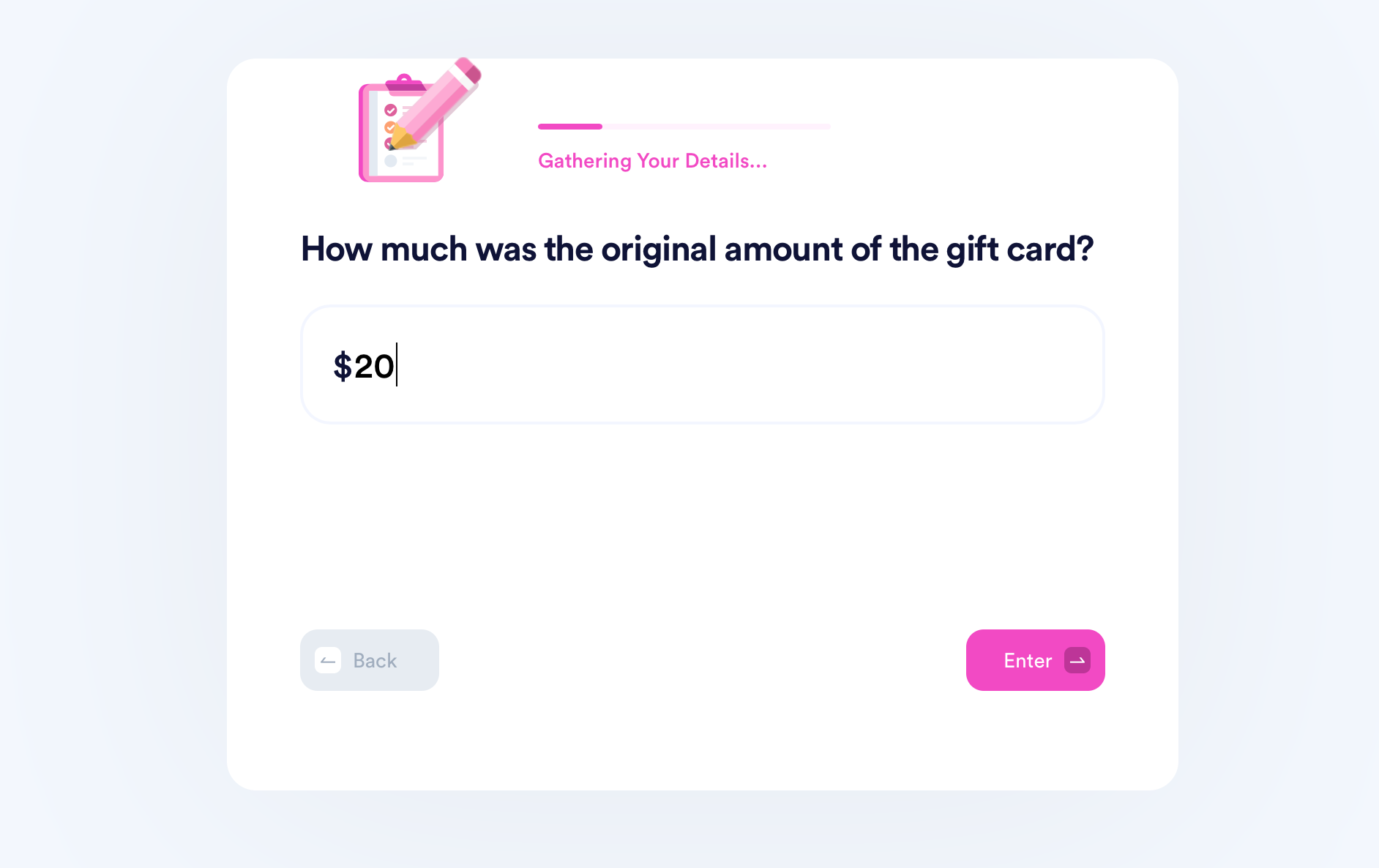 We will process your request in minutes and forward it to a Target store located in a cash back state. You should have your money within two weeks.
Need More Help? Check Out DoNotPay's Learning Center
DoNotPay's assistance doesn't end here! Find the answers to frequently asked gift card questions and see what other companies we can help you with:
| | |
| --- | --- |
| Frequently Asked Gift Card Questions | Company-Specific Articles |
| | |
To Sue or Not To Sue?
Hiring a lawyer to help you sue a company can be helpful, but it can also cost you an arm and a leg. Luckily, you can avoid wasting hundreds of dollars and use our robot lawyer to sue any company in small claims court instead!
DoNotPay offers you a variety of other features you will find quite useful when dealing with bureaucratic issues. Check out the list below to see what else our app can help you with:
Creating standardized legal documents

Lowering property taxes
Shopping Without Dropping
Whoever said you should shop until you drop didn't have access to DoNotPay's various features. With our app, you can make your shopping experience smooth sailing and stress-free!
Here's a fragment of what you can accomplish by using our neat features: